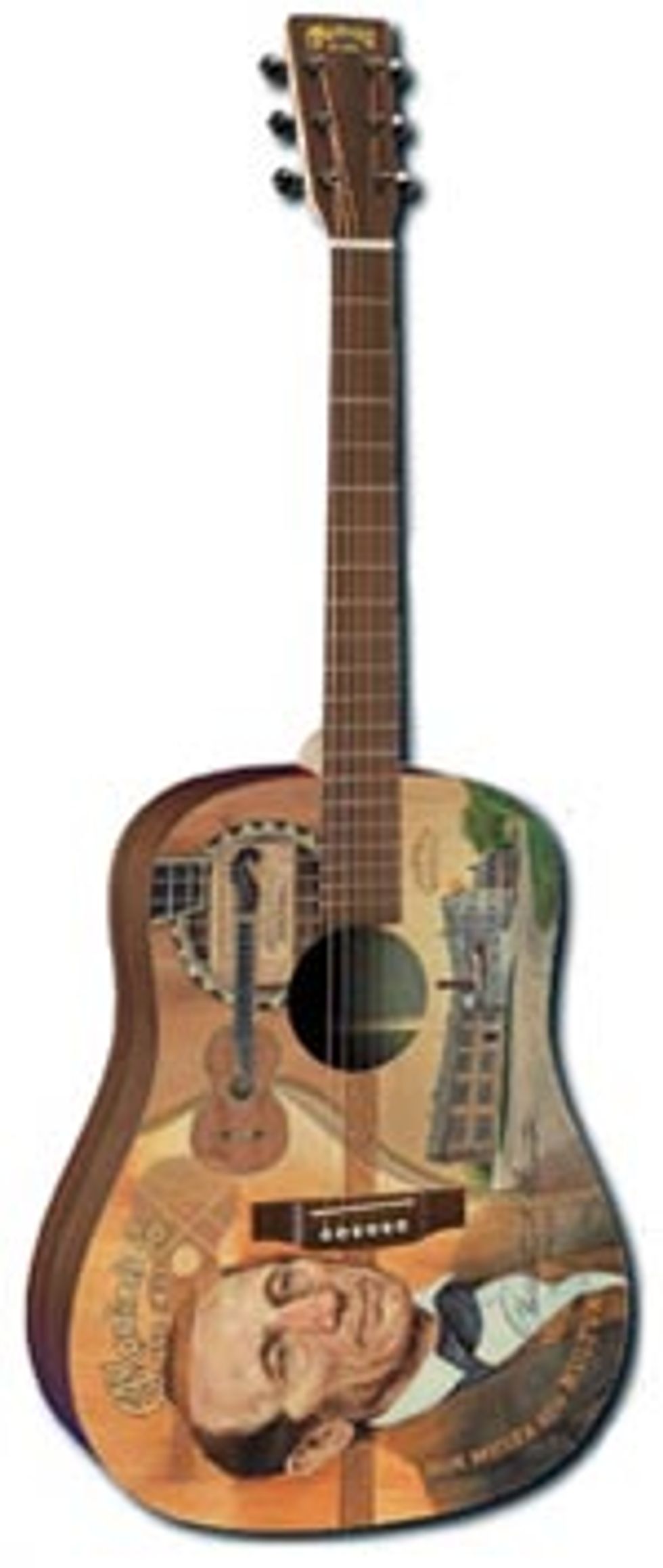 When Christian Frederick Martin established his stringed-instrument company in 1833, there were only 24 states in the U.S. Most of the Louisiana Purchase was still just a mass of land and nothing west of it even belonged to the country. For C. F. Martin & Company, the year 1833 represents their history and is a source of pride; few American companies can boast a 175-year history. The company has survived the abolishment of slavery and the Civil War, major depressions in 1893 and 1929, and two world wars.
»
Click Here to View the Martin Photo Gallery
Through alternating family owners (four of them named C.F.) came alternating schools of thought on how to run the company. Some were more conservative, making few changes for decades, while others implemented innovations that were accepted by players and guitar makers alike as standards for the instrument.
Martin gave us X-bracing in the 1840s, the Dreadnought in the 1920s, the 14-fret neck in 1929, and popularized herringbone purfling, to name just a few of their contributions to the world of luthiery. Of course, Martin wasn't always paving the way – their reputation for tradition is well-earned. The company initially resisted flashy inlays, put off using steel strings until 1922 (decades after competitors), advertised little and spent a substantial amount of their earlier years keeping artists at bay.
This combination of innovation and conservatism (and making a lot of ukuleles at exactly the right time) proved to be a successful model for the company, which has grown to the point of producing its highest volume of guitars right now.
If Martin's history can be separated into progressive and conservative periods, the era of sixth generation Chris Martin IV, beginning in 1986, would have to fall under progressive. Guitar production from 1990 to 2004 was equal to the total production from 1833 to 1990 – the company celebrated 500,000 guitars in 1990 and 1,000,000 in 2004. Ed Golden, Martin's Custom Shop Manager, says that the company is already approaching serial #1,300,000, thanks in part to the addition of mid-to-lower priced instruments in the 16, 15, Road and X series.
By The Numbers


| | |
| --- | --- |
| 245 | (guitars built in 1873) |
| 14,000 | (ukuleles built in 1926) |
| 75,000 | (average number of guitars built per year over the last four years) |
| 16.28 | (average wholesale price of a Martin instrument in 1907) |
| 50,000 | (price of Custom #1133224, part of this year's 1833 Custom Models) |
| 100 | (price of a D-28 in 1932) |
| 90,000 | (value of that same D-28, in excellent condition, today*) |
| 1959 | (year of Martin's first electric) |
| 5 | (number of attempts Martin made to "go electric") |

*according to the Blue Book of Acoustic Guitars, 10th Edition

For more information on Martin's history, check out Martin Guitars: An Illustrated Celebration of America's Premier Guitarmaker, by Jim Washburn and Richard Johnson.
In addition to growing numbers and expanding product lines, the company recently launched a virtual custom shop, where players can tweak the day away building their perfect guitar online, then have it made for them through the Martin Custom Shop. We talked with Ed about what's new at Martin, the 175th anniversary celebration and how the company's history has shaped its future.
Through 175 years of production, how has Martin stayed relevant?
C.F. Sr. had a vision and passion for guitars so strong that he uprooted his family in Germany to bring his idea to America. He designed and built instruments that set the standard for acoustic tone. Countless acoustic guitar companies have emerged since then to join in our quest to fill the world with music, but Martin set a precedent 175 years ago and has continued to nurture it with the same devotion that our founding father did.
Obviously, there is great pride in being a family company – does this have something to do with Martin's staying power?
Absolutely. There is an undeniable pride in the hearts of our coworkers. Their CEO and sixth generation family heir, Chris Martin, is not just a name on the headstock, but a close and trusted friend who has continued the tradition of treating us like an extended family. This internal feeling of "ownership" by the employees, along with our commitment to quality, is the backbone of our continued success.
Because of the company's history, Martin has a unique view of acoustic trends. What have you seen happening lately?
It seems that at least one acoustic guitar is an essential part of every musician's arsenal, even if their main instrument is something other than guitar. We also feel that more people are learning guitar; free online guitar sites and unlimited resources make it easier than ever.
In terms of the guitars themselves, the Dreadnought and Auditorium sizes are still extremely popular, but we have seen an increased interest in the 00 size – both 12 and 14 fret – in recent years.