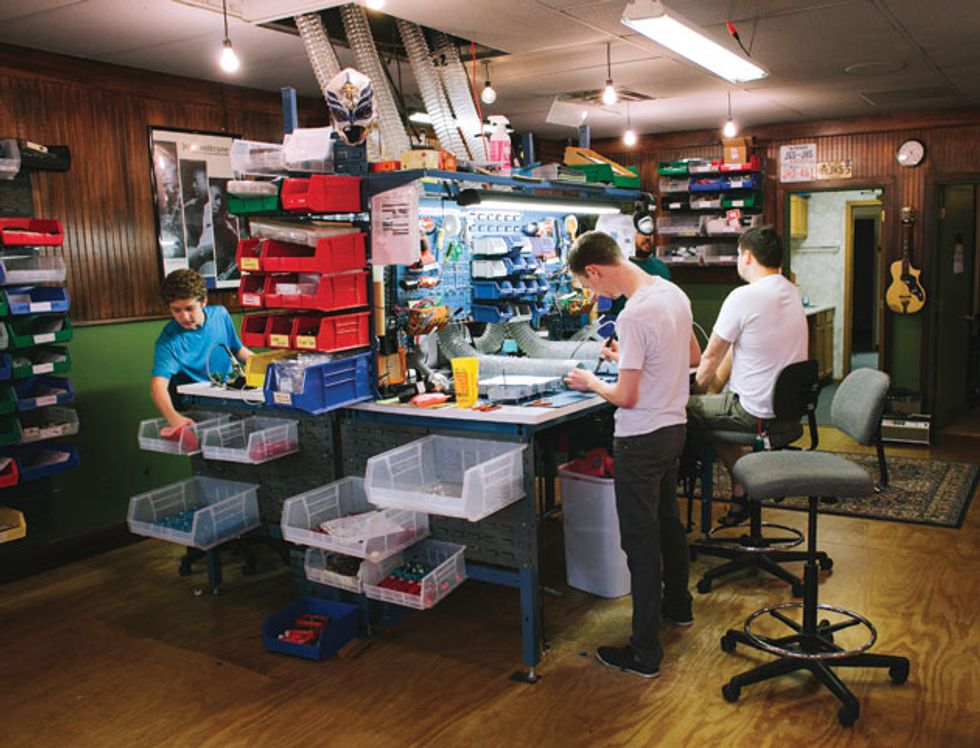 Three to four builders work together on an average day at the JHS Pedals workshop. Shown here is the final assembly station, where circuits are put into casings, footswitches are installed, knobs are attached, and bench testing begins.
Though the company's vibe comes largely from the personality and drive of its owner, Scott's quick to credit each member of the team as vital to the success of the whole operation. "JHS might be my initials, but it is definitely a collaborative force of a lot of great people," he notes. "We all bust our butts every week and we try to make a super high-quality product. We all really want to build handmade pedals that are accessible and that you don't have to wait 10 years to get."
There are two aspects of JHS that Scott greatly values and believes are integral to his company's success: the custom shop and the mod department. "There have been several times where I've almost killed the custom shop, but it's just so cool. You can call us up and we can paint your grandma's face on a pedal. I get the whole 'grow up and be a business, do a standard line and make more money,' but it's just too cool."
Scott becomes a bit more whimsical when speaking about the mod department. "From a personal level, I remember how hard it was to buy a $150 or $200 overdrive, which I would then send off to Robert Keeley to mod. I get that, so I really want us to always be approachable because I know how hard it is to make a living playing music. Not everyone can pay for a boutique pedal."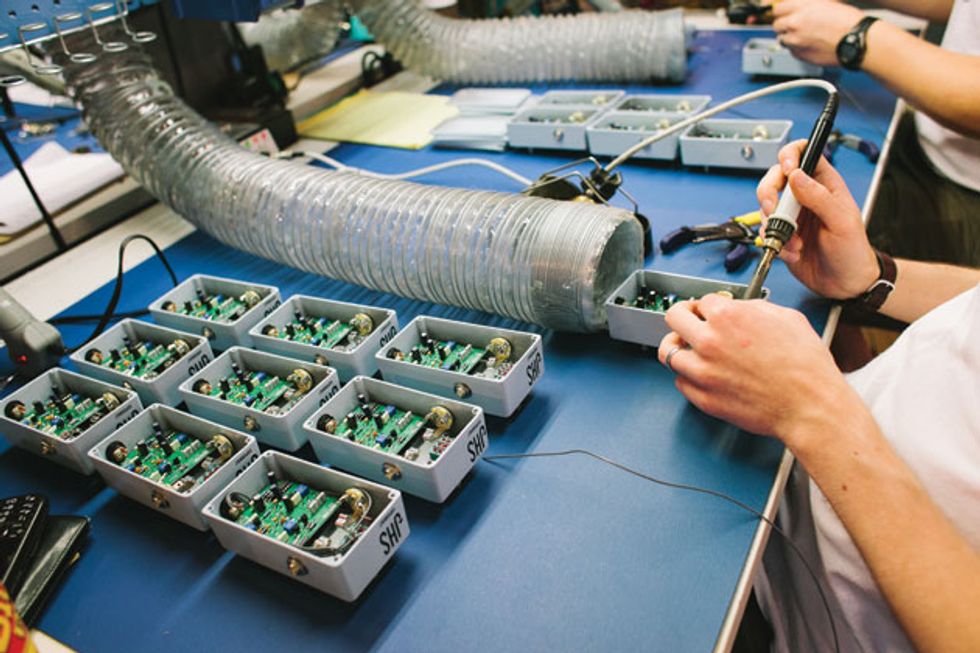 A solder ventilation fan sucks in the smoke as these footswitches,
jacks, and circuit boards are assembled into SuperBolt pedals.
The future is certainly bright at JHS headquarters. Since the launch of their universally lauded Panther Analog Delay pedal two years ago, they've been working hard to create new modulation and delay effects that adhere to the same all-analog ethos as the Panther, with the power and versatility that made it such a hit. Scott is mum on specific details for now, but did reveal that some exciting new effects are on the verge of release.
As JHS Pedals continues to experience new levels of success and popularity, Scott marvels at how far he's come and has little idea how far his enterprise might go. "I remember the year we built 4,500 pedals. I thought, 'This is crazy!' I remember when I used to build two a day. This year we're on track to build somewhere near 15,000 total items, which includes our JHS pedal line, our mods, and various custom shop orders. Every time I do a five-year plan, it gets rewritten in January. We're just going to roll with the punches while staying true to the game."