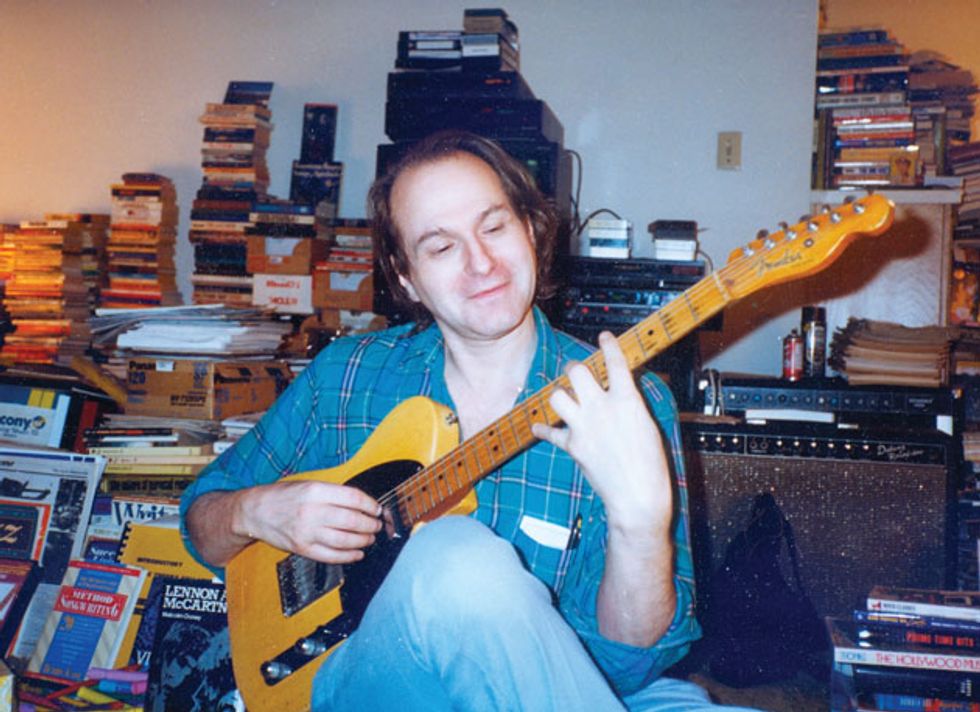 Greene's genius survives through his books and recordings—and the hundreds of students whose lives he touched.
Photo courtesy of Leon White
Solo Guitar
In 1976 Greene began performing his first solo gigs, taking up a Sunday night residency at the Smoke House in Toluca Lake, California. Southern California guitarists flocked to hear the master perform. One frequent attendee was Greene's friend and sometime student Leon White. Recalls White, "In the parking lot after the show I said to him, 'We have to record that. You don't have to prepare anything. Just come and sit down and play.' We ended up having that same discussion in the Smoke House parking lot for two years. He just didn't want to do it!"
Ultimately, White's persistence won the day, and Greene went into the studio with White and friend William Perry. Over the course of roughly 10 hours spread out over two days, Greene sat alone in the studio, playing almost continuously. There was no game plan, not even a song list—just Greene playing whatever came to mind.
Greene's uncompromising meticulousness sometimes made for a grueling process. "He played all those songs front to back, so each tune is a single performance," says White. "He would start up on something, get three and a half minutes into it, not like it, and stop. We were going through reels of tape like you have no idea!"
The result was Solo Guitar, a breathtakingly beautiful set of standards played as only Ted Greene could play them. The album received near-universal praise. "On this record he defies the technical physics of jazz melody chord voicings but creates an organic and inspired listening delight," Steve Vai told Guitarist magazine. "It's a must for anyone who puts their fingers on an instrument with strings." Sadly, Solo Guitar is Green's only solo release.
A Teacher Affects Eternity
Greene ceased writing instructional books after 1979, though he continued teaching and learning. For the rest of his life, he coached aspiring guitarists at his home, at Musicians Institute in Los Angeles, and at seminars throughout Southern California.
He stopped playing solo gigs, too—reportedly because he disliked the way guitar players would scrutinize his technique and execution on the guitar rather than soaking in the music he drew from the instrument. According to Leon White, Greene often said, "I'd rather play at a retirement home for blue-haired old ladies than at a club. At least the old ladies would listen to and enjoy the music and not watch my hands the whole time."
When Greene passed away on July 23, 2005, approximately 700 people attended his memorial, nearly all of them guitarists. Greene had many loves in his life: baseball cards, fast cars, and his partner Barbara Franklin. But above all else, he loved music and teaching.
As the noted writer Henry Adams once said, "A teacher affects eternity. He can never tell where his influence stops." Greene's legacy may outlive us all.