Photo by Jim McGuire.
A flatpicking Americana forefather looks back on 50 years in the biz—with music still flowing and a smile on his face.
Pyromaniacs are notorious for returning to the scenes of their crimes, but fretboard burner David Bromberg has always been content to start musical conflagrations and move along — from country to bluegrass to jazz to folk to rock and to blues, sometimes all on the same album.
"I've always played whatever I've wanted to play," says the 68-year-old éminence grise of Americana. "The difference is, me and my bands always dug a little deeper with all the stuff we approached. We didn't want to play the obvious. We wanted to play the music that spoke to us."
If that's the case, the ghosts of Blind Willie Johnson, Pops Staples, and Brendan Behan may have been whispering to Bromberg as he recorded his new album Only Slightly Mad. It ranges from Johnson's country blues "Nobody's Fault But Mine" to Bromberg's original preaching gospel tune "I'll Rise Again," to his first crack at an a cappella British Isles music hall sing-along in "The Strongest Man Alive."
Bromberg has operated this way since his 1972 debut David Bromberg, which featured a duet with George Harrison. In the subsequent decades he recorded roughly 20 more discs with his own bands and played with an enviable list of artists that includes Bob Dylan, Jerry Garcia, the Eagles, Jerry Jeff Walker, Tom Rush, Carly Simon, John Prine, Willie Nelson, Kris Kristofferson, Link Wray, and Ringo Starr. And while Bromberg's never been a household name—unless it's in the households of the many musicians who've studied his picking technique and admired his taste, tone, and seemingly infallible precision blended with an unflagging and gentle sense of humor—he's continued to grow as an artist and a man, even during the 22-year hiatus he took to escape the rat race of touring.
"These days they have a category for roots music or Americana, but back then they didn't have those terms."

"At one point I was on the road for two years straight without being home two weeks," he explains. "Things were going very, very well business-wise, except I didn't ever want to tour again."
During that break he became an expert in violin building and settled into living a good, relaxed life with his wife, the occasional vocal accompanist and sculptor Nancy Josephson. Bromberg continued to voraciously absorb any music that crossed his ears, keeping his chops alight, maintaining his incendiary flat-picking technique and slide approach on guitar, and re-embracing the mandolin. Although Bromberg plays fiddle and pedal steel, too, Only Slightly Mad's producer, fellow roots guitar MVP Larry Campbell, handles the latter on the new disc.
Reflecting on his five-decade career, which began in earnest as a student of the Piedmont style blues guitar giant Rev. Gary Davis, Bromberg says, "doing this music thing … you never reach nirvana.
Photo by Jim McGuire.
"Well," he elaborates, "you may, because part of making music is reaching that place where you feel it flowing through you. But you don't reach perfection. You don't reach a point where you say, 'I'm done now.'"
So as of 2007's Grammy-nominated Try Me One More Time, he's a recording and touring musician again. "I've learned I can control touring," he explains. "I can be selective and choose to have time off."
When we caught up with Bromberg by phone at his Wilmington, Delaware, violin shop, where Texas singer-songwriter Sarah Jarosz had just paid a visit, we found him sounding chipper and energized—a man on top of his game, but not consumed by it.
How do you feel your playing has evolved in the 42 years since your first album?
I'm aware my playing has had to adapt to physical changes. I can't play as fast as I used to, so I place greater emphasis on rests, which are very important musical notes that are ignored a lot, and on leaving space.
I've learned to sing a whole lot better than I used to. I really enjoy singing; it's no longer something I do between guitar solos. The vocals on this album were the easiest part of it. Way back in the day, they were the hardest part.

You're a living compendium of American roots styles. What do you see as the connective tissue of the music you play?
It's pretty subjective. I'm a lucky human being, in many ways. Back in the day I didn't realize I could control how much I worked or where I worked, but I was always in control of what I was going to play, and I played only what I liked and everything that I liked. Which, of course, made it very difficult in the days that record stores existed, because they didn't know what bin to put me in. These days they have a category for roots music or Americana, but back then they didn't have those terms. And if they did and had a bin for it, I don't know who else would have been in it.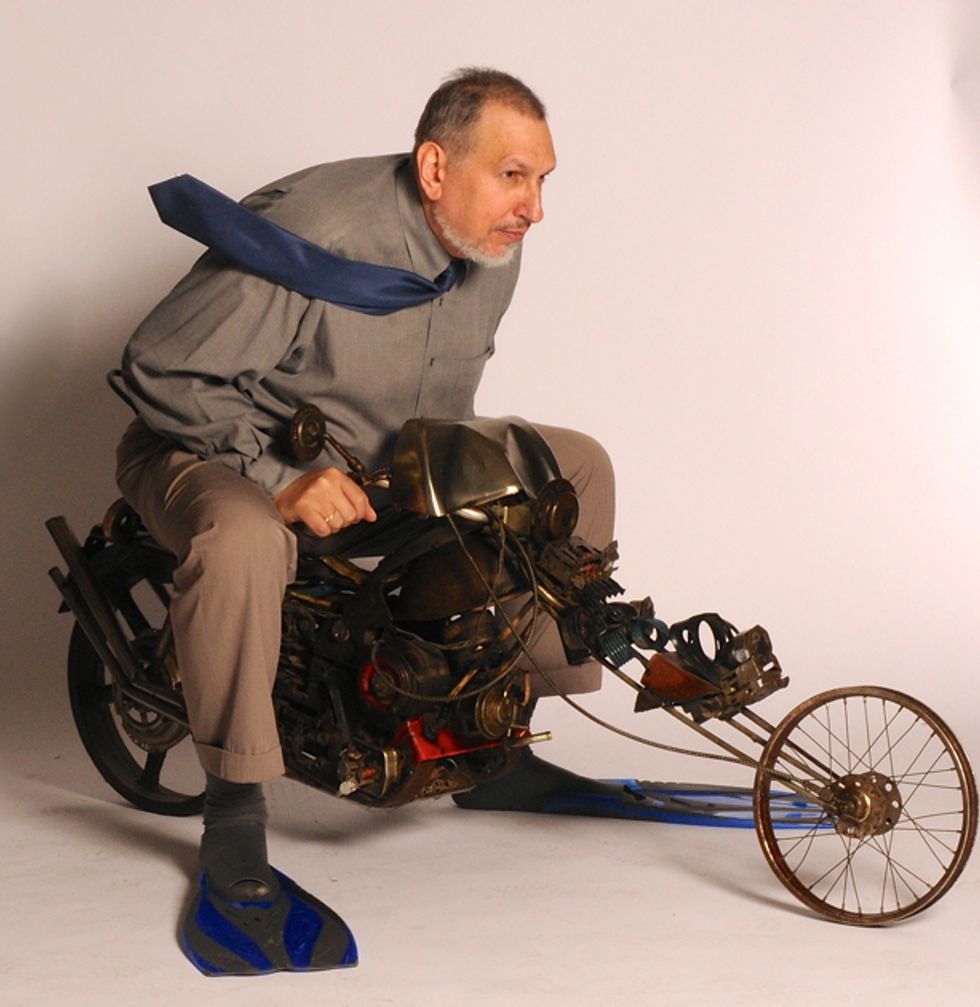 What's the most important thing you learned from Rev. Gary Davis?
I learned a lot of important things, and there was a lot of stuff I should have gotten that I didn't. I learned how he formed his chords and would play those syncopated rolls, and I learned the idea of contrary motion of the bass against the treble. I went to him for guitar lessons, but I also learned what a moving singer he was. And from going to churches with him and hearing preachers, I learned about phrasing.
In some interviews B.B. King says that he tried to get his tone from Lonnie Johnson, and I can hear that. He says he got the vibrato from his cousin Bukka White, who played slide. But the phrasing of his guitar playing … that's church. That's straight from the preachers. The same with Albert King and all of my favorite black blues guitar players. You can hear the church in their phrasing.
For me, one of the big distinctions between the really fine white blues guitar players and the African-American blues guitar players is that African-American guitar players know how to use rests. That's the church.
The slide tone on "Nobody's Fault But Mine," which begins the new album, is outstandingly gritty and deep. What are you playing?
I'm in standard tuning, using a straight pick and playing my '58 Esquire with a Red Rhodes Velvet Hammer pickup in the bridge position and a PAF humbucker in the neck position. I'll be buried with that guitar. When I bought it, it was used—now it's vintage. At one point I sold off many of my guitars. I had a fantastic collection. But I couldn't bear to part with that. And I'm playing it through one of my favorite amps, an Electar from the '40s, plus one of Larry Campbell's amps—I'm not sure what it was. That Electar can fit in the overhead compartment on an airplane.
What led you to violin making and dealing, rather then guitars?
Gear

Guitars
1958 Fender Esquire with a Red Rhodes Velvet Hammer pickup in the bridge position and a PAF humbucker in the neck
Vintage 1930s Gibson parlor model acoustic
Martin D-45
Martin M-42 David Bromberg signature model
Gibson mandolin
Amps
1940s Epiphone Electar Zephyr
Effects
TubeWorks Bleu Tube Overdrive
Various Boss pedals including a chorus, octaver, compressor, and tuner.
Strings and Picks
Ernie Ball Super Slinky electric string sets (.011-.052)
Martin Lifespan Coated Light (.012-.054) and medium (.013-.056) sets
D'Addario mandolin strings (.011-.040)
Blue Chip picks: triangle-shaped .60 mm (mandolin), teardrop-shaped .50 mm or .60 mm (guitar)
Guitars, especially flattop guitars, are relatively simple compared to violins. Archtops are a little more complex, but with violins you have things that were designed centuries ago with very, very little change occurring over those centuries. But the variations are innumerable. If you get a guitar that says "Martin" on it, the odds are good it was made by the Martin Company in Nazareth. If you get a violin and it says "Stradivarius," the odds are pretty good it was made long after he died. So it fascinates me to be able to look at instruments to tell when and where they were made, and perhaps by whom. And that's what I'm studying.
What does Only Slightly Mad say about you as an artist, or as a person, today?
The first song—"Nobody's Fault But Mine"—I believe that, and I feel it when I'm singing it. The last tune is, "You've Got to Mean It Too," which is about that idea that you can't just say things in life … you've got to mean them. And I believe that, too. Also there's a song I wrote on there called "I'll Rise Again," which was of a little concern to me when I finished, because there's a part in that song where I spoke, and I said some things that, when I listened back, seemed very revealing. I wasn't sure I wanted that to go out. But then I thought about it and decided that when, as an artist, you reveal a part of yourself, that's the best thing you can do.
YouTube It
Among the many things David Bromberg learned from blues legend Rev. Gary Davis is the song "Cocaine Blues." Watch Bromberg deliver a perfect display of Davis' distinctive bass and treble countermelody and rhythm lines, plus the Rev.'s rolling fills, during the solo at around 1:33.
Before you can produce mixes that translate well in a variety of listening environments, you need to get intimately familiar with your own listening space.
In last month's column ["More Mix Tricks," October 2013], we talked about assembling a reference CD. Assuming you've chosen your tracks and have your CD ready, it's time to evaluate and learn your room. And a good way to begin is to emulate what the pros do.
Even if your studio is in the corner of the living room or it's not possible for you to make changes to your room or setup, going through this process of learning your room will help you achieve better results from your rig. Just being aware of potential problems can help you work around them.
If you were to watch a number of different recording engineers walk into a studio for the very first time, you'd find that they are remarkably consistent in what they do. Many will stop and listen for a minute to quickly gauge what's happening in the space and determine if there is any background noise. Sources might include hiss or hum from equipment, noise from an air-conditioning system, outside traffic, and so on. There are some noise sources you can't do anything about, but some are easily addressed. If the air conditioner is making disruptive noise, for example, just make sure you turn it off during your critical sessions. If there's heavy traffic noise, simply reschedule your sessions to a time when traffic is lighter.
The next thing an engineer will probably do is walk around the room and clap their hands. What they're doing is listening for flutter echo—sound that bounces back and forth between two parallel surfaces and creates a rattling echo effect. An engineer might even shout "hey!" a few times to test the amount of reverb in the room. Commercial studios solve the problem by installing sonic treatment, such as acoustic panels or acoustic foam, to absorb these reflections. You can hang acoustic panels in a home studio too, but just shuffling the furniture around or hanging a curtain or blanket to disrupt the reflection path between the parallel walls might do the trick.
After listening to the room itself, it's time to learn how the monitor system sounds in the room. A few engineers will go as far as running a noise source through the speakers and measuring the response in the room. In my experience, a more practical (and more commonly used) approach is to pop your reference CD into the system or load up your music files on your computer and prepare them for playback through your audio interface. An important note I touched on last month: Don't rely on an MP3 player or your phone for playing reference tracks. The audio quality isn't high enough for our purposes.
Don't rely on an MP3 player or your phone for playing reference tracks. The audio quality isn't high enough for our purposes.

Now it's time to sit down in the mix position and start playing back your tracks. I break down my focus into three components—bass range, midrange, and treble range—and I'll often play a section of a particular track back three or more times so I can really dial my attention in on each component.
First, I'll focus my listening intently on the low end and ask myself a few things: What's happening in the room? Is it boomy? Does the bass seem light? Does the bass extend all the way down or does it feel as if the lowest octave is missing?
It's a good idea to get up from your chair and walk about the room while listening to the low frequencies. Any enclosed space is subject to what acousticians call "room modes"—resonances in the low frequencies that result from the room's dimensions. These resonances will vary in intensity in different places in the room. You might have a "hot spot" where a resonance is loud, or a "null" where the resonance seems to cancel out and the bass almost disappears. Knowing where these spots are is a big help because you certainly don't want to make critical decisions about the bass level when you're sitting or standing in a hot spot or a null.
Return to your listening position. Are the bass frequencies even throughout their range? Do some notes seem to jump out? Again, just being aware of these facts can help you adjust your ears and optimize your tracks and mixes.
I'll turn my focus to the midrange next. Is it clear or does it seem clouded? Do tracks seem to jump out of the speakers or do they seem to languish? On a heavily layered track, are all the parts discernible and independent? Where things need to blend, do they sound seamless? Do the mids seem scooped overall or are they too prominent?
Finally, my attention shifts to the high end. I'll ask myself if the tracks sound open or if they're dull. Can I discern the small details like fingers pressing frets on acoustic guitar strings, subtle ghost notes on snare drums, or vocal breaths? Are the highs smooth or harsh? Are they smeared or clear? Are they overly bright?
This is also the point where you can start inspecting the imaging of the system and the room. Are you able to pinpoint the position of each instrument or voice in the stereo field? If something pans from side to side across the stereo field, does it do so smoothly? Does the stereo field seem wide and open, or narrow and closed?
Again, going through this process will allow you to form a baseline from which you'll feel comfortable working on your own tracks and mixes. So until next time, enjoy getting to know your room.
Hayden's newest, smallest member of the MoFo family delivers portability and surprising power for players with rocking inclinations.
Hayden is a relatively new name in amplifier circles. The company was formed in 2006 in the UK as a guitar-centric sister company to Ashdown, a brand known for their bass amps.
Hayden didn't fool around when it came to developing their new line. They recruited Matamp's chief engineer Dave Green to design their amps and developed two main product lines—a handwired series made in England and a more affordable line of PCB construction amps made in China. This year, Hayden retooled and restyled their amp lineup, including our review amp, the Mini MoFo 15, a lunchbox-sized head equipped with two EL84 power tubes and one ECC83 preamp tube.
Son of a Mother
While its biggest sibling, the MoFo 100, offers features like channel switching, reverb, an effects loop, and a recording out, the Mini MoFo 15 takes a bare-bones approach. The 15's front panel consists of controls for gain, EQ (bass, middle, and treble), and master volume. The two "frills" are the studio/stage switch, which engages either 2-watt (studio) or 15-watt (stage) operation, and the EM84 Magic Eye tube—a neon-green light that's visible through the amp's vents—that flickers in response to pick attack.
Portable, Packs a Punch
Apart from the impressively large sounds, portability is the main attraction of the Mini MoFo 15. It comes with a padded carry case that has a zippered pouch for the power cord and looks similar to an SLR camera case. One minor complaint I have with the case design is that it's tricky to get the amp out. There's no handle on top of the amp, so to extract the unit, I had to wedge my hand in the bag and pull the amp out while simultaneously tugging on the underside of the bag. It's a minor gripe, perhaps, but the process seems bound to wear out the bag prematurely.
I had a rehearsal booked in New York City, so I popped two pedals—an Xotic SL Drive and a Boss RV-3—into my gig bag pouch. With just those pedals, my guitar, accessories, and the Mini MoFo 15, I set out determined to get the biggest tone I could out of one of the smallest and easiest-to-carry rigs I can imagine. The Mini MoFo's portability proved invaluable before I played a note, because the closest parking spot was about 12 blocks away from the studio. I plugged the Mini MoFo 15 into a no-name cheapo cab, and thought that if the Mini MoFo 15 can sound good through subpar speakers, it could probably handle any backline situation.
Depending on how I had my guitar volume knob set, I could move from gnarly, Brit-rock vibes to a John Scofield-like,
semi-dirty lead sound.

For the first half of our rehearsal, it was just the drummer and me. With the EQ controls and gain all at noon, volume at 9:30, and mode set to stage, I enjoyed the roar I got from the Mini MoFo so much that I played on without changing a setting for 20 minutes. Even with a limited set of controls, there are a wide variety of sounds on tap. And depending on how I had my guitar volume knob set, I could move from gnarly, Brit-rock vibes to a John Scofield-like, semi-dirty lead sound.
When the rest of the band arrived (another guitarist and a very loud bass player), I feared the Mini MoFo 15 would be in trouble. My fears were soon assuaged when the other guitarist, playing through a Marshall JCM900, asked me to turn down twice.
Taming the Filthy Animal
In situations where you want the sound of a dirty amp, the Mini MoFo has plenty of horsepower for most live situations. Predictably, it's harder to get a truly clean sound. But the little Hayden is not entirely without headroom. Turning down the gain and cranking the volume still leaves the amp a little too gritty for jazz or pristine chord work, but for music that can use a bit of bite on strummed open chords, it sounds rich and fat.
Ratings
Pros:
Excellent sounds. Super portable.
Cons:
Could use a handle on top.
Tones:


Playability/Ease of Use:


Build/Design:


Value:


Street:
$499
Hayden Mini MoFo
haydenamps.com
Cranking the gain left me very impressed. I was able to get a great hard rock sound with a crisp, defined crunch for rhythm and ample sustain for leads. The Mini MoFo might not be the highest-gain amp around, but except for raging metal, it will hold its own for most hard rock.
Studio mode cuts the power significantly. But I couldn't resist the temptation to see how the amp in 2-watt mode would fare in this band situation. I cranked the volume with the gain close to noon, and though the output wasn't quite as authoritative as what I heard in stage mode, I remained audible in the band mix.
Sans Effect Reverb is a bit of a crutch for me, and I like amp reverb because it means one less pedal to bring. But the Mini MoFo sounds so beefy and vibrant that I didn't feel too exposed without it. And though I engaged the drive and reverb pedals I brought to rehearsal, I ended up using them sparingly. And the best tones I got that day were from the Mini MoFo alone—power tubes cooking.
The Verdict
Lunchbox amps are a common sight these days. But even given this tough competition, when you shop for a mini tube head, you should include the Mini MoFo in any comparison. If you need a great sounding, simple amp in a super-compact package, the Mini MoFo is a bonafide giant killer. And for players who tend toward rocking, it might just stand tallest among its fellow tiny overachievers.