Tone Tips: Do You Really Want To?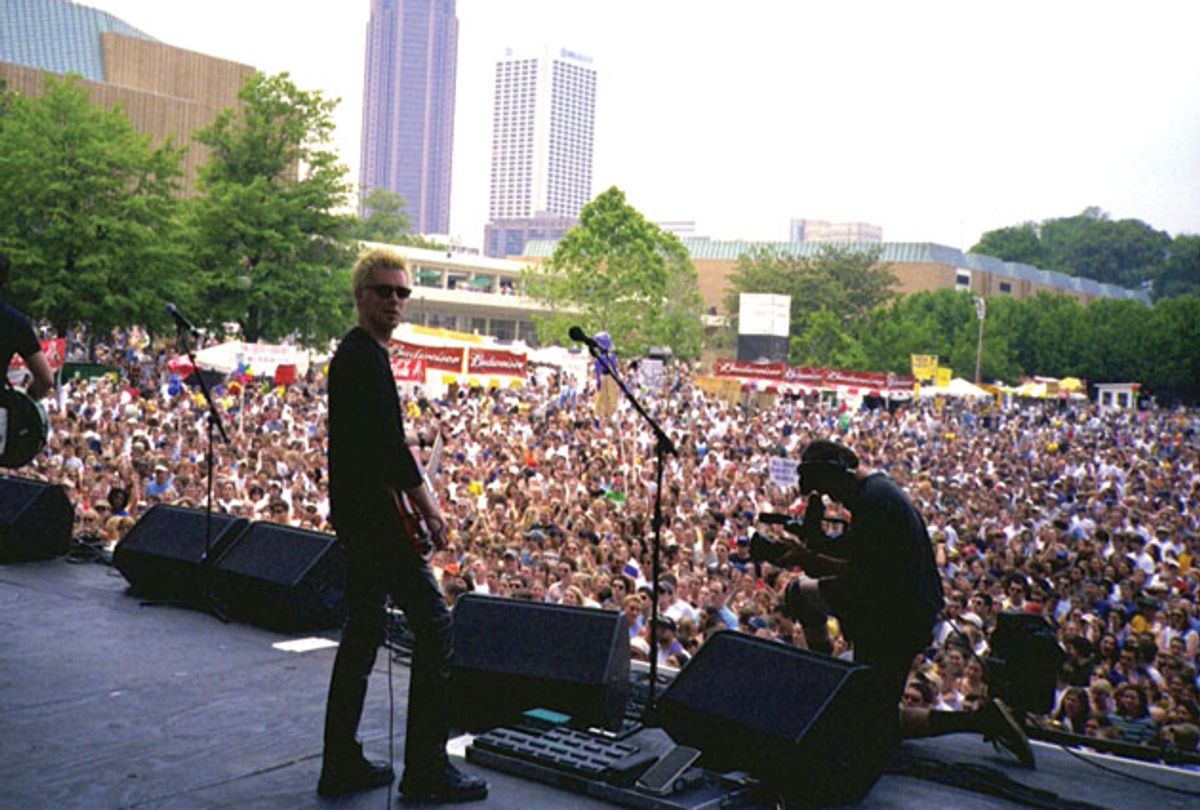 Do you dream about scoring a gig as a touring sideman? If so, take a moment to ponder the yin and yang of this career path.
I'm writing this edition of "Tone Tips" while sitting outside at a café in Paris. I'm over here on tour and having a really good time, so I can understand why people often say to me, "I want to do what you do." It's definitely a yin-yang thing because I'm missing my family in Los Angeles right now. Touring is no longer my only source of income, but it can keep you away from home and family all the time. Touring can also be tough during those times you don't have a gig! In this column, I'll share some of the ups and downs I've experienced as the result of choosing to be a professional musician.
I first moved to L.A. in 1990 and attended Musician's Institute for one year. This was a great experience, and through the school's referral service after graduation, I found a band with great songs and a good industry buzz that needed a guitarist. I liked their music and they liked me, so I joined the band and worked a day job in a music store to pay the bills. I thought I'd only be working at the store a few months or so before being whisked off to fame and fortune.
Fast-forward five years: I was still working at the same store. And after writing and demoing 50 songs and playing countless gigs and label showcases, the band was about to call it quits. I almost gave up at this point, but miraculously, the band was offered a small deal on a Japanese label. I was able to quit my day job, make an album, and I could finally call myself a "pro musician." But our label folded after one year, and around 1997, I found myself looking for work again.
A drummer friend told me about an audition for a touring gig with singer/songwriter Meredith Brooks. He was able to get me in on the audition, which was my first real crack at scoring a touring sideman gig. I've always had a good work ethic and an attitude of striving to be the best guy in the room, so I was totally prepared. I went into the audition and did really well. And out of about 30 guitarists, it was down to me and one other guy.
Meredith called me at home and we had a long talk. She asked me a number of questions and I really thought I had the gig at that point, but the other guitarist ended up getting the job. I was disappointed, but after almost coming out on top for this audition, it put me on the radar of people who organize these things in L.A. and I was asked to audition for more gigs soon after.
From 1998 until 2003, I ended up touring and/or recording with a slew of major-label acts including Adam Cohen, Sparkler, Blinker the Star, Evan and Jaron, and a few others. They were some great times, but most of these were up-and-coming artists with small tour budgets. I wasn't earning much money and the travel could be rough.
If you really think you want to play guitar for a living, you have to ask yourself if you're absolutely obsessed with it.

Keep in mind that by the year 2000, I'd been pursuing my dreams for 10 years and was far from home. My entire family was in Edmonton, Canada, and I tried to get back about twice a year to visit. But paying for plane tickets and taking time away from work was tough to do. I was usually struggling just to pay the bills.
From 2003 to 2006, I ended up doing some higher-profile tours with artists such as Jewel and Robi Draco Rosa. I performed on the big late-night talk shows and had endorsements with Gibson and Ernie Ball. It seemed like my career was on an upward trajectory and I was having a great time seeing the world, but I found it difficult to keep a girlfriend for long and I was still only getting home to see my family a couple of times a year.
My father passed away from cancer in 2006. I'll always be thankful that I was able to spend a couple of weeks with him before his death, but this was a real wake-up call for me. Even though I was doing exactly what I set out to do 15 years earlier, the difficult implications of my career choice suddenly came into sharp focus. I had chosen a tough, unpredictable path that took me far away from my family. Touring was my only decent source of income, and touring kept me away from home.
I spent 2007 to 2010 touring with Chris Cornell and this was truly an exceptional gig. Joining Melissa Etheridge in 2010 on her Fearless Love tour was a similar experience. Playing music with some of the greatest songwriter/vocalists of our time has literally been a dream come true.
Having said this, I've recently really made an effort to diversify and find some other sources of income. Jumping from tour to tour and relying solely on that for income was starting to wear on me. Releasing my solo album Guitar Nerd in 2011 was a great experience and people responded favorably to it, so I'll be recording and releasing another soon. My YouTube gear demos have really taken off, and this allows me to play guitar and write songs in my studio, be creative, and still be home for dinner with my girlfriend and her little boy every night. So at 42, I feel that I'm finally figuring out how to play guitar for a living without being on tour all the time! I want to continue touring, but I don't want it to be my only option.
If you really think you want to play guitar for a living, you have to ask yourself if you're absolutely obsessed with it. I think you have to be in order to hang in there during the tough times. But my biggest piece of advice for those who "want to do what I do" is this: If you move away from home and the ones you love, go back and visit as often as possible. You'll be glad you did.