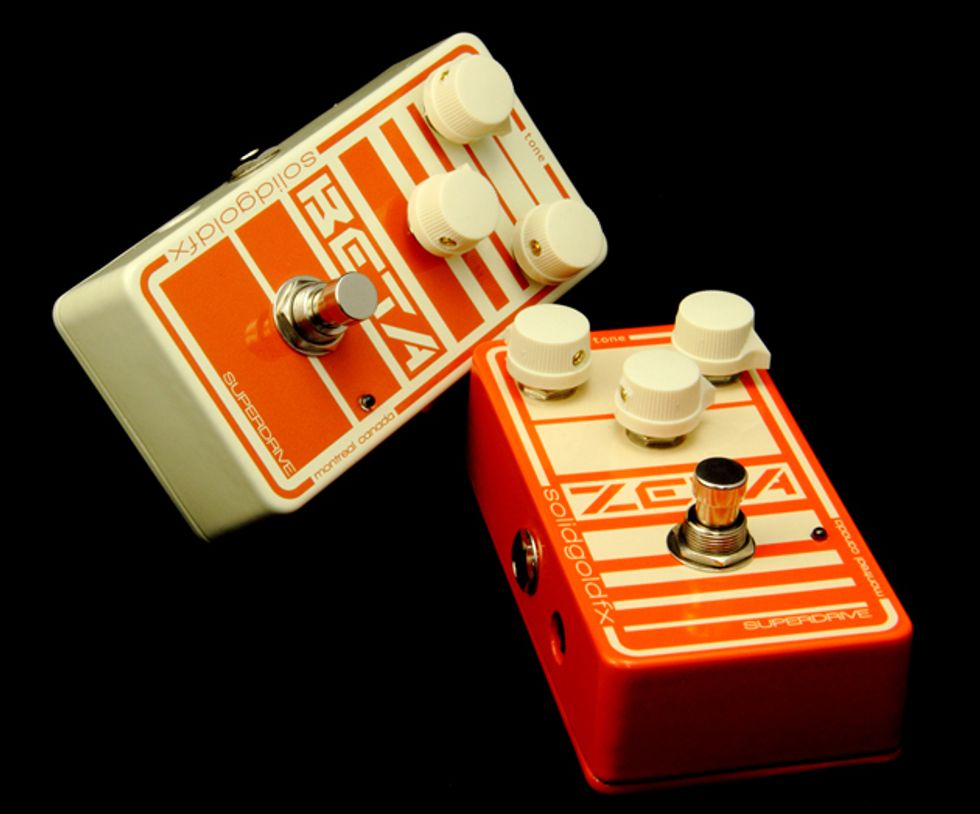 Montreal, Canada -- SolidGoldFX proudly announces the launch of the new SuperDrive Beta and Zeta overdrive pedals. The Beta and Zeta mark a new direction in SGFX's overdrive designs combining an ultra-dynamic JFET preamp stage and precise tuning of the frequency response and control ranges for an overdriven experience like no other.
The SuperDrive Beta is SGFX's first pedal designed primarily for bassists, delivering old-school warmth and thump with tones reminiscent of vintage Motown recordings all the way to beloved Ampeg inspired drive. The Beta's specially tuned JFET preamp and subtle germanium clipping offer a wide range of musical drive that is very tube like in its sonic characteristics giving players the ability to quickly dial in the right amount of color to fit just about any playing style.
The SuperDrive Zeta is the continued evolution of the classic SuperDrive. With a stripped down, uncomplicated, no frills interface, the Zeta offers everything from light overdrive to warm, medium bodied saturation. Its tailored mid-range presence and a focused tone sweep deliver a sound that is sweet throughout while its JFET based preamp offers a hint of sag and subtle compression giving the Zeta a pleasing push-pull feel. The gain structure of the Zeta is familiar yet distinct delivering a sound and feel that can only be described as greasy Rock & Roll.
SolidGoldFX's goal when designing these pedals was simple; make sure they sound great, make sure they look great and make them affordable. Priced at $165.00, the Beta and Zeta pack tremendous value and tone that are sure to please. The SuperDrive Beta & Zeta are set for release on October 7, 2013 and will be available through SolidGoldFX dealers as well as direct from SolidGoldFX.
Pricing info:
Street $165 (each)
For more information:
SolidGoldFX