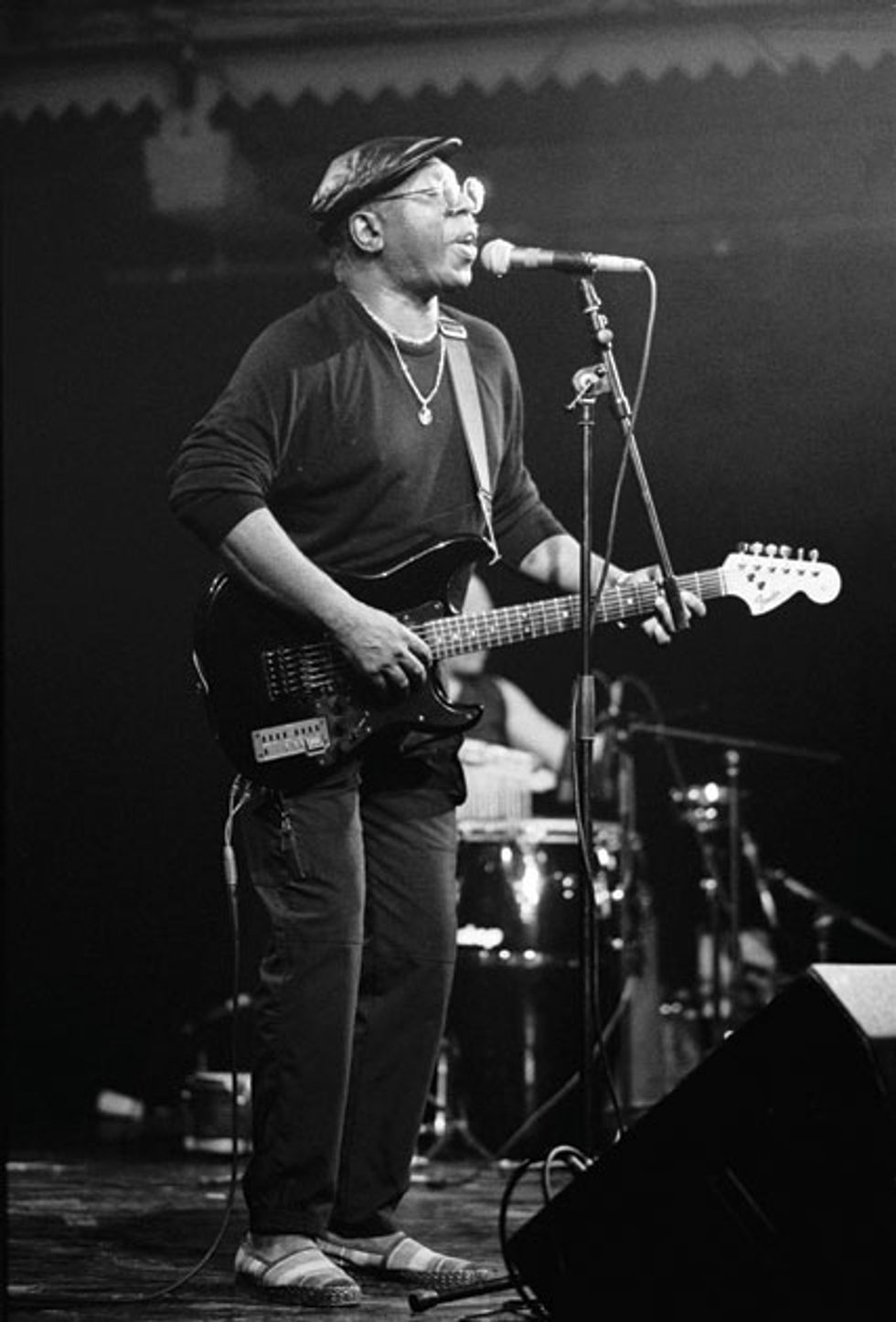 Voice of a Movement
In 1961, the Impressions reformed and landed a contract with ABC-Paramount Records in New York City, based on a demo recording of Mayfield's "Gypsy Woman." The song soon became an international hit. The Impressions' career faltered after that, but by then Mayfield's songwriting, producing, and guitar sound were in high demand from R&B artists who hoped his touch would help them achieve similar successes.
Back in Chicago, Mayfield teamed up with arranger Johnny Pate to produce his next round of hits. Working with Okeh Records label head Carl Davis, they produced Major Lance's "Monkey Time"—a Top 10 pop single that was emblematic of the production team's sound: Mayfield's guitar underpinning heavy bass, brass, and strings, all of which was shored up by the Impressions' backing vocals. In 1963, the Impressions had another hit of their own: Mayfield's affirmative "It's All Right." Their next single, "Talking About My Baby," joined the Beatles' "I Want to Hold Your Hand" and "I Saw Her Standing There" on the 1964 top 20 charts. And despite the pervasive power of the British Invasion, the Impressions scored yet another hit that year with the Mayfield-penned "I'm So Proud" (later covered by Jeff Beck in Beck, Bogert & Appice).
The Impressions' 1964 hit "Keep on Pushing" marked the beginning of Mayfield's topical lyric writing. It dealt with the rising civil rights movement being spearheaded by Martin Luther King Jr. Despite—or perhaps because of—its gospel roots and movement-oriented lyrics, "Keep on Pushing" struck a popular chord, rising to No. 10 on the charts. Other Mayfield-penned Impressions' songs on the charts that year included the classic singles "You Must Believe Me" and "Amen." The album Keep on Pushing, which boasted all of the band's aforementioned1964 hits, brought the Impressions to their highest point of popularity to date.
YouTube It
In this 1990 footage from the German television program Ohne Filter, Curtis Mayfield is in top form—both in terms of vocal delivery and 6-string finesse.
But 1965's People Get Ready delivered even more hits that would go on to become R&B standards. On the gospel-inflected title single, pizzicato strings on the left side occasionally double Mayfield's rhythm chucks on the right. About halfway through, everything stops for his double-stop melody interlude, which modulates the song up a half-step. The lyrics about inclusiveness and upward mobility became an anthem for the civil rights movement.
By the mid '60s, the Impressions had become a worldwide sensation, but their music had a special impact on Jamaica, where their socially conscious lyrics and Mayfield's guitar playing influenced Bob Marley, Jimmy Cliff, and others. In addition, Mayfield continued to write and produce hit records for artists such as Major Lance, Gene Chandler, and Jerry Butler. By age 23, Mayfield had defined a Chicago soul sound that rivaled Motown.
Unfortunately, the next Impressions album failed to capitalize on their place as the voice of a movement. It retreated to a collection of slick standards and, for the first time ever, the group failed to chart.