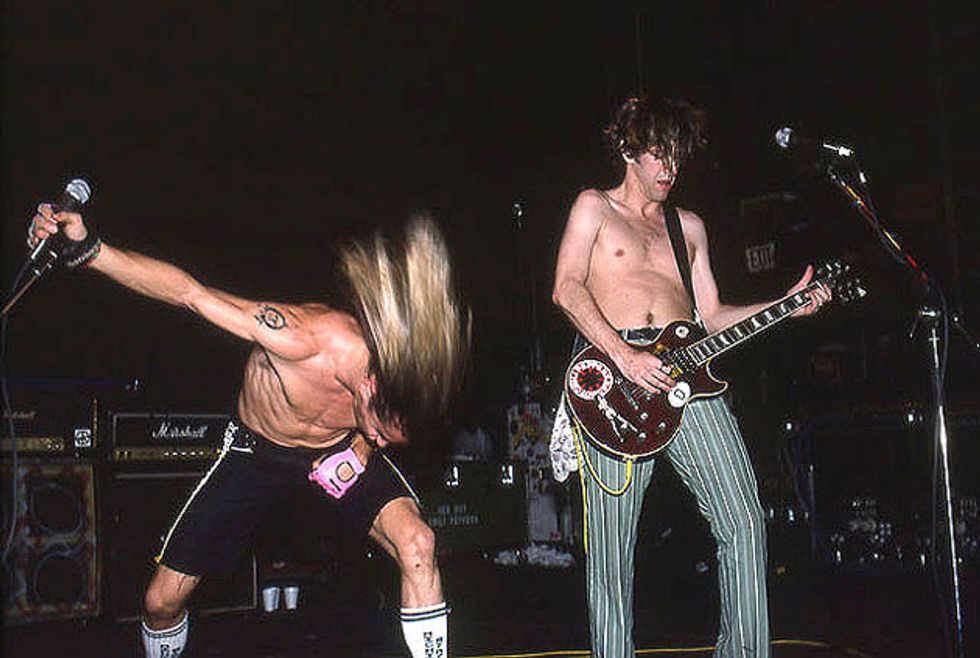 Photo by Frank White
Red Hot Return
That same year, What Is This went into the studio and recorded Squeezed, a five-song EP, with producer/engineer David Jerden (Jane's Addiction, Alice in Chains) and shot a video for the song "My Mind Have Still I" with then up-and-coming video director Wayne Isham.
Squeezed is a showcase for the twin-guitar lineup of Johannes and Slovak, who share rhythm and lead duties with complementary individual styles. The songs sound like early-'80s new wave and include funk, ska, and other groove influences. Discipline-era King Crimson is an obvious influence as well. The EP documents a new band on the rise, though in hindsight the production values sound dated. "Unfortunately it does sound a bit '80s," Johannes says. "But that's what everything sounded like back then—we were pretty mental-sounding live—but it was just the aesthetic of the time."
Slovak's playing oozes Hendrix—subtle psychedelic-blues riffage, modal inflections, tasteful whammy manipulations, clean single-coil tones via a cranked amp with infinite headroom—it's all there on those first recordings and remained dominant throughout his career. Slovak played a Strat throughout his career too: a '60s sunburst with a white pickguard and rosewood fretboard. Slovak kept the tremolo floating so he could raise and lower the pitch.
What Is This toured the U.S., continued to gig locally, and went back into the studio with Todd Rundgren to record What Is This?, their first full-length album. But Slovak was ready to move on. "I think Hillel grew less interested in What Is This," Irons says. "He left while we were recording our second record in 1985."
"I noticed that Hillel really started to focus on his songs in a hurry," Johannes says. "He'd already made up his mind to go back to the Peppers and he wanted to get them done. Once he'd gotten all the overdubs to the songs the way he wanted them, that was when he sat us all down and told us he was leaving."
Slovak rejoined the Red Hot Chili Peppers in time for their second album, Freaky Styley. Veteran funkmaster George Clinton produced the album. "That was a good time," James Slovak recalls about his brother's excitement working with Clinton. "That was when he was his happiest. It was his dream come true."
Clinton's personality is dominant on Freaky Styley. The album's slower tempos, horn arrangements, and unbridled funk stand out as an anomaly in the Red Hot Chili Peppers' catalog—a tempered variation on their supercharged, hyper-sexual, energetic live shows.
Freaky Styley establishes Slovak as a mature, articulate guitarist, and from his exceptional wah work on "Yertle the Turtle" to the infectious rhythm guitar of "Hollywood (Africa)" and "Nevermind," his tasteful playing shines on the album. Not every song was medium-tempo funk, either. The brazen "Catholic School Girls Rule" served as an outstanding platform for Slovak's Belew-inspired Strat mangling, harmonics, and picking behind the nut. In his October 1985 review for Rolling Stone, Ira Robbins singled out Slovak's guitar playing as: "A mix of crazed solos, nostalgic wah-wah, and rhythmic scratching."
In his book, Scar Tissue, Kiedis noted that Slovak's playing had changed during his time with What Is This, though Johannes isn't convinced. "His playing had been slowly evolving over a period of time," he says. "He became more groove-oriented—he got the wah wah, he had that great Marshall—and he started to develop and find his voice. But that had been happening anyway. He always kept moving forward and getting better."
"He liked to smack the top of the Silvertone to get the reverb vibrating loudly." —Jack Irons

Slovak's amp was a Marshall Super Bass head. He ran that through a handpainted, straight-front 4x12 cabinet. "It was very open sounding and had this great clarity in the midrange," Johannes says. The Strat plus the Marshall was the foundation of Slovak's sound. "He knew. It was like one big instrument to him, the way that Marshall was." Slovak used a number of pedals, including a Univox Super-Fuzz, a Dunlop Cry Baby Wah, an MXR Distortion+, and a Boss CE-2 Chorus. He usually strung his guitars with .010 sets and used gray 1.00 mm Dunlop picks.
Uplift Mofo Party Plan
Irons rejoined the Red Hot Chili Peppers in 1986. The band—in their original lineup for the first time since signing with EMI—continued touring in support of Freaky Styley before going to work on their 1987 release, The Uplift Mofo Party Plan, with producer Michael Beinhorn. "That record was probably the peak of the original lineup," Irons says. "We were well-oiled and played together a lot. We had a long preproduction and recorded at Capitol Records studios. Michael Beinhorn was very important in getting The Uplift Mofo Party Plan recorded. There was some turmoil at the time. He stayed the course with us from the start of preproduction and was an important influence."
The Uplift Mofo Party Plan is a punk-funk tour de force—a definitive record in that genre—and it established the Red Hot Chili Peppers as the darlings of the alternative underground. They sold out small venues, played major festivals, and were a fixture on college campuses and radio.
And in contrast to the understated guitar tones on Freaky Styley, The Uplift Mofo Party Plan spewed fuzz with abandon. From the opening notes of "Fight Like a Brave" to the dramatic call-and-response overdubs of "Walkin' Down the Road," Slovak's tone is dripping in dirt. He pulled out a talk box, too—an effect he experimented with previously—for an obvious funk nod on "Funky Crime," but also to add subtle color to the album's Bob Dylan cover, "Subterranean Homesick Blues." "I remember him fucking around with a talk box," says James Slovak. "He liked that."
Slovak's funk comping climaxed on The Uplift Mofo Party Plan. On many tracks, it consisted of just one repeated note or chord—a bold, barebones approach. One particular highlight is the '70s-style soul slickness he conjured up on the "Special Secret Song Inside." Slovak's solos and single-note fills were superb throughout the album as well—they scream bluesy psychedelics and reach a Hendrix-inspired peak with what sounds like record scratching or tape-machine manipulations on "Organic Anti-Beat Box Band."
But the album's standout was "Behind the Sun," a track that foreshadowed what the Red Hot Chili Peppers were to become. Combined with Slovak's melodic playing and colorful sitar textures, the song's mellow vibe made it a notable exception to the band's aggressive early catalog.
The Final Tour
The tour for The Uplift Mofo Party Plan was long and successful, but drug use—something Kiedis and Slovak struggled with—was taking its toll. Slovak was fired at one point (P-Funk guitarist Blackbyrd McKnight filled in) and given time to dry out. He made a failed attempt at drug counseling as well.
Following the final European leg of the tour, the band returned to L.A. The plan was to take a three-week break and regroup to work on the next album. But on June 27, 1988, Slovak was found dead in his apartment from a heroin overdose. The coroner's report indicated he probably died two days earlier. He was buried in L.A., and his brother James made sure he was interred with his Stratocaster.
The Red Hot Chili Peppers had a strong underground following when Slovak died, but their breakthrough into the mainstream was yet to happen. As the Los Angeles Times noted in Slovak's obituary, "The Chili Peppers, which have released three albums on EMI-Manhattan Records since forming in 1983, have not gained national stardom. But the foursome's wild antics onstage have given the group a strong following in the Los Angeles area."
The Red Hot Chili Peppers went on to become one of the biggest rock bands of all time. They found mainstream success, placed hits on the charts, and their albums sold in the millions. Even so, many fans consider the Slovak period to be RHCP's golden years—and maybe they were, as their influence was never the same as it was in the late 1980s when every young band wanted to be them.
At Slovak's 2012 induction into the Rock and Roll Hall of Fame, James Slovak, accepting the honor on his brother's behalf, said: "[Hillel] was much more than a musician, he was also an innovator." That heartfelt statement couldn't have been more accurate: Slovak's guitar playing impacted the musical landscape forever.