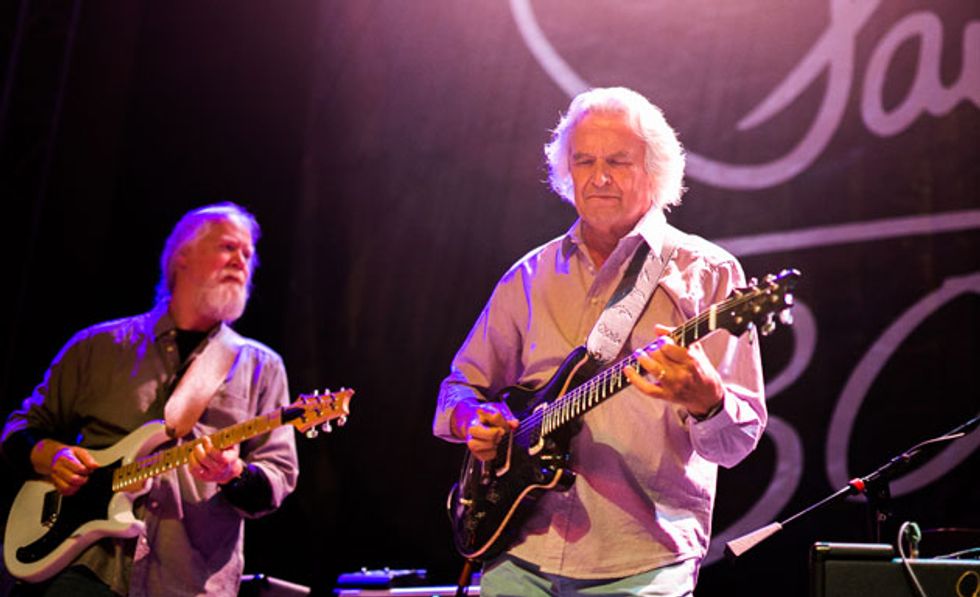 During a recent event to celebrate PRS Guitars' 30th anniversary, McLaughlin sat in with fellow PRS endorser Jimmy Herring and the Aquarium Rescue Unit. "I don't know anyone who plays like Jimmy," raves McLaughlin.
Photo by Victoria Selman
John McLaughlin's Gear
Guitars
PRS McCarty Violin
PRS Private Stock Signature Ltd.
Abe Wechter nylon string
Effects
Seymour Duncan SFX-03 Twin Tube Classic
MXR Stereo Chorus
MXR Carbon Copy Delay
Hermida Audio Zendrive 2
Fishman GuitAero WGS6000-RX
Mesa/Boogie V-Twin
Strings and Accessories
D'Addario strings
Line 6 G30 Wireless
Korg Pitchblack tuner
Dunlop DC Brick
In some parts, this record has that visceral live-in-the-studio feel and in others, you can sense these expansive soundscapes. Were you all in the same room when you recorded?
No, not all the time. Part of the problem for Étienne was he had an operation on both his hands. It was really difficult. He needed about six weeks to recover and because we were running a bit late, we started to record without him. Basically, the bulk of the recording was done in London where we were all together, except for Étienne. We traveled to Paris to record his parts.
On Industrial Zen, I did a lot of pre-work with sound design and layers I wanted to use. This album, in a way, is an extension of that work because you can hear in the music that there are passages where we really aren't playing. There's sound and layers with some playing going on behind. That's part of the dynamic where you move out of a group sound to another dimension. It's a lot of work, actually, to prepare the sound design. You have to make it personal. But I'm very happy with how it came out with this combination of unusual dimensions and some really serious playing going on. There's a lot of stuff going on, but at the same time I don't want to be just permanently intense and full volume. We have to breathe, and the dynamics are really an important part of the music. To have that intensity of the playing, which is really personal and totally spontaneous, then all of a sudden you move out and it's like this floating sound that takes you to another place. I really like that and the effect it has on me.
With so many moving parts within a particular composition, how do you present the tunes to the band when you go in the studio?
As far as the compositions, I can't just sit down and write music. That might be why I don't make records every year. I have to wait for the music to come to me. The music arrives and the form arrives, but what I'll do is draw out a sketch. For Gary, I might say, "This is the harmonic structure, but when it's time to play, go where you want and take it where you want." With the drums, I'll use konokol and sing the rhythm. For example, in "360 Flip," even though it sounds a little strange, I had Ranjit change the beat around a bit. He follows these directions, to a certain extent, and then integrates them into his own playing. But once the improvisation starts, that's it. Everyone's free. I want them to be who they are. It's very important to me for them to have space to express themselves in the way they want to.
Did you use your custom PRS on this album?
Oh yeah—what a beauty. I have another one Paul gave me that I used for the guitar synth on the melody of "Gaza City." Synth guitar makes me play in a different way. I don't want to play it all the time—I like the electric guitar or the acoustic guitar. But usually, I'll bring it out for one track on a studio album. It makes me think differently, and I like that.
How does it make you play differently?
Basically, I'm a simple guy. I always use the same kind of sound that is a little flutey. It's a very simple tone, not complex at all, but it reacts to the whammy bar very nicely. It reacts in a very subtle way and I'm able to express things with that sound. For me, it's a totally different instrument, I just happen to control it with a guitar. The minute I hear the sound I play differently. It's not that I want to play differently, it makes me play differently. It's really strange, but I like that. It's like playing with a great drummer, keyboard player, or bass player. They all stimulate you in different ways. I generally don't take it on the road, although I did with Shakti from time to time. It seems to work best in the stability of the studio. I've been on tour with it, and one day it works great and the next it just wobbles. It's really temperamental, so I'm very nervous about taking it out on the road.
What synth are you using?
I'm just using Apple Logic. It's a sound that I found in the ES2 [virtual analog synth] and I've been working on it for, I don't know, 10 years? And I'm still tweaking.
YouTube It
This complete concert from 2012 shows how McLaughlin and his band of virtuosos tackle blazing jazz-rock on the opening track, "Trancefusion." Dig the dynamics during the start of McLaughlin's solo at 0:57.
You've been known to not use traditional amps for your tone. Was that the case on this album?
I'm a little old to schlep an amp around. On the album, I used the Seymour Duncan Twin Tube Classic. It's pretty much that along with an MXR Stereo Chorus and an MXR Carbon Copy delay. I really like those pedals. As far as wireless units, the Line 6 is great. It even has a switch to give you a virtual cable ... far out.
Recently, you got to play with Jimmy Herring at a PRS event. He's a huge fan of your work and has cited you as a major influence.
He's a very special guitar player. Not only is he a great guitar player, but one of the sweetest human beings I've ever met. Don't tell him I told ya [laughs]. I remember when Chick Corea called me once and said, "Hey man, do you know a good guitar player?" I had just heard Jimmy and told Chick about him. I hooked those two up and Chick flipped when he heard Jimmy play. Chick invited him into his band and Jimmy couldn't do it. He's a busy guy. I wish there was a way for them to work it out because when you play with musicians like that, you level up. But Jimmy's got his own priorities and obligations. I think it was for a Return to Forever variation and Chick needed some rocking guitar. And Jimmy's got it.
He recorded one of my tunes on an album ["Hope" on Subject to Change Without Notice]. It was a tune that I never improvised on, only played the melody. When I heard the solo he played on that tune I said, "Holy moly. I should have played a solo like that." He's something else. I wish he was more known in Europe. I don't know anybody who plays like Jimmy.
"El Hombre Que Sabía" is a wonderful tribute to the late Paco de Lucia. Was that originally composed with his memory in mind?
Paco and I were supposed to record last year but on February the 25th, it was all over. This was one of the pieces that he really liked, so I thought, "Well, I'm going to just make a homage to him." That was one of the tunes we were supposed to record. I sent it to him just before he left for Central America, which is where he died, in Mexico. A couple of days before he left he called me and said, "Juanito, this tune. I really love this tune." I said, "Great. We'll record it when you come back." And of course, he never came back. It's a really personal homage. The title means "The Man Who Knew." Paco knew, all right.
When did you first meet Paco?
I met him in Paris in 1978. A long time ago, man. I heard him on the radio and I was able to get a hold of him and said, "Let's get together and play. And not just make a record. We need to work." We jammed, just the two of us, and he asked what my plans were. I thought it would be great to have three guitars, and I'd spoken to Larry Coryell—we go back to the '60s. I told Larry, "I'm sitting here with the greatest flamenco player ever, and I'd like you to come in." That was the first trio. We toured Europe in '78 and '79, and it was amazing. But Larry had to leave because of personal issues. It was really a shame because he's a lovely guitar player and a great musician. And Al [Di Meola] had already done some recording with Paco, so he suggested we call him. That was the first time we toured the U.S. and during that tour we recorded Friday Night in San Francisco.
You and Paco did some touring on your own, right?
Yeah, we did duo tours in Europe. There was a tour we did in the mid '80s, and one of the concerts was in Switzerland at the Montreux Jazz Festival. That recording will be coming out at the end of the year. It was a fantastic night—you can hear it. I know the guitar trio was special, but Paco and I … on that album you can hear what a long friendship can bring you.