Every year, guitar equipment gets more studio-friendly. Small tube amps—many with USB ports—analog and digital preamps, effects, guitar amp plug-ins, and other recording-ready devices are now about as novel as NFL end-zone celebrations. But because they fit under the banner of "guitar gear," we'll save those for our normal product review and news sections. Instead, this roundup highlights a dozen recent items you won't find next to the stompboxes and Finger-Ease—software, mobile apps, mics, monitors, controllers, and other tools ranging in price from free to $2,000. Dig in.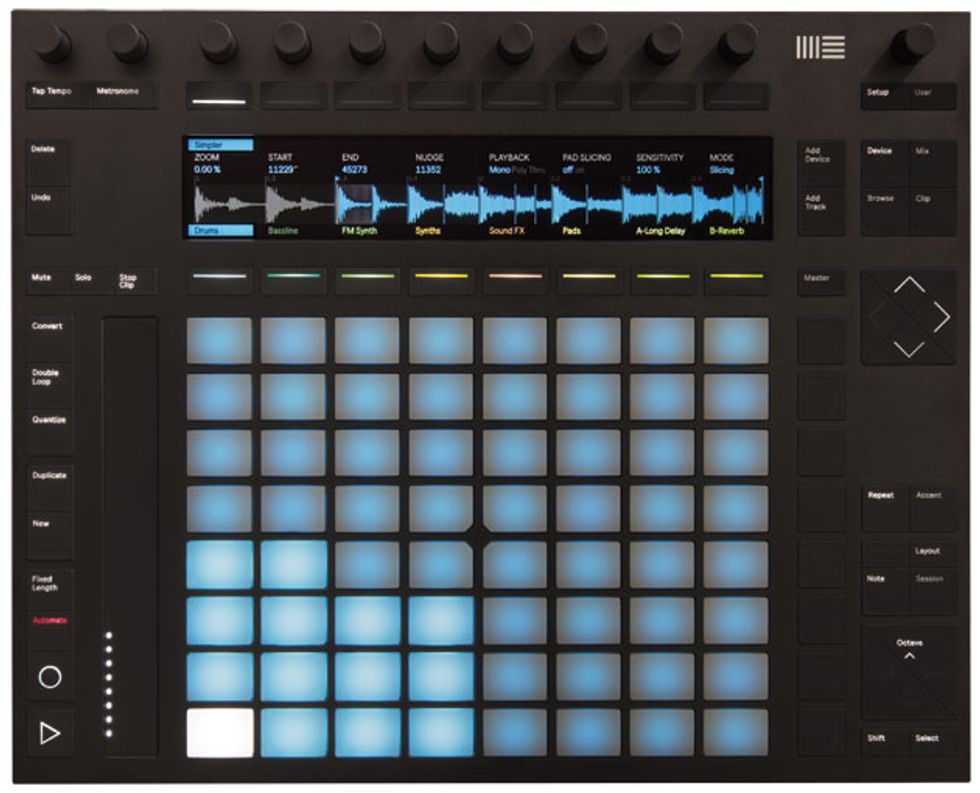 Ableton Live Suite 9.5
DAW Software
With upgraded sampling and other under-the-hood improvements, the latest version of Ableton's unconventional DAW may seem like it's squarely aimed at beat making. And that it is. But Live's clip-based workflow also makes it a great platform for guitar production—especially if you're into writing riffs and manipulating guitar sounds—and the audio improvements help there, too. Live's formidable set of plug-ins includes decent guitar and bass amp simulations, but its strengths are in more unconventional audio processing—try running an arpeggio through Grain Delay—as well as easy and versatile looping and exceptionally effective pitch and tempo manipulation. Plus, the pitch-to-MIDI feature introduced in version 9.0—coupled with a nice complement of software instruments and audio content—lets you turn guitar parts into synth and drum tracks. With a foot controller like Keith McMillan Instruments' 12-Step, the program can be an onstage performance powerhouse for a looping guitarist. Version 9.5 also introduces a new Link feature that lets multiple devices sync across a network. Along with Live, Ableton announced a new version of its controller-cum-instrument Push, a nice alternative for non-keyboard players. If you don't need all the content included with the Suite, you can opt for Live on its own ($449). A fully functioning 30-day demo is available.
$749-799 street
ableton.com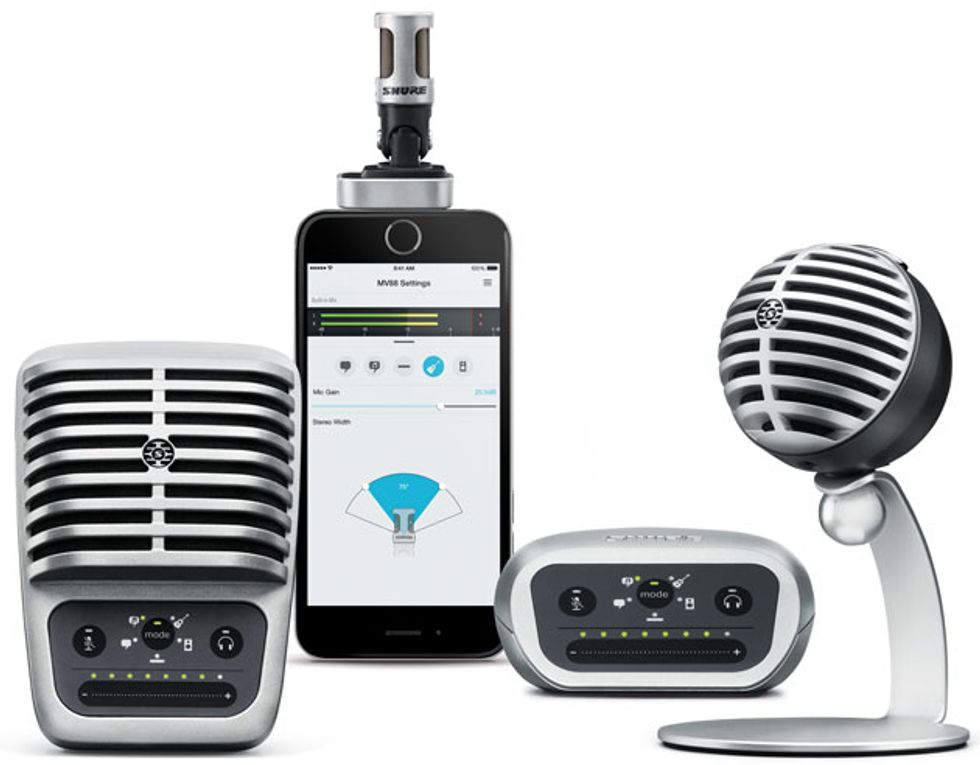 Shure MOTiV Series
Mobile Recording Devices
The ubiquitous SM57 and SM58 dynamic mics have given Shure a well-deserved reputation for durable performance. So when the company used "durable" to describe its new series of mobile recording devices, it got our attention. The MOTiV line includes the MV5 Digital Condenser Microphone ($99), MV88 iOS Digital Stereo Condenser Microphone ($149), MV51 Digital Large-Diaphragm Condenser Microphone ($199), and MVi Digital Audio Interface ($129), all of which work with the free ShurePlus MOTIV Mobile Recording App.
Of the set, the MV88 and MVi seem to be especially guitar-friendly. The former may be especially appealing to acoustic players; it can connect directly to any Lightning-equipped iOS device and has a mid-side microphone element mounted to a rotatable 90-degree hinge. It also lets you tailor the sound with five built-in DSP preset modes, a 5-band EQ, and stereo width control. The MVi—which can connect to a Mac, PC, or iOS device—has two inputs: an XLR for mics and a 1/4" for instruments. It also offers phantom power, its own quintet of DSP modes, a headphone jack, and more. Bells and whistles aside, if the series comes close to matching the near indestructibility of Shure's stage mics, they should be more than capable of standing up to the rigors of recording in the field.
$99-$199 street
shure.com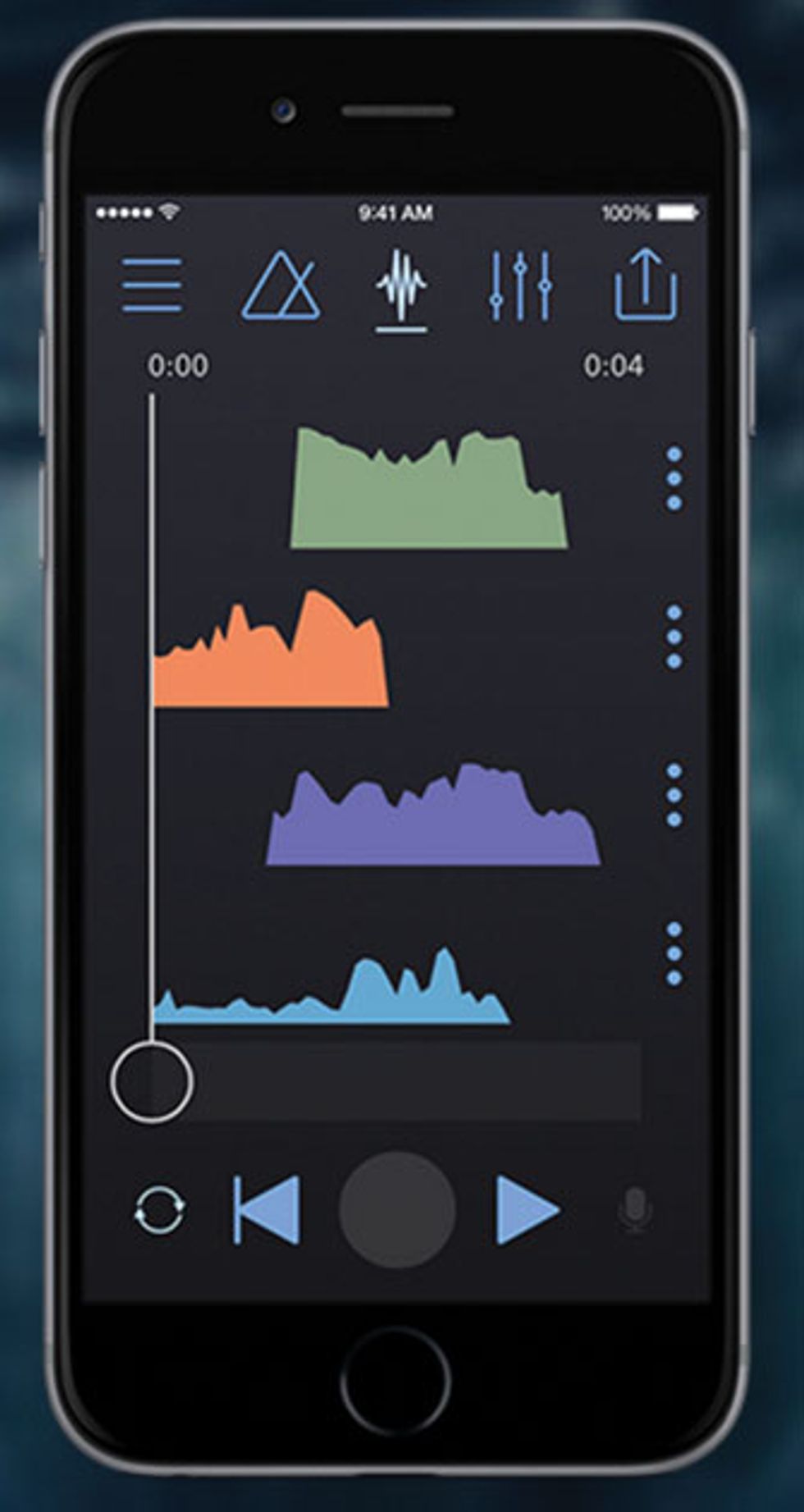 iZotope Spire
Recording App
Computer software and mobile apps are great music-making tools. But for all their power, neither has quite managed to capture the elegant simplicity of the old cassette 4-track. Izotope's Spire comes close—largely because the app doesn't try to do too much, and doesn't get bogged down in retro emulations. Using the touch screen to maximize efficiency, the program lets you record up to four tracks and mix by simply sliding each track around on your screen—up for louder, left or right for stereo placement. There are no effects, but the app does include a metronome and DSP processing on the input to improve the sound of your mobile device's built-in mic. Mixes are easy to share, either as compressed AAC files (for emailing) or as full AIFFs in Google Drive and other cloud services. And did we mention it's
free
?
Free
madewithspire.com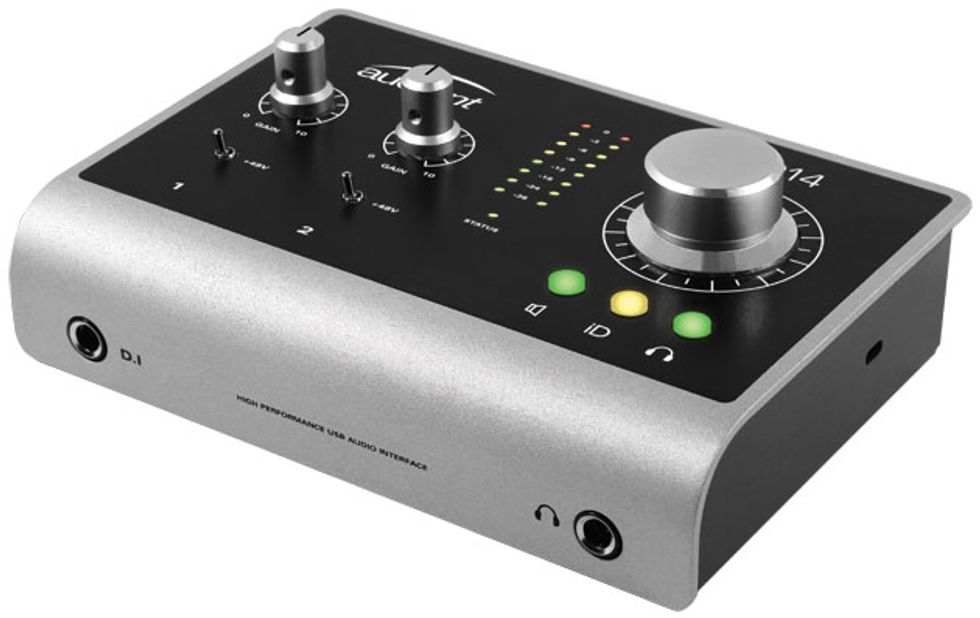 Audient iD14
Interface
When you're on the go, it's nice to have an audio interface that can be powered from your computer's USB port. But bus-powered and high-performance don't always go hand in hand. Audient's new iD14, however, boasts a few features that add some muscle to its bus-powered frame. In addition to two analog inputs with high-performance Burr-Brown AD/DA converters, the iD14 has an ADAT optical connection that lets you add eight digital inputs from an external mixer or preamp. The two phantom-powered mic preamps are borrowed from the company's flagship ASP8024 console, while a switchable 1/4" instrument input has guitar-friendly JFET circuitry.
The iD14 also introduces a feature called ScrollControl, which lets you use the unit's volume encoder (that's "knob" to you and me) as a mouse-like scroll wheel. It can adjust the iD14's mixer app as well as your DAW host software, plug-ins, and more. Other highlights include a low-latency DSP mixer, a pair of speaker outputs, and an independent headphone output with software-controlled monitoring, all packed into a small but rugged all-metal enclosure.
$299 street
audient.com