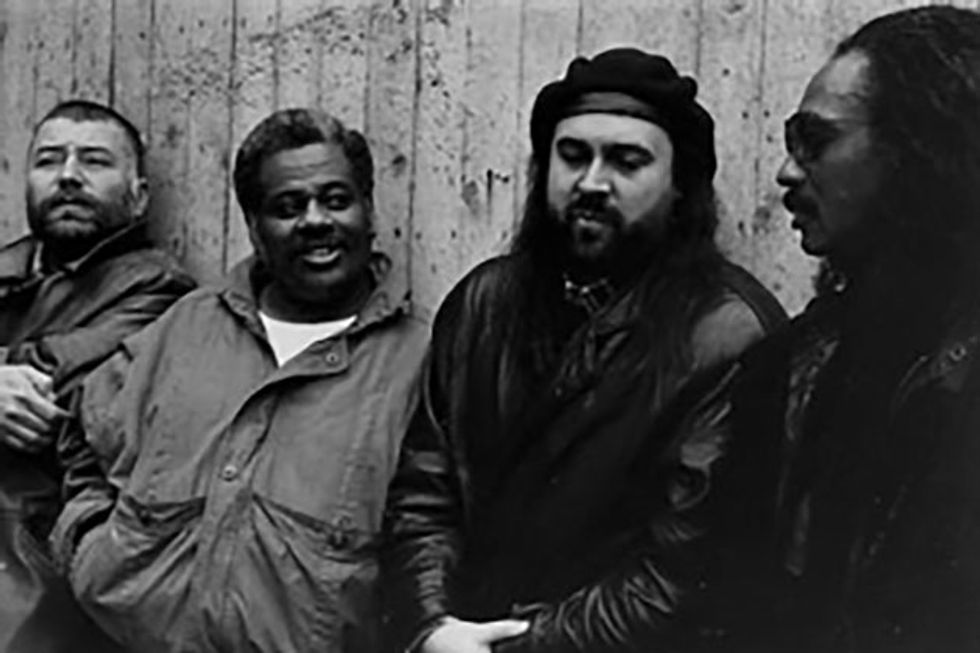 Last Exit was the wildest bunch of free-improvising gunslingers to ever take a stage. From left to right: Peter Brötzmann, Sonny Sharrock, Bill Laswell, and Ronald Shannon Jackson.
The Pinnacle
By '87, Sharrock was playing a Les Paul Custom through a Marshall half-stack, sidestepping the hollowbody jazz guitars and Fender amps he'd used in his earlier work, opting for more volume and tube gain instead of an overdrive pedal. "I'd come back from England, producing Motörhead, and I told him about using Marshalls real loud, and he got into it," says Laswell. "When we got to Japan with Last Exit, he had a whole wall of Marshalls and he'd gotten his black Les Paul, and that was his sound." But his sound, even via that classic combination of guitar and amp, was uniquely liquid and colorful—a thick, sweet sonic syrup that could suddenly leap like lava.

Laswell also turned guitarist and engineer Robert Musso on to Sharrock's music. Musso mixed and engineered Seize the Rainbow and most of Sonny's recordings that followed. He also drafted Sharrock to record and gig with his own band, Machine Gun, and they became running buddies.

"He used slightly different guitars and amps every time I recorded him," Musso recalls. "Sometimes I'd use an SM57 and sometimes a Sennheiser MD 421 on his amp, and he'd use Les Pauls and wah-wah pedals set in certain positions to get the tone he was looking for. No matter what he did, it was Sonny and it sounded great."
For Gibbs, Seize the Rainbow was one of the most memorable album sessions he's done. "When Sonny started playing around town again, I started following him until he hired me," says Gibbs, who'd just quit playing in Ronald Shannon Jackson's Decoding Society. "I remember one gig where I said, "Let me just play some shit and see what Sonny does, and I played wild and he just kinda smiled like, 'yeah, I got you,' and played it back at me. Playing with him helped me figure out who I was."
After a handful of shows with Sharrock, Gibbs was instructed to be at Electric Lady Studios at 7 on a night in May 1987. "We couldn't have spent more than two hours recording," he recalls. "We recorded 'Dick Dogs' first, and I was still kind of fuckin' around with my headset during the take, and Sonny was like, 'That's great. On to the next song.' I thought, 'Oh, we're not fuckin' around today!' When we were done, I looked up at the clock and it was like, 'Shit! 10 o'clock!'"
The seven-song Rainbow was edgy, accessible, and adventurous at the same time, and it introduced Sharrock to the rock world as well, earning him a new audience that continued to expand for the remaining years of his life.
"For Jimi Hendrix, you've got the influence of Curtis Mayfield and Muddy Waters. For Sonny, there ain't nuthin'. He's the first guy with his footprint on the moon."—Henry Kaiser

Live in New York, cut at a 1989 Knitting Factory show, came next. It was followed by Highlife, which features Jasmyn and her dad on the cover and is Sharrock's most melody-focused album—a calculated effort to boost his audience even more as he worked toward a grand vision of recapturing the glories of '60s free jazz in the studio. Touring behind this succession of albums and hitting the stage and studio with Last Exit kept accumulating the capital he needed to realize that vision. A set of guitar duets with Nicky Skopelitis, who worked regularly with Laswell, called Faith Moves was next. And then Sharrock reached goal in 1991 with Ask the Ages.
With Laswell producing and Jason Corsaro engineering, he entered Sorcerer Sound in Soho with free jazz giants Sanders and drummer Elvin Jones, and Charnett Moffett, a 24-year-old bass wunderkind who nailed the vibe of elder statesmen like Paul Chambers and Percy Heath. The result was a musical perfect storm. In six tunes, Sharrock built a sonic bridge between his own past and future, supported by big, buttery guitar tones that boldly laid out succulent, easily digestible riffs. The guitar and horn unison head of "Promises Kept," the loving melody of "Who Does She Hope to Be?" (written for Jasmyn), and the riveting, intense "Many Mansions" were the work of an artist who'd tied together all the elements of his soul.

Sharrock set the scene for cutting that last, magical tune: "Pharoah was in the glass booth on one side of the room. Charnett was on the other side. I was out on the floor sitting across from Elvin laying down the drone, and I flashed back. Looking at him and hearing him up close, it was suddenly the first time I saw him back at Birdland with Coltrane. And I lost it. I totally lost the tune, because he was playing such a deep, deep groove. I went into a total fan thing and forgot about being a musician, because it was just too good. You can hear my mistake on the record, too, because I wanted to keep that."

Sure, the sound of Ask the Ages was something he'd begun sculpting in '67, but, Sharrock explained, "it wasn't complete at that point. Now it is complete, and it's ready to be heard." And today it's ready to be heard again. Late last year Laswell reissued Ask the Ages on his M.O.D. Technologies label, and it's still stunning and full of heart.

The album gave Sharrock wings. He toured more, and he felt that his playing continued to improve—as odd as that sounded to us knocked-out acolytes. And then, he died. Leaving so much fantastic music unmade.
"I remember him saying that after his grandmother told him he should go to church, he told her, 'No grandma you should listen to John Coltrane,'" says akLaff. "His generation had that clarity. Him, Carlos Santana—they each have the depth of spirituality as their most earnest goal, and to reach it through their instruments and share it with others. That came out in Sonny's playing."
"The biggest thing I learned from being around my dad is to never compromise who you are," say Jasmyn Sharrock. "Integrity is the first word that comes to mind. My dad never changed who he was regardless of who was around. He stood up for what he believed in: doing the right thing and being a kind person. It sounds corny, but he believed if you do the right thing, then things will work out. He was always a class act."
Santana Talks Sharrock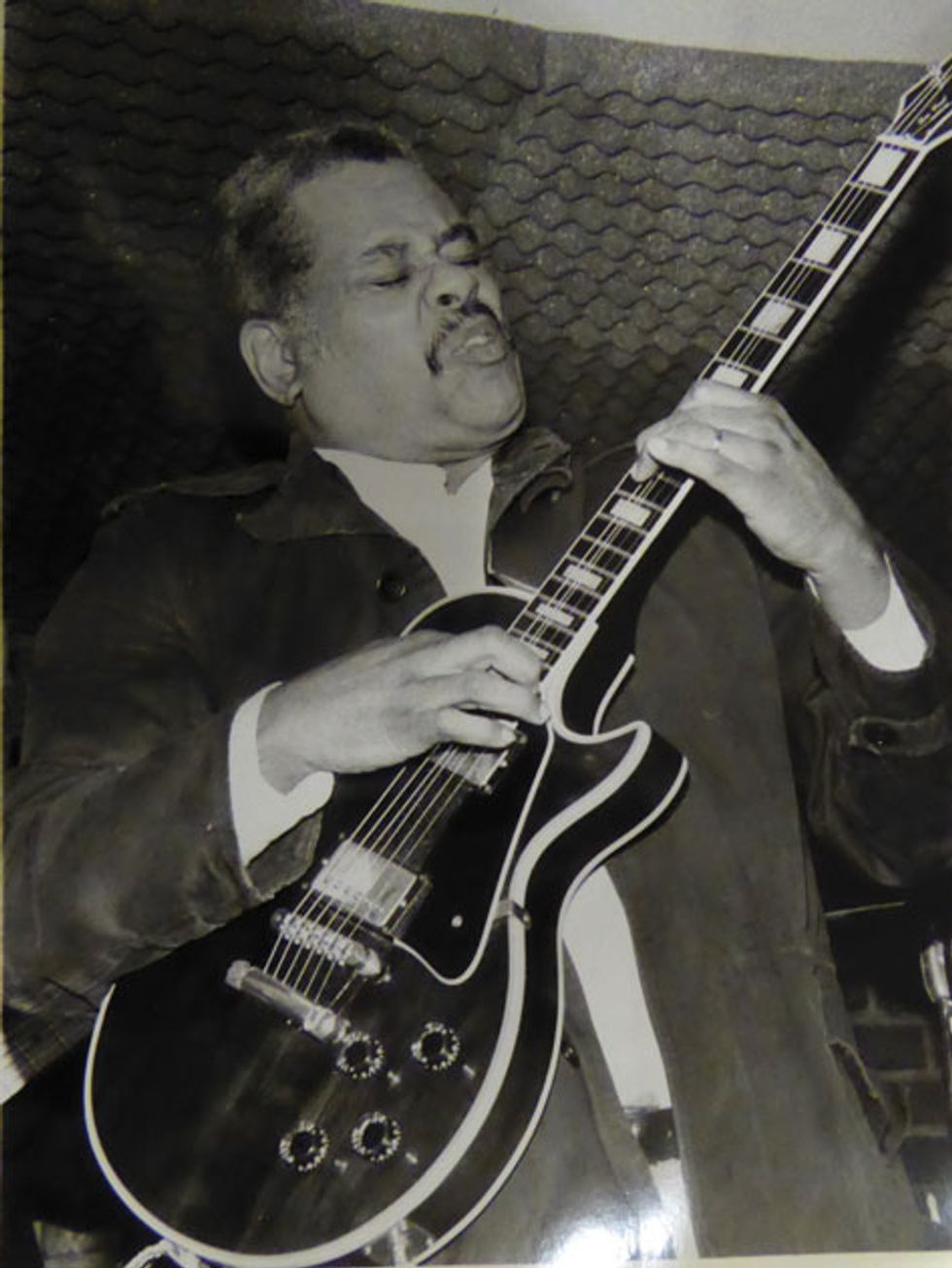 When Sharrock traveled to Japan, he took two Les Paul Customs. One had extremely high action, for practice. The other was set close to the neck, for speed. Photo by Paul Robicheau
Given Sonny Sharrock's relative obscurity and the iconoclastic nature of his music, it's surprising to hear a high-profile artist like Carlos Santana work one of Sharrock's tunes into his sets. Nonetheless, "Dick Dogs" from Seize the Rainbow is occasionally a hard-rocking highlight of Santana concerts, and Carlos says his solo for "Bliss" draws straight from the well.
"I was ready to do a tour with him, record with him, and then he left us," Santana explains. "We talked a few times on the phone after he found out I was fully into him, and he was such a gentlemen and very gracious and encouraging. To me, he was a tornado when he played and he left an imprint with his melodies, of course, but I was also into the energy."
The guitar legend says he first heard Sharrock on Wayne Shorter's 1969 fusion classic Super Nova. The next year, Santana caught Sharrock live in Montreux, playing with Herbie Mann. "He had a big 'fro and a fringe jacket and was laying into it, and I was, like, 'Dang, this is a very radical dude!' I couldn't take my eyes off of Sonny, because when he went into his solo it was like Coltrane and Jimi Hendrix, Albert King, John Gilmore, Pete Cosey, and Larry Young all together—interdenominational intergalactic music. It was a thing of beauty. I remember a lot of people got up and left because they were not ready; their minds were, like, 110 and he was 220. I was like, 'This is the shit!' Sonny Sharrock and [P-Funk's] 'Maggot Brain'—that was a new way. So refreshing to hear something so different from Queen, Hendrix, Jeff Beck, or Led Zeppelin, but at that level of mastery."
So Santana sought out Sharrock's recordings, discovering a consistent boldness of tone and purpose—the latter expressed, particularly, in numbers like "Black Woman" and "Portrait of Linda in Three Colors, All Black," which were rallying calls for African-American empowerment and identity, and for pure, heart-expressed sound.
"If you want to get a tone like Sonny Sharrock or Stevie Ray or John McLaughlin, you have to be really willing to die. Right now, right here," Santana relates. "It ain't no pedals that are going to give you that sound. It ain't no amplifier. It ain't no guitar. If you could see like a psychic that going for that next note or that particular solo, you might be checking out … then fuck it, you check out. It means that much to you. Sonny—I would call him a liberator. If you really listen, artists like that can liberate you from your own fear. He's like Coltrane—he's the cosmic lion. And when he roars he wakes people up from the nightmare of feeling limited and unworthy."
---
Carlos Santana's version of Sonny Sharrock's "Dick Dogs" is off the chain. Watch Carlos get rad with Stevens bar slide at 5:50—and wail like a banshee on his Paul Reed Smith signature model throughout.