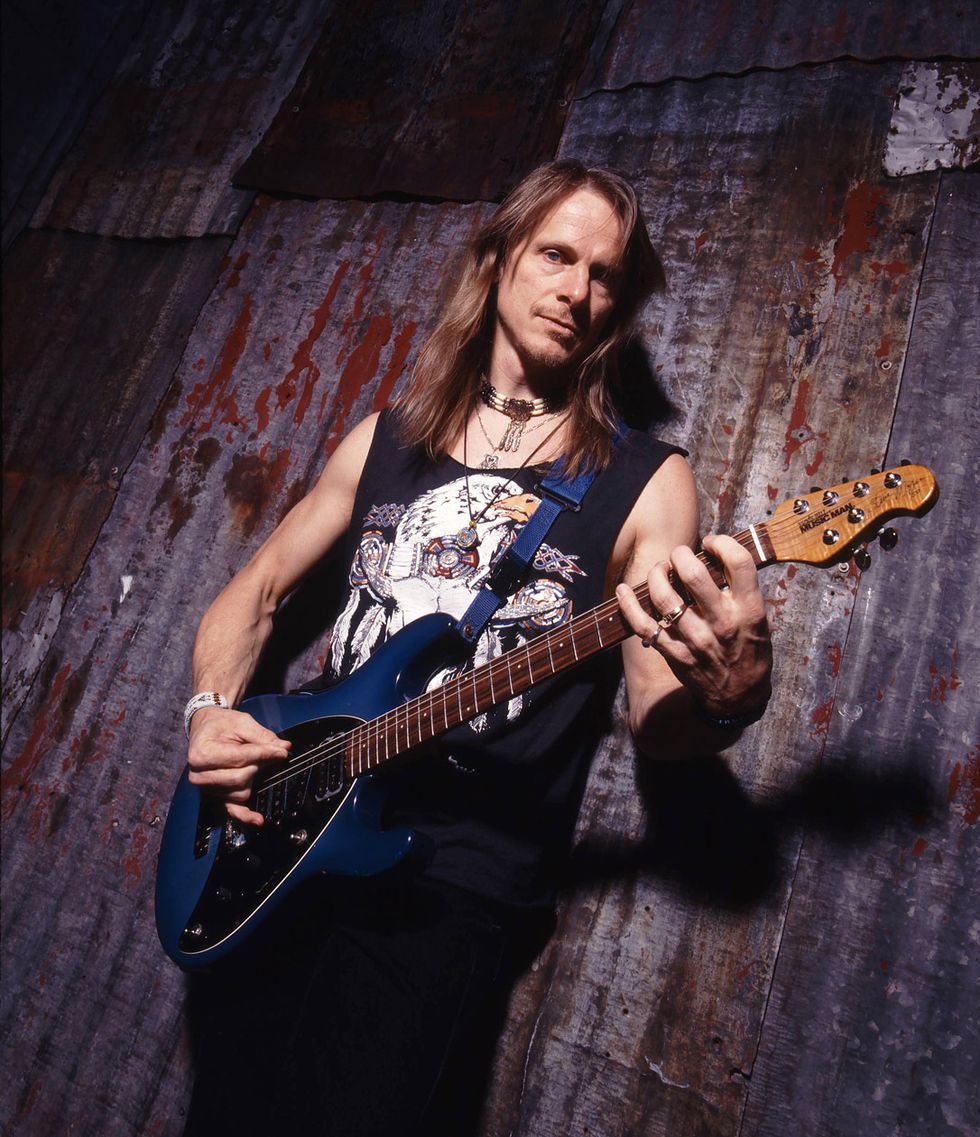 Steve Morse has been onstage since the '60s, emerging from obscurity with the Dixie Dregs in 1975 to become one of the world's premier guitarists. His resume darts from fusion to country to classic rock, including his 23 years in Deep Purple. He's shown here in 1998 with an early version of his signature guitar.
Photo by Neil Zlozower/Atlas Icons
Deep Purple, one of the pioneers of heavy metal, is most famous for their hits like "Highway Star," "Perfect Strangers," and, of course, the guitar shop staple, "Smoke on the Water." For 6-string fanatics, though, the band is all about the virtuosos that have occupied the guitar chair.

In 1968, Ritchie Blackmore helped form Deep Purple and brought with him a classical influence that proved rock guitar could seamlessly go beyond the confines of the minor pentatonic scale. Blackmore felt the blues was too limited. He was lauded as a guitar god since day one, and his style helped pave the way for Swedish sensation Yngwie Malmsteen's neoclassical movement, which transformed the guitar sounds of the late '80s. Blackmore was also a notoriously difficult personality, and while he had legions of fretboard fans, Blackmore and vocalist Ian Gillan were constantly at each other's throats. In June 1975, Blackmore left Deep Purple to form Rainbow (originally Ritchie Blackmore's Rainbow) with metal icon Ronnie James Dio. Tommy Bolin took over guitar duties with Deep Purple until the band broke up in July 1976. Several months later, Bolin died of a drug overdose.

In 1984, Deep Purple reunited with Blackmore back onboard. The group released Perfect Strangers, which achieved commercial success and ushered in a period of great prosperity. Blackmore got Gillan ousted in 1989 and replaced him with vocalist Joe Lynn Turner, who was in Rainbow from 1980 to 1984. Turner's tenure with Deep Purple was short-lived—he recorded one album, Slaves and Masters, with the band—and Gillan was brought back in 1992. Things remained incredibly hostile between Gillan and Blackmore, and it all came to a head at a concert in November 1993, when Blackmore went missing on the intro to "Highway Star" only to reappear in the middle for a solo with an off-kilter performance. He then threw water at a cameraman. Four shows later, Blackmore quit the band and was temporarily replaced by guitar virtuoso Joe Satriani, who helped Deep Purple finish the tour.
"Some fans just hate me because I'm not Ritchie—you know, the old diehards whose formative years were spent with Fireball or Made in Japan or something like that."
Steve Morse, the acclaimed picker from the Dixie Dregs and a one-time commercial airline pilot, joined Deep Purple as a permanent member in 1994. Like Satriani, Morse also had a very distinguished career as a solo artist by then—including a mastery of technique that spans rock, jazz, classical, and country music, and a nearly singular command of blazing alternate picking. So, at first, he was apprehensive about the gig. He signed on with the intention of giving it a four-show trial period in the space of a week. When he met and rehearsed with Deep Purple in the venue's dressing room, the night before the first show at a coliseum, the chemistry was apparent.
The late organist Jon Lord's spontaneous harmonizing of Morse's improvised melodies knocked Morse out, and he was sold. Soon after, Morse recorded on the band's 1996 Purpendicular, and now, more than 20 years later, he's clocked in more hours as a member of the band than Blackmore. Along the way, Morse has maintained his successful solo career and stints with various projects including Flying Colors—an all-star band featuring drummer Mike Portnoy and bassist Dave LaRue, among others—as well as a project with his guitar-playing son, Kevin.

On April 8, 2016, almost half-a-century after their formation in Hertford, England, Deep Purple was inducted into the Rock and Roll Hall of Fame. Blackmore refused to attend because the band was not willing to perform with him. Surprisingly, current members Morse and keyboardist Don Airey were not inducted, although they both performed at the ceremony.

InFinite, Deep Purple's 20th studio album, was recently released and features the classic Purple sound infused with Morse's magic touch. The album was produced by Bob Ezrin, who Morse worked with during his years with Kansas. If you assumed that, in the age of Kanye and Justin Bieber, classic rock is dead, you're wrong.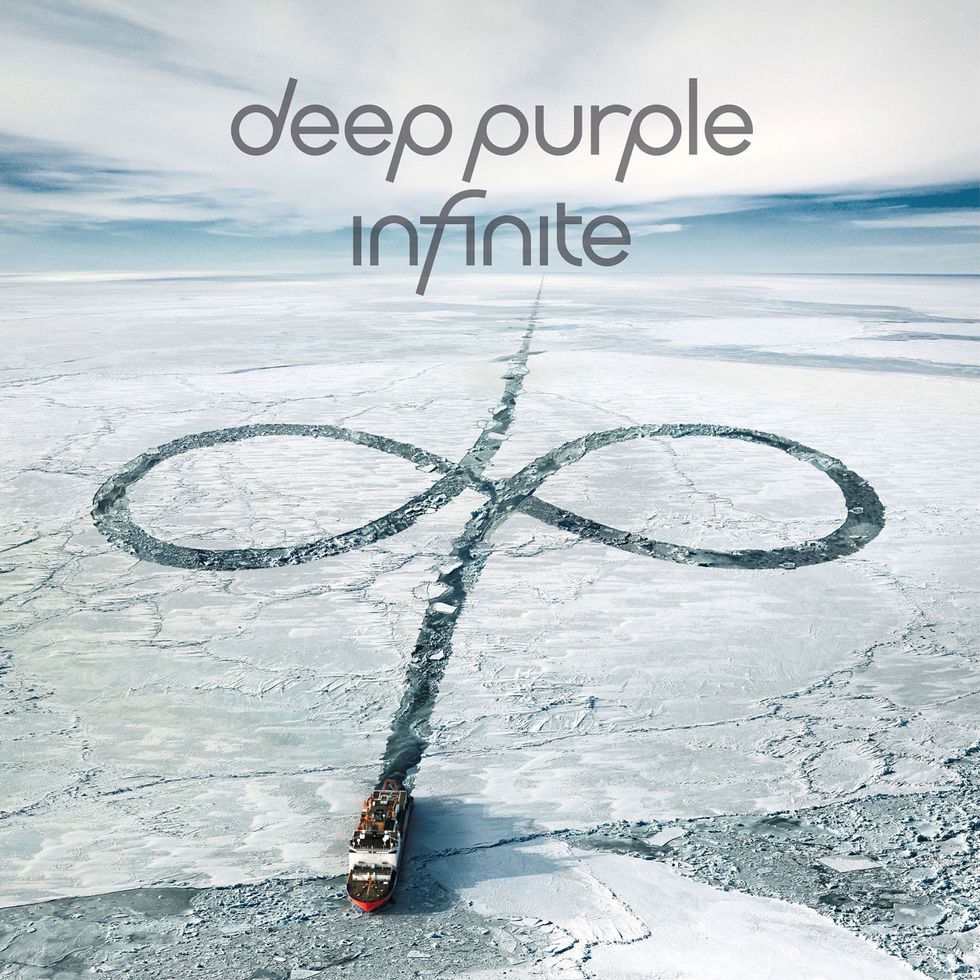 TIDBIT: Deep Purple's new InFinite was produced by Bob Ezrin, whose resume includes classic albums by Lou Reed and Pink Floyd.
InFinite has already topped the band's previous album, Now What?! and hit No. 1 in Germany and Switzerland, while cracking the Top 10 in 10 other European countries. The single "All I Got Is You" also hit No. 1 on Billboard's Classic Rock radio chart.

Premier Guitar caught up with Morse on the road, shortly after the band commenced its "The Long Goodbye Tour." Is this the final chapter in Deep Purple's career, as implied by that name? That remains to be seen. In the meantime, they're rocking as hard as ever—with Morse in that legendary guitar chair.
You've been in Deep Purple longer than Ritchie Blackmore. Do you take more liberties now with classic Deep Purple material?
Actually, no, I don't think I do go too far out. In fact, I would say it's gone the other way. Over the years, as we accumulate our own material, with this version of the band I play the stuff more straightforward. Even though I knew what I was getting into, I didn't understand the amount of angst it causes people. Some fans just hate me because I'm not Ritchie—you know, the old diehards whose formative years were spent with Fireball or Made in Japan or something like that. The younger people have never seen any version of the band but this one, so they're fine.

Given your virtuosic abilities and the complexity of your own music outside of the band, is it hard for you to hold back and play a song as technically "simplistic" as "Smoke on the Water?"
As a guitarist, your main job, maybe 90 percent of the time, is playing rhythm and getting the right pickup, right tone, and right dynamics when other people are singing or playing. So, playing the rhythm part with the best possible tone at each show—and, by the way, during each show the subs might be going crazy beneath the stage or in front of the stage, and somebody's monitor might be louder so you gotta watch where you stand or you might be getting feedback if you're right in front of there—you have to weigh all these things. Little things like picking the perfect spot or just how much volume will get the best tone on this show on this day. It's always a challenge. I'm usually picking the notes with my fingers, and how hard you pluck—the more you pluck it, the more you get a thonk-y sound.

You pluck the notes for the intro, but I watched a video of you playing "Smoke," and in the verse and chorus you switch to picking.
Yeah, for more definition.

Though you mention the importance of rhythm, in your career, as one of the premier instrumentalists of our time, you haven't necessarily always had to fill that role. For instance, you've had contrapuntal guitar parts in your own music or with the stuff you wrote for the Dixie Dregs.
Yeah, that's a good point. My guitar parts in the Dregs often were lines. Fair enough.