| | |
| --- | --- |
| | The word "acoustic" frequently conjures up images of stoic folk strumming, but a new crop of players are aiming to redefine the instrument. We speak with Marcus Eaton about his eclectic brand of acoustic pop and where it's going. |
Marcus Eaton plays the acoustic, but not like you might expect. He rapidly shifts between frantic fingerpicking and strumming, clean acoustic sounds and swirling, looped effects. His music fits firmly in the post-modern musical relativism that has become the norm among a new generation of musicians – viewing genre distinctions not as absolutes but as starting points – ushered in by a vanguard of established players like Dave Matthews and Michael Franti. That unique outlook on music has led Marcus Eaton to where he is today, mixing seemingly disparate sounds – rock, pop, reggae, jazz, flamenco and folk – into a cohesive whole on his latest full-length release, Story of Now. But it would be a mistake to assume that Marcus has developed his eclectic musical tastes solely from listening to his peers. He has been surrounded with music as long as he can remember, growing up the son of songwriter Steve Eaton and the grandson of opera singers. That upbringing has given him the tools for success in the world of independent music, the most important being a sense of tenacity. Despite the dissolution of his early band, Marcus Eaton and the Lobby, and a series of management problems, Marcus has been consistently able to turn setbacks into gigs. At the relatively young age of 28, he's already had the chance to share the stage with artists like Dr. John, Rodrigo y Gabriela, Derek Trucks and Nils Lofgren.
We had a chance to speak with Marcus following a series of shows on the East Coast, including a stop at Philadelphia's World Café Live venue.
---
What was your first experience with music?
My first experience with music was with my dad; he was a musician. I grew up in a rural section of Idaho, a town called Pocatello in the Eastern part of the state. My dad had a studio and my brother and I used to hang around there. He had all of the instruments down there – a bass, a nice Fender Strat, his acoustic guitar and an upright piano. We used to hang out downstairs and listen to him record.
Is that what he did for a living?
Yeah, he was a songwriter. He wrote one of the last hit songs the Carpenters had, a love song called "All You Get From Love is a Love Song." He also wrote a song for Art Garfunkel on his Breakaway album ["Rag Doll"], and Glen Campbell recorded the same song.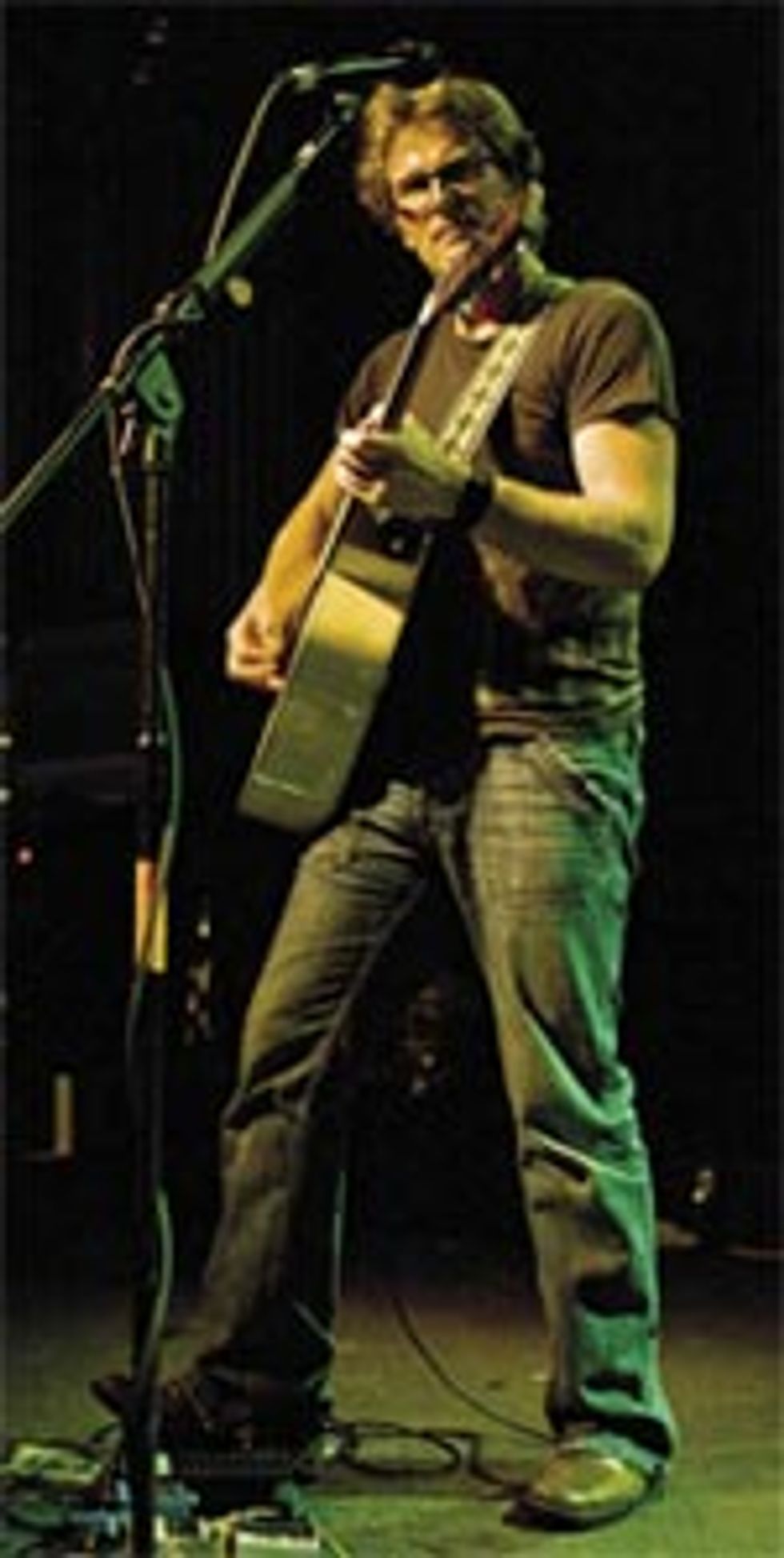 So music and the songwriting were literally in your blood.
Definitely. His parents were opera singers, so we had a lot of music in the family. Our grandmother used to teach us piano lessons – I wish that I had paid a little more attention to that, but I was really more interested in playing the guitar.
When did the guitar take for you?
I first took interest in it when I was about eight years old. I was playing my dad's guitar, which was this old Guild F40, a really interesting guitar – it's kind of like a minijumbo. That guitar has been around since before I can remember. I started playing with that but it was way too big for me to hold, so my parents got me this little tiny student model for Christmas – I think it was a nylon string, and I was just so enamored with it. That's been the story ever since, really.
As you were growing as a musician, who influenced you?
Well, obviously my dad was one of my first influences. He played a lot of different types of music, but it was all rhythmically based stuff. He was really a percussive guitarist. But we grew up in this tiny little town, and he had a lot of friends come through the studio. These guys would come through and I would just learn stuff from them.
Are there any names you could drop?
When I got a little older, this guy named Billy McLaughlin came through town – he was a protégé of Michael Hedges. I saw him play and I was just blown away – he was doing two-handed tapping and I remember thinking it was the coolest thing I had ever seen. I was already playing at a decent level, in terms of my age, and I just started pursuing that kind of guitar playing at that point; that still influences my playing.
Listening to your playing, you notice a uniquely modern style that floats between lead and rhythm – it's very fluid. Did watching all of those different players help mold your technique?
I think it's just an amalgamation, the result of listening to all kinds of stuff – at that point, I was listening to Billy McLaughlin and starting to get into flamenco guitar. You know how it is as a musician – if you really pay attention to what people are doing, you'll pick things up here and there. Luckily I was able to see a lot of my dad's friends play and see the stuff they were doing. And as a young player, I just started putting two and two together.
I was also influenced, without really even knowing it, by Stevie Ray Vaughan's
Brotherhood
album. I listened to that for a long time and then rediscovered it later.
What about his playing influenced you as an acoustic player?
His rhythm playing – I mean, you just can't argue with his rhythm playing. A lot of people think of Stevie Ray Vaughan as a great lead player, but for me, his rhythm is what takes the cake. And then when I was about 14, I got turned onto the Dave Matthews Band, and again, that rhythm just really intrigued me. It was something I was hitting upon with my own playing at the time.