The Eric Johnson song, "Milky Way Home," is a brilliant excursion. It seems as though the both of you had quite a time flying all over that.
After sending the track, his was the first one to come back, in less than a month. I just love his playing – he's just incredible. We've gotten to be friends over the years and we're going to do some shows together. The great thing this did for me, I mean, it was so much fun. It pushed me because they all played so great. That's what I like. And it's good to get out of your comfort zone because you've got to get shook up, rattled and rolled. Reach down and bring up the magic. That's what I always hope for.
The Vince Gill songs are excellent, too. He's another great guitarist. Rockers don't always realize the greatness of many of the present country pickers. When he took to the stage at the first Crossroads festival, he kind of blew everyone away.
Yeah, Knopfler and I were talking about that years ago. That guy [Gill] can play anything – any instrument he picks up. He's an amazing musician and I wanted to hit on that on this album, but we ran out of time. I worked with both him and Dr. John in the studio for this album, but I think that'll be my next project – guests on all instrumentals. We had an instrumental and he did a real fast chicken pickin' kind of thing, complex chord changes and stuff, but we just ran out of time. I'll look forward to getting into that with him. Vince is amazing.
What guitars were you using on From the Reach?
For this album, if you listen to it, I'm on the left and they're on the right in the mix – for the most part. Another thing I wanted to stick with was to make it more thematic by using the Strats and my Dumble Overdrive Special. That was my main rig. I also used a Demeter on a couple of things – the Vince Gill track. I used the '69 Les Paul on the track with Robben, "Way Past Long," to offset his humbucker. I went for more of a woman tone on the left and he's got more edge on the right. I used some pedals on some things. I used the Keeley Compressor on a couple of things, the Demeter Compulator on "Uberesso." I switched between a Demeter head and Dumble head on that song. I used a Zen Drive on "Uberesso." For the most part, those are Vintage 30 speakers, an old Bandmaster cab and a double cab that Alexander built for me back in '95 on my amp. I also used this cool little combo, a little class A called the Goodsell. It's brilliant. That's what you hear in the riff on "Milky Way Home" in the verse. It's real chimey and open-ended. I used various other Fenders for colors and such, but that's typically what I used with mostly Lindy Fralin pickups.
Man, I've got to tell you. I don't know if you've heard about this silent singlecoil backplate system that Lindy Fralin is using, from Suhr [the BPSSC System]. You've got to check this out! It's the latest and greatest thing that has come along in a long time. The way it works it doesn't alter your tone at all. It works with the two trempots that tap off of the leads for your ground. It's a big, flat pickup that's part of the backplate. It's a larger plate and that's part of the secret I think. It takes the hum way down to where it's manageable. They say 85 percent; I don't know, but it's a huge difference. In a really noisy environment, you can open up and tweak those trempots back to find the sweet spot, no matter what kind of single-coils you've got. I really like Steve's DiMarzio bridge pickups, the Virtual Vintage are good and I've used the DP181s for years – the Fast Track twin blade in the bridge. So I went back and forth with the single-coil, Lindy Fralin's and then with some of Steve's pickups.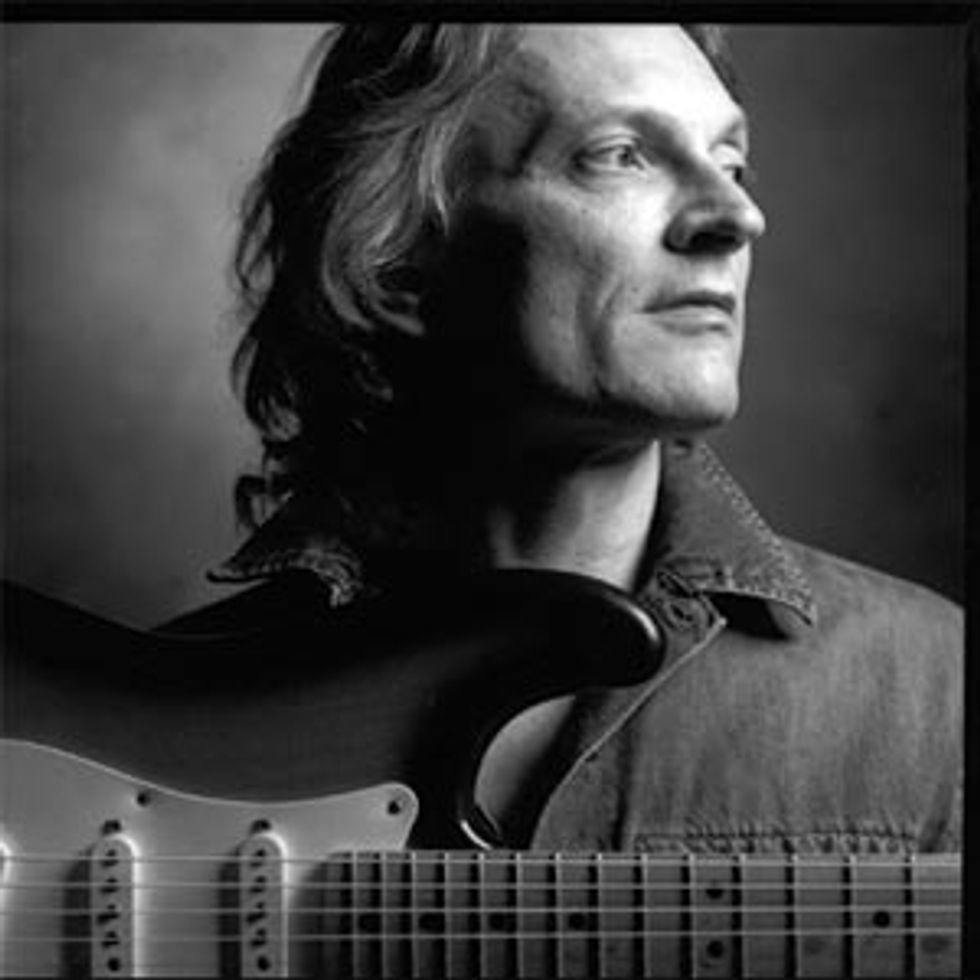 Do you have anymore interesting stories about the making of the new album From the Reach?
There's a bunch of things, but the one thing I'm going to miss the most is getting text messages from Eric Clapton. I'd be in a hamburger joint here at home, just getting ready to go to the studio and the thing starts vibrating. I look down at it and it says, "I just finished working on the track, and I'm feeling good about it."
As it would progress, he'd give me these updates. I'd text him back asking him to sing harmony on "When I Still Had You." He'd text me back, saying, "Well, I'll try." The next morning, he text messages me, saying, "Well, I did the harmony vocal. I think it sounds like crap, but you're welcome to use it." [laughs] I then called him up, knowing he was in the studio and he answered the phone laughing. I said, "Man, there's no way that's going to sound like crap." He said, "Well, I just couldn't phrase it the way you did" – being really critical of himself. But it sounded awesome, of course.
Sonny's Gearbox
On the road and in the studio:


GUITARS
'65 and '66 Fender Stratocasters
'88 Fender American Standard
Stratocaster – black, 2-Tek Bridge
'89 Fender American Standard
Stratocaster – sunburst, Trilogy
Tuning Bridge
'60 Gibson Les Paul
'69 Gibson Les Paul
Les Paul with Neil Skinn
TransPerformance tuning system
A red R&B custom built by Mark
Riley, patterned after the National
"Map of the U.S." electric

PICKUPS
Lindy Fralin/Suhr BPSSC
Pickup System
Steve's DiMarzio Bridge Pups
DiMarzio Virtual Vintage
DiMarzio DP181 Fast Track Twin
Blade (fit into his "Road Strats")

AMPS
Dumble Overdrive Special –
100 watts
Demeter TGA-3 – 75 watts
Matchless Chieftain
Matchless DC-30
Marshall 50-watt Head
'54 Fender Tweed Deluxe
Goodsell Class A Combo

 
SPEAKERS/CABS
Marshall 4x12s w/Vintage 30s
Matchless 2x12 w/Vintage 30s

EFFECTS
Keeley Compressor
Demeter Compulator
Demeter Tremulator
Zendrive
MXR Dyna Comp
Fulltone Fulldrive 2
EH Big Muff
BOSS CE-5 Chorus
BOSS CH-1 Super Chorus
Ibanez Echo Machine Delay
Line 6 POD (in combination with
Demeter or Matchless)

STRINGS
D'Addario EJ22 XL strings,
.013-.56

---
Sonny Landreth
sonnylandreth.com