There are guys that can fix your guitar and then there''s René Martinez. We sit down to talk all things guitar with one of the best techs in the business.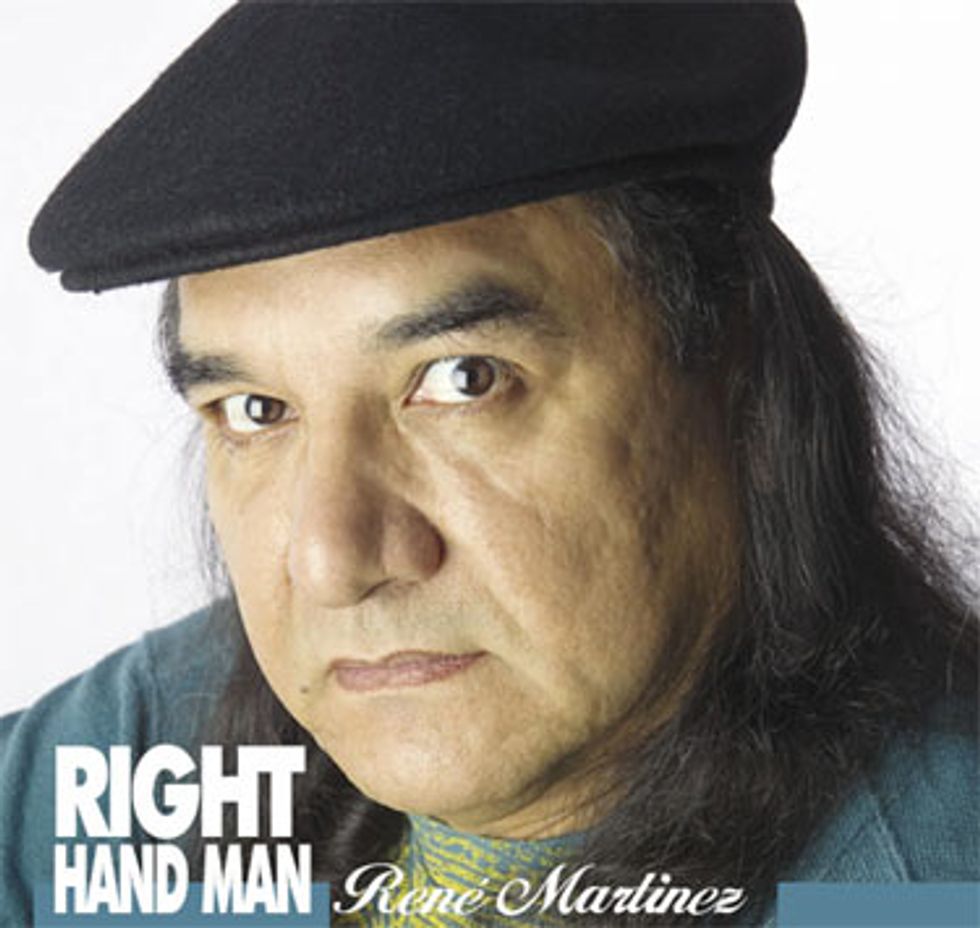 It may be an understatement to say that life as a guitar tech is a stressful one.
Spending long stretches living out of a tattered suitcase and shouldering the responsibility for keeping an artist''s gear - often including guitars, amps and pedals - in top form day in and day out can take its toll. Between the mid-set string changes and the challenge of finding replacement pots on a Saturday night, the seemingly endless truss rod tweaks to compensate for regional weather and tracking down an annoying hum that wasn''t present during sound check, there''s rarely any physical or emotional bandwidth left to enjoy the music - the reason most techs arrived in the first place. In a thankless music industry, stars'' fortunes can rise and fall in the blink of an eye and the lowly guitar tech is often forgotten in the mix.
Perhaps that is why René Martinez'' notoriety in the guitar world is so impressive; the non-descript, soft-spoken man working from his small workshop in Carrollton, Texas has made a name for himself as one of the most sought-after guitar technicians in music today. Beginning his storied career at Charley''s Guitar Shop in Dallas, then with a young Austin bluesman with the initials S.R.V., René has gone on to work with numerous artists, including Jimmie Vaughan, Edie Brickell, Mick Jones of Foreigner, Prince, Clint Black and Santana. René is now popularly known by his industry-bestowed title, "Tech to the Stars."
He spent his earliest years honing both his painting skills - beginning with slick car finishes - and his flamenco chops. Learning instrument repair in his early twenties, René discovered his aptitude for working with his hands; through his work at Charley''s Guitar Shop in the early eighties, he met Stevie Ray. By the time he left to go on tour with Vaughan in 1985, there was no looking back. From maintaining Stevie''s troublesome Fuzz Face to literally super gluing his fingers after strenuous performances, René proved that he was destined for the tech lifestyle.
Despite the music industry''s predilection for chaotic living, these days find René enjoying a rewarding balance. He remains heavily involved with guitars, and he takes good care of himself. He''s working with John Mayer and has released a variety of guitar care products, from polishes to string sets, honed from his years on the road. We were able to chat with René in his Texas workshop about his past, his tips and what''s next for a man who has consistently redefined what it means to be a "tech."
When did you take up guitar initially?
The guitar began for me at about eight or nine years old. One day I heard my father playing the guitar while my brothers and I were fooling around, so I went to listen. I asked him to teach me some chords and he showed me three: C, F and G major. When they put us to bed later, I stayed up with the guitar and learned those three chords. I was so fascinated with it, I couldn''t let it go, and I couldn''t wait until the next day when I could show my dad. And they were clean - it wasn''t just a few of the notes. I''ve never let it go since then.
We were reading in your biography that your music career started with classical guitar.
I was into flamenco guitar. A lot of people say flamingo, but it''s not the bird.
---
"He [Charlie Wirz] had heard about me through a friend of mine. He called me and said, "Do you know anything about acoustic 12-strings?" I said I did, so he brought me a guitar to see if I really knew what I was doing..."
---
Was that because of your background?
Not really; I grew up with the Beatles. My ethnicity is Mexican-American, and even though my folks played that stuff, I didn''t go there at all. I was immediately into C, F, G songs - which at the time meant "Twist and Shout" by the Beatles. But then I heard Eydie Gormé and Trio Los Panchos on a recording my parents had and those guys were playing some intricate nylon string guitar, and I said, "That''s what I want to do." So I started teaching myself and took some lessons.
How did you transition from that initial love of music into the tech side of the business?
I got into this actually from a car-painting business I was in when I was 18 years old. I was doing custom colors and paint jobs for motorcycles and cars and a guitar teacher of mine had a Mercedes-Benz he wanted painted. When I delivered it, a violinmaker there wanted to see the paint job and was so impressed that he asked if I had ever thought about refinishing guitars. He said, "It''s essentially what you''re doing, except that it''s with a guitar." He asked if I would be interested in giving it a try, and that''s how I got into repair. Fiddles were the first things I learned to disassemble and put back together; I worked on everything, from the smallest fiddles to the big double basses.
Did that work with the fiddle give you a unique philosophy or outlook when you started working on guitars?
It gave me the background of how to approach the work, how to put things together and how to do cosmetic things. Of course, when I was painting cars I knew how to mix my own paints and whatnot, so I was already pretty good at those things. Guitar work came about six months into my repair work. I was very good at what I did; I was working with my hands very well and I loved it.
But I also loved playing. I only stuck to guitar because I couldn''t play the fiddle. They wanted me to learn the fiddle because you have to play to set them up, but once I started playing, all the cats in a five-mile radius were gone. I just couldn''t play worth a darn and I didn''t like it, so I just became the guitar guy.