You have toured as a solo artist since 1981, but do you ever miss working with a full band?
I play with The Rockbottom Remainders, a band that includes Stephen King, Amy Tan, Dave Barry, Ridley Pearson, Mitch Albom and other writers. We do about 3- 5 charity gigs a year and have a lot of fun doing it. The name of the band pertains to the reject books in the bargain bin that no one wants. I have also gone out occasionally with a trio of Dave Matthews on bass
[Author's Note: Not singer/songwriter Dave Matthews]
and Paul Eaton on guitar and banjo.
I saw The Byrds' version of "Mr. Tambourine Man" on YouTube that was recorded at the Roy Orbison PBS tribute show, and your harmonies with Bob Dylan were so moving. They went straight to my heart. Was Dylan's walkon appearance planned ahead of time, or did he just stroll onstage on a whim?
That was a pretty cool night. We definitely flew by the seat of our pants! No, Bob's entrance was planned beforehand. We discussed it backstage in the dressing room. He missed his cue to come out. They had to go find him, I guess, so that's why he was late entering the stage. Bob is always a delight to work with.
Now, the question I have been waiting to ask you for years: why no Byrds reunion? Chris Hillman has stated that he would do it, and I know Crosby would too.
Chris used to go back and forth on it. When he talked to David he agreed with him. When we talk now, he agrees with me that we shouldn't. We have a wonderful backlog of songs—a great legacy so why mess with it? I certainly wouldn't do it for the money. We did another benefit in 2000 with Bonnie Raitt, Jackson Browne and Graham Nash. I'm having too much fun as a solo artist to go through all that again.
You wouldn't have to do a whole tour, Roger. Would you consider doing just two shows, one on the west coast and one in New York City, just for the fans?
You have our music, your memories and our old film clips on YouTube.
You've been releasing your own recordings for years without a record deal and that seems to be the trend today and most likely for the future. What are your feelings on the current state of the music industry?
After I did
Back From Rio on Arista
, I turned down other record deals because the record industry's business model is broken. One record executive commented, "I didn't know Roger McGuinn was so smart."
Having my own label was something I wanted to do for years. We've released several CDs, but I think the record business, i.e. the major labels, are doomed to a slow and painful death. They're dinosaurs. They loan you a million bucks with advances to keep you in debt, so you never make any royalties. Most bands make their money on live gigs and merchandise and always have.
I never saw a penny in royalties from Arista on Back From Rio, and it sold over a half million copies. I made more money on the
Limited Edition CD
I released myself than I ever did from them. All a young band needs today is MySpace, Facebook, a website and a blog. They can cut their own CDs with Pro Tools and a Mac and sell them over the Internet or at gigs. You don't need a record label throwing money your way anymore.
Unfortunately, this trend has also put a lot of recording studios out of business, and that's a shame.
You've always been a fan of gadgetry, so it's no surprise that you latched onto the internet early on. Do you ever frequent websites dedicated to the Byrds or Rickenbacker guitars?
Once in a while I used to visit forums like
allbyrdsmusic.com
a lot in the nineties, but things started getting ugly on there.
Any thoughts of slowing down your gig schedule? Is touring and performing still exciting and fulfilling for you?
Not at all, and yes, I still love performing. I've stopped doing clubs, bars, outdoor festival-type gigs and church gigs, but I'll only play theatres and performing arts centers because they're always well-equipped facilities. It's still very enjoyable for me to go out and play for people. I travel with my wife and we have friends and fans all over the country. I sell out everywhere and plan to play for the rest of my life.
John Hall on Roger McGuinn and his Signature Rickenbacker
John Hall is the president of Rickenbacker International Corporation of Santa Ana, California, and is a longtime friend and business associate of Roger's. He spoke about his relationship with McGuinn and his signature Rickenbacker 12-string.

I met him in 1965 at The Beatles' rented house in Hollywood after their Hollywood Bowl concert. That was a real thrill for me. I was fifteen and Roger had several years on me. We became friends and have always had a very cordial relationship. We had a great time building his signature guitar.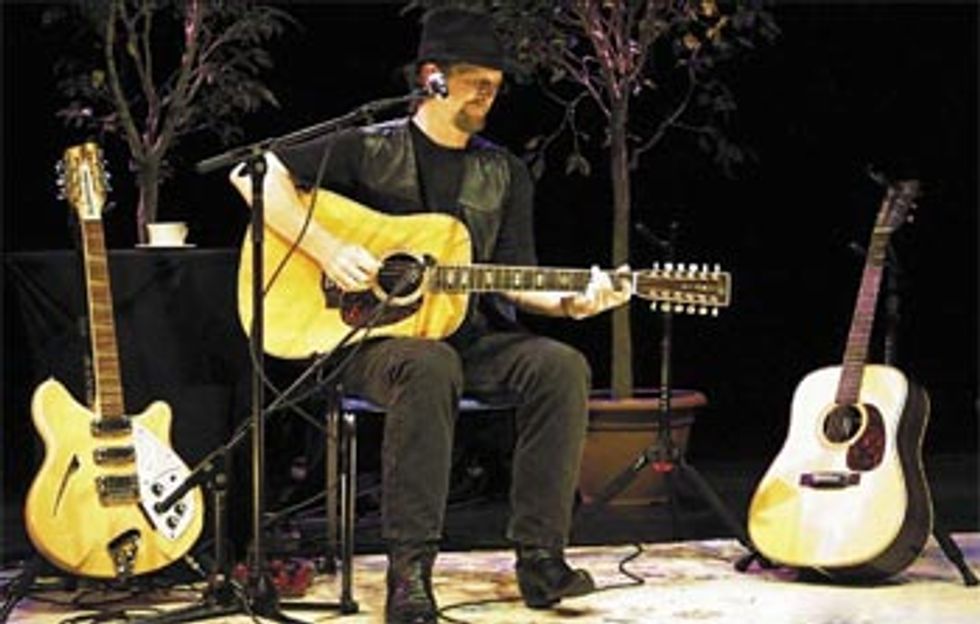 Can you tell me how and when the 370/12/RM was developed?
I think it was 1988. I contacted Roger to do a limited edition guitar. We had just done the Pete Townshend limited edition, and doing a 12-string with Roger was a natural thing. He had been associated with the Rickenbacker 12-string for so many years. Essentially, we worked together to produce Roger's dream instrument. He chose features from his standard 370 three pickup model, plus other improvements and upgrades, such as the onboard compressor.