Who designed the compressor in Roger's guitar?
That was our chief engineer, Bob Desiderio. He left shortly after and went to work for Fender, and I believe he's still there. Bob also designed the pickups and circuitry for John Kay's signature model.
I wondered why Rickenbacker never issued the McGuinn compressor as an outboard stompbox?
It wouldn't have been right to offer something like that after a limited edition guitar had gone out of production.
Any chance you might reissue the 370/12/RM anytime in the future?
Not at the moment. We're already way behind in our production schedule as it is. We don't have the manpower to put limited edition reissues into production. I really don't like reissuing signature guitars, to be honest. It defeats the purpose of an instrument being a limited edition. If Roger wants to work with us to produce a new instrument sometime down the road, we could do that.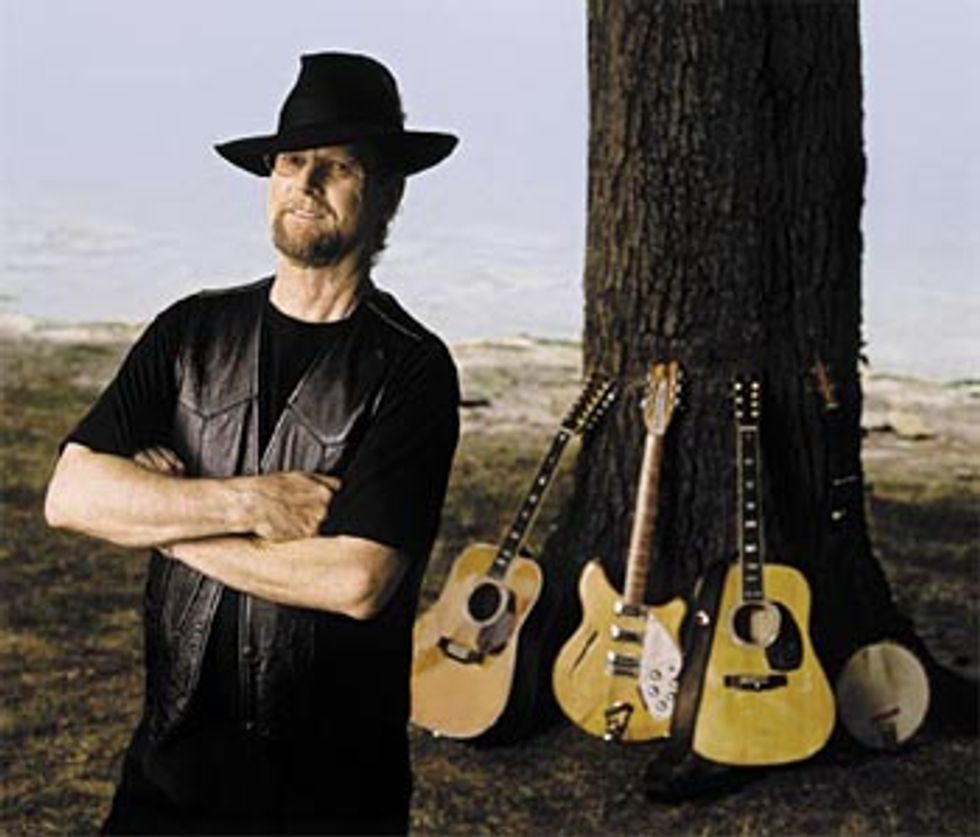 Chris Hillman on Roger McGuinn & The Byrds
Chris Hillman was the original bass player with The Byrds and also played with Roger McGuinn in the group McGuinn, Clark & Hillman. Chris has worked with Gram Parsons in The Flying Burrito Brothers, with Stephen Stills in Manassas, with the ill-fated super-group Souther, Hillman & Furay, and as a solo acoustic and electric artist. Hillman enjoyed considerable mainstream country music success with The Desert Rose Band in the nineties, and still tours, playing mandolin and flattop acoustic guitar with his musical partner, Herb Pederson. They play an acoustic bluegrass-inspired music. I chatted with Hillman briefly about Roger McGuinn and The Byrds.


How would you describe your relationship with Roger McGuinn?
Roger and I are still friends, in fact, I emailed him for his birthday recently and said we should have lunch and catch up, but of course, he lives in Florida now. I can tell you that Roger was easily the best musician in The Byrds. He's an extremely talented and meticulous man, and I have nothing but respect for him and always have. Although I enjoy what he's doing now, I think he's the type of musician who needed and still needs a catalyst to bring out the best in him. I believe I was that catalyst in The Byrds. He and I finished the Notorious Byrd Brothers album ourselves.
Roger told me point blank that he wouldn't reform The Byrds. As a lifelong Byrds fan, it would be great to see the three surviving original members together onstage again before I leave this earth.
You're not going to see it. I totally agree with Roger that we should leave it alone. The Byrds left a great legacy of music and it should remain that way. Besides, both Michael Clarke and Gene Clark are dead, and we both feel the band should be remembered as the Photo: © Bill Kollar five original members.
Roger's Gearbox
On the road and in the studio:


GUITARS
Rickenbacker 370/12/RM
Martin D12-42RM
Martin HD-7
Vega/Ode 5-string banjo.

AMPS
Roland JC-120

EFFECTS
Janglebox compressor
Sennheiser wireless
Countryman 85 direct box

STRINGS
Pyramid Gold Ultimate 12-String
set, nickel plated, 10-46 gauge;
Martin SP Phosphor bronze MSD-4200, 13-56 gauge.

PICKS
Bigrock F1 Ergonomic picks.

---
Roger McGuinn
rogermcguinn.com