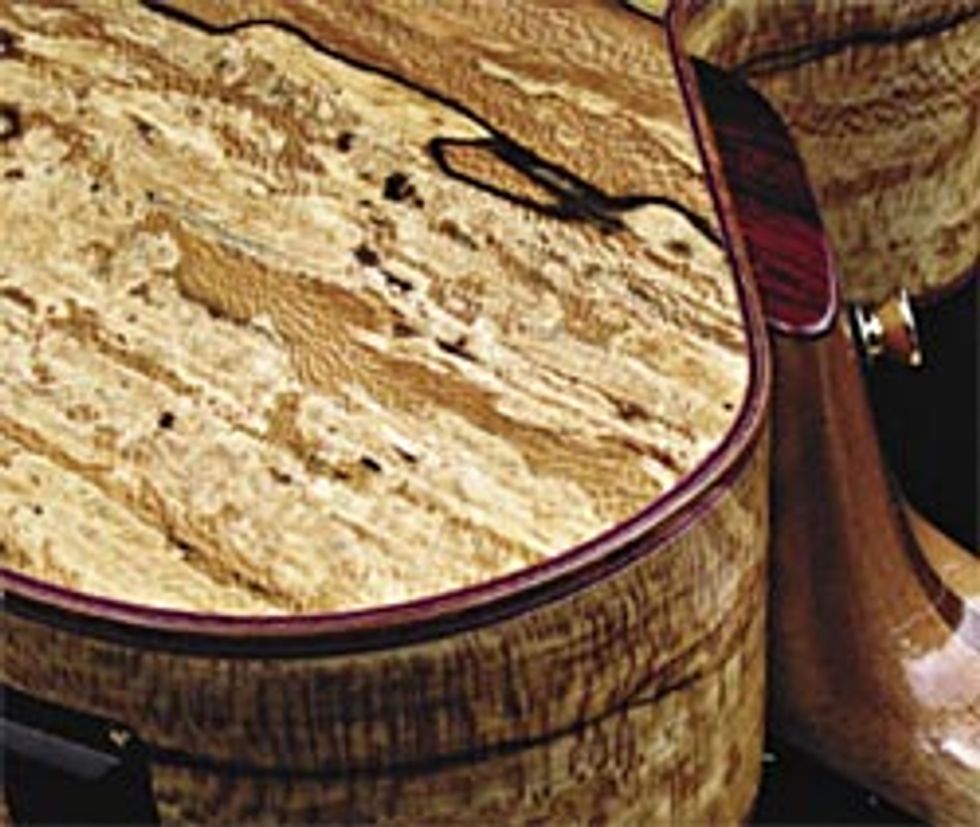 But what's it like getting to hear the music made through something you put together with your hands? That's got to be difficult to describe.
I feel a little humbled when someone who is as skilled as one of these great players would choose what I make to work with. And that's something that's important to distinguish – I've never been a guitar maker who goes out there just trying to get ahead by giving away guitars. The few occasions that I've attempted to do something like that, I've regretted. It never really works out.
The only way it ever works out is if there is a true artistic connection between a player and a guitar. You're not going to take Willie Nelson's old Martin away from him. And when that guitar was made, whenever it was made, it wasn't made for Willie Nelson. Nobody was thinking, "This guitar is going to be one of the most famous Martins ever made." And I think some of that happened with me, in a fortunate way, early in my career. But it was somewhat frustrating because you didn't see the benefits of it right away; there wasn't success just because so-and-so played your guitar.
Which is another thing to be aware of – a lot of people's approach to the business today is to chase the players. I don't know if that's a good thing for anybody, to be entering into those kinds of relationships. I think it's much better if it comes about in a natural way and if people develop a true affinity for their instrument.
And at that point, the artist's expression will be truer.
Absolutely – at that point, it becomes real. You can build something really good but it's not necessarily going to be good for everybody. You can say, "Okay, I'm going to take the bold step and make a deal with some artist, and I'm going to give them a guitar in exchange for their endorsement." But I've seen that happen a lot of times where that process yields an unhappy artist and an over-extended guitar maker. So the artist feels obligated, and the guitar maker doesn't quite understand why what he built isn't good enough. I just wouldn't want to be promoting myself in that way, because to me, it's not a real honest interaction.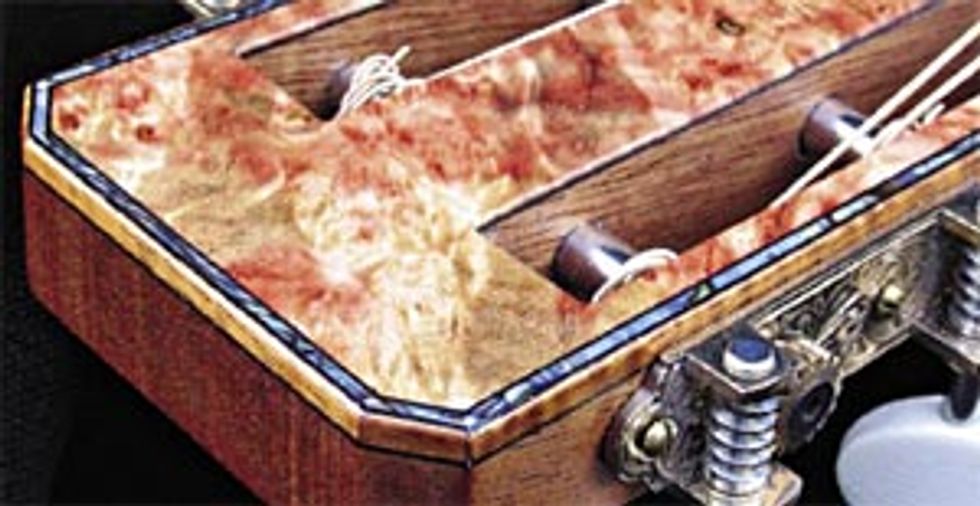 Could you talk about your connection with Chet Atkins?
It mostly happened because we both lived in Nashville, and because there wasn't a lot creatively that went on around here that Chet didn't know about. Around the time I arrived here in '85, a mutal friend introduced me to him and it was a very cursory introduction. I doubt he would have even remembered it.
But one day I was working at Gruhn's, and I got a call to come down to the showroom. So, I went downstairs and Chet was there with a later model Martin D-41 Tony Rice had given him. He pulled it out of the case and said, "I was wondering if you could pull a little bit more sound out of this for me." I looked it over – and I was a little bit intimidated, obviously – and I said, "Well, sure, we can loosen it up a bit for you." I was kind of shocked and amazed that the guitar was setup with nickel-wound strings and the action was real low – so low I couldn't have played it. So I opened it up some, and sent it back to him.
Later on, in 1990, I wanted to shoot a video, and I asked Muriel to perform on it, a few months after she won Winfield [the National Fingerpicking Championship]. She and John Knowles did this video for me, and after the shoot she was going to go over to Chet's office, and invited me along. So I went over and when I was introduced to him I was standing across the room from him; when he heard my name he came at me like some sort of very happy pet, like he was very enthusiastic. It was surreal. He just talked my ear off for 15 minutes, wanting to know everything I knew about guitar making.
I learned later in life from John Knowles that Chet tried to overcome people's reactions to him by putting them on a pedestal and treating them like that.
Did you work with Chet after that?
Well, I became very friendly with Chet as years went by. When I started building resonator guitars for Earl Klugh in 1992, I called down to Chet's office, told him what I was doing and asked if he could loan me a Del Vecchio to look at. And he said, "Sure, stop by the office tomorrow and I'll have one here for you." So I went down and picked up one of his Del Vecchios, and took it to my shop to examine it. I told Earl what I had, and he said, "Wait, that's not the guitar that I want you to build for me. He's got a little one with a short scale length. I've got one here that's not very good but I'll send it to you." And he sent me this modernera Del Vecchio, and I sort of started building resonators from that.
After I made it, Earl asked me to build a bunch of them and he gave one of them to Chet. From that point I made Chet two more, and sometimes he would come by the shop while I was working and just hang around, tell stories and jokes. He was very amusing.
Our relationship was so unassuming, really. One day he was hanging around the shop and somehow the subject of Hank Williams came up. And I, in a very nonchalant way, because I thought he might know the answer to the question, said something like, "Chet, who played guitar for Hank Williams?" And he whipped around and said, "Well, I did!" And I honestly didn't know that! It had gotten to the point where it was like hanging out with your friend, and that was a bit of a reality check.
The thing about Chet was that he never forgot what it was like to be struggling. He had an uncanny way of extending his hand at a moment when he knew people where having a hard time. Doyle Dikes told a story once where Chet called him over and gave him a guitar when his musical career was down. Tommy Emanuel talks about getting letters from Chet when he was a child in Australia, with tapes going back and forth.
He was a very special guy, and the experience of being in the Ryman Auditorium when his casket was walked out of there – it was a feeling of energy collapsing on the isle as if the whole room just wanted to go out that door with him.
You make a wide range of guitars – it seems like a lot of luthiers try to pick one design and hone it. Your versatility is impressive, and I'm wondering where it comes from.
Well, one of the blessings and curses of my career is that I started building guitars in a time when there wasn't the big handmade marketplace that's developed in the last 15 years. The result of that was I couldn't rely on just one thing; as much as I wanted to build classical guitars, I was never going to compete with Robert Ruck or José Uribe, because the market was so small and those guys were so well established by the end of the '70s. Classical players would look at their guitars before they'd look anywhere else, so if I wanted to build classicals I'd have to sacrifice in order to be good at it.