Hail to the Mountain King: an interview with Leslie West
Just like the seasons, musicians come and go, but only mountains of their genre make a lasting effect. Leslie West has been in the business for more than half his life and takes a few moments to sit down and talk with Premier Guitar.
| | |
| --- | --- |
| Now in his early sixties, a diabetes and cancer survivor who also experienced firsthand the substance abuse that killed some of his contemporaries and friends, West is enjoying a prolific and revitalized career. Mountain's latest recording, Masters of War, is a collection of Dylan covers arranged in the West tradition. He also has a pending amp endorsement, handsome royalties and platinum records, the result of Kanye West and Jay-Z's use of samples from his tunes "Dreams of Milk & Honey" and "Long Red." Best of all, West has a hot new signature guitar, the Dean Leslie West model. | |
Now in his early sixties, a diabetes and cancer survivor who also experienced firsthand the substance abuse that killed some of his contemporaries and friends, West is enjoying a prolific and revitalized career. Mountain's latest recording, Masters of War, is a collection of Dylan covers arranged in the West tradition. He also has a pending amp endorsement, handsome royalties and platinum records, the result of Kanye West and Jay-Z's use of samples from his tunes "Dreams of Milk & Honey" and "Long Red." Best of all, West has a hot new signature guitar, the Dean Leslie West model.
West's style combines his famously saturated tone with clean technique and execution. He couples that with taste, effective use of light and shade, dynamics, drama, and melodic licks that go straight to the heart. Never a speed demon, West has always known how to make just a few notes count. Mix that with a rough-assandpaper- and-cigarettes voice that has improved over the years and you have a lethal combination.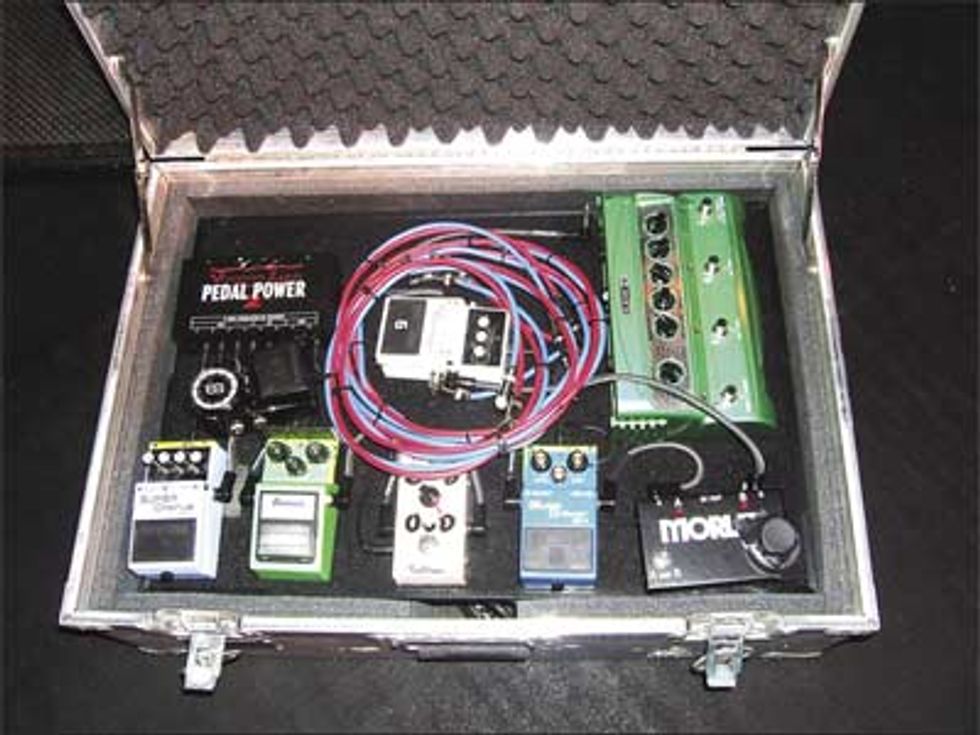 "I have a Planet Waves tuner, a Morley A/B box, a Zoom 9000, a Boss Blues Driver, a Fulltone OCD box, a TS-9 Tube Screamer, a Boss Chorus and a Line 6 delay."
Armed with a vintage Les Paul Junior, his soloing on Mountain's classic "Theme For An Imaginary Western," is a perfect example of West's ability to galvanize human emotion. Despite an outwardly tough exterior and streetwise Noo-Yawk attitude, West clearly wears his heart on his sleeve. Radio shock jock Howard Stern, who befriended West in the nineties and often featured him on his radio show, publicly admitted that West's solos on "Theme" brought him to tears as a teenager, a confession to which this journalist can easily understand. And yet, West can rock your socks with thunderous, bluesy riffs on tracks like "Everything Is Broken," "Never In My Life" and "Serve Somebody." At the same time, he'll make you think long and hard about the United States' protracted involvement in Iraq and Afghanistan with a sensitive rendition of "Blowin' In The Wind."
Born Leslie Weinstein in Forest Hills, Queens, New York, West quit school after his parents'z divorce, worked for a jeweler in the diamond district of Manhattan and spent his lunch hours staring at guitars in the store windows of Manny's Music and We Buy Guitars, two famous music shops on 48th Street – New York City's Music Row. With his bassist brother Larry and some friends from Queens, West put together the Vagrants, a blue-eyed rock and soul garage band that became a huge local attraction but failed to score a hit record, despite a few valiant attempts. There's currently an old film clip of the Vagrants, circa 1965, lip-synching their first single, "Oh, Those Eyes," on YouTube. A young Leslie stands to the right, playing a Danelectro model 7020 Bellzouki 12-string.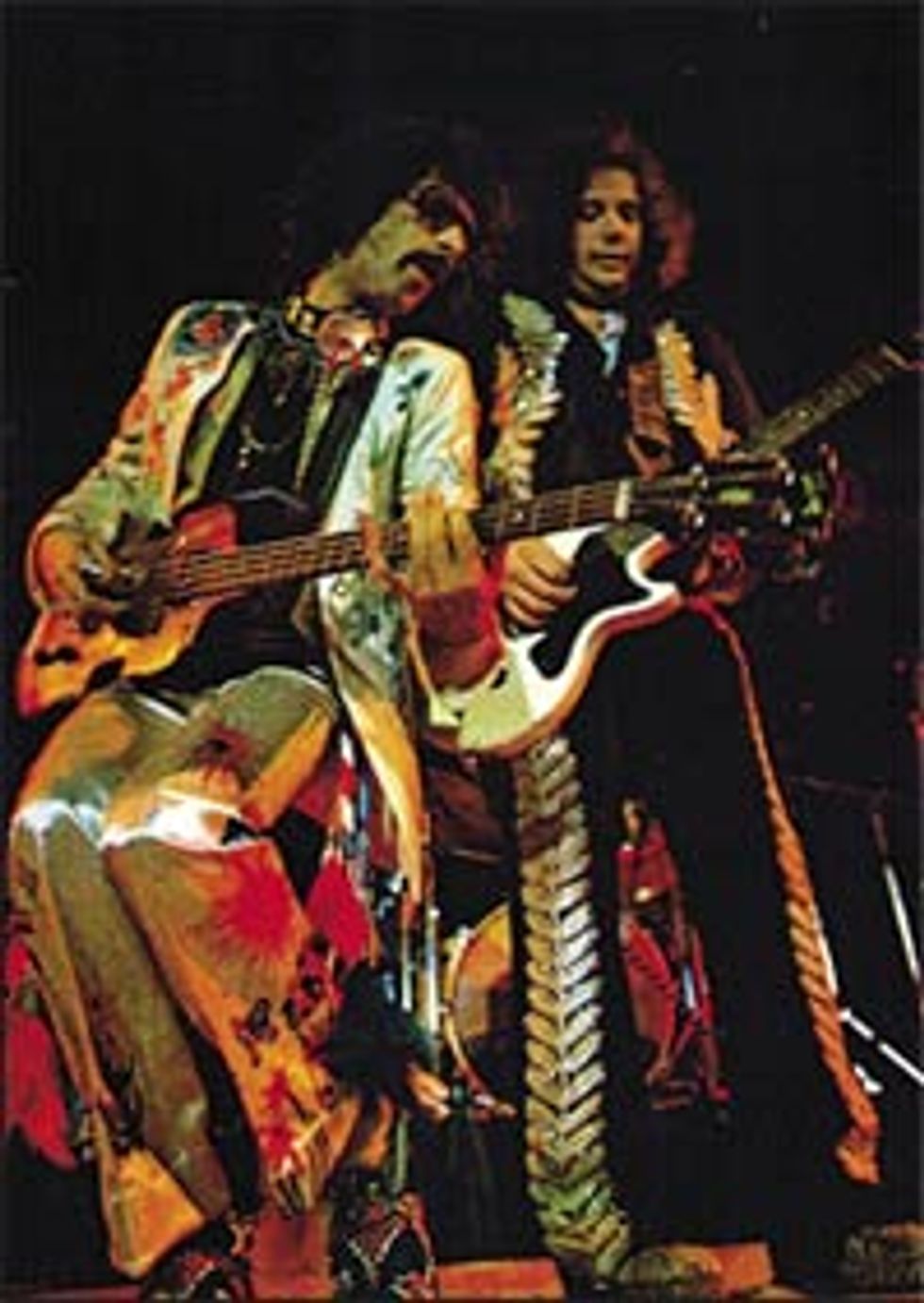 Felix Pappalardi & Leslie
After recording his first solo album entitled
Mountain
, West formed a band of the same name with bassist/vocalist/producer Felix Pappalardi and enjoyed great success for several years until a culmination of factors broke the band up. A short stint as a member of West, Bruce & Laing and a solo career followed, along with a period of relative inactivity, before a 1990s resurgence that continues to this day. But enough of this; let's talk guitars, tone and more with Leslie West.
Tell us about your new signature guitar.
Dean Zelinsky called and said he wanted to do a signature guitar for me. I've never really had a signature guitar and I didn't want to put my name on a model that was already out there, like the "Leslie West Les Paul Junior" by Gibson. I wanted something new. Dean sent me a prototype and we went back and forth a few times and came up with the Leslie West Signature guitar, which is basically an update of the Les Paul Junior. I think Dean did a hell of a job.
What is it about the Dean you like?
It's a beautiful guitar. The inlays on top form what looks like a woman's cleavage. I can rest my thumb right there. The neck is kind of a V shape – not too fat and not too thin.
I don't have big hands, so the neck fits me perfectly. The guitar is made out of mahogany with a AAAAA flamed maple top, the finish is a classy sunburst and it's got a special humbucking pickup called the Mountain of Tone. The guitar is made here in the USA, and I think Dean cuts the wood himself. It took a long time but I finally have a signature guitar. It's totally handmade and the list price is $5395. Dean only made a hundred of them, but he's got an import version that lists for a lot less that's pretty nice too. The volume and tone go to eleven. I told Dean that was something I had to have on this guitar – it had to go to eleven.
Didn't a well-known guitar dealer out in Las Vegas make a Leslie West model guitar years ago, and didn't you play a Leslie West Electra MPC guitar at one time?
The MPC never had my name on it. The guitar had effects modules that slid in and out. That guy out in Las Vegas made some guitars for me – the ones without headstocks – but I got screwed on that deal and my name was never on them. People would call him asking about the guitars and he would charge a different price every time he took an order.
You're really best known for playing Les Paul Juniors. How did you discover the Junior?
The Les Paul Junior is a tree with a pickup on it. It's a basic guitar. I was in the studio with Felix Pappalardi one day, and the guitar I had wouldn't stay in tune, so Felix handed me a Les Paul Junior and said, "Play this; it'll stay in tune." He was right. After that, I was hooked on Juniors. I could never understand why people complained that it only had one pickup. I could roll off some treble and get that nice "woman tone" out of it, or I could play it full on. It's more versatile than people think.
Do you still own any vintage Juniors?
I have two: an SG Junior and a Les Paul Junior. I gave a '57 Junior to Pete Townshend years ago and I think his brother Simon has it now. I gave another one to a friend of mine. I tried a double cut Junior once, but it kept going flat and sharp in my hands because the neck moved around too much, so I stayed with the single cutaway models.
When I saw you with the Vagrants in 1967 opening for the Who at the Village Theatre in Manhattan, you had guitars lined up behind you on stands. I remember a white SG Custom and a black Les Paul. What was your main guitar of choice with the Vagrants?
It was a black Les Paul that I spray-painted white. I got it from Waddy Wachtel. We grew up in the same apartment building. I didn't like that SG Custom; I couldn't get my pick in there because of the middle pickup.
The Vagrants used to smash their equipment, didn't they? How did that come about?
Sam Ash gave us a lot of cheap guitars and when the strobe light and fog machine would go off at the end of our show, I'd switch guitars and smash one with all the lights flashing. I had to stop doing it because I got a splinter in my thumb and it got badly infected.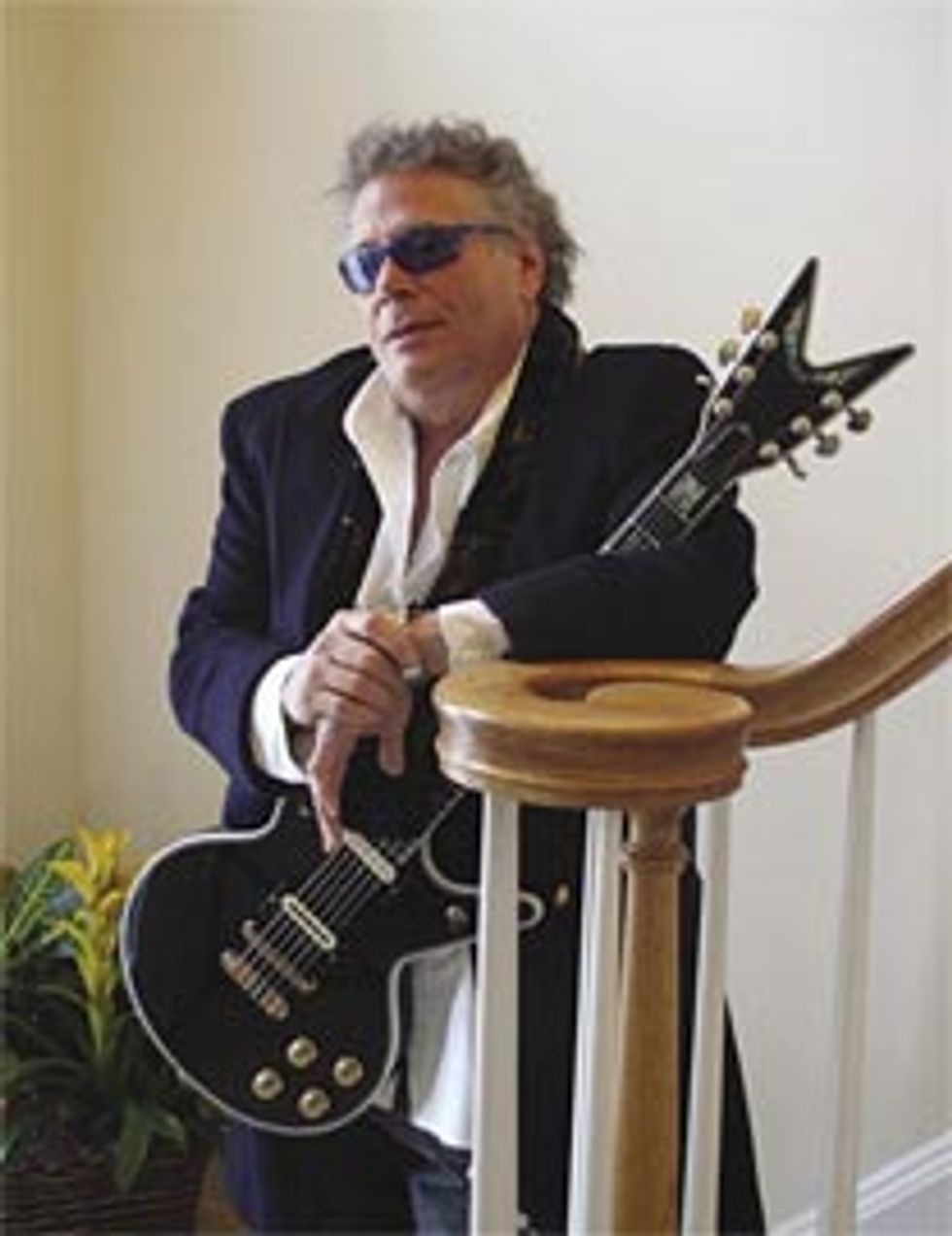 What amps are you using onstage right now?
Two Marshall JCM900s with Greenback Celestions loaded inside. They sound great, but I'm negotiating a deal on a new line of amps. They're 80 watts – a little less wattage – but because the deal isn't done yet, I can't mention any names. They sound incredible. I hope I'll have these news amps by the time we go out on tour with Joe Satriani.
Tell us about your pedalboard.
I have a Planet Waves tuner, a Morley A/B box, a Zoom 9000, a Boss Blues Driver, a Fulltone OCD box, a TS-9 Tube Screamer, a Boss Chorus and a Line 6 delay. I really love that Fulltone pedal. It's called the Obsessive Compulsive Distortion – OCD.
Kory Varilek, your guitar tech, told me you had something called the "magic box." What is that?
The "magic box" is the Zoom 9000 that's been modified. We have it wired so it's quadraphonic. It's attached to the mic stand and I can A/B it with a footswitch. It's tough to explain exactly how it works, but I think I'm the only one who has it rigged up like this. I discovered it by accident.
Now, here's every guitarist's favorite question: what makes for great tone?
Great tone is like pornography; you're not sure what it is, but you know it when you hear it. I'm constantly working on my tone, both at home and on the road.
Do you still practice guitar?
When I'm home, I play acoustic guitar pretty much, and it helps me in bending strings when I'm onstage. I have some beautiful Larivee acoustics that are gorgeous, and some Dean acoustics too.
Why did you decide to record Masters of War, a full CD of Dylan covers?
They don't seem like covers to me because I play them like myself. People forget that I recorded "This Wheel's on Fire" for my first solo album. We were in Belgium on tour, and I began thinking of doing a Dylan album, so we started kicking around songs that I could arrange for my voice and guitar. I wanted to do "Like A Rolling Stone," but everybody's done that song, so [drummer] Corky Laing suggested we do it just with drums and I sing it, but I didn't want to do the vocal, so I told Corky to do it. He used to sing lead in a band he was with in high school. We put some effects on his vocal and he did it just with the drums. I think it came out great. It's like a drum solo with a spoken vocal.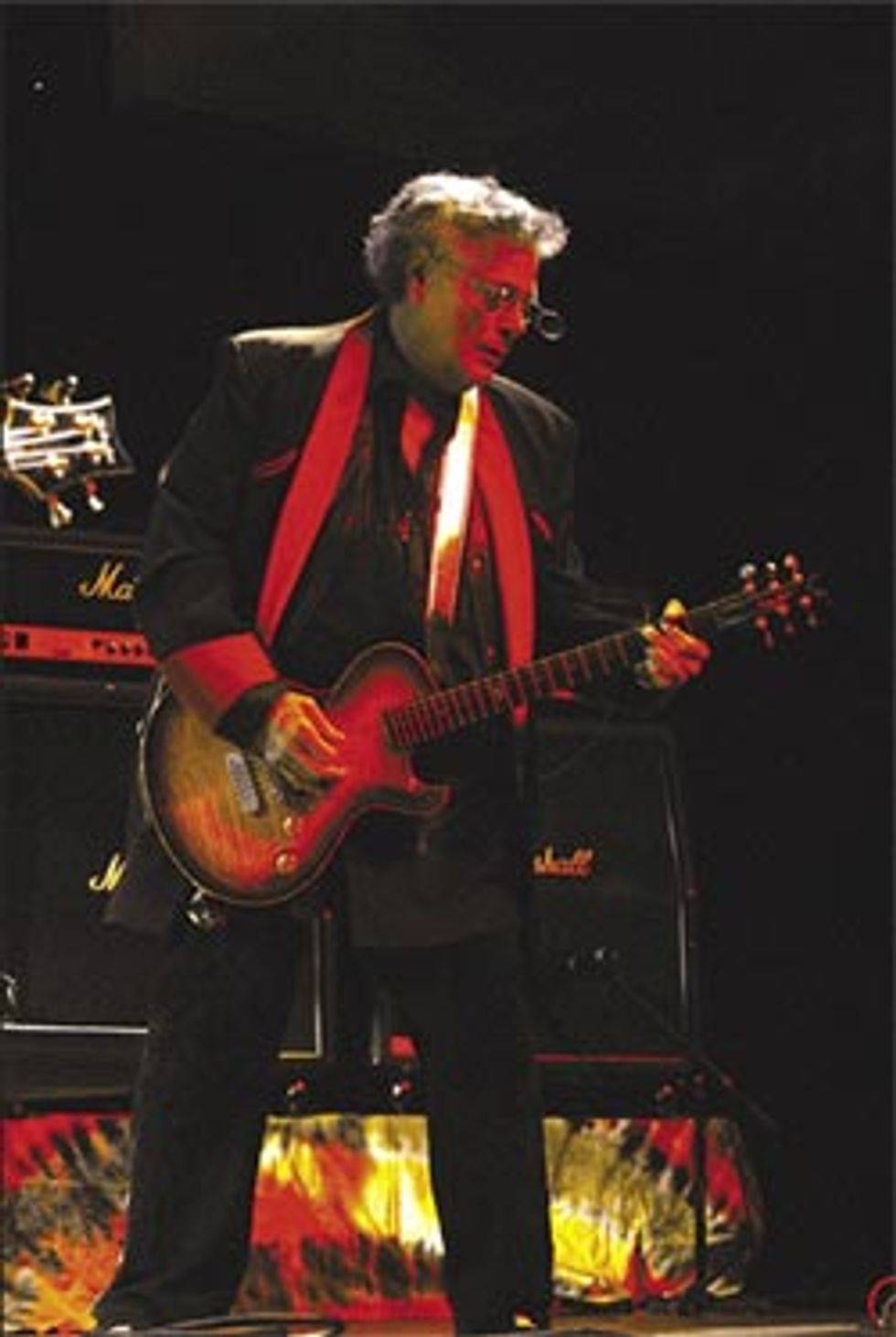 There's a definite hip-hop thing going on in "Highway 61."
Yeah, Jay-Z and Kanye West sampled part of "Long Red" and used it on their records, and now I'm getting gold and platinum records and royalty checks. I wanted to do something with a hip-hop flavor to it, a different take on "Highway 61."
Masters of War makes a powerful antiwar statement. Do you think it's important that musicians continue to speak out against war and other topical issues the way we did in the sixties?
I don't know. I prefer to let my guitar and voice do the talking.
The recording industry is going through radical changes these days with the advent of downloading and alternative music delivery systems. Where do you stand with all this? Do you think the compact disc is doomed to extinction? How has all this affected you?
I think compact discs will be gone in another five years. There won't be any more record stores, except maybe for collector's stores. Everybody will download music off the internet. This has been great for me. "Mississippi Queen" has been a huge download song; it's included on the game
Guitar Hero 3
and there are "Mississippi Queen" ringtones available for your phone.
What ignited the rock n' roll spark in you and when? Was it seeing the Beatles on the Ed Sullivan Show?
I didn't see the Beatles on Ed Sullivan. When I was a kid, my uncle, Will Glickman, wrote for television, including the
Jackie Gleason Show
and the
Phil Silvers Show
. I wanted to see Jackie Gleason live, so my grandmother took me to the TV studio, but when we got there, we found out that the Dorsey Brothers were filling in for Jackie Gleason and he wasn't there. I actually started to cry I was so upset, but we stayed anyway, and there was this singer appearing that night with a guitar and a band. His name was Elvis Presley. Once I saw Elvis, I knew I had to have a guitar. The first guitar I ever had was a Stella tenor acoustic with four strings. Then I got a Martin acoustic and took two strings off because that's what I was used to. I had a Hagstrom electric that I used early on in the Vagrants, but it wasn't a very good guitar.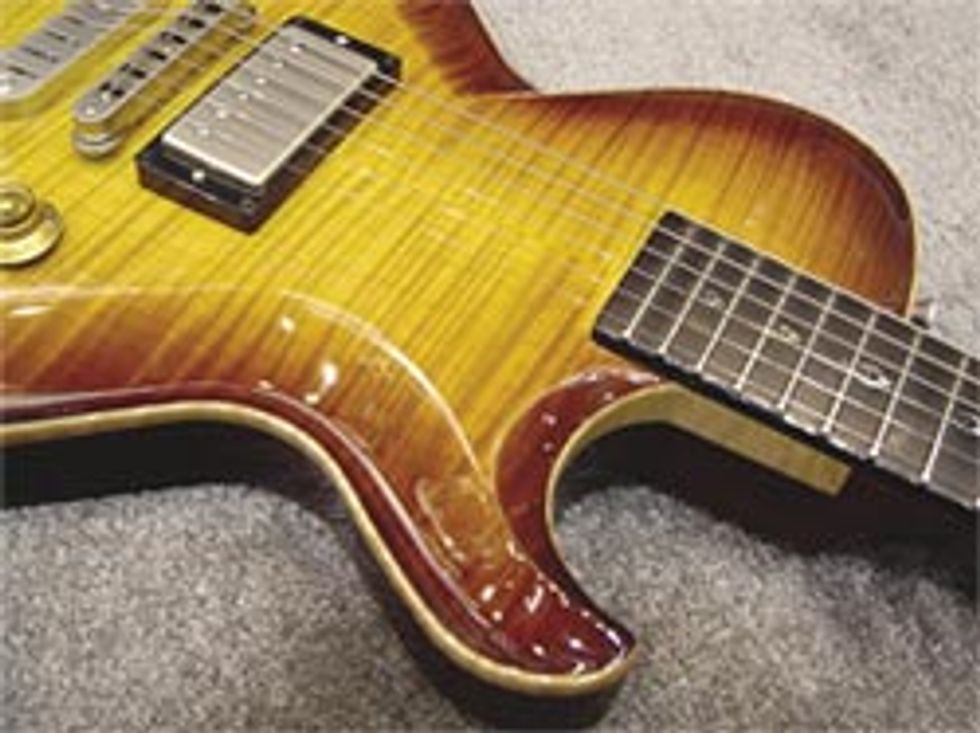 The Vagrants were one of the hottest bands in New York City and Long Island. I have this vivid memory of seeing you opening for the Who in '67, playing your big production number, "Exodus." The Vagrants were great.
Do you think so? I guess we were good. We had that thing happening with the Hammond organ that we took from the Rascals, who were friends of ours. The Vagrants couldn't get arrested outside New York. We were never able to capture our live sound in a recording studio. We cut "Respect," and Atlantic Records released it as an A-side at the very same time they released Aretha's version. We told Jerry Wexler [Atlantic Records executive and producer] to use the other side, "I Love, Love You (Yes I Do)," as the A-side, but they didn't listen to us and Aretha got the hit.
Now my brother Larry owns a very successful restaurant. Peter Sabatino, the lead singer, still has a band called the Vagrants, I think, and Jerry Storch, who played Hammond organ, was a Jew For Jesus the last I heard. I have no idea what happened to Roger Mansour, the drummer.
You had your greatest success with Mountain – playing Woodstock, having hits like "Mississippi Queen," "Nantucket Sleighride" and "Theme For an Imaginary Western." But Mountain only lasted just over three years. What broke the band up?
Drugs. And we had a lot of issues with Felix and his wife, Gail Collins. It was a shame. In the beginning, it was great, and it should have lasted longer, but it didn't. Corky is still with me and we have a good time.
What's on the horizon for Mountain?
Like I said, we're going out with Joe Satriani. I have a new management deal with the same people who manage Zakk Wylde, a pending amp deal and a good CD out there.
Any West words of wisdom for our readers?
Practice your guitars, get better and tune up. There are too many people playing out of tune today.
Are there any guitar heroes left?
Sure there are. You just have to dig deeper to find them.
Mountain Live At B.B. King's in New York City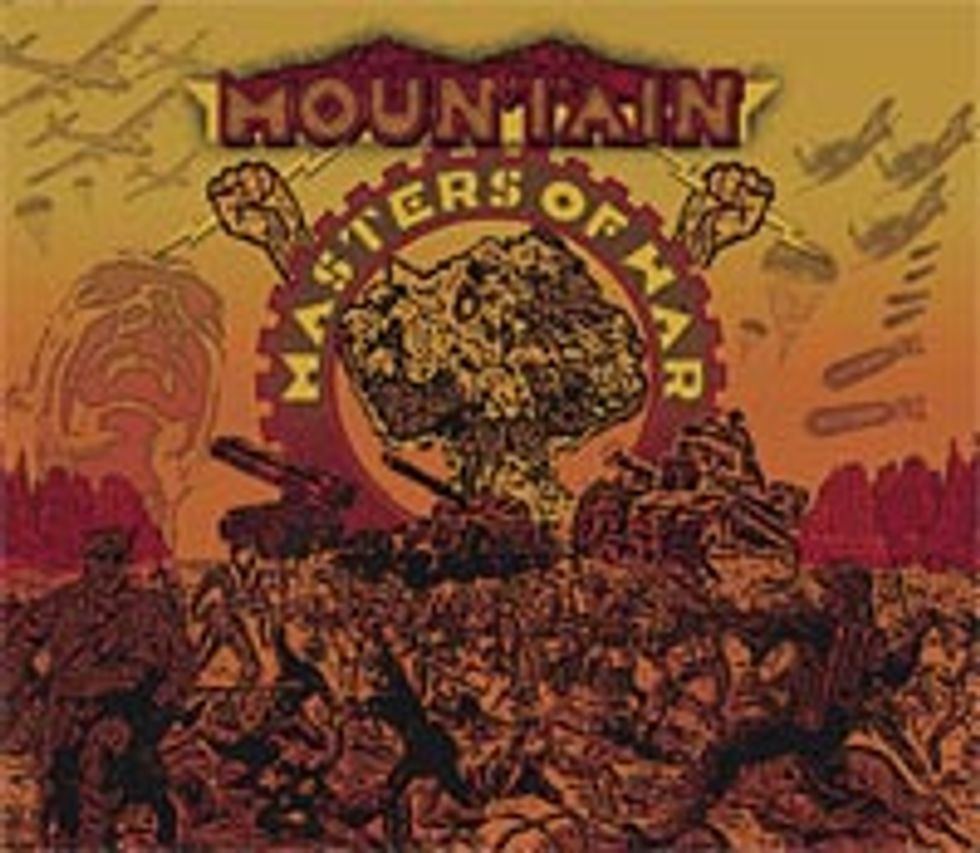 Mountain's recent sold out show at B.B. King's in New York City proved that Leslie West can still rock the house with his paint-peeling guitar work and impassioned vocals. With longtime drummer Corky Laing and bassist Richie Scarlett in tow, West and company offered material old and new. Kicking off with a raucous version of "Blood Of The Sun" from West's first solo album, they followed with "Serve Somebody" from- Masters of War, then "Theme For An Imaginary Western," featuring Leslie on lead vocal, offering up a dramatically different guitar solo from the original version.

"Long Red," "Blowin' In The Wind" and "People Get Ready" were all performed as solo acoustic numbers. In-between songs, West kidded with his band members and kibitzed with the audience. Corky Laing took the spotlight with a short and entertaining solo, coupled with "Like A Rolling Stone." The full band returned with the one-two punch of Mountain favorites "Never In My Life" and "Mississippi Queen," with "Nantucket Sleighride" as an encore. Leslie West remains a force to be reckoned with; a guitarist and vocalist with a tone that is uniquely his own.
Leslie's Gearbox
Here's what West is plugging in, when it's time to rock.


Guitars
Dean Leslie West Signature
Dean Soltero
Dean V (set up for slide)

Amps/Cabs
Two Marshall JCM900s with
Greenback Celestion speakers

Effects
Planet Waves tuner
Morley A/B noise suppressor
modified Zoom 9000
Boss Blues Driver
Fulltone Obsessive
Compulsive Distortion
Ibanez TS-9 Tube Screamer
Boss Super Chorus
Line 6 Delay

Picks
D'Aquisto Snarling Dogs strings,
gauge .009-.046
D'Aquisto thin picks
Dunlop Joe Perry Barnyard
model slide

---
Leslie West
mountaintheband.com