Recently, I had the pleasure of catching up with Will Ray, the renowned guitarist from The Hellecasters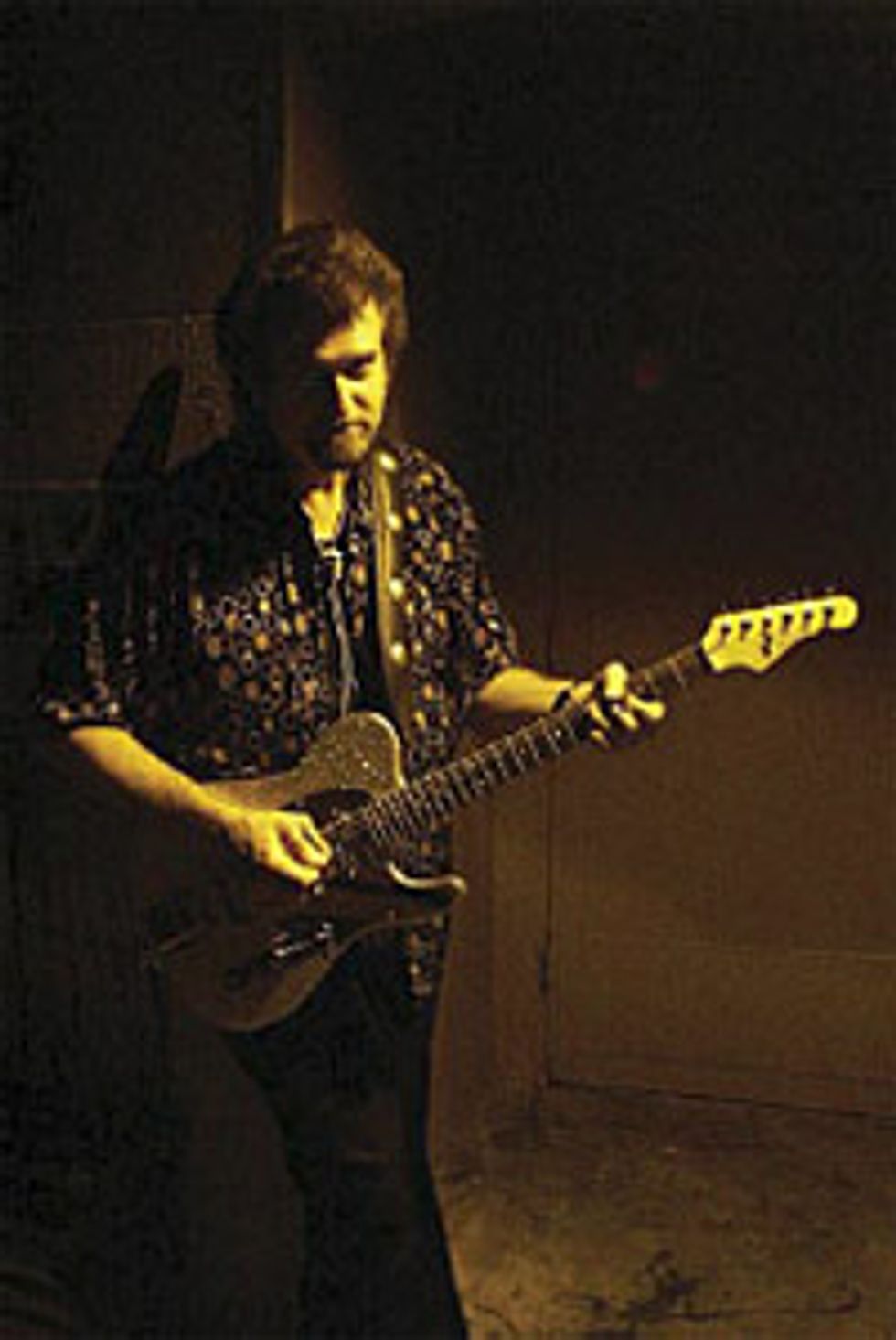 Recently, I had the pleasure of catching up with Will Ray, the renowned guitarist from The Hellecasters. For those who are not familiar with Will's work, The Hellecasters' first album,
The Return of the Hellecasters
, became a hit with guitarists and earned
Guitar Player's
Best Album and Best Country Album awards in 1993. In 1995, the Hellecasters recorded and released their second CD,
Escape From Hollywood
and Hipshot products began marketing an invention of Will's called the Stealth Slide, in addition to the Will Ray Model B-Bender. Owing to the Hellecasters' popularity, Fender also released the limited edition Will Ray Signature Jazz-a-Caster and the Custom Shop Will Ray Signature Mojo-Tele. 1998 found the Hellecasters releasing their third album,
New Axes to Grind
on their own label, Pharaoh Records. Will released his first solo CD in 1999, called
Invisible Birds
also on Pharaoh Records, followed by his second solo album,
Mojo Blues
in 2000.
On
Mojo Blues
, he did a terrific interpretation of the folk song, "Shenandoah." What is most striking about this instrumental piece is Will's wonderful tone and vibrato. The following is a Q & A of how he achieved that tone in the studio.
What guitars and amps did you use on the recording of "Shenandoah?"
The 1993 G&L ASAT Special and 1996 Fender Will Ray Mojo-Tele into a Carl Martin compressor, then into a Boss BCB- 3 pedal board which has an Ibanez TS-5 Tube Screamer. From there the signal went into a first year model Line 6 POD, where I had some kind of clean amp setting. I also took the recorded POD signal and played it into a mik'ed Rivera M100 combo amp to beef things up. At mix time I used a little of each.
What format did you record the song on, analog or digital?
I recorded the basics – drums, bass, keyboards, and scratch guitar – on a Fostex G-16 running at 30ips. It's a ½" 16-track machine. After that I SMPTE synced it up with my Fostex D-160 digital hard drive recorder, and on the D-160 I did all my overdubs, which got transferred at the end of every day to the analog G-16 machine as my backup. When it came to mixing, I usually used the tracks on the analog recorder instead of the digital ones, mainly to add a little warmth and "mojo."
Give us a little background of the song and how you envisioned the guitar sounding.
This was a favorite song of mine and my dad's; when he died in 1996, I wanted to play it as a tribute to him. The Hellecasters were recording our third album at the time, and "Shenandoah" was going to be on there, but at the last minute I decided to save it for my Mojo Blues album, which ended up being released a few years later.
The vibe I was looking for was a Roy Buchanan meets Mike Bloomfield kinda thing. I really loved the way Bloomfield and Al Kooper did
The Live Adventures of Mike Bloomfield and Al Kooper
version of Simon and Garfunkel's "59th Street Bridge Song (Feeling Groovy)" and I loosely based my intro on theirs. I would record my parts, later listening to what I did the next day with fresh ears. I just kept building upon what seemed to be working, while eliminating parts that didn't move me the next day. I'm a Gemini and what sounds good to me one day may sound like rubbish the next. So, if a part for the recording sounded good two or three days in a row, it made it into the song.
Well, there's a little taste of what goes into Will's tone. I know what you're thinking, and frankly, I was surprised as well that he made use of the Line 6 POD. It just goes to show that it is not always what you use, but how you use it. Since he used the POD with a live amp, recording them both to analog tape, he got the best of both worlds, resulting in a clean and warm recording. God bless analog!
You can also check out "Shenandoah" on the new compilation CD Guitar Masters Vol. 1, now available. For more about this incredible guitarist visit hellecasters.com
---
Brian Tarquin
Emmy Award Winning Guitarist Brian Tarquin scored a Top 20 hit in the 90's with "The Best of Acid Jazz, vol. 2" on Instinct Records and enjoyed several top 10 hits on the R&R charts. Founder of the rock/electronica band, Asphalt Jungle and has scored TV music for such shows as, CSI, Smallville, MTV, Alias, 24, All My Children and many others.
bohemianproductions.net
jungleroom@optonline.net
myspace.com/bohemianproductionsmusic