D'Angelico New Yorker Series EXL-1DP Archtop
The D''Angelico EXL-1DP archtop offers an affordable, quality jazz box.

No matter who you are in the jazz guitar world, this D'Angelico is worth a serious look, if only to alert you to the intense battle that is going on for the $1100–$1500 segment of the jazz archtop market. If you are a serious practicing and gigging jazz player, this guitar will do everything you ask of it – except be a U.S.-made vintage guitar (which it looks like at a glance). What kind of values you have as a jazz player and archtop collector – combined with how much spare cash you have in the bank – will determine whether this guitar is of interest to you. The EXL-1DP will be most appealing to players wanting to step up to a better instrument with a traditional look, great playability and good adjustability.
I found this D'Angelico to be a comfortable size that does a good job of replicating Gibson's older archtop feel. The neck is the Gibson-standard 1 11/16" wide (the current trend is to go wider than this, which I find to be too wide) and I found the neck to be hinting in the direction of the early sixties' wide/flat profile, which I consider the best possible profile. The laminated body measures 17" wide by 3" deep with a significant arch in both the top and back, and the EXL's scale length comes in at a standard Super 400/L-5-equivalent 25.5". It has the right dimensions, the right pro-level refinement in adjustability and it can recreate bop and post-bop timbres in the Johnny Smith style. Given its price range, it is a huge value.
After going over this guitar with a jeweler's loupe, putting it through my aggressive, daily practice routine and finally rehearsing with it, I can tell you that this is a serious contender in the new niche that has emerged in the jazz guitar world – well-made instruments that, to varying degrees, copy what has been established as the epitome of the American jazz guitar. I was very impressed with how well the guitar played and how easily it adjusted without any serious alterations. I put the bridge down for close action and it accommodated me without buzzing. The neck was straight – almost flat – and it appears to me that with a pro-luthier doing the tweaking, you could put the action anywhere you want on this instrument, something I have found more expensive instruments sometimes not capable of. This may be due to its more sophisticated U-channel truss rod design.
---
"After going over this guitar with a jeweler''s loupe, putting it through my aggressive daily practice routine and finally rehearsing with it, I can tell you that this is a serious contender in the new niche that has emerged in the jazz guitar world..."
---
Jazz Economics
Spend over $10,000 and you should be getting a hand-carved solid spruce top with tight grain. In contrast, the D'Angelico offers a laminated spruce top and laminated maple sides and back to stay within its price range. That's not to say that this is a negative – many excellent- sounding jazz instruments, including the Guild X-500 and the Gibson Barney Kessel models, use this method of construction – but only that this laminated construction is a major point of departure from original D'Angelicos, reminding us that it is a manufactured copy of a piece of Americana. It would be like comparing Zirconium to a real diamond; they are both nice but have different purposes.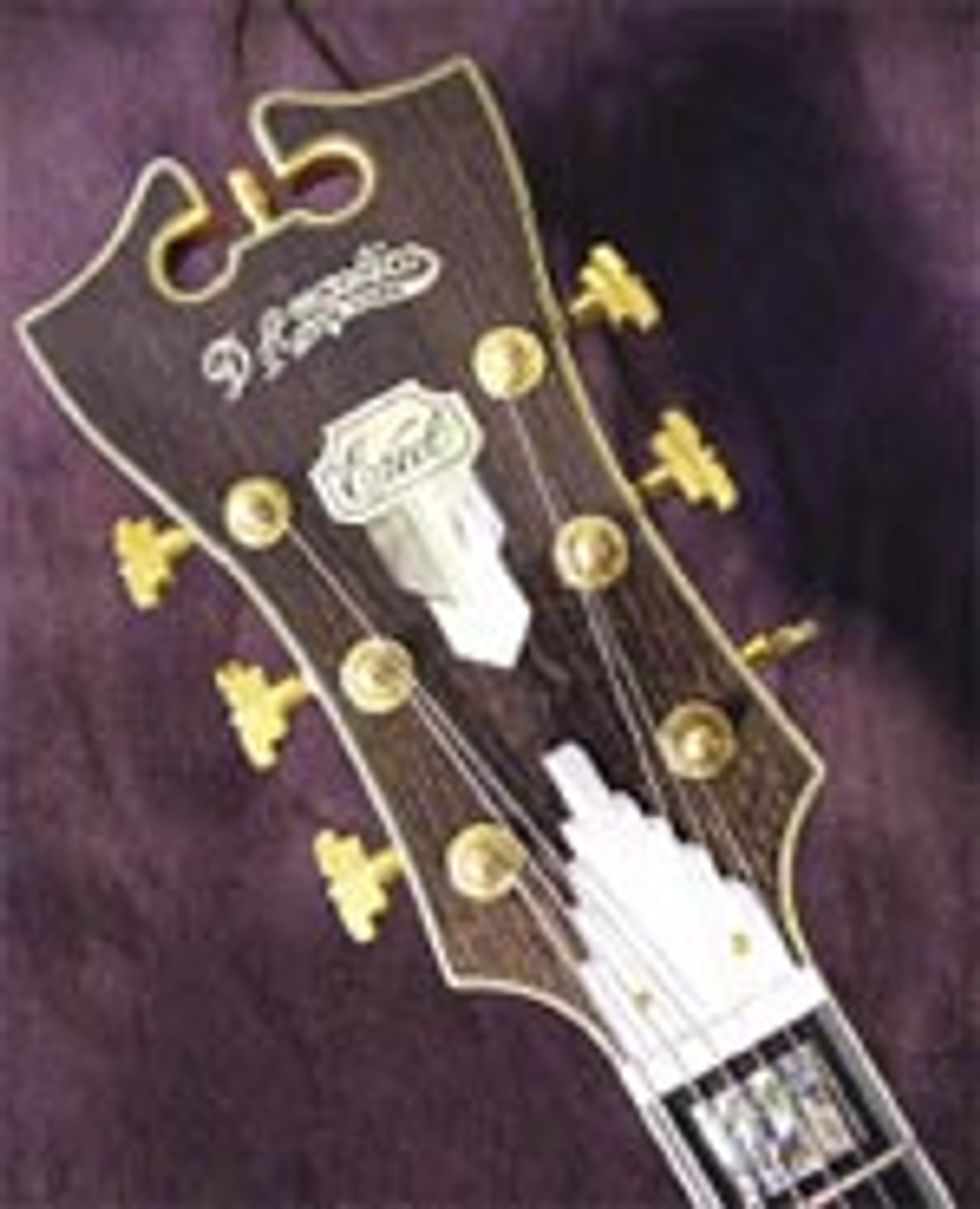 Indeed, the EXL is a fine-sounding instrument. The Kent Armstrong pickup is a good compliment to the guitar, reproducing a warm and convincing tone suitable for jazz contexts. The Johnny Smith-style pickup and guard are well designed and the rim-mounted jack is a plus. The only qualm I found was that the tone pot turns and turns without effect until you reach that sudden point where it becomes bassy all at once, although this is an easy fix with a higher quality, smooth-taper pot.
The guitar is definitely easy on the eyes, using an abundance of abalone inlays and art-deco designs, although I would have settled for a little less flash if the quality of the joinery and finish work could have been bumped up. The EXL does a great job of capturing the artistic design and luxurious stature of the original D'Angelicos, but begins to falter when looking closely at some of the finish details. The f-hole binding is inconsistent in thickness; there are small binding flaws throughout; the rear headstock stinger shape is a little off and the pickguard binding has some issues. These are all minor imperfections, but my chief complaint is one that is suffered by most Asian (and some American) manufacturers: the clear coat is unabashedly thick. The guitar already has finish checking and is barely out of the womb. It is so heavy in places that it almost gives some areas a plastic feel.
But wait! Don't dismiss the EXL for these little finish flaws; most Gibson archtops, even those residing in the higher brackets, seem to have the same little finish peccadilloes that make the guitar scream, "I was made in a factory!" This is the price that is always paid for choosing a manufactured instrument over a handmade one.
The Final Mojo
Within this market niche, the D'Angelico gets high marks for professional-level playability and precision setup potential. Sacrifices in construction and detail finish work had to be made in order to remain in this price range, but even these do not hinder the instrument's looks and performance. Overall, this offering provides a very good dollar value for an appealing custom copy.
Buy if...
you want a traditional style archtop with solid jazz tone, all on a limited budget.
Skip if...
you demand greater finish-work perfection and prefer US construction.
Rating...
 
Our expert has stated his case, now we want to hear yours. Share your comments and ratings below.