D'Angelico Deluxe SS Baritone Review
Underneath this bari's jazz suit is a rock 'n' roll machine.
Responsive playability. P-90s deliver loads of tone options. Solid construction and feel.
Jazz aesthetics might paint this one into a corner for some. Price may dissuade all but serious baritone players.
5
5
4.5
4.5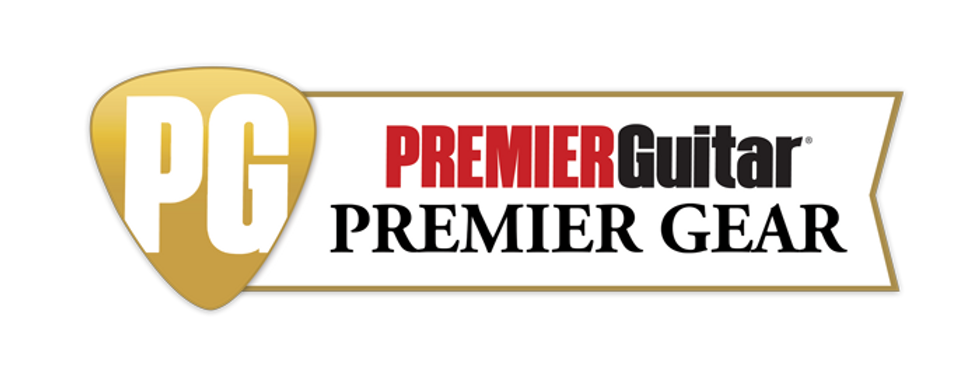 ---
The D'Angelico Deluxe SS Baritone is an interesting proposition. It's a high-end offering in the relatively small field of baritone guitars, where, if you've got around $1k to spend, you can have fun choosing between a nice range of options. Lots of players are attracted to those lower-priced options for the novelty of a baritone or to round out their instrument collection. D'Angelico is aiming to instead capture those who are so serious about their baritone needs that they're willing to spend over $2k on the right one. To do so, they've created a P-90-equipped semi-hollow and put it near the top reaches of their line.
Admittedly, I'm in that former category. I think baritones are fun and lump them in with 12-strings, tenor guitars, and Bass VI-style instruments—all things I like to mess around with now and then. But I've been able to satisfy my own bari needs with inexpensive instruments. So, approaching this review, I wondered, will the Deluxe SS open my eyes and ears and make me a believer, or is it just a fancy curiosity?
I did a deep dive into the Deluxe's ambient possibilities, adding gobs of delay, sustain, and all the modulation I could wrangle, and was transported to the town of Twin Peaks—it's that kind of vibe.
Unique Recipe
Since the Deluxe SS Baritone is among the top guitars in D'Angelico's line, it gets a fancy aesthetic treatment. That means gold Grover locking tuners, a large art-deco-style headstock, mother-of-pearl block inlays, 3-ply binding, an elaborately shaped pickguard, and a gold bridge and stairstep-style tailpiece. The extra accoutrements will scream cocktail jazz to some, but the body and neck's natural stain and satin finish keep the guitar from looking gaudy. More importantly, a close inspection of the Deluxe's fit and finish reveal an attentive, detail-oriented build. There is nary a flaw to be found.
The semi-hollow-with-P-90s recipe is a unique one among baritone manufacturers. But from the first few robust, resonant notes I played on the D'Angelico, the combination seemed obvious. The playing experience is suitably deluxe—the 26 3/4" scale length and comfy C-shaped neck feel familiar enough to make the formidable .014–.068 stock gauges easy to grapple with, so there's no awkward phase for non-diehard baritone players like myself. The Deluxe's 15" body—1 3/4" deep—feels comfortable for seated playing, and after playing a two-hour gig on my feet, I didn't feel any more fatigued than when playing a standard guitar.
Have Gold, Will Twang
One of the joys of any semi-hollow or hollowbody guitar, especially for players who tend to stick to solidbodies, is how resonant they are, and that's the first thing I noticed about the Deluxe. That's an obvious observation, but with these big gauges, the laminate maple body sings with every note, from big chords to high-octave single-note lines.
Between the black-tie-friendly outfit and the D'Angelico name on the headstock, it's only natural to grip a few ii-V progressions on the Deluxe. The 1 11/16" nut width offers plenty of room to get around complex voicings, which sound irresistibly rich and warm through a Deluxe Reverb. Every note sings with full-bodied clarity. If I were better at improvising chord melodies, I know what the concept for my next record would be.
Open-position chords on the Deluxe can feel like playing the low end of a piano with while holding the sustain pedal. All it took was one wide-open B minor chord to get me hooked. I did a deep dive into the Deluxe's ambient possibilities, adding gobs of delay, sustain, and modulation, and was transported to the town of Twin Peaks—it's that kind of vibe. But it's not just big open chords that deliver that feeling. Since the Deluxe SS Baritone is a sustain machine, these frequencies tend to rumble the room even at moderate volumes. I found myself contemplating the space between notes—and wanting more of it—even when playing slow, single-note melodies on the lower end of the neck.
The Seymour Duncan D'Angelico Great Dane P-90s balance rich low-end with an articulate twang. Like adding a touch of sweetness to a savory dish, a little extra brilliance rounds out the tonal profile to create a rich overall experience. The bridge pickup makes a case for the Deluxe's rock 'n' roll potential and encouraged my best attempt at a Duane Eddy impression. Once that clicked for me, I found that I just wanted to stay in that zone. Anything from shuffles to tic-tac bass parts sound great on the Deluxe.
There's plenty of brightness in the neck pickup, while its added bass frequencies reward Bass-VI-type lead playing—like the solo to "Wichita Lineman," which sounds and feels cool on this guitar. Rolling back the tone just a little made root-fifth patterns under my chording sound convincingly bass-like. Add a little overdrive to any of these positions and the Deluxe is a monster, ready to scream.
The Verdict
The Deluxe SS Baritone makes a bold statement. At well over twice the price—or more—of the most ubiquitous baritones on the market, it's a high-end instrument within genre. With P-90s, a semi-hollow body, and jazzy aesthetics, it feels jazz oriented. But I found it more diverse, and capable of capturing all the tones you'd want in a baritone, from clean and articulate to spooky and ethereal to twangy. And it delivers a fun, and inspiring playing experience in a sturdy, well-built instrument that's ready for any gig you throw at it.
D'Angelico Deluxe SS Baritone Semi-Hollowbody Demo | First Look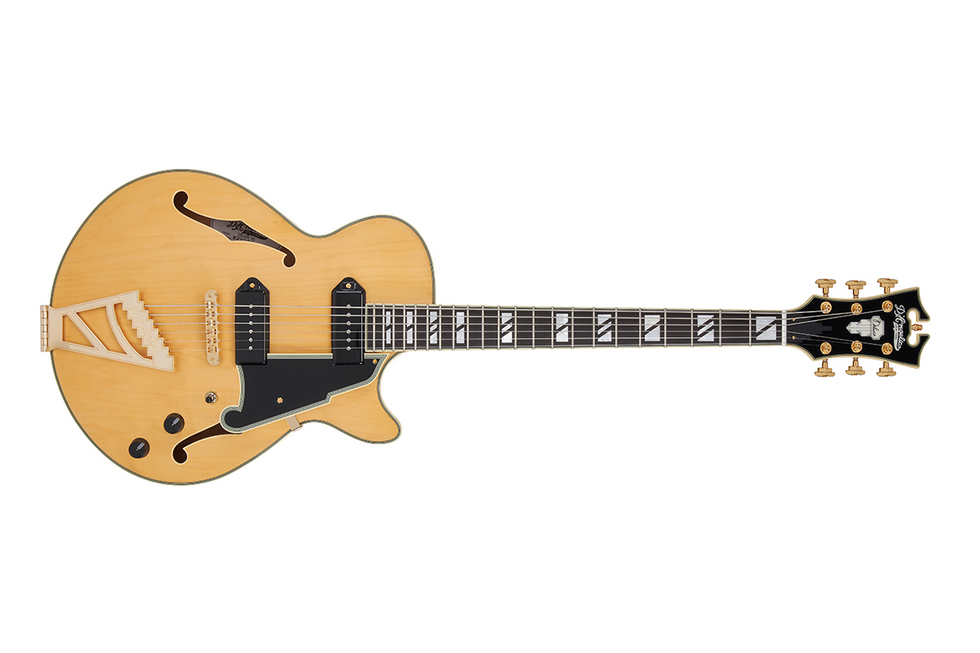 D'Angelico