It wasn't her first guitar memory, but a late introduction from drummer Joey Bellerose has continued to school Jason Mraz's lead-guitar foil in confident, clear playing with plenty of "dance moves."
Photo by Ester Segarra
Using Metallica and ZZ Top as signposts, and moving from their condemned bomb shelter studio to a pro room, the wicked progenitors of Norwegian black metal give off major throwback vibes on their new Eternal Hails.
Norwegian extreme metal band Darkthrone have been shrouded in mystique ever since their 1986 inception. The band's second, third, and fourth albums, A Blaze in the Northern Sky, Under a Funeral Moon, and Transilvanian Hunger—released in 1992, 1993, and 1994, respectively—are commonly regarded as the unholy trinity of black metal. But the band no longer consider themselves purely black metal, and it's questionable as to whether they ever did. They've arguably jumped around stylistically for their entire career—from death metal to doom metal to black metal, and even crust punk, as evidenced on 2006's The Cult Is Alive. They never tour or perform live (their last performance was in 1996), which defines their sound just about as much as any musical influence, as they've long chosen to focus their creative energy on crafting albums in their own makeshift studio, which was located in an old bomb shelter in their hometown, Kolbotn.
Since Transilvanian Hunger, there have been only two members: Nocturno Culto (Ted Skjellum) on guitar and Fenriz (Gylve Fenris Nagell) on drums. Both somewhat reclusive, they work in seclusion from each other when songwriting. Fenriz has a reputation for being ornery and interview anemic, though he hosts the Fenriz Metal Pact radio show/podcast. (He was also elected to sit on his town council after posting a photo with his cat and the slogan "Don't Vote for Me.") Nocturno Culto, who often serves as the band's primary engineer, is more affable.
Darkthrone - Eternal Hails​.​.​.​.​.​. (2021) FULL ALBUM
Darkthrone's latest album, Eternal Hails, throws yet another plot twist into their hallowed career. Their 19th release, it's not what one might expect from the most acclaimed progenitors of black metal. The album is brimming with musical and sonic nostalgia that harkens back to an earlier, more formative style of traditional '80s heavy metal and thrash. The word "organic" is often bandied about nowadays to convey something as more real or natural, but Eternal Hails truly earns that descriptor. In contrast to modern metal's penchant for digital enhancement, from quantized drumbeats to auto-tuned vocals, Eternal Hails sounds primitive, like a good, old-fashioned heavy metal record.
There's a loose feel to the performances that gives the heavy guitar riffs a bit of swing, as if they're evoking Black Sabbath. Nocturno Culto attributes this to the lack of a click track. "Since 1987, we have not used any metronome," he says. "That is part of why it sounds organic. It would make no sense to play with a metronome, because, since we started releasing albums—especially since 2005, when we got our own studio—we have this habit of recording one [rhythm] guitar and drums live, and that is what gives us pleasure, to play together." Sure, one could map it all out on a grid in Pro Tools, but that's not the headspace Darkthrone occupies. Fenriz, whose role, in addition to playing drums, has been writing guitar riffs and lyrics, sums up their recording strategy like this: "It's letting yourself be open to coincidence. Throw caution to the wind. It is more important the recording sounds alive, with nerve—that there are people actually playing this [material] in one or two takes."
If a riff sounds good without fuzz, it will most certainly sound killer with fuzz."–Fenriz
Similarly, Sabbath-esque, dark, foreboding songs such as "His Masters Voice" and "Hate Cloak" traverse soundscapes that bound from one section to another, avoiding formulaic verse-chorus song structures. The duo also seem to slow down their pulse from their previous work. "We both feel better [nowadays] playing mid-tempo and slow," explains Fenriz. "All of Ted's songs have slow parts, and all of my songs have slow parts. Ted added the more complex rhythms and strange riffs on 'Voyage to a Northpole Adrift.' I had a complex break in 'Hate Cloak,' but I usually thrive in 4/4—wanting to fill the 4/4 timeframe with as much primitive metal as possible."
With the band's bomb-shelter studio now condemned, Darkthrone were forced to use a commercial studio for the first time since 2005. They chose Oslo's Chaka Khan Studio, where they learned that it's easier to be creative when you have help. "We can go off the initial plan, like in the last part of 'Lost Arcane City of Uppakra,' and create something otherworldly," explains Fenriz. Nocturno Culto concurs, citing that it was a "nice experience to just play guitar and be a musician" without the extra pressure of engineering the sessions, too. But both admit that it also made them nervous to have other people around. "It was 17 years and seven albums with just the two of us in the studio before Eternal Hails," says Fenriz. "We were adamant that we made Ole and Silje [Ole Øvstedal and Silje Høgevold, who engineered Eternal Hails] our friends, too, and not try to boss them around in the studio. We were very hands off. It was the exact opposite of going to a pro studio where many metal bands have been before, and where you know what sound you will get. This was unchartered [sic] territory." Nocturno Culto adds that the older equipment at their disposal at Chaka Khan also allowed them to achieve their desired results. "Take the echo on the vocals. It's not a plug-in. It's this old tape echo recorder," he says. "It's a bit more difficult to have perfect control over it, but we like our studio recordings to live their own life, and we have a vision when we go into the studio."
Nocturno Culto's Gear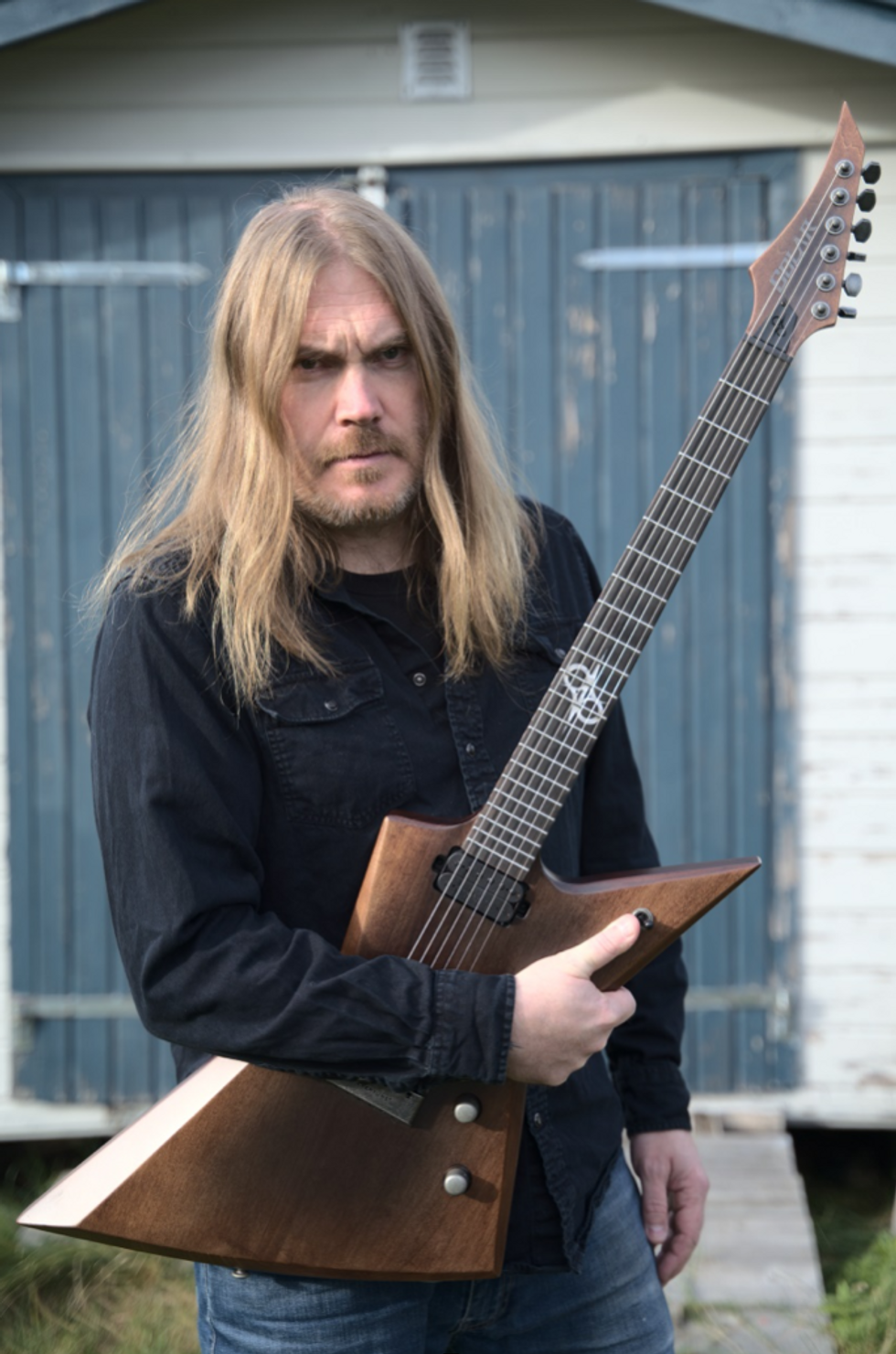 Nocturno Culto and his Solar Guitars E1.6D LTD scowl at the camera.
Photo courtesy of Solar Guitars
Guitars
Solar Guitars GC1.6FAB
Solar Guitars E1.6D LTD
Rickenbacker 4004 Bass
Effects

Tube Works Blue Tube
Fulltone Custom Shop Tube Tape Echo
Thermionic Culture Freebird 3-channel tube-EQ
Amps
1972 Hiwatt SA212 with Celestion Sidewinders

WEM Clubman MK8 with a Celestion Sidewinder
Avalon AD2022 Dual Mono Pure Class A Preamplifier
Groove Tubes STP-G Studio Preamp
Universal Audio Teletronix LA-2A Classic Leveling Amplifier
Strings and Picks
D'Addario (.010–.052)
Dunlop .73 mm Nylon Standard
Both band members thought it would be in everyone's best interest to provide the engineers with a couple of albums as a sonic reference point, and it's a revelation to learn which albums they furnished, because, surprisingly, they were not their own. They were Ride the Lightning by Metallica and American doom-metal band Trouble's self-titled fourth album. "Not that we wanted to copy their sound," clarifies Nocturno Culto, "but something to point in the direction of the drum sound and the overall feel." If something hints at a nostalgic element in Eternal Hails, it is likely derived from those two albums.
The overall production aesthetic is important to Darkthrone, even when working with outside engineers. "You want to create its own space, to take the listener to," says Nocturno Culto. "If you see a big painting, you can say that the actual painting is the music. But every good painting has a frame that has to fit and provide an overall experience of watching that painting. And so for us, the frame is the sound. Some people say, 'Let's have a plastic frame, it works.' But it doesn't work for us. We have to carve the little things out and try to make a cozy place out of it."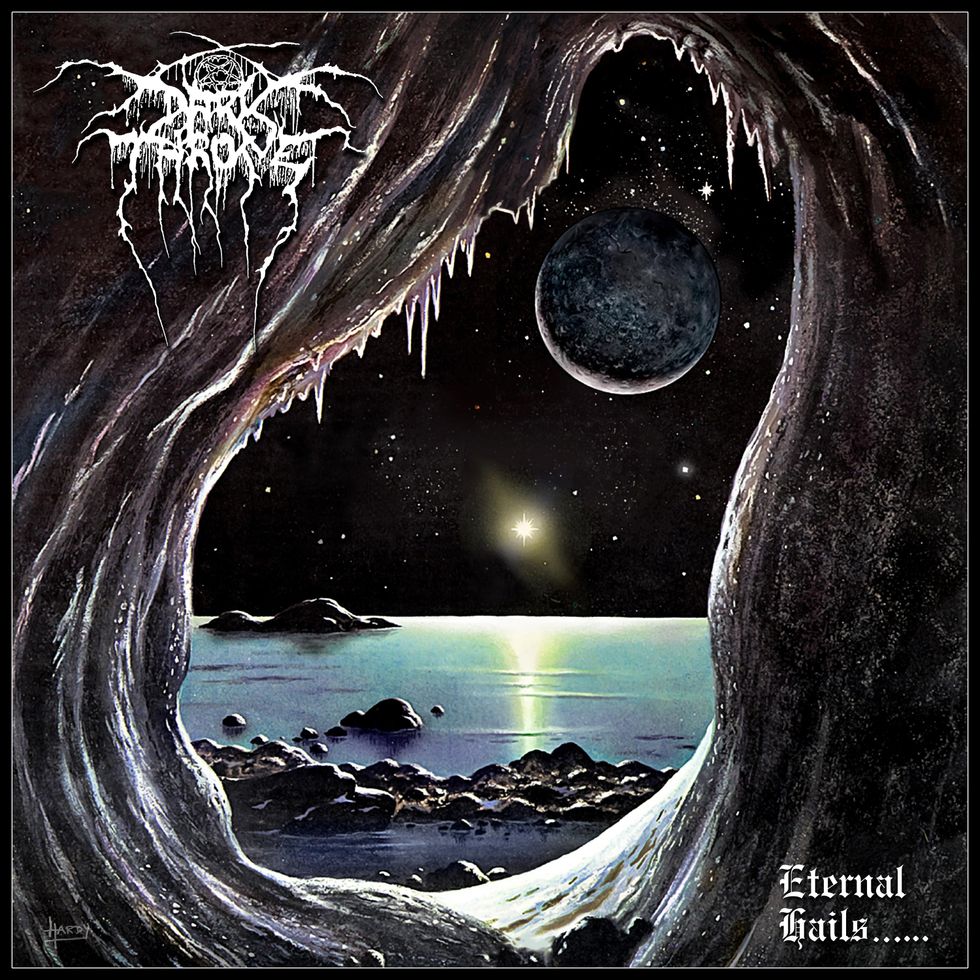 TIDBIT: With their bomb-shelter studio condemned, Nocturno Culto and Fenriz recorded Eternal Hails—the 19th Darkthrone release—at Oslo's Chaka Khan Studio. It was their first time in a commercial studio since 2005.
While songwriting, Nocturno Culto and Fenriz work separately and spend plenty of time preparing before they begin recording. "Being the only guitarist, I have to basically learn [Fenriz's] riffs quite fast," says Nocturno Culto. "For me, it's important to play a lot of guitar [before going into the studio] and be on top of my game, because there's a lot of things in the studio I have to cut straight away." For Fenriz, he likens his songwriting process to more of a filing system. "I don't know anything about Ted's creative process, but I imagine he sits down to write," admits Fenriz. "I just get my riffs in any situation possible—'Hate Cloak' and 'Lost Arcane City of Uppakra' came after a long hiking trip—so there's nothing else to do than to hum them into my recorder, or play them with my guitar."
For Fenriz, guitar is simply a "vehicle" for writing songs and not something he necessarily aspires to be good at. "I play guitar very loosely and sloppy," he confesses. "I am bad at repetition and bad at copying even my own riffs. I have to take this into consideration, since Ted plays much more militant and sternly, so whenever I make some weird funky detail, I can only hope that it is played in the vicinity of what I originally wanted." Fenriz says he was, arguably, a better guitar player in the past than he is now, but that it didn't necessarily make him a better songwriter. "I didn't make better material. I just made more material," he assesses. "When I am constricted by my Fenix [guitar], which is hard to play, and my lack of skills, it seems I use my brain more for creative angles of primitivity, and I think the riffs are better, and the assembly of the songs are better and more interesting." He also, maybe surprisingly, writes without fuzz. "If a riff sounds good without fuzz, it will most certainly sound killer with fuzz," he concludes.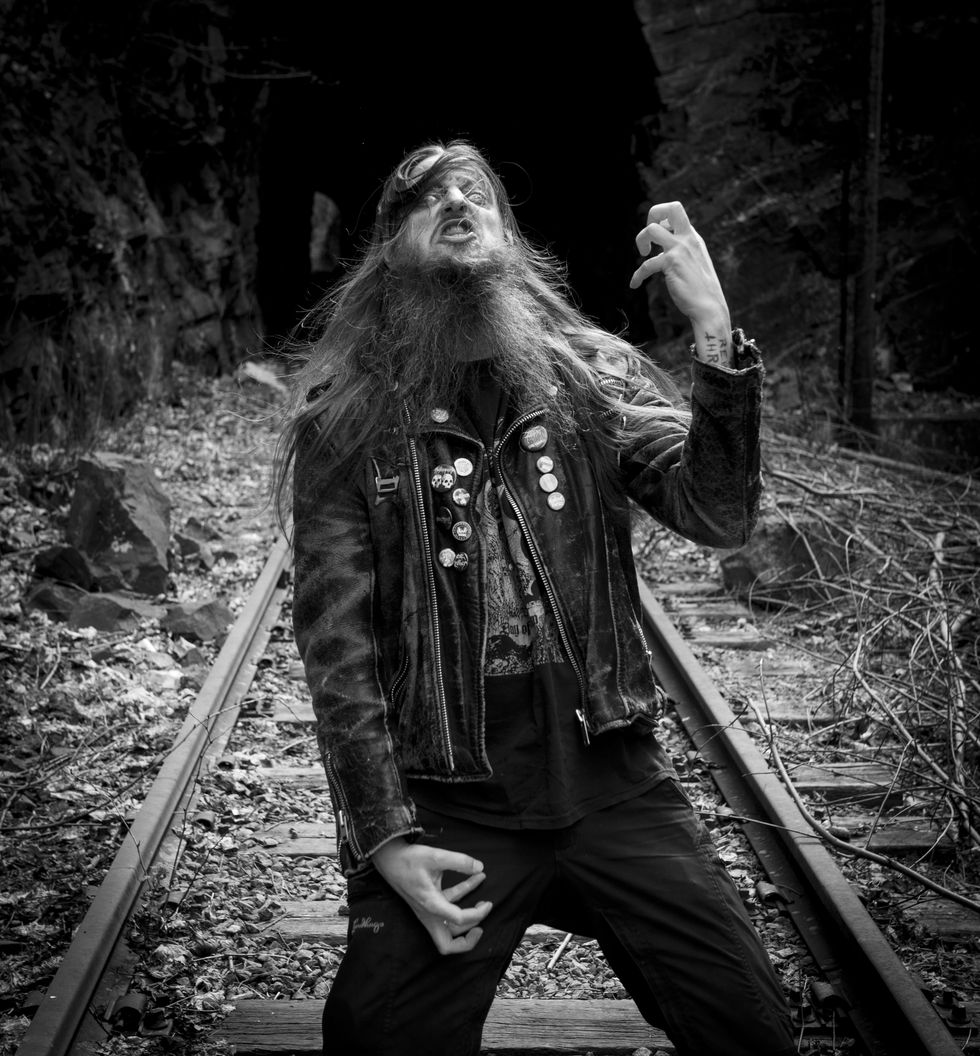 Fenriz plays drums on Darkthrone's albums, but co-writes the band's songs on his Fenix guitar, not seen here. "When I am constricted by my Fenix, which is hard to play, and my lack of skills, it seems I use my brain more for creative angles of primitivity," he says.
Photo by Jørn Steen
Nocturno Culto, however, is the sole guitarist on Darkthrone albums, and also played bass on Eternal Hails. He draws from a deep well of inspiration, including some unexpected influences, claiming ZZ Top's Billy Gibbons as one of his biggest guitar heroes, in a surprising twist to the band's musical DNA. But listen closely and there's evidence of Gibbons' bluesy swagger, particularly in his rhythm chops. "There's just something about his playing," he says. "I really dig the '70s ZZ Top. His playing there is absolutely stunning. And that goes for the rest of the band as well. When you hear the drummer of ZZ Top, in the '70s, he's holding a low profile, but when you listen enough to ZZ Top, you understand he's a really fucking good drummer—he's amazing."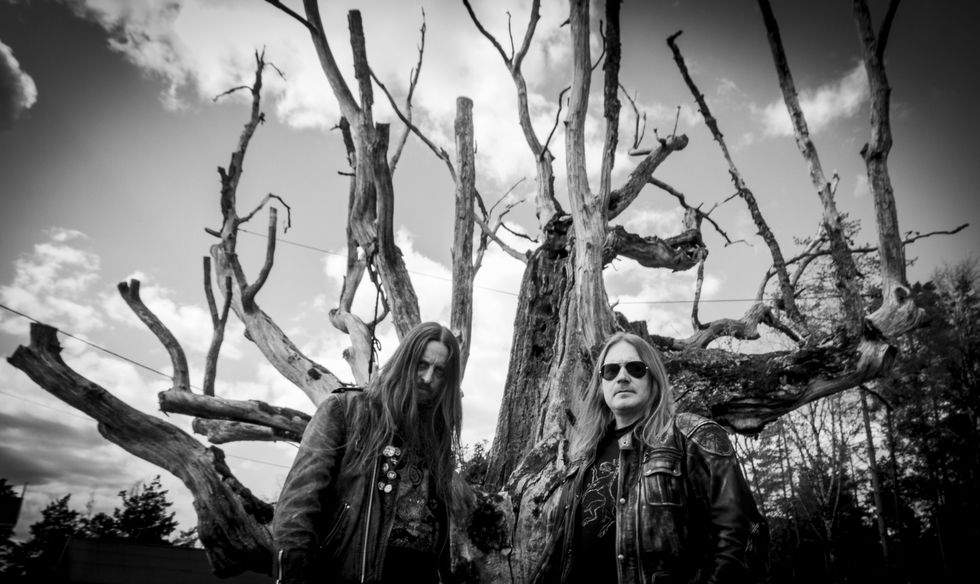 Darkthrone are among the prominent progenitors of Norwegian black metal, but label Eternal Hails' genre as Black Epic Heavy Metal
Photo by Jorn Steen
The ultimate question is whether the duo consider Eternal Hails to be black metal. Nocturno Culto says, "I don't think we consider ourselves black metal, but I think there is always black metal riffing somewhere on the records." Fenriz highlights a common denominator between all their albums. "Since the first demo, we've been displaying a wide variety of influences. However, the vocals often tie it together and display a more die-cast impression, leaving the total picture to sound less varied than it actually is, perhaps." He adds that during the writing and recording process, the band would joke that the genre label for Eternal Hails is "Black Epic Heavy Metal." Nocturno Culto concludes, "No matter what we do, I think we always end up sounding like Darkthrone."
YouTube It
Watch the Portland luthier demo his intricate axes and explain how Dry Cleaning and a five-story block of marble factor into his creative dreams.
Another FIVE winners will be chosen from Crazy Tube Circuits, Ernie Ball, Ibanez, Tech 21, and Valco FX.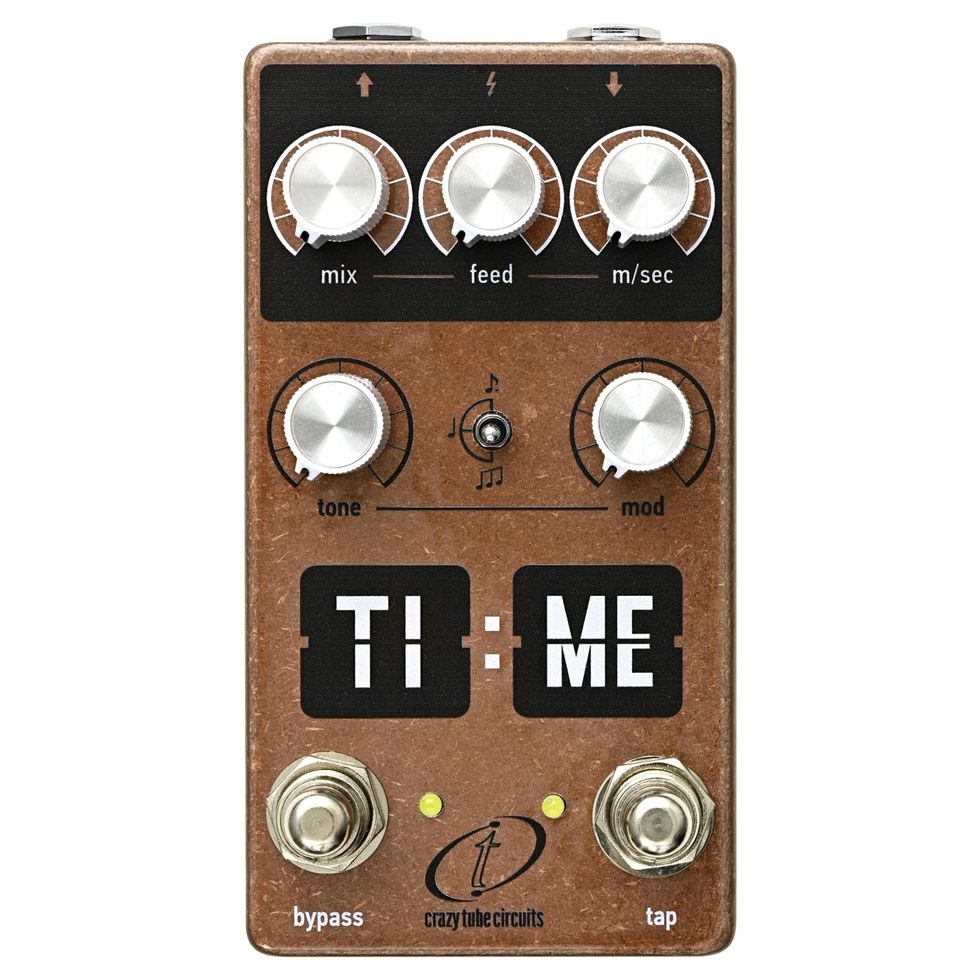 Inspired by the first digital delay rack units introduced at the beginning of the "digital audio revolution" in the mid-late 70's. These units had lower bit resolution and bandwidth compared to today's digital delay standards.

TI:ME is not your typical sterile and ultra clean digital delay. With separate analog and digital paths to get best of both worlds, this retro inspired echo effect will warm up your tone.
Crazy Tube Circuits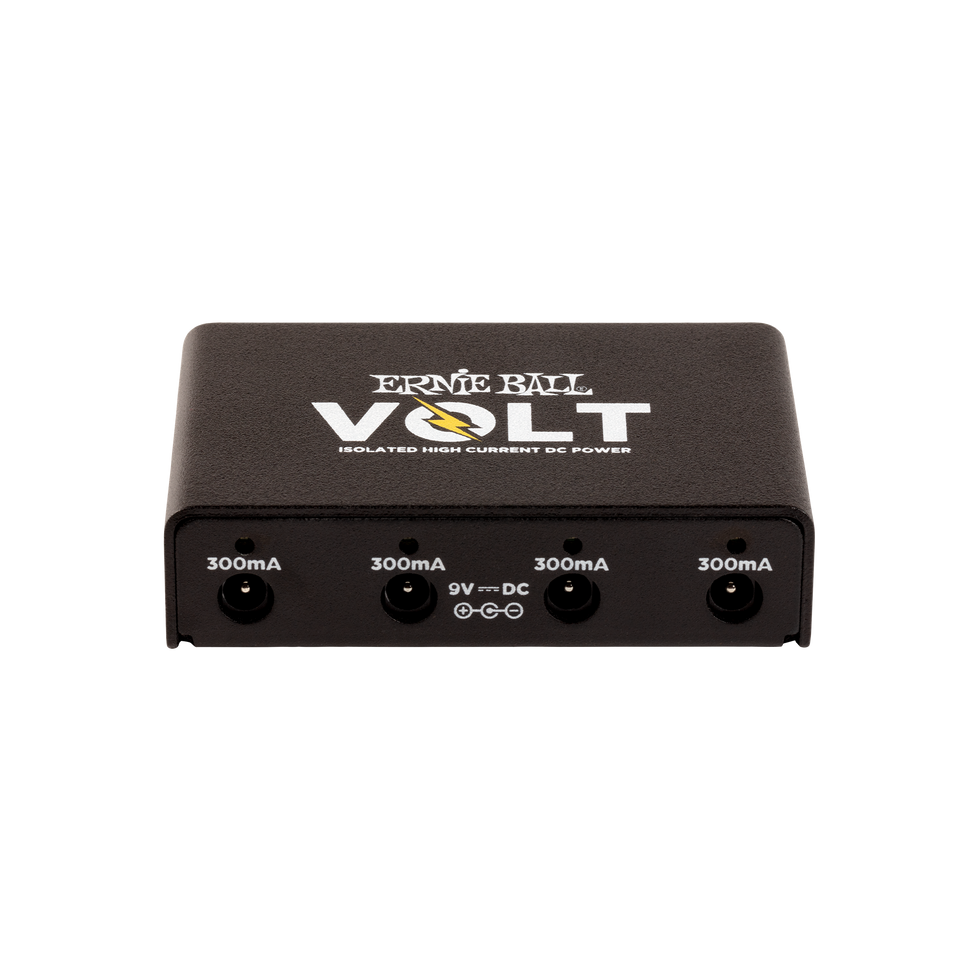 Don't step on stage without the Ernie Ball Volt Power Supply. For musicians on the move, this ultra-compact, road-ready unit puts a complete powering solution in the palm of your hand. Connect all your favorite digital and analog pedals to multiple high-current DC outputs for clean, regulated power. Relax and rely on thermally protected, short-circuit-proof design with ultra-low noise operation. When the road calls, the Volt demands a place on your pedalboard.
Ernie Ball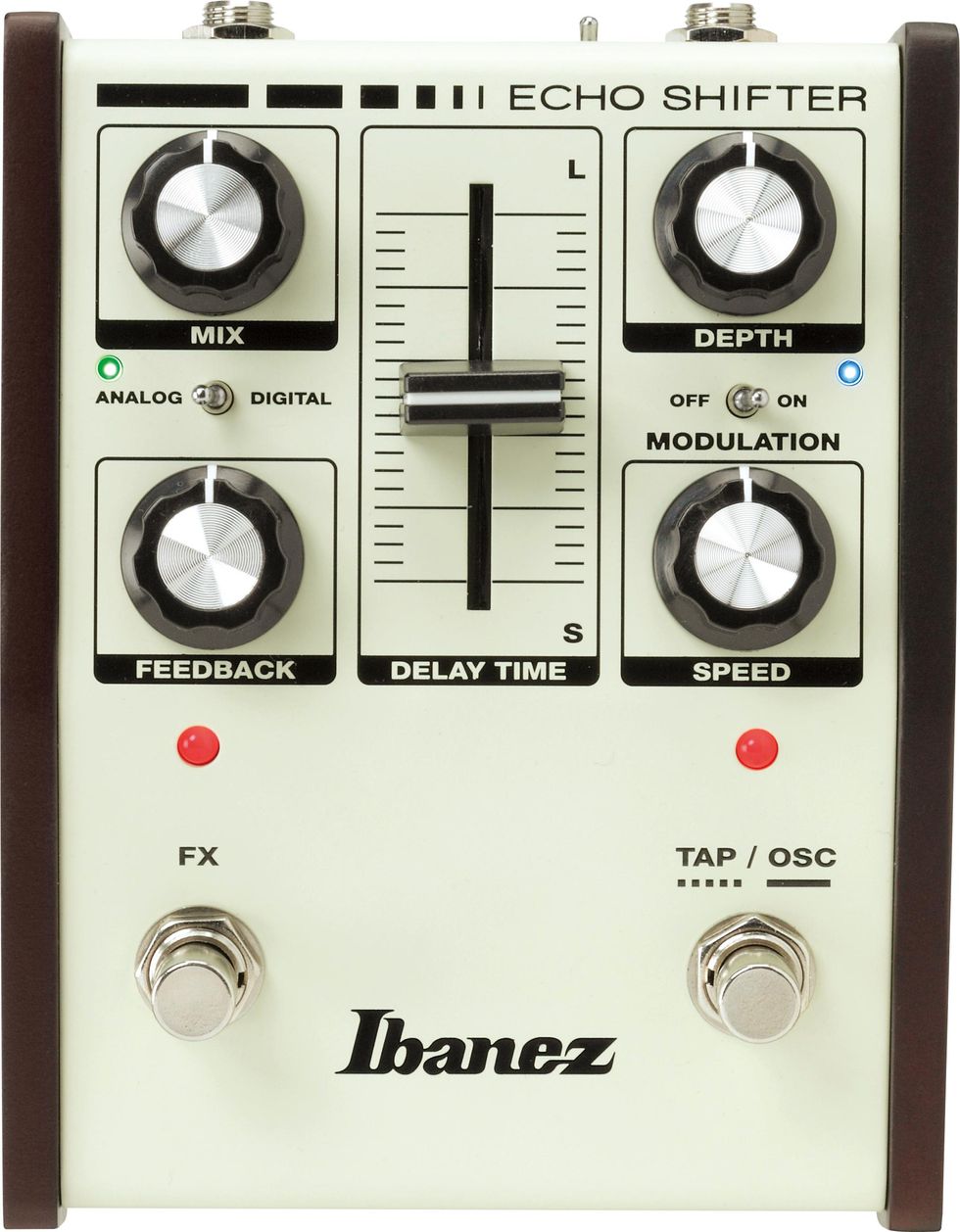 The ES3 Echo Shifter is equipped with both analog and digital delay modes. The analog setting provides a warm, natural tone with delay times between 40ms and 600ms, and unlike other digital pedals which simply simulate analog delay, the ES3 is actually equipped with analog circuitry. The digital mode offers longer delay times all the way up to 1500ms. The pedal also includes a new modulation speed control which offers increased options to tailor the effect to the player's unique preferences. Unlike the ES2, where the Oscillation function needed to be engaged by hand using a mini-toggle switch, this same function can be engaged simply by stepping on and holding the right footswitch. This allows for quickly changing the quality and texture of the delay mid-performance. The pedal carries over the fader delay time control, delay tap switch, as well as oscillation and modulation modes from the ES2. The combined result of these upgrades is a more usable pedal with greater tonal versatility and enhanced musical potential.

•Controls: Mix, Feedback, Depth, Speed, Delay Time
•Switches: Effect on/off, Tap/Oscillation on (press and hold), Analog/Digital, Modulation On/Off, Inst/Line
•I/O's: Input, Output Input is on the right side. Output is on the left side.
•Delay time: Analog 40ms - 600ms, Digital 40ms - 1500ms
•Size: 116(W) x 153(D) x 57(H) (mm)
•Size: 4.6(W) x 6.0(D) x 2.3(H) (inch)
•Required Current: 200mA@9V
•Power Supply: External DC 9 volt AC adapter
Ibanez

A truckload of tube amplifiers, the size of a candy bar. 100% analog signal path, digital programmability. For stage/studio; any instrument: guitar, bass, drums, vocals, horns. Performance Mode turns it into a 3-channel stompbox. Rugged all-metal housing. 49 factory presets, 128 memory locations, dizzying versatility. No menus. Super simple, intuitive operation: turn the knobs, hear the difference in real time, push Save. Done.
Tech 21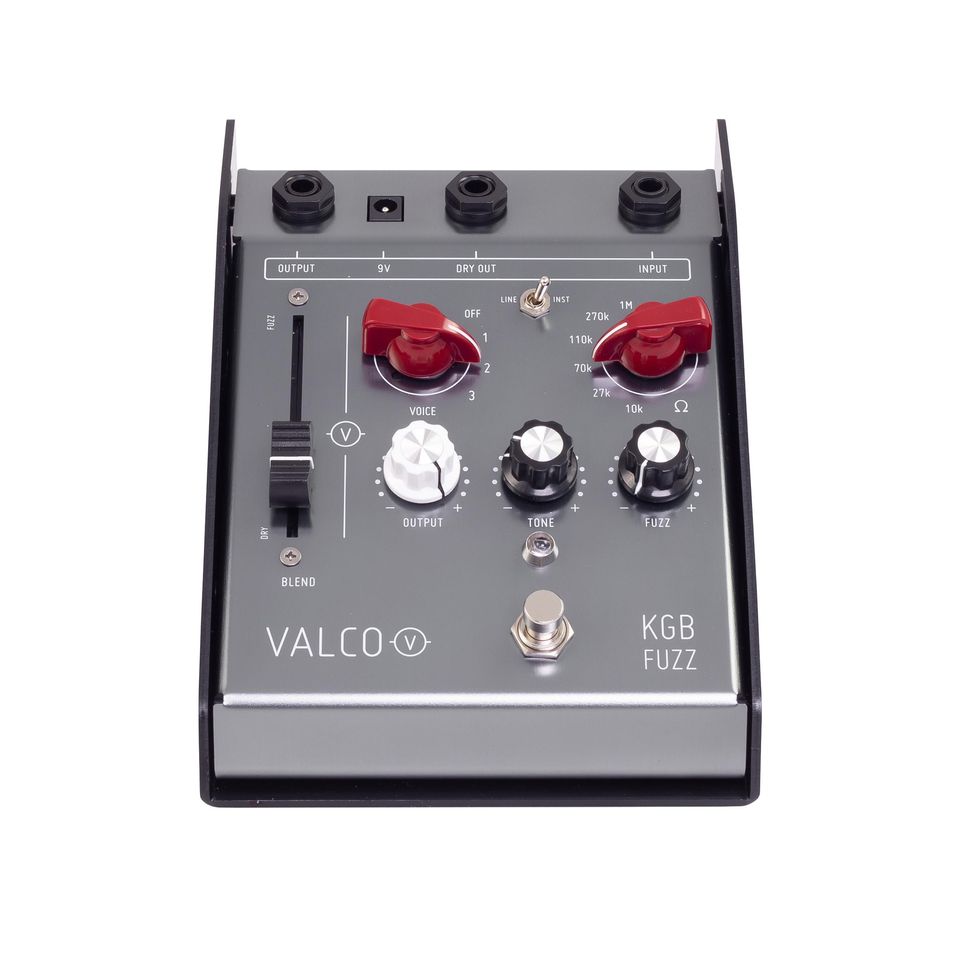 The Valco KGB Fuzz is a multi-function/tone-sculpting fuzz machine, designed to work within a sound-creation chain or as a regular standalone fuzz pedal (and everything in between!).
The KGB is designed specifically to work with K (keys, synths), G (guitar) and B (bass).
Valco FX
A Leslie West devotee turned an '80s "pointy" guitar into a more playable companion with a hand-painted homage to his hero.
Name: Mike Murphy
Hometown: Tavares, Florida
Guitar: Flying Star
I've been building/modifying guitars for over 50 years. With the recent passing of guitar legend Leslie West (of Mountain fame), who was one of my greatest influences, I thought this might be of interest to your readers.
In 1987, I walked into the famous Manny's Music in New York City to drool over all the gear that I couldn't afford and came across this Guild X-88 Flying Star. They were selling them off at a 50 percent discount, including a custom-fit hardshell case!!! I couldn't believe my good fortune. Here was a name brand, 100-percent-American-made guitar with a Kahler pro whammy, ebony fretboard, and American-made "California" pickups (EMG humbuckers). I pulled out my wallet and bought it right on the spot!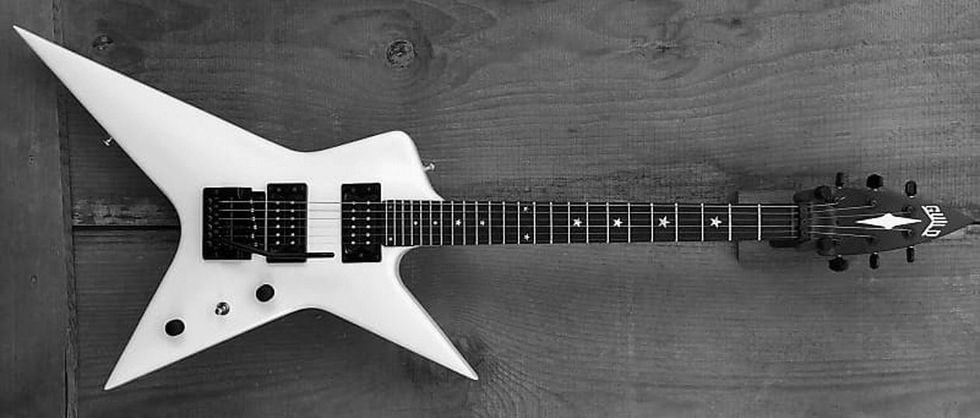 Not being very fashion-conscious, I later realized the reason for the great discount ... spandex-wearing hair bands were on the way out in the late '80s, and demand for pointy guitars had dropped significantly.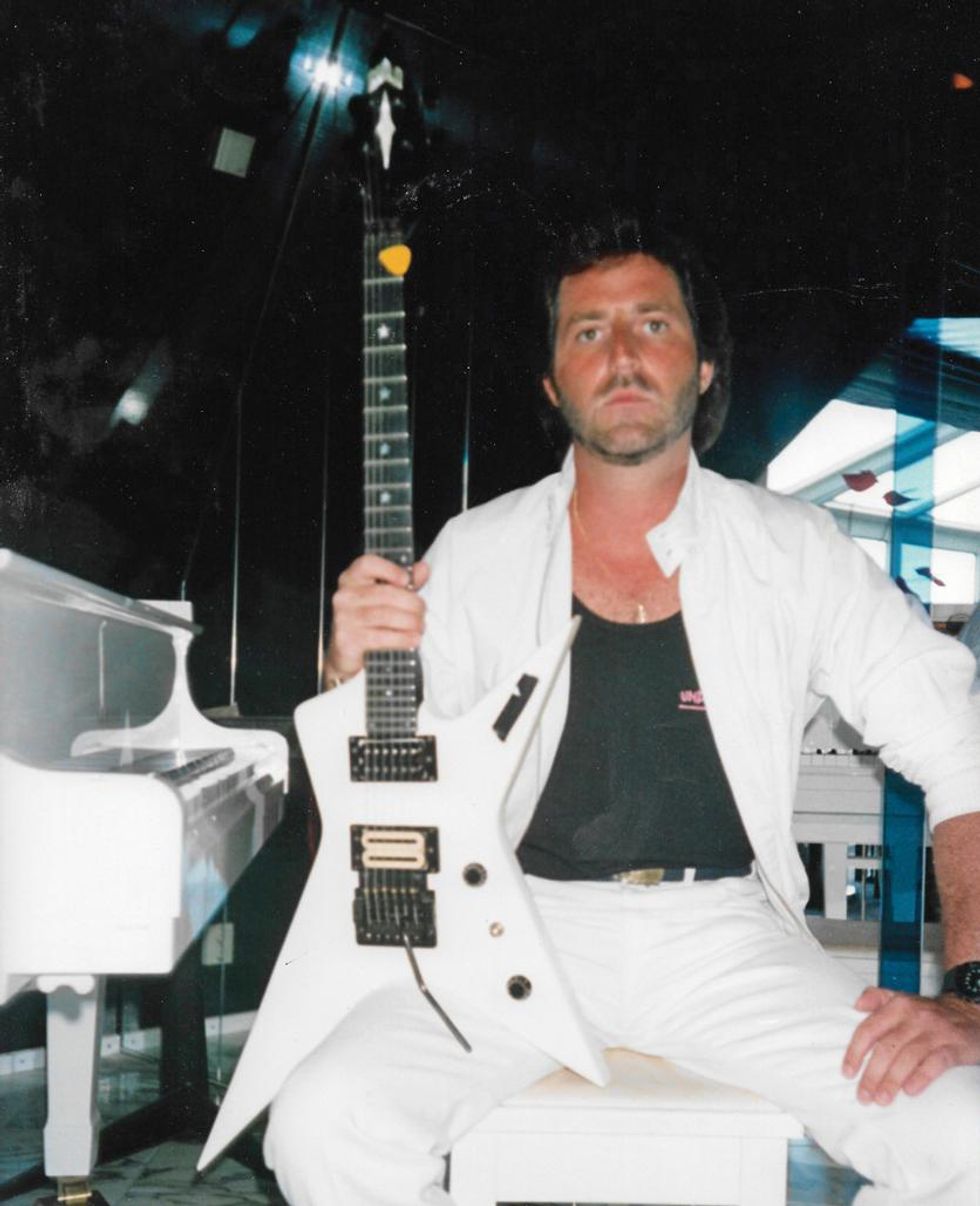 I dressed and polished the fretboard to take care of some sharp fret ends. I changed the bridge pickup to a high-output DiMarzio X2N humbucker. (Leslie West used DiMarzios at that time.) I also changed the volume/tone pots to top-quality, smooth-taper Carvin pots and wired them '50s-style to preserve highs when rolling back the volume knob. (Leslie always fiddled with his volume pot to go from clean to crunch.)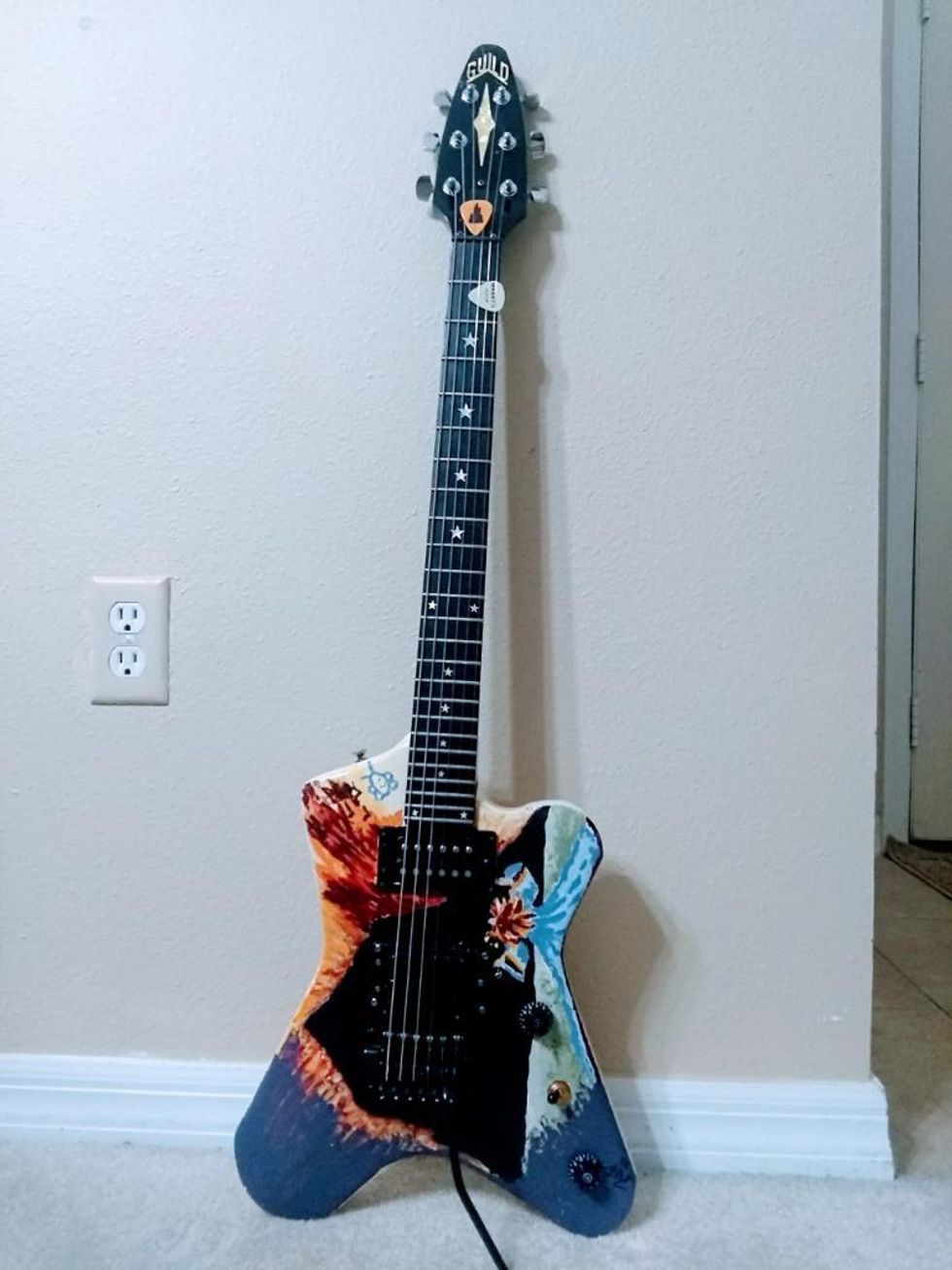 The guitar now played and sounded great, but as time went on, I didn't like the look and balance of the guitar. Indeed, I would get a bit of ribbing, sometimes even laughed at, if I showed up for a blues jam with this pointy guitar. It's kind of like showing up for a formal affair in a ruffled shirt from your 1970s prom. Something had to be done. I decided to draw radiuses and cut off all the points on a band saw, and then primed/painted those areas. Next came the custom paint job, which was done freehand by my wife and is based on the album cover of Mountain's Climbing. A bonus is that the guitar is now perfectly balanced hanging on the strap—no more neck riding up due to an overly heavy guitar body.
This is now a total custom job that I find to be a good-looking, good-sounding, good-playing guitar. I have a modest guitar collection. Without fail, when I have musicians over, this is the guitar everyone gravitates to, asking questions about it, and they all want to play it.
Thank you for providing a forum for us readers. Your magazine is excellent, and I look forward to every issue.

Send your guitar story to submissions@premierguitar.com.

Pigtronix is proud to announce the launch of Echolution 3. Following the success of its sought-after predecessors, Echolution and Echolution 2, the all-new Echolution 3 offers a streamlined user interface, remarkably hi-fidelity audio, and more selective sound design options than ever before.
Echolution 3 is a multi-tap stereo modulation delay offering a myriad of sound design options including reverse, jump, pong, modulation tempo sync, variable low pass filter, flexible signal routing and comprehensive MIDI control. Delay times ranging from 100ms to 5 seconds can be dialed in using the Time knob or via Tap Tempo using the left footswitch. A second delay tap can be set to the same length or a fraction of the main delay time to create rhythmic echoes. The ¾ fraction creates a dotted eight note delay, while the Golden fraction uses the sacred geometry of the Golden Ratio (.382) as the multiplier for the second tap. The multi-tap settings can be even further enhanced by the stereo ping pong effect, which causes the different delay taps to switch sides on each repeat. Store up to 4 presets, unlock hidden features with the Universal Remote footswitch, and design yet unheard delay lines. Runs on standard 9VDC.
Pigtronix Echolution 3 | Stereo Multi-tap Delay | Official Demo
For more information:
Pigtronix