Stompbox Gear Finds Fall 2022
Check out the ALL-NEW PRS Pedals and more in this edition of our Stompbox Gear Finds!
---
PRS Guitars
The PRS Horsemeat transparent overdrive pedal is designed to enhance your sound without coloring your tone. Horsemeat adds harmonic midrange richness and overdrives without cutting out your high notes – all while giving you more available headroom. It features a robust EQ section so you can dial in your tone and has a wide range of gain on tap. Depending on the setting, Horsemeat can be used as a clean boost, straight overdrive, or even enhance your amplifier's distortion by slightly pushing the front end of the amplifier's preamp section.PRS pedals were created to be high-end pieces of audio gear. Designed by PRS Guitars in Stevensville, MD, USA. Made in the USA.
Maestro Pedals
Maestro created the world's first fuzz pedal – the Maestro Fuzz-Tone FZ-1. Introduced in 1962, the Fuzz-Tone became the sound of rock and roll and a must-have accessory for guitarists everywhere after the success of 1965's (I Can't Get No) Satisfaction by the Rolling Stones, which prominently featured its cutting edge sound. Now Maestro is bringing the fun and sonic fury of those early Fuzz-Tones back with the new Maestro Fuzz-Tone FZ-M. This all-analog pedal boasts a Mode toggle switch that provides two pedals in one functionality for increased sonic versatility with both an FZ-1 inspired fuzz sound and a thicker, more modern fuzz tone. Its 3-knob control layout gives you intuitive control. The Attack knob controls the amount of fuzz. The Tone control lets you adjust the timbre from bright and raspy to warm and wooly and anywhere in between.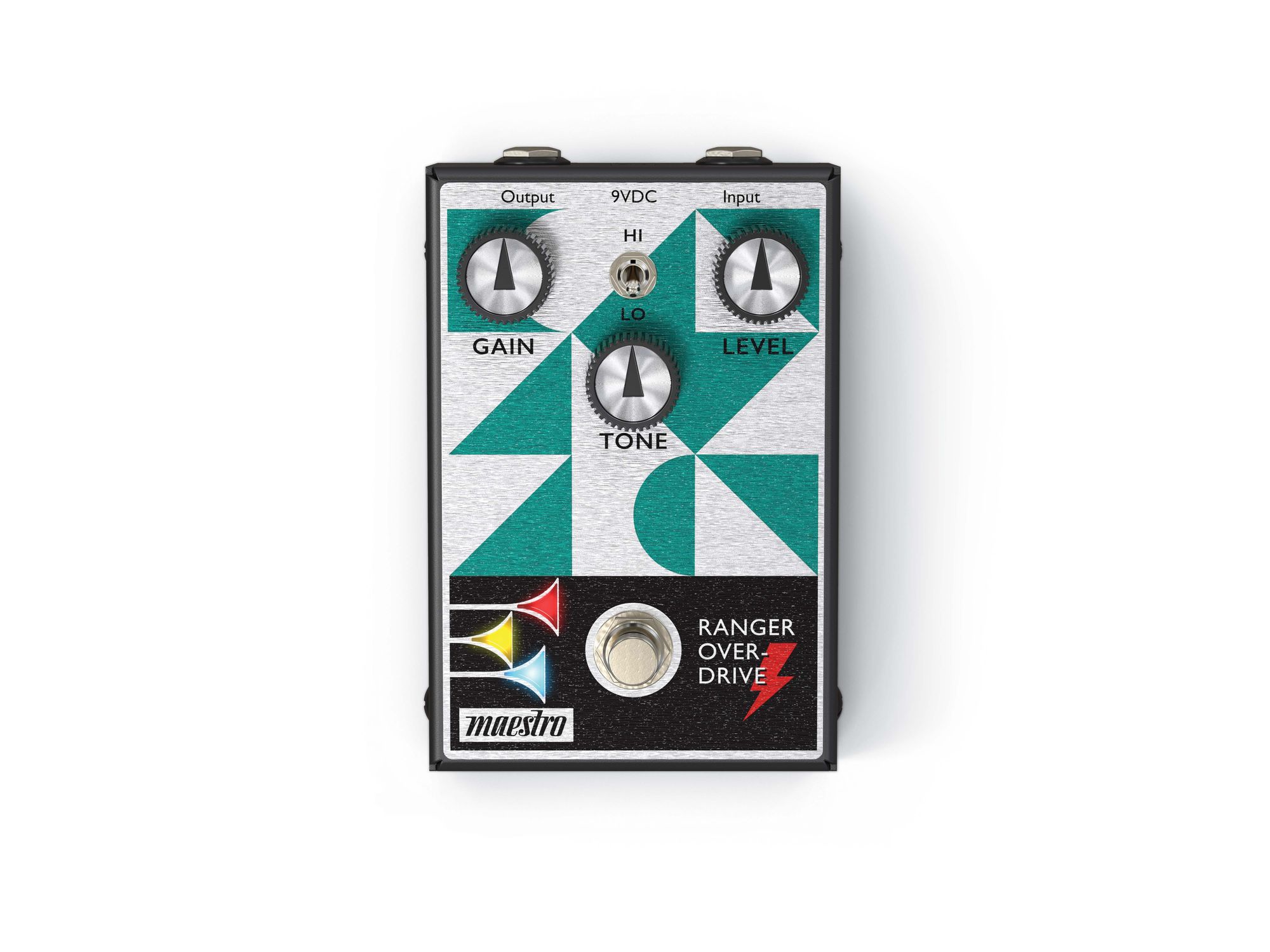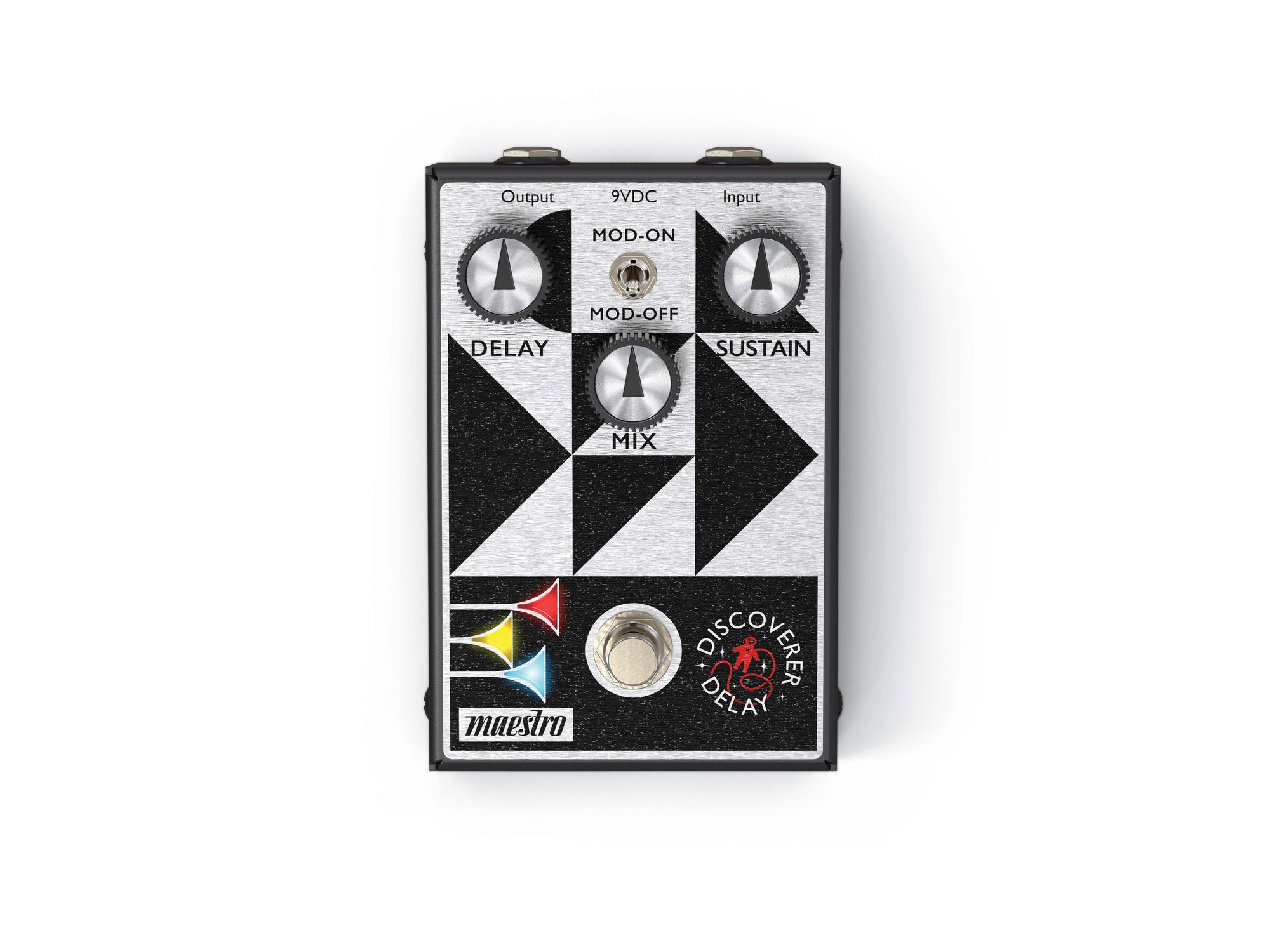 Tech 21
The SansAmp Character Plus Series celebrates the unique chemistry between specific historic amplifiers and specific historic pedals, and cleverly unites them together in single packages:

Screaming Blonde = Fender-style + Tube Screamer-style
English Muffy = HiWatt-style + Big Muff-style
Fuzzy Brit = Marshall-style + Fuzz Face-style
Mop Top Liverpool = Vox-style + Rangemaster Booster-style
Each of the individually-voiced Character controls sweep through an entire spectrum of eras within their particular amp style. Screaming Blonde tones range from the '50s Fullerton to blackface and silverface. The English Muffy spans from classic UK rock to prog rock. Fuzzy Brit goes from classic hard rock to all current rock genres. The Mop Top Liverpool embodies the British invasion through "Bohemian" rock.
These 2-channel multi-function pedals are each like having a stompbox within a stompbox. You can use the SansAmp amplifier emulation on its own or just the effect on its own. The all-analog SansAmps Character Plus Series pedals can be used as stand-alone pre-amps to drive a power amp, a studio mixer, or a PA system, or to complement your existing amp. Other features include built-in speaker simulation individually tuned to match each of the speaker/cabinet configurations associated with each amplifier type; 3-band active EQ, XLR Output, included 9V DC Power Supply. Rugged all-metal housing measures 7.75"l x 2.5"w x 1.25"h and weighs just 12 oz.
EARTHBOARD Music
Never before has an effects pedalboard been so effortless to build and painless to change or rearrange on the fly - So you can Focus on the Music, Not the Set-Up!

Our game-changing design incorporates Rare Earth Magnets ("cupped" so there is no risk to your pedals!) and a long-lasting Battery to give you the neatest, cleanest sounding and looking rig! All of the hassles of using a traditional board are gone. No more messy cobweb of cords and cables. No need to look for outlets and extension cords. No need to deal with dirty noise at gigs. Increase voltage and isolate those "picky" pedals without adding more mess and expense of separate power bricks and adapters. NO MORE SOUND OF RIPPING VELCRO!!!

Here's what's possible with EARTHBOARD:
- Your choice to use our Battery or AC Adapter
- Jacks are on both sides to accommodate YOUR style and the unknowns of the gig space
- All of our power supplies have built in circuit protection to safeguard your pedals
- Built-in cross board audio patch cable saves you money and the hassle of finding the right length cable to connect your top and bottom rows of pedals
- Ability to power large pedals off the board to maximize board real estate - make room for one more pedal!
- The built-in, under mounted, Blue LED lights enhance visibility and the "cool factor"
- Daisy-chain multiple boards and power them all with a single battery
- Rearrange or add pedals on the fly, between sets, in a matter of seconds
Large tour grade pedal board and flight case for 10-14 pedals with removable 24″x11″ pedal board surface and inline wheels

Features:
Pro-grade shock absorbing EVA foam interior
Removable pedal board surface 24" x 11"
Two (2) rubber-gripped handles for easy lifting in and out of the case
3M Dual Lock» hook and loop fastener for pedal installation
Cable and accessory storage under the removable pedal board
Retractable tow-handle and inline wheels
Plywood construction with aluminum edging to create a secure closure between lid and base
Protective ball corners at vulnerable points
Commercial grade Gator red signature hardware
Lockable latches
Spring-loaded rubber gripped handles
George L's Effects Cable Kits
Enhance the tone and clarity of your pedalboard with award winning sound.
The George L's effects kit.
The kit comes with 10' of cable, 10 right angle plugs and 10 stress relief jackets.
Available in black, vintage red and purple.
As easy as 1, 2, 3 no soldering!
Cut, poke and screw your way to 47 years of sound excellence.
George L's
Two legendary green overdrives are melded in a OD of many moods.
Imagine being able to combine your favorite parts of different overdrive & boost pedals in order to create hybrid sounds no one has ever played through before. That is exactly what we've engineered with the Noble Screamer. It's a 4-in-1 pedal that gives you two very familiar drive circuits and two brand new amp-like distortion tones that no one has used before. It's almost like pedal-modeling, except these are 100% analog circuits, and you decide which tone-control or clipping-section you want to play through. You can play through battle-tested, classic overdrive effects or innovate new music with hybrid tones, let your ears be the judge. Even with all of these features the pedal remains a simple and easy to use three knob overdrive. The innovation in the Noble Screamer doesn't end there; our new design features true-bypass or buffered, truly silent switching, on the fly. The Keeley Noble Screamer Overdrive and Boost is entirely manufactured at Keeley Electronics and is the first in our new aluminum enclosure.
Learn more here.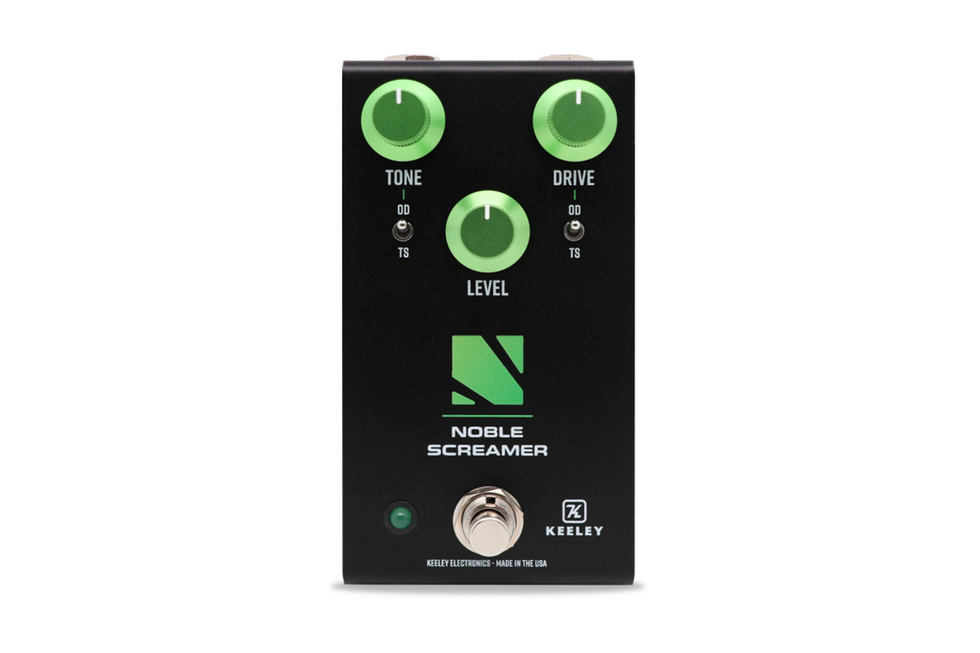 Keeley
Designed to serve as a 4-in-1 pedal that gives you two very familiar drive circuits and two brand new amp-like distortion tones.
Tone Control
Broad Spectrum Tone Control or Narrow Focus Filter Control: The Noble Screamer gives you two tone control circuits to choose from. When the Tone Switch is up and in the OD Position you will hear a 'Spectrum' type of tone control that has the ability to go from a flat EQ to an EQ that has a boost in the treble and bass response. If the Tone Switch is in the TS Position you have a Low Pass Filter that rolls off the high frequencies only.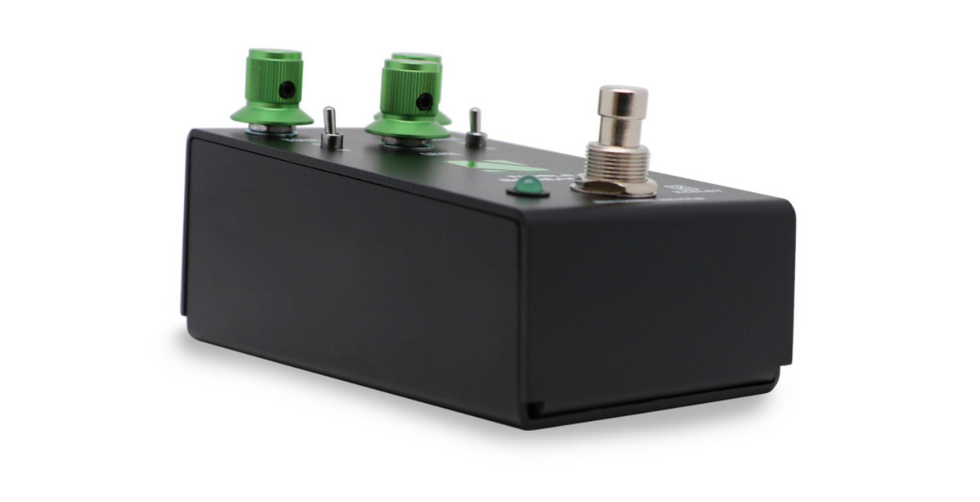 Diode Clipping
Hard or Soft Clipping: The Noble Screamer gives you both styles of diode clipping. Diodes are used to create hard clipping distortions or smooth overdrive sounds. If the Clipping Switch is in the OD Position it features Hard Diode Clipping which is an edgier, more aggressive tone. When the Clipping Switch is in the TS Position that uses Soft Diode Clipping, like a tube amplifier softly overdriven.
Noble Screamer Has Both Buffered and True Bypass
The Keeley Noble Screamer features our Vitamin K Infused Buffer for noise free switching. We have developed an amazing sounding buffer which not only makes your rig sound better, it gives you silent switching with no tone loss. No more pops and clicks to distract from your music. If you want to turn that feature off and go back to true bypass, simply press and hold down the foot switch for two seconds and the pedal will switch to True-Bypass (LED will flash twice). True Bypass is great for players that want the effect of plugging directly into their amp when the pedal is off. Alternatively, players that want a strong and clear signal even when the Noble Screamer is turned off, simply hold the stomp switch down for two seconds and the effect is back to Buffered Bypass (LED flashes three times). Enjoy truly silent switching and let your music be the only voice.
The third edition of Blackstar's best-selling valve amplifier range.
In 2009 when the original HT Venue was designed the goal was to combine the best of our two flagship valve amp lines; the boutique cleans of the handwired Artisan amps and the modern high gain of Series One. This gave guitarists incredible flexibility of tone from a single valve amp, with no compromise between their clean and overdrive tones.

Seven years later Mk II introduced the most requested features; an expanded tone section on the Clean channel, footswitchable voices and power reduction.
A game-changing addition is their advanced CabRig DSP technology, an embodiment of our latest innovations in speaker, cab, mic, and room emulation. This technology, originally featured in our St. James and AMPED products, represents our commitment to staying ahead of the curve. Coupled with 4-channel audio via the USB-C, capturing professional quality valve tone in your DAW is simple.
The CabRig outs (XLR, Stereo Line Out and USB) can also be used in Standby Mode making it ideal for both recording and silent stages too.
Upgraded circuit board components and an all-new digital reverb with adjustable parameters further enhance the tone and performance.
All this comes in an all-new livery using materials normally found on boutique amps; premium tolex and fret, mini-toggle switches and a metal plate logo.
Blackstar's new HT Venue MK III Series of guitar heads, combos and cabinets. Valve amps that are the culmination of decades of design experience and innovation; delivering "the sound in your head" with absolutely no compromises in tone, feel or performance.
Models in the range: HT Club 40 MK III combo, HT Stage 60 112 MK III combo, HT Stage 60 212 MK III combo, HT Club 50 MK III head, HT Stage 100 MK III head, HTV-112 cabinet, HTV-212 cabinet, HTV-412A cabinet, HTV-412B cabinet.