Learning the differences between various cables can greatly improve the quality of your recordings.
Hello, and welcome to another Dojo session! This time I'd like to drill down to some audio bedrock and unearth the differences between balanced and unbalanced cables. I want to help you understand the differences and give you some strategies to greatly reduce noise (hums, buzzes, and static) in your recordings. Tighten up, the Dojo is now open.
There are many different connection types and gauges of balanced and unbalanced audio cables, and both are used to transmit audio signals from one device to another. However, they differ in their construction and performance, and understanding these differences is essential for achieving optimal audio quality.
Tipping the Scales
Unbalanced audio cables are the most common type of cable used in consumer audio equipment. This includes our beloved 1/4" TS (tip-sleeve) instrument and speaker cables, RCA, and TRS (tip-ring-sleeve) 3.5 mm and 1/4" headphone cables. The first two kinds of cables consist of two wires—a signal wire and a ground wire, while the headphone cables are in stereo, with three wires: left, right, and ground. Signal wires carry the audio signal, while the ground wire acts as a reference point. At the cable's end, the tip (and in the case of headphone cables, the ring) of the plug carries the signal, while the sleeve is the ground connection.
Unbalanced cables are very limited in the distance they can transmit audio signals cleanly (preferably less than 20 feet). The longer the cable, the less high frequencies, and the more susceptible it is to noise and interference from external sources—like electromagnetic fields created by other electronic devices nearby (amps, synths, drum machines, outboard gear, cell phones, computers, televisions, etc.) and radio frequency interference.
Balancing the Scales
Balanced audio cables, on the other hand, which include XLR and balanced 1/4" TRS types of connectors, are designed to reduce interference and improve audio quality. They always consist of three wires—two signal wires and a ground wire. Note that while some unbalanced cables have three wires, the two signal wires in balanced cables carry the same audio signal, with one flipped 180 degrees out of phase, making them balanced mono as opposed to unbalanced stereo. Balanced cables are ideal for use in recording studios and live sound because they are capable of transmitting audio signals over longer distances (several hundred feet) without introducing noise or hum.
How? Without getting too technical, when the audio signal is split into two separate, identical paths across the two signal wires (with one being out of phase), and then recombined in phase once again, the resultant signal is amplified, and any noise that was present is canceled out. This includes 60 Hz buzz, hum (ground loops), white noise (thermal sound), digital clock jitter, and more.
They Look the Same, but Are They?
One mistake that's easy to make is to confuse an unbalanced stereo headphone cable with a balanced mono TRS cable, as they both look the same and both have three wires. But if you tried to connect your unbalanced stereo cable output from your smartphone or tablet to a balanced input of a mixer, anything from the center of the stereo field (most likely the main vocals, kick, snare, and bass instruments) will be canceled, because the balanced input will sum both the left and right from the stereo cable, and anything common to both will be 180 degrees out of phase. Essentially, the balanced input will treat the center image as "noise" and remove it.
Can I Convert Balanced Into Unbalanced and Vice Versa?
Yes, you can, and that's exactly what DI (direct injection) boxes and reamp boxes do. A DI box will convert unbalanced instrument level signals to balanced line level signals and reamp boxes do the opposite—balanced line levels to unbalanced instrument levels. If you're unfamiliar with these devices and how they work, check out my Dojo video on how to reamp your guitar.
How to Reamp Your Guitar | Recording Dojo
Until next time, namaste and keep making your music!
Ten leads primed to handle the bridge between your guitar and what you're plugging into—with a twist.
Coiled guitar cables that look like those of yesteryear have been making a comeback. While the hip factor of using a coiled cable remains strong as ever, today's higher-quality cables won't necessarily crackle and gobble up as much top end as they were known to do back in the day. Here are 10, to get your Jimi on.
ERNIE BALL
30
'
Coiled Cable
These cables feature multiple shielding materials to preserve the signal with low handling noise, and a durable PVC jacket exterior for long-lasting performance.
$39 street
ernieball.com
VOX
VCC
For players looking for a retro look but wanting modern reliability, these cables boast 99-percent-purity, oxygen-free, copper cable conductors for superior sound.
$34 street
voxamps.com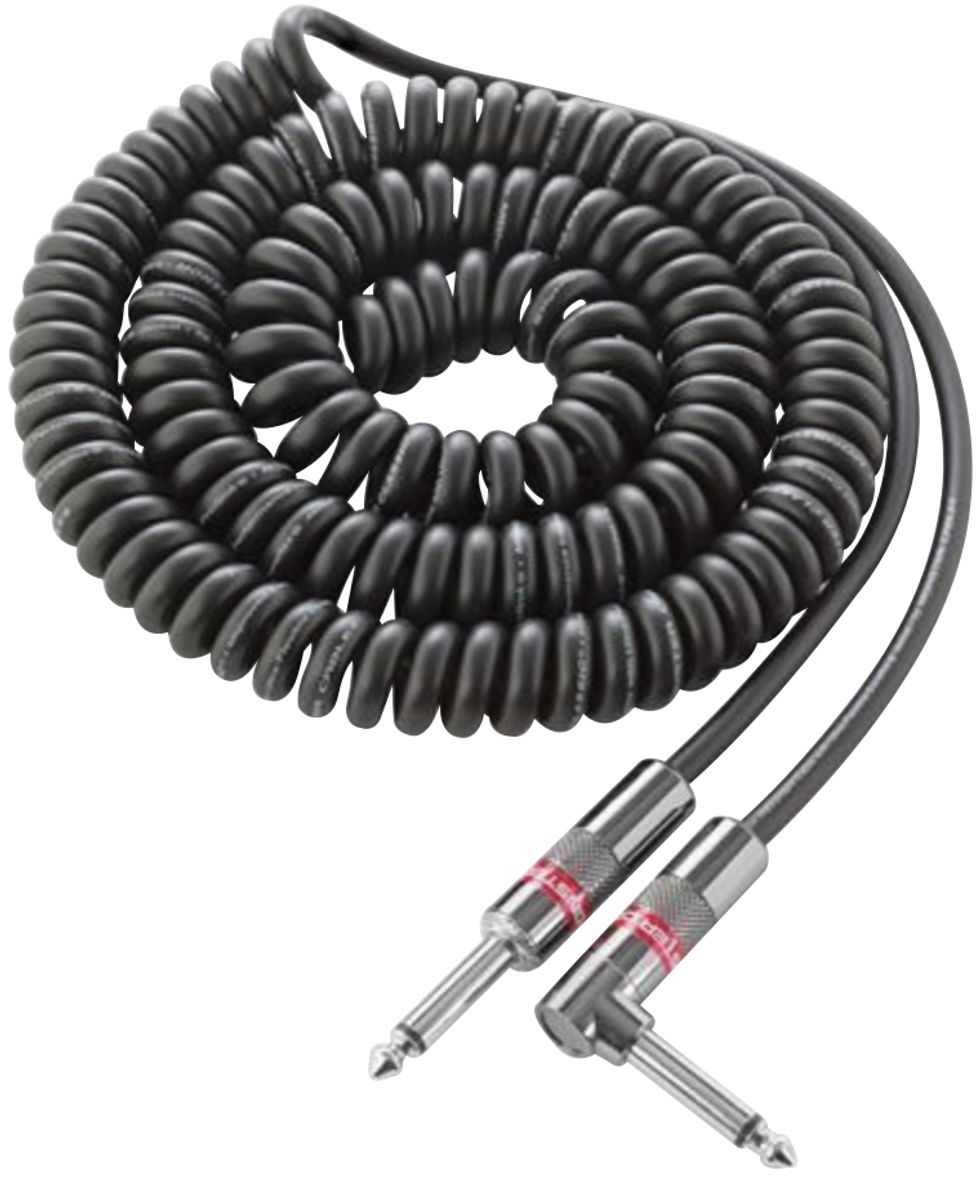 MONSTER
Prolink Monster Classic Pro
These lightweight and flexible cables feature all-metal connectors, a robust outer jacket, and 90-percent copper spiral-wrap shielding.
$45 street
monsterstore.com
LAVA CABLE
Retro Coil
Available in a variety of vibrant colors and color combos, these cables feature a proprietary outer jacket designed with ruggedness, light weight, and durability in mind.
$65 street
lavacable.com
BULLET CABLE
30
'
Clear Coil Cable
These cables feature oversized, relaxed coils that do not kink or lose shape, and dual shielding to assist in providing the best possible noise and signal integrity.
$49 street
bulletcable.com
DIVINE NOISE
Curly Cable III
Handsoldered using high-quality silver solder, the low capacitance (30 pF/foot) of these cables helps provide a rich, warm tone.
$83 street
thedivinenoise.com
KIRLIN CABLE
IMK-202PFGL
These cables include heavy duty metal connectors with gold-plated contacts, 18-gauge OFC conductor wire, and OFC braided shielding with 95 percent coverage.
$45 street
kirlincableshop.com
D'ADDARIO
Planet Waves Custom Series
Available in a variety of colors, these cables feature a coaxial oxygen-free copper conductor with two layers of noise-rejecting shielding for quiet operation and superior strain relief.
$39 street
daddario.com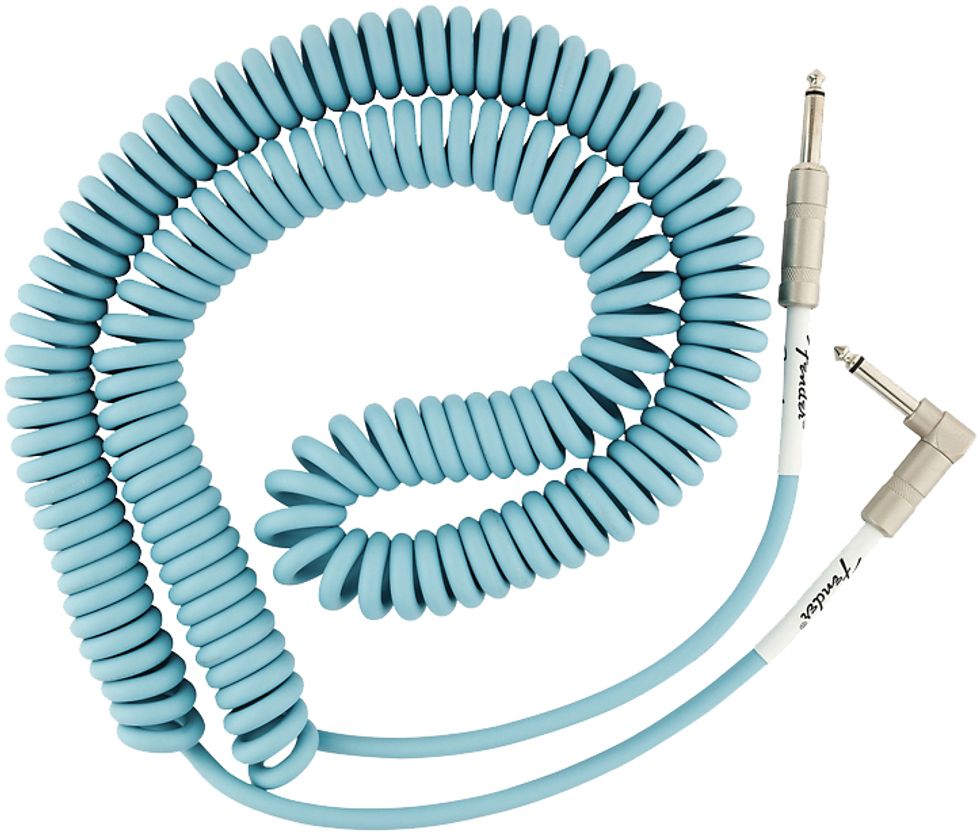 FENDER
Original Series Coil Cable
Backed by a lifetime guarantee, these 23 AWG cables feature 90-percent OFC spiral shielding, nickel-plated connectors, and come in a handful of classic Fender colors.
$45 street
fender.com
SEISMIC AUDIO
SAGCURLRT30
These cables are easy on the wallet, but still boast a durable and flexible rubberized PVC jacket and premium all-metal connectors.
$18 street
seismicaudiospeakers.com
The cables are built with extensive braided shielding, non-metallic connector barrels, patented solid core, ultra-clarity nickel connectors, ultra-pure silver solder, and a durable exterior jacketing.
Nashville, TN (July 8, 2019) -- Asterope launched its full line of the Asterope Pro Bass Series instrument cable, ideal for bass players in both studio and live environments. The new products deliver fuller, rounder and richer tones while preserving warm mids and clean highs. The Pro Bass Series uses Asterope's exclusive technology –the result of decades of R&D – providing customers with greater clarity, bandwidth and harmonic response.
"Considering the stable of world-class of bass players on our roster, it seemed appropriate to put some intention and thought into creating a solution that would more specifically serve their needs," said Dariush Rad, founder and president of Asterope. "By making some modifications to our core designs, we were able to successfully develop a new cable with the sonic characteristics that meet the needs of these artists."
Bassist Doug Wimbish of Living Colour, stated "Asterope cables are the best I have used in my lifetime. They are truly from another galaxy... The frequencies are crystal clear and full of beautiful colors and tones. True innovation in full EFX!"
The Asterope Pro Bass cables are built with extensive braided shielding, non-metallic connector barrels, patented solid core, ultra-clarity nickel connectors, ultra-pure silver solder, and a durable exterior jacketing to protect the integrity of the cable's architecture. The products undergo a proprietary process to increase clarity and enhance electron flow, delivering enhanced harmonic and frequency response.
All Asterope products are designed and manufactured in the United States. For more information, contact the company at info@asterope.com.
For more information:
Asterope