A brief overview of the effect options available for bassists
Greetings pedal stompers, we're interrupting our Stomp School Q&A this month to discuss what I feel is a sorely neglected topic—Bass Effects! It seems the entire realm of pedal stomping is dominated almost exclusively by guitarists. Meanwhile, bass players are left going direct from instrument to amplifier. What gives? It's not for lack of support from the industry, that's for sure. In this day and age, there are more sound-sculpting options than ever for bassists of all styles. Yet, for some reason, our bottom-end brothers have been slow to respond. Some players may allow themselves the indulgence of a rackmounted bass preamp, or something along those lines. But the purpose is usually for tone rather than effect. So why do the guitarists get to have all the fun? Doesn't seem fair, does it? Well, it doesn't have to be that way. I think it's time for more bass players to step out and start stompin'.

In all fairness, there are some practical reasons bass players haven't generally been too adventurous with effects, which have to do with the role of the bass in most music. The bass player in any given situation usually has a pretty strong obligation to hold down the bottom end, in addition to staying within certain rhythmic parameters. Meanwhile, guitarists are free to create colors and textures with much less restriction. There's also the fact that many guitar effects just don't sound all that good on bass. Even so, there are plenty of ways bass players can get their stomp on.

Let's start off by addressing one the oldest bass effects dilemmas—bass fuzz. It's a great idea that has appealed to many bassists since Paul McCartney first used it on "Think for Yourself." The trouble is, whenever you play bass through an ordinary fuzz or distortion pedal, the bottom end tends to get lost. This loss of low frequencies is a natural consequence of employing any device that causes signal clipping. The natural solution is to blend some of the clean signal back in with the fuzz or distortion to preserve the bottom. Trouble is most of the dirt boxes available don't offer that option. A common workaround for this is to split the signal, sending one half to dirt and the other to clean. By doing this, bass players can use their fuzz of choice with the assurance that the low end won't disappear.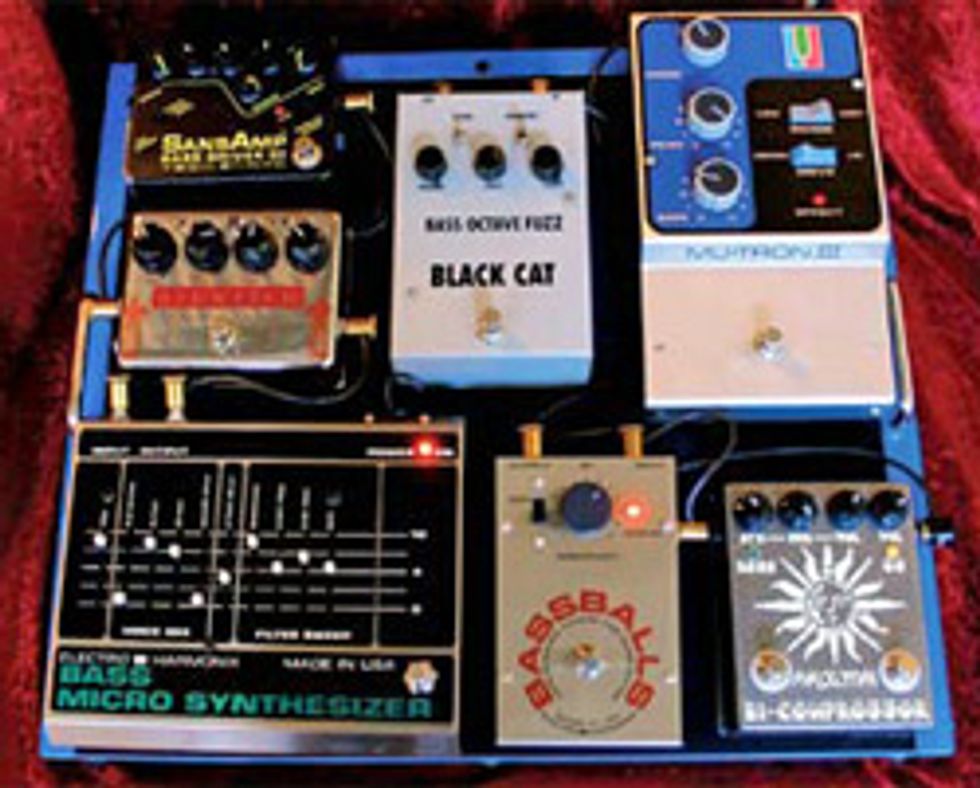 A modest little bass pedalboard example: Signal chain, from bass to amp: vintage Musitronics Mu-Tron III, Analog Man Bi-CompRossor, Electro-Harmonix Bassballs, Black Cat Bass Octave Fuzz, Electro- Harmonix Bass Micro Synth, Red Witch Empress Chorus, Tech 21 SansAmp Bass Driver DI. Pedalboard is Trailer Trash Limited Series in Candy Blue; cables by George L. Photo by Tom Hughes.

The downside of that solution is that it creates a signal chain that's more complicated than many players care to deal with. There have been a handful of dirt pedals specifically designed for bass that do allow the ability to blend the clean signal with the fuzz. One of the most famous and popular of these was the vintage Maestro Bass Brassmaster, which was used by players such as Chris Squire and John Entwhistle. Unfortunately, the Bass Brassmaster has been out of production for nearly 35 years, and the going rate for an original example is now over $1000. The current stomp scene is more abundant than ever, however, so there were bound to be remakes. The Malekko B:ASSMASTER looks to be an exact replica of the original. There's also the Black Cat Bass Octave Fuzz, a modern, updated Bass Fuzz based on the original Brassmaster design (Black Cat is currently undergoing restructuring, and the newly revamped line will be introduced in the next several weeks). The circuit design of the Z.Vex Woolly Mammoth generates sub-harmonic frequencies along with the fuzz, which is another method of compensating for bass loss.
Okay, enough about dirt, let's talk about what else sounds good on bass. One favorite of mine is an envelope-controlled filter. A great example of this is Bootsy Collins' use of the Musitronics Mu-Tron III during his stint with Parliament-Funkadelic. The Electro-Harmonix Bassballs is another classic bass-friendly stompbox. How about some compression? You can use any good stompbox compressor to even out the levels in your playing and add a great deal of sustain. If you happen to play fretless bass, a little chorus and a touch of reverb or delay will go a long way in adding ambience and dimension to your groove. This sound has been popular since the late seventies, almost to the point of being cliché, but it is a great sound.
As I previously stated, there's no shortage of options available for any bassist willing to try. The music manufacturing industry has laid these, quite literally, at the feet of the electric bass community. Many larger companies, such as Boss/Roland, have gone as far as creating entire lines of bass effects. Electro- Harmonix has recently added a number of bass-oriented pedals to their catalog.
Bass versions of guitar pedals, in fact, are nothing new. The Electro-Harmonix Bass Micro Synthesizer has been with us for over 30 years now. Bass overdrives, bass wahs, and the like are fairly commonplace. These often involve little more than changing the value of a capacitor to lower the frequency range of the effect… super simple, but surprisingly effective. An exception to this rule is the Moogerfooger Bass MuRF, which incorporates a number of design changes that distinguish it from the regular MuRF.
We're just scratching the surface here, so this is by no means a comprehensive picture of bass pedal possibilities. We're just waiting for more players to fully embrace the idea. The last frontier for bass players to explore would be full-blown pedalboards filled with effects made just for them.
We'll see you back here next month. Until then, keep on stompin'!
---
Tom Hughes

(a.k.a. Analog Tom) is the owner and proprietor of For Musicians Only (formusiciansonly.com) and author of Analog Man's Guide To Vintage Effects. Questions or comments about this article can be sent to: stompschool@formusiciansonly.com.
Analog Man

(
analogman.com
) is one of the largest boutique effects manufacturers and retailers in the business, established by "Analog" Mike Piera in 1993. Mike can be reached at AnalogMike@aol.com.