Each limited-edition pedal features a bold metallic finish, a silver battery-compartment thumb screw, gold-capped knobs, and a commemorative 50th-anniversary emblem.
First established in 1973 as MEG Electronics—an R&D division within its parent company Roland—the company was introduced to the public with the now-famous Boss name and logo the following year. The special "BOSS at 50" microsite spotlights five decades of innovation with an interactive timeline of milestone products that have established industry trends and opened new creative possibilities for musicians everywhere. The microsite also showcases significant moments in music history and honors the artists who have used Boss products to shape the sound of music over the last 50 years.
Presented in exclusive packaging and marked with unique four-digit serial numbers, these pedals deliver the same sound and circuitry that have made the standard versions so beloved by generations of players in every musical genre. These collectible versions have been produced in strictly limited numbers, with only 7,000 units available worldwide.

DS-1 Distortion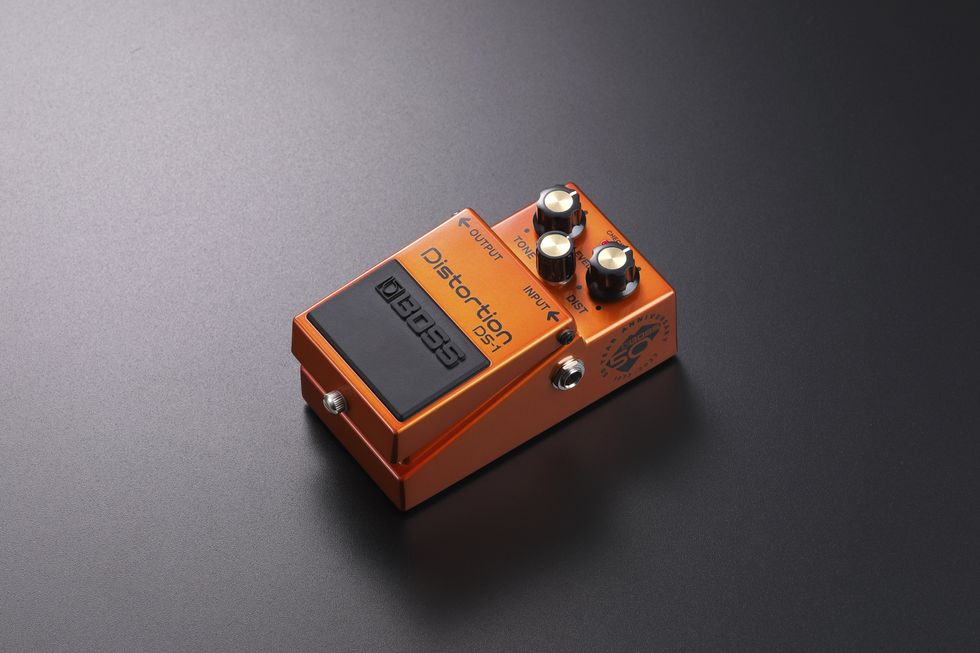 After the Boss compact pedal series debuted with its first three models in 1977, the DS-1 Distortion was introduced the following year to wide acclaim. Prized for its edgy attack and smooth sustain, this multi-million seller has remained in the lineup ever since and can be heard on countless hit records. $82.99 USD.
SD-1 Super Overdrive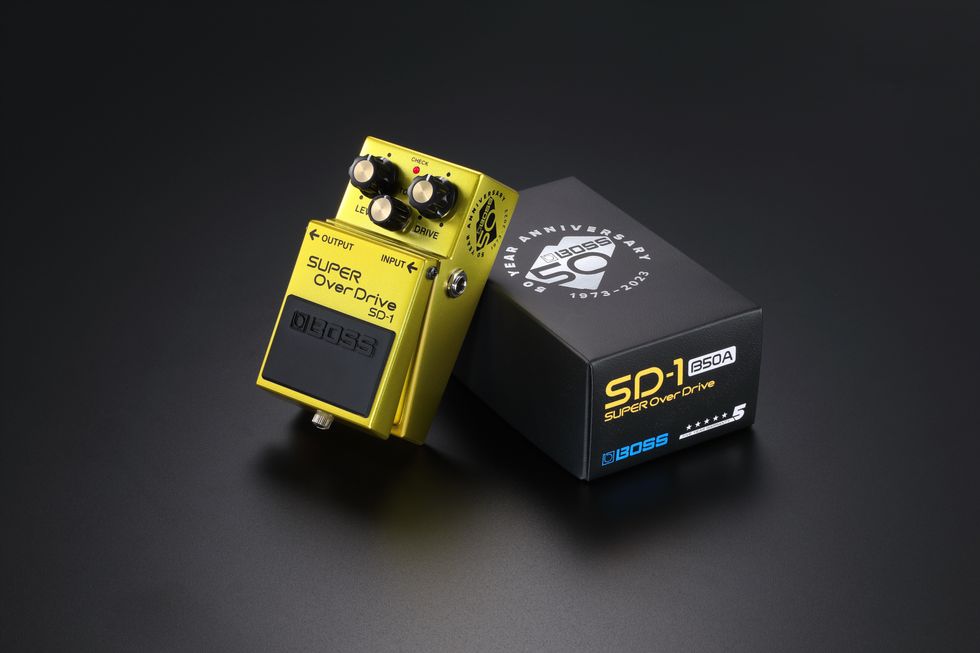 Boss released the SD-1 Super Overdrive in 1981, improving on the groundbreaking OD-1 model by introducing a tone control and other subtle circuit enhancements. This workhorse gain machine has stood the test of time and continues to grace the pedalboards of beginners and pros alike. $82.99 USD.
BD-2 Blues Driver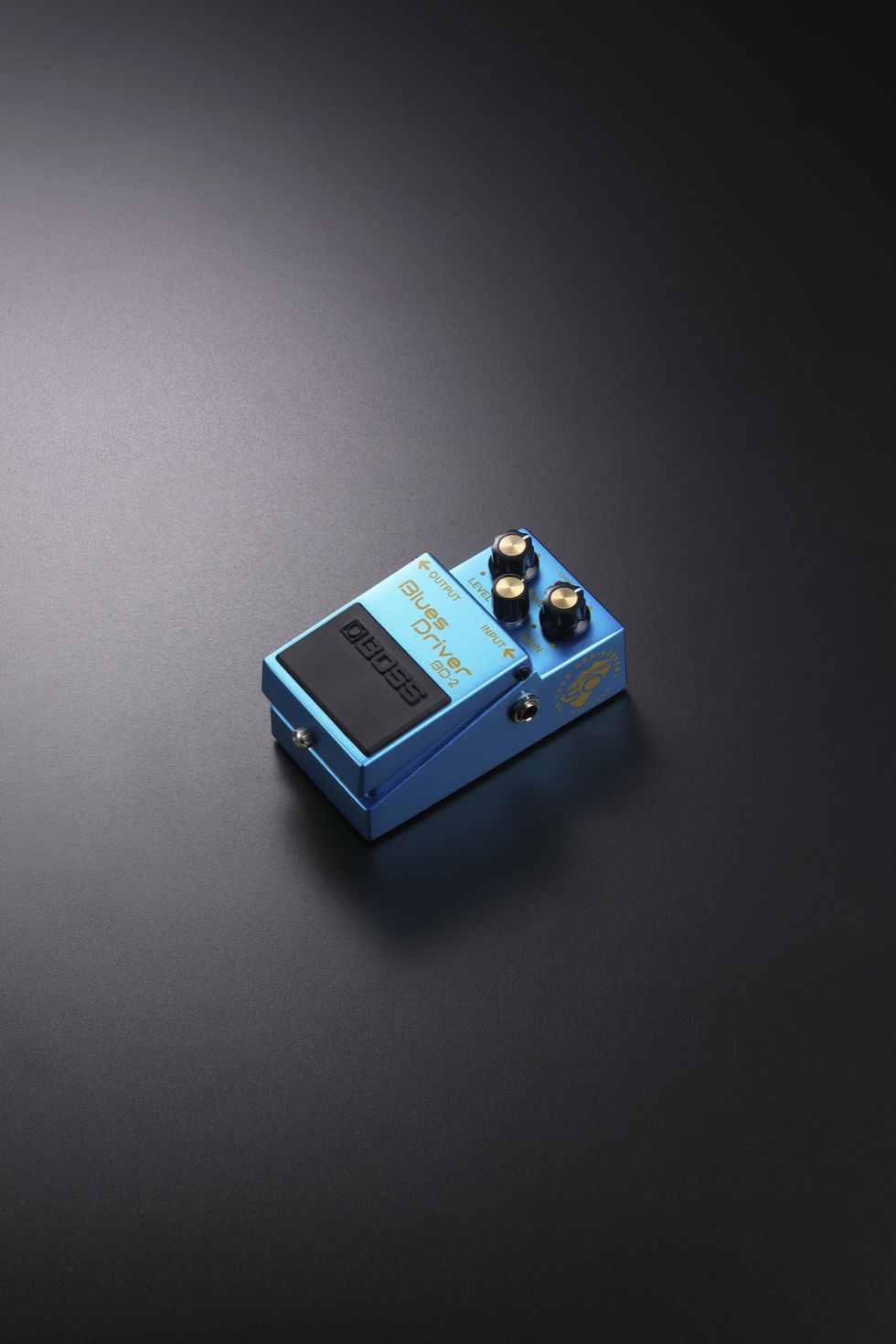 For guitarists seeking delicate, nuanced gain tones that allow their feel and technique to shine through, it's hard to beat the BD-2 Blues Driver. Introduced in 1995, this acclaimed drive pedal is revered for its broad sound palette, touch sensitivity, and articulate tube-like response.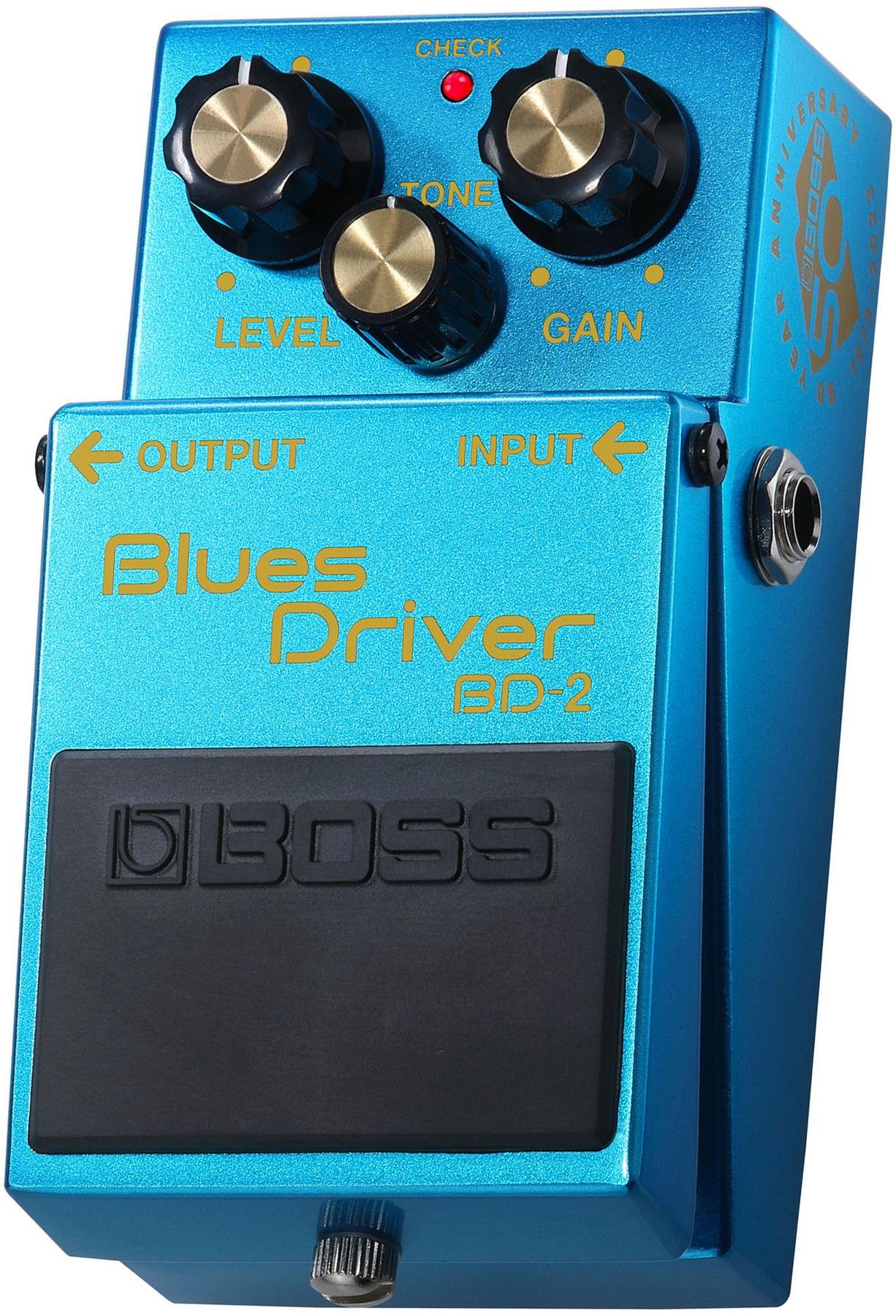 For more information, please visit boss.info.

Boss
The PG DSM Noisemaker Sub Atomic review.
Recorded direct with a Yamaha BBP34 using PreSonus FireStudio and PreSonus Studio One 3.
Clip 1: Master at 9 o'clock, blend at noon, dry gain at 2 o'clock, tone at 2 o'clock, drive voice in middle position (mid bump), and SUB LPF at 1 Khz
Clip 2: Master at 9 o'clock, blend at 100 percent wet, dry gain at 2 o'clock, tone at 9 o'clock, drive voice in left position (flat), and SUB LPF at 100 Hz
 

Ratings

Pros:

Sharp, modern tone options.

Cons:

Sharp, modern tone options—if that's not your thing. The knobs were a touch loose-feeling.

Street:

$159

DSM Noisemaker Sub Atomic X-Over CMOS Bass Drivedsmnoisemaker.com

Tones:Ease of Use:Build/Design:Value:
In the most basic of setups, I need a few things to get by: a tuner, a compressor, and maybe a chorus pedal. After that, I might get to have some real fun by adding more colorful stomps. It's especially enjoyable when we bassists get to use distortion or overdrive. Some dirt pedals try to keep everyone happy, but what if we are leaning toward a darker place and need something special? For the bass-playing population that lives a little closer to the edge, DSM Noisemaker has offered the Sub Atomic X-Over CMOS Bass Drive.
Red Skies at Night
The Sub Atomic pops out of its cloth bag (Save it for plectrums!) with one of the smallest footprints and the most control options per square inch I have seen on a pedal. I like a small pedal, as long as it does what it is supposed to do. And there is a lot of ground to cover within this little guy, so let's get started.
First, the top half of the pedal has four dials that illuminate an ominous red when the pedal is engaged. I really like this feature over a simple indicator light, because it leaves no question whatsoever as to the operation mode. The four pots are tone, master, drive gain, and blend, which are pretty self-explanatory. There are also two mini toggles—one a sub-low-pass filter and the other for drive voicing—that are nestled between the dials, which provide some additional EQ options. These are most likely controls you won't change on the fly that often, since they are really tightly packed into this tiny pedal.
Freq Out
I plugged the Sub Atomic directly into my DAW using a passive Yamaha BBP34, and grabbed a set of Victor headphones to get a sense of the nuances and all the tone options of the pedal. I started with everything at about noon, except the master, which found its home at 10 o'clock to match my volume when the pedal wasn't engaged, and left the mini toggles flat. I was greeted with a Michael Anthony OD bass vibe reminiscent of the intro from "Running with the Devil." It's a great place to start for dirty tone, and the blend setting really helped maintain the bass' integrity.
I found that the tones border on the higher side of the frequency spectrum overall, giving a lot of buzzy in the fuzzy.
Keeping the controls where they were, I moved the mini toggles between their three different frequency settings, and the pedal opened up a bit (or closed off, depending on how you look at it). The low-pass frequency switch moved the bottom around enough to give me a super-modern Swedish-metal tone with weight and bite.
The drive-voicing toggle is useful as well, for it gives the mix-cutting ability we need when we dive into overdriven bass tones. I found it useful when used with the blend control sparingly, keeping just enough dirt while distinctly maintaining the low-end.
Moving around with different settings on the Sub Atomic, I found that the tones border on the higher side of the frequency spectrum overall, giving a lot of buzzy in the fuzzy. There are a lot of variables within the pedal, so finding your voice and pairing it with your amp and bass may take some doing. The pedal's controls can be dimed, but shouldthey be? For my taste, it was a bit extreme on the high-end with the tone maxed, but everything in the universe has a place, right?
Diming the tone and drive gain, and moving the drive-voicing mini toggle to the mid-bump position got me into some guitar-player tone territory. Try this setting at home with some chords and it can certainly open things up for you musically.
The Verdict
The Sub Atomic is a very focused and specialized distortion pedal that can add some zest to a modern pedalboard. If you want a cutting drive pedal in your life, it may be a place to start. Tube lovers beware: The tones here are not the warmest, but we can all branch out and try some new fuzz cocktails every now and then.
A dual-band/stacked floor unit with 15 knobs and five toggles that will make compression control freaks giddy. The PG Becos CompIQ TWAIN review.
Recorded direct using an Mbox and running Logic X.
Clip 1: Fender Ultra Jazz 4 (60/40 favoring neck pickup) Band 1: Threshold 10 o'clock, ratio 11 o'clock, gain 11 o'clock, x-over 11 o'clock/Band 2: Threshold 2 o'clock, ratio noon, mix 11 o'clock, gain 11 o'clock.
Clip 2: 1985 Yamaha BB3000S, with tone at 50 percent and neck pickup onlyFender Ultra Jazz 4 (60/40 favoring neck pickup) Band 1: Threshold 10 o'clock, ratio 1 o'clock, gain 10 o'clock, x-over 8 o'clock/Band 2: Threshold 5 o'clock, ratio 11 noon, mix 8 o'clock, gain 10 o'clock.
Clip 3: 1985 Yamaha BB3000S, with both pickups dimed. Band 1: Threshold 10 o'clock, ratio 10 o'clock, gain 10 o'clock, x-over 2 o'clock/Band 2: Threshold 11 o'clock, ratio 11, mix 11 o'clock, gain 10 o'clock.
 

Ratings

Pros:

Incredibly versatile. Classic compression sounds. Dual-band or stacked capability.

Cons:

Crowded control surface. Plastic controls too close to the footswitch.

Street:

$342

Becos CompIQ Twainbecosfx.com

Tones:Ease of Use:Build/Design:Value:
The folks at Romania-based Becos are no strangers to building solid compressors, and have a string of well-received, small-footprint units. These units are mostly aimed at users who desire set-it-and-forget-it, studio-quality analog compression. The larger-footprint CompIQ TWAIN model, however, is obviously built for players who have more of an "I want to control every aspect of compression" mentality. And the TWAIN has a sea of compression options available.
Two-for-One
The TWAIN is dual-band, with separate sides for lows and highs. The controls, for the most part, mirror each other. This layout helps in navigating the very feature-heavy panel. The most important switch on the CompIQ TWAIN, however, is located on the side near the input jack. It's the switch that converts the unit to a stacked compressor. This feature will stack both compression engines in series to achieve a slower, warmer, optical-compression feel. Other important features on top of the pedal include the crossover frequency selector between the two bands, a wet/dry control, and a 3-way side-chain-filter switch. The switches between fast/slow timing and hard/soft knee are also available on both sides of the pedal.
I started out by plugging in a Fender Ultra Jazz 4-string because I wanted to see if I could get a modern, active Jazz bass to sound a little less modern and controlled, both in the highs of the pops and the violent low-end attacks of an aggressively slapped 4th string. And I began using the CompIQ TWAIN in dual-band mode with a 3:1 compression ratio. I switched things up with fast timing on the low side and slow timing for the highs. I was instantly struck by how musical my intentionally heavy squash on the low register sounded. The popped notes lost just a little bit of their inherent harshness and fit better into the line I was playing, a bit like slapping through a tube preamp.
I was instantly struck by how musical my intentionally heavy squash on the low register sounded.
To me, the true test of a great compressor is to determine how it can "glue" a track together with a bass line that features long note values. I grabbed an early '80s Yamaha BB3000S, engaged the stacked mode, set a soft knee, and utilized the wet side of the signal heavily. I was rewarded with a truly old-school fat—but not muddy—tone, where my low notes were warm, and my high notes gained a tremendous amount of body and authority.
Steak with a Side of Saturation
Since the stacked mode put such a smile on my face, I kept it engaged while rolling all controls on my Yamaha to their wide-open positions and playing meat-and-potatoes rock with a pick, and boosting the saturation controls on the TWAIN up to 3 o'clock. The pedal added a pleasant mid-scoop while providing an audible saturation with the bass soloed, but a saturation subtle enough to where it will just add presence to the bass in a track without having a forward, audible break-up like a fuzz—a very usable feature indeed.
The Verdict
In spite of the larger footprint (4.72" x 4.13"), the CompIQ TWAIN is still a relatively small pedal considering it has the controls of two compressors in one unit. The engineering feat is admirable, but a few of the switches are a little hard to reach if you have "bass player fingers." The number of features available make this Becos compressor hard to beat for users who demand a wide variety of compression options for different styles and multiple basses. Many compression pedals lose their allure when you can actually hear the compression working. The Becos shines in the heavier settings—compressing like some of the legendary rack units.