It may be the understatement of the century, but this year was weird. Even so, the killer gear kept coming. Here are the goods that stood out as extra-great amongst our annual haul of Premier Guitar reviews.
MXR
Clone Looper

With a two-button system for recording and playback, the Clone Looper simplifies many looping maneuvers by eliminating some double-click and hold sequences. But with awesome and trippy features like adjustable playback speed and reverse playback, you can easily take the Clone Looper's simpler looping processes to particularly psychedelic ends.

$149 street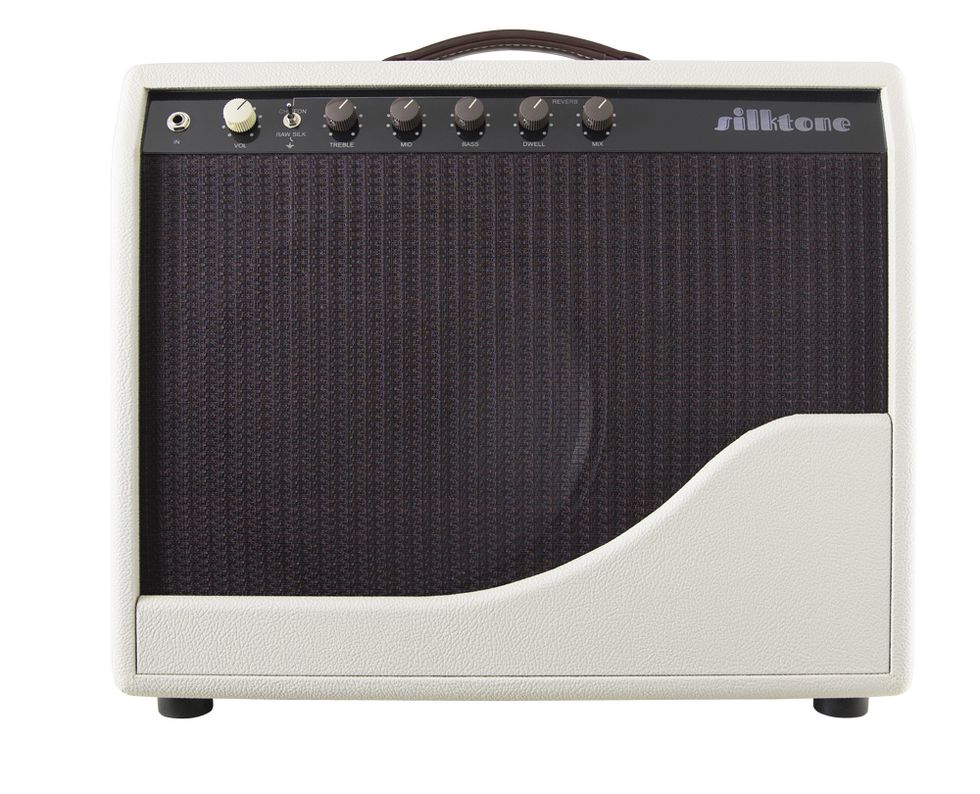 Silktone
Silktone Amp

This handwired 1x12 combo employs a KT66 power tube for its class-A circuitry, resulting in glassy cleans reminiscent of a tweed Champ, and fat and pleasantly compressed high-gain tones without sacrificing shine. Joe Gore was also impressed with its aesthetic and workmanship, as well as Silktone's spring reverb. "It's got the feel of a vintage Fender tank, but with uncommon wetness and depth."

$2,199 street, as reviewed with ceramic speaker (alnico speaker $200 extra)

Fender
Vintera Telecaster '50s

Just about any Telecaster flirts with perfection in form. But Fender did not rest on their laurels in re-interpreting the '50s-styled variation in the new, affordable Vintera series. The neck is lovely, with a hefty deep-U shape, and the alnico 2 bridge pickup delivers the essence of bright, spanky, and rowdy Tele-ness, while maintaining a warm glow around the edges that is a beautiful match for a touch of vintage-style reverb.

$899 street


Fender
Vintera Telecaster '70s

Keith Richards, who could have any freaking Telecaster in the world if he wanted it, has used the Telecaster Custom he bought new in 1975 regularly ever since. When you play the Vintera version, it's easy to understand why. Fender's Tim Shaw worked hard to build a more authentic WideRange humbucker for this instrument, and the work paid off—creating an expansive palette of spanky-to-smoky tones when paired with the alnico 5 bridge single-coil.

$899 street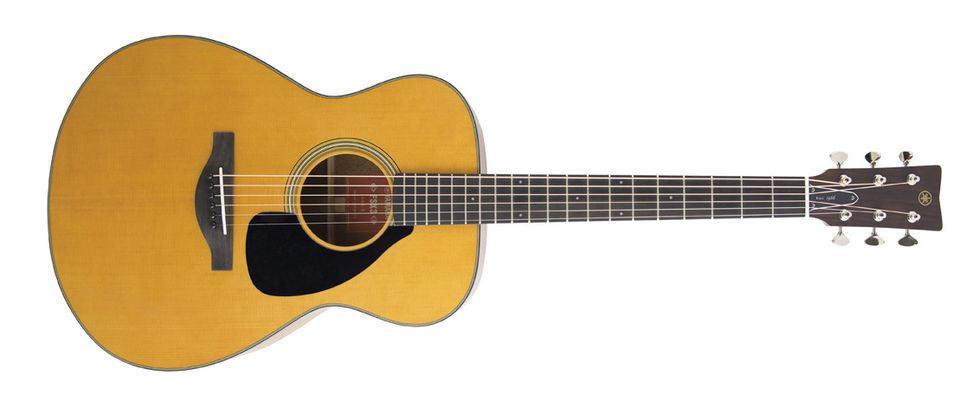 Yamaha
Red Label FSX3

Adam Perlmutter found that the OM-sized FSX3, which honors Yamaha's much-loved red-label guitars of the '70s, feels better-built than the company's original FG guitars, which is no small compliment. Perlmutter shared that the FSX3, boasting all-solid-wood construction, "feels great, exhibits real versatility, and is free of the old-guitar baggage that comes with vintage examples."

$999 street

TC Electronic
Hall of Fame 2x4

A maximalist expansion of TC's popular Hall of Fame 2 pedal, this reverb machine boasts 10 factory settings, six user memory slots, and eight stored patches, accessible via its four hefty footswitches. "Everything about the Hall of Fame 2 x4 Reverb is exceptional," is the word from reviewer Joe Gore, who welcomed its rich and varied reverbs, as well as the pedal's delightfully simple interface.

$299 street

Origin Effects
RevivalDRIVE

Origin's luxurious stomps feel like outboard studio gear from analog audio's golden age. The RevivalDRIVE, however, has so much tone-sculpting power that it actually tends to function and sound like an old recording console module, too. The EQ is powerful, sensitive, and responsive, and the low-end tones are especially delectable. If you need an overdrive that can fill a very specific mix niche, this tool is worth every penny.

$385 street

Jackson Audio
Bloom

This ultra-versatile multi-effects pedal captivated PG with its ability to control, shape, and expand natural playing dynamics through its five different types of compression, a 3-band Baxandall-inspired EQ, and a 20 dB clean boost. Boasting super-sensitive knobs with finely tailored sweeps, the folks at Jackson Audio topped off the Bloom with MIDI control over all parameters via its TRS input.

$329 street

Electro-Harmonix
Ram's Head Big Muff

Given what a vintage Ram's Head Big Muff costs these days, this new version's $99 price tag alone is cause for celebration. But the tab is extra-impressive when you hear how well EHX nailed a vintage Ram's Head's legendary essence. It's growling, bold in the midrange, and stings like a wasp when you run the gain and tone wide open. If you don't have the bucks for a vintage pedal or a high-end Ram's Head clone, this remarkably economical iteration is a must for rounding out your Big Muff collection.

$99 street

---
Blackstar
Silverline Standard

This 20-watt, 1x10 combo from the folks at Blackstar got high marks for its retro style, user-friendly, ergonomic control panel, and all points in between. Joe Gore was wowed by the Standard's attractive amp and effects emulations—especially given its modest price tag—and shared that Blackstar's compact 30-pound combo would make for a convenient gig companion or great living room amp.

$429 street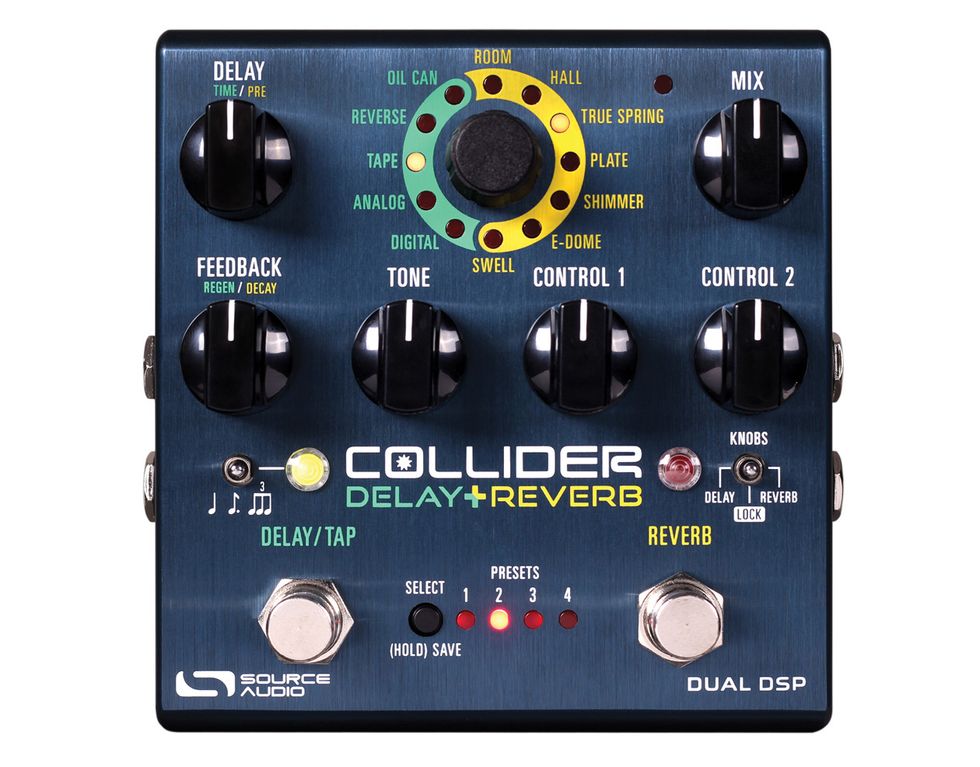 Source Audio
Collider

The Collider, which combines some functionality from the already expansive Ventris reverb and Nemesis delay, seems like it might be a handful to manage. In fact, the Collider's clever integration of its parent effects makes exploring the wide-ranging feature set—which includes new emulations like an excellent Tel-Ray-style oil can delay—an intuitive and fun portal to thousands of huge and rich time-manipulation textures.

$349 street

PRS
SE Hollowbody Standard

The Paul Reed Smith Hollowbody model has become a modern classic since its design was first introduced in 1998. And it's now available (and made much more affordable) as part of the company's made-in-China SE range. But don't let the down-market pricing fool you: Its elegant design, PRS-created hardware and electronics, and excellent playability easily earned the SE Hollowbody Standard a Premier Gear Award.

$999 street

Fender
American Ultra Jazz

As daunting as it is to alter a classic, revered instrument like the J, Fender hit it out of the park with subtle yet significant updates to its look and design. And with passive and active tones at the ready, Victor Brodén lauded the versatility of the Ultra Jazz, which allowed him to effortlessly conjure Marcus Miller-to-Jaco-esque tones.

$1,999 street

---
Dean
Thoroughbred Select Quilt Top TCS

Occupying an accessible niche between Dean's USA custom-shop guitars and their entry-level line, the Thoroughbred Select's excellent build and huge range of tones, and its thoughtfully chosen Seymour Duncan pickup set, captivated Joe Charupakorn. "The Thoroughbred Select offers amazing bang for the buck and the potential to take you in many unexpected musical directions," was his verdict.

$899 street

Fender
Tone Master Deluxe Reverb

Not too long ago, the notion of a digital black-panel Deluxe Reverb would have been borderline blasphemy. But with so many digital sound designers creating respectable-to-superb Deluxe emulations in software, Fender reckoned that their own excellent emulation of the amp's classic format would be a hit. They reckoned right. The Tone Master sounds like a dead-ringer at most settings, save for fuzz-driven high-gain sounds. Factor in the feather-light construction and you've got a near-perfect gigging platform that still oozes vintage style.

$899 street

Retro-Sonic
Flanger

Electro-Harmonix's original Electric Mistress is a subject of lust among covetous pedal nerds—largely for its association with David Gilmour's searing, swirling sounds on the 1977 Animals tour and the spacey modulations that color the Police's "Walking on the Moon." Retro-Sonic's Flanger does a pretty remarkable job of delivering those tones, thanks in no small part to the ability to operate the pedal in high-headroom 18V mode. Conveniently, it's also a fraction of the size of its rather mammoth inspiration.

$199 street

Fender
American Ultra Jazzmaster

The Jazzmaster was long overdue for one of Fender's signature ultra-fication treatments. And for its first high-end reimagining, the model received a facelift of real substance. Contemporary player-oriented features like a 10-14" compound radius, noiseless pickups, a smooth, more stable vibrato, and a new control configuration with series and parallel pickup options make this Jazzmaster feel luxurious and modern without sacrificing any of the comfort and style that distinguishes the original.

$1,999 street

Danelectro
The Breakdown

Based on the Univox UD-50 Uni-Drive, this two-knob pedal proved to be an incredibly simple and affordable way to zing up a rig with varying degrees of gain. In fact, the UD-50 created enough magic that Shawn Hammond noted he'd never heard "so many shades of awesome" from a favorite Telecaster and 20-watt tube amp before he put the UD-50 out front.

$149 street

J. Rockett
APE

There are easier ways to add a dash of tape delay flavor to your echo recipe. But J. Rockett's APE is one of the most convincing and fun to work with. Voltage is pumped up to a vintage Echoplex-correct 22V, which results in high preamp headroom. But the super-effective gain, treble, and mix controls enable super-specific levels of saturation and unique digital/analog combination tones that can sound startlingly good.

$199 street

Ernie Ball
VPJR Tuner

Using their industry standard VPJR volume pedal as a foundation, the Ernie Ball engineers integrated a large, touchscreen monitor and tuner readout. Its two-in-one functionality adds up to significant pedalboard space savings that epitomizes "smart design, performance, and efficiency," according to Rich Osweiler.

$199 street

Victory
VC35 The Copper

Victory's take on the Vox AC30 formula dishes a load of classic Vox from a sleek, all-metal enclosure, with a modest total weight of 18 pounds. Icing on the cake includes such modern refinements as bass-cut and mid-boost switches, digital reverb, and an effects loop.

$1,399 street

Strymon
Iridium

After an easy-to-use modeling solution that doesn't require a big piece of hardware and uber-deep editing? Joe Gore found a great one in the Iridium. The stompbox has black-panel Fender Deluxe, top-boost Vox AC30, and Marshall plexi models onboard, making it fit for myriad stage and studio scenarios. "It's an obvious choice for travelling-light tours and backline gigs," Gore declared.

$399 street

Breedlove
Organic Wildwood Concert Satin CE

Kate Koenig found this compact, concert-sized 6-string to be a responsive fingerstyle companion, but also able to handle a heavy approach. That's not always the case with a guitar this size. Koenig also took a shine to the stylish guitar's excellent balance and detail, abetted by Breedlove's transparent Natural Sound undersaddle electronics.

$649 street

Wampler
Terraform

Packed with 11 filter and modulation options, Wampler's first digital multi-effects unit sets itself apart with its "savvy programming with wisely chosen parameter and range choices, an intuitive interface, and a wealth of clever extras," according to Joe Gore. And given that its ingenious effects loop can situate individual effects before or after the loop circuit, the Terraform has the power to replace multiple pedals on a crowded board.

$299 street

Wren and Cuff
Garbage Face

Wren and Cuff boss Matt Holl didn't have it easy replicating J Mascis' legendary Ram's Head Big Muff in the new Garbage Face. By Holl's account, Mascis's original is a royally quirky iteration of the circuit. But that didn't keep Holl from nailing the sound of that notoriously beastly Big Muff—or taking the pedal a step further by adding a killer treble booster and a switchable, second output gain control that can probably peel the paint from walls.

$349 street

Electro-Harmonix
Soul Food

One of five spotlighted pedals in Joe Gore's Klon-style roundup, the Soul Food found favor with Gore thanks to how close its tone gets to original-Klon territory, despite using silicon clipping diodes and being a touch brighter at high-gain settings—no bad thing, apparently, especially at under a Benjamin.

$86 street

J. Rockett
Archer

Saying that he wouldn't be able to distinguish the Archer from an original Klon in a blind listening test, Joe Gore called out the Archer as his top-choice in PG's Klon-klone roundup. While the Archer commanded the highest price in the roundup, it also received highest marks in build quality, thanks to its stout construction.

$199 street

---
Way Huge
Conspiracy Theory

The least expensive germanium-diode pedal in Joe Gore's Klon-style roundup, the Conspiracy Theory received Gore's maximum tone score in earning its Premier Gear Award. "Way Huge's Conspiracy Theory gets extremely close to the Klon sound," Gore said. "It sometimes sounds a wee bit warmer/darker, but some players may prefer this profile."

$129 street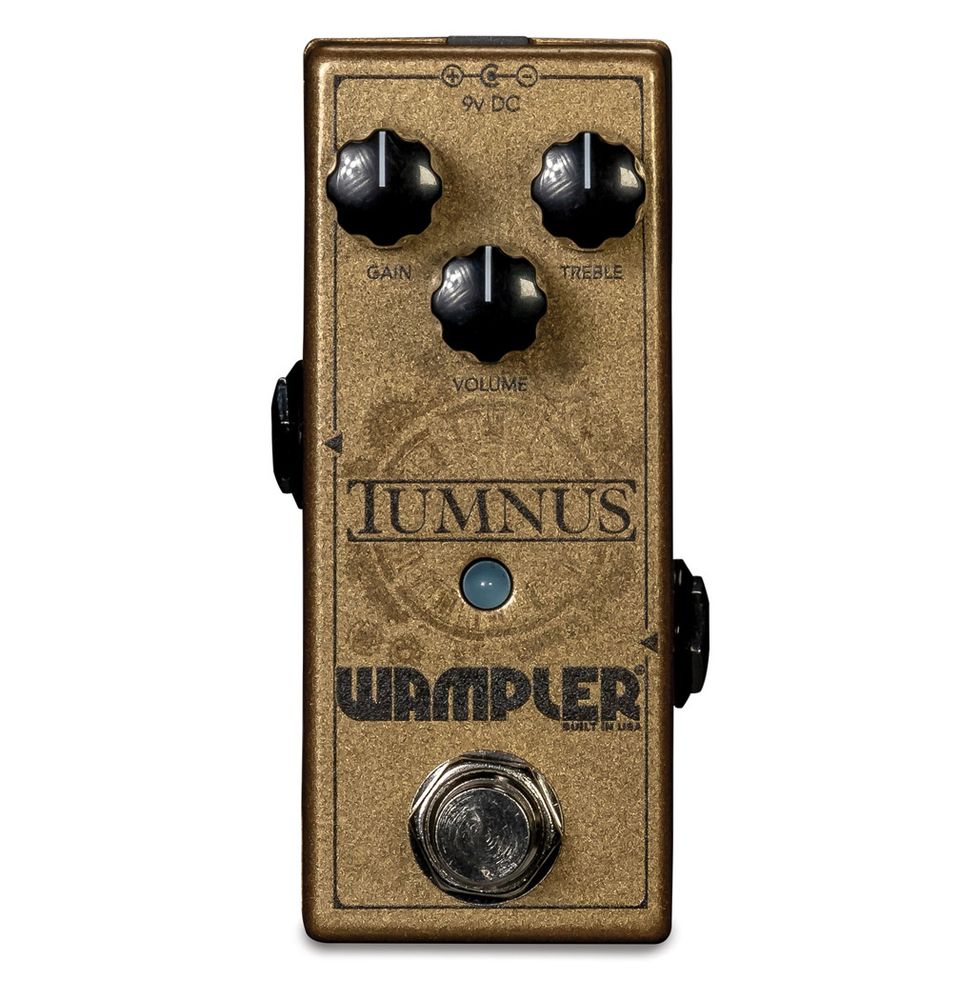 Wampler
Tumnus

After putting Wampler's dazzlingly gold pedal through its paces in PG's Klon-klone roundup, Joe Gore stated, "Tumnus nails the original Klon tone with great accuracy," even though the petite pedal employs surface-mount silicon diodes in lieu of germanium. The mini-format Tumnus also received high compliments for its superior build quality and aesthetic.

$149 street

ThorpyFX
Heavy Water

Featuring two independently footswitchable circuits—both outfitted with grit-giving germanium diodes, this dual high-headroom boost impressed Shawn Hammond with its "seemingly bulletproof" construction and gorgeous tones. In fact, Hammond went on to say the Heavy Water can conjure 95 percent of the tones he normally gets from three pedals on his board.

$275 street

Koll
High-Rise Duo Drive

Saul Koll is best known for his beautiful-but-original vintage-inspired guitar designs. The High-Rise Duo Drive boost is his first sojourn into pedal building, but it exhibits touch-dynamic performance and sophisticated sounds that suggest a lifetime of circuit tinkering. If you're looking for an uncomplicated path to explosive and subtle boost tones, the High-Rise is a most elevated solution.

$225 street

Epiphone
Joe Bonamassa 1960 Les Paul Standard "Norm Burst"

Steeped in vintage style and tones, and packed with value, too, this Les Paul was inspired by Bona's prized 1960 LP. The thinner, vintage-correct neck might not work for every player, but Dave Hunter praised the "Norm Burst" for "excelling at power-chord rhythms, singing lead excursions, sizzling blues-rock, and even chunky vintage metal."

$699 street

Jam Pedals
Delay Llama Xtreme

The original Delay Llama was a pretty tasty analog delay. In its new, more-evolved sibling, the Delay Llama Extreme, Jam mated the delicious BBD-driven repeats of the first Llama to a capable digital control section that enables tap tempo and modulation effects that range from subtle tape-age approximations to much weirder and wobblier fare.

$339 street

Danelectro
Back Talk

Backwards tape delay is one the great innovations of the psychedelic era. It's also one of the tougher effects to pull off in compact pedal form. The original Danelectro Back Talk excelled at the task, and this re-issue offers all the same beautifully swirling, dovetailed wet/dry tones that made the original such a solid alternative to more rigid-sounding digital reverse delays. It also comes in a sturdier and more compact enclosure than the original.

$159 street

Martin
SC-13E

For many acoustic luthiers, the concept of designing a guitar that feels like an electric must feel like a minefield. So the fact that Martin so successfully walked the line between Nazareth-worthy acoustic tones and electric playability merits praise. Joe Gore noted that the SC-13E "literally lets my fingers play things I'd have trouble replicating on most steel-strings." And while the offset body and extreme cutaway may not suit purist tastes, there's little arguing about the SC-13E's elegant proportions.

$1,499 street

JHS Pedals
PG-14

It goes without saying that Paul Gilbert has pretty extraordinary command of his instrument. Little wonder, then, that his signature JHS distortion, the PG-14, is capable of so many extreme, fuzzy, saturated, and mid-forward hard-to-handle tones. But what makes the PG-14 a delight is that it's equally capable of more conventionally player-friendly dynamic, low-gain sounds.

$199 street

Cascade Pedals
Hosstortion

Stompbox archeologists never cease to discover new gems for revival and reinterpretation. In the case of the Hosstortion, the template is the Ibanez MT10, a distortion box that played second fiddle to Ibanez's other classic designs, but generated deliciously thick, clear, and powerful medium-gain tones. The Hosstortion refines the MT10 concept, using BiMOS op amps to replace the original's discontinued CMOS chips and adding headroom that highlights the circuit's knack for clarity and articulation.

$175 street

Mad Professor
Super Black

Although there is no shortage of pedals aping the sound and feel of vintage black-panel Fenders, the Super Black distinguishes itself by covering so many black-panel tones. A Deluxe's definition, a Bassman's hefty lows, and a Twin's crisp clarity are all available via the capable EQ controls. The Super Black comes with a cherry on top, too, in the form of Mad Prof's excellent Sweet Honey Drive overdrive—giving you a rainbow of mid-'60s Fender flavors from clean to mean.

$299 street

---
DryBell
The Engine

If you're chasing big British tones, it's hard to get more English than a Marshall and a Rangemaster. Stuffing sounds of that immensity and impact into a pedal is ambitious, to say the least. But by boosting internal voltage to 23V and integrating a highly malleable EQ section, DryBell put together a preamp that generates heaps of thumping, dynamic, responsive, and searingly loud Brit textures.

$299 street,

Death By Audio
Rooms

While Death By Audio is justly celebrated for their very deviant and irreverent spirit of invention, many of their best pedals also exhibit a performance-oriented sense of utility. Rooms is one of DBA's best at having it both ways. The enclosure is big, but it invites intuitive, interactive, real-time manipulation of the six voices, which range from controlled-but-rich reflections to more disorienting modulated and fuzzed-out fare. No matter which side of that spectrum you explore, Rooms invites creative and unusual approaches to reverb.

$395 street

Caroline Guitar Company
Megabyte

Though the PT2399 chip was designed to spice up the off-key, drunken vocalizations of karaoke enthusiasts, it didn't take long for pedal builders to note how well it mirrored many characteristics of analog BBD chips. Caroline's Megabyte (an evolution of it's earlier 2399-driven Kilobyte) impressively stretches the capabilities of the two 2399's at the heart of the circuit—enabling deep modulations, cool syncopated repeats, overdriven repeats, and runaway oscillation textures that are all positively addictive.

$249 street

Origin Effects
Deluxe61

Origin stompboxes aren't just beautiful and well built. They're sonically ambitious, too, which is certainly the case for the analog Deluxe61, a bias-tremolo-in-a-box that replicates the tremolo in the brown-panel Fender Deluxe. That circuit is renowned for it's complex, soft, and smooth modulations, and the Origin nails both the intricacies and the immersive warmth in a way few analog or digital pedals can.

$430 street
origineffects.com
Stone Deaf
Noise Reaper
If you want to test the effectiveness of a noise gate, sticking a couple P-90s and a fuzz in front of it is a great way to do it. That's just what our reviewer David Hunter did, and he was impressed with both the Reaper's ability to put a stranglehold on hiss and the simplicity with which you can dial dynamics and sustain back in with the single threshold control.
$160 street
stonedeaffx.com
Flower Pedals
Hosta

With its top-quality build, Fasel inductor, and a digital brain that opens up secondary functions for many of this analog pedal's controls, the Hosta is an auto-wah for players that really dig auto wahs. But its capacity for deep modulation textures, rich, wide frequency response, and warm fundamental tones counters the perception that auto-wahs are all quack and no muscle. And with so many extra textures on tap, it sometimes seems a shame to confine Hosta to the auto-wah corner.

$279 street

Source Audio
EQ2

Source Audio has been so frenetically active in developing spectacular reverbs, delays, and modulators of late that it's easy to forget that one of their foundational products is a less-than-glamorous EQ. The EQ2 is an evolution of that original Programmable EQ that found favor with Gilmour and Mayer. And while radically divergent presets are the main attraction (you can access up to 128 of them via MIDI), a noise gate, dynamic limiter, and a 12 dB boost are among the additional features that make this new version especially excellent.

$269 street

MojoTone
BlackOut British

Eighteen-watt Marshalls are extraordinary amps—potent beyond their power rating and dimensions. But if they have a limitation, it's that their best sounds tend to fall within a relatively narrow spectrum. The BlackOut British flips that script by adding 6V6-based circuitry and a 3-band EQ section inspired by the JCM800. The changes yield an amp of many personalities—all awesome—that span Fender, Vox, and Marshall tonalities.

$1,199 street

Revv
G20

Much of the appeal of Revv's excellent D20 and G20 is simple: integration of IR and microphone-emulation technology with real tube-amp-driven tones. But it's the seamless refinement in Revv's offerings that make them next-level stuff. And the geared-for-high-gain G20's capability to go from clean to all-out doom may make it the most versatile Revv yet.

$1,299 direct

Balthazar
Cabaret 13

If all you were looking for was the loudest 13-watt combo on the planet, you'd be tickled to have to settle on the Cabaret 13. But this Balthazar is more than freakishly loud for its size. It also deftly spans the divide between Vox and Fender tones, and moves from silky clean to brash and bristling with ease. Wit mellow-to-super- intense bias tremolo and spring reverb you can swim in, it achieves designer Balthazar de Ley's dream of the perfect "British surf amp."

$1,999 street

PRS
Hollowbody II SE Piezo

With two 58/15 humbuckers and a piezo, this luxurious addition to the SE line impressed with a positively enormous tone palette and the usual excellent import PRS quality. But it's the variation in available sounds that comes from blending the humbuckers and piezo that make the Hollowbody II SE feel like a tool for precision tone surgery.

$1,549 street