Sure, perennial big hitters like Gibson, Fender, PRS, and MXR dazzled with fresh offerings, but one surprising stunner earned the most clicks.
John Bohlinger
The vintage-style gear specialists dive into the legacy of two classic drive pedals.
John Bohlinger
Power attenuation plus all-tube tremolo and reverb make this a killer club amp at a nice price.
John Bohlinger
Pitch shifting, deep modulation, and monster fuzz make this single box a multi-headed tone mutator.
John Bohlinger
Trestle-block bracing and new, refined FT-5E Filter'Tron pickups make a classic shape punchy, powerful, and more feedback resistant.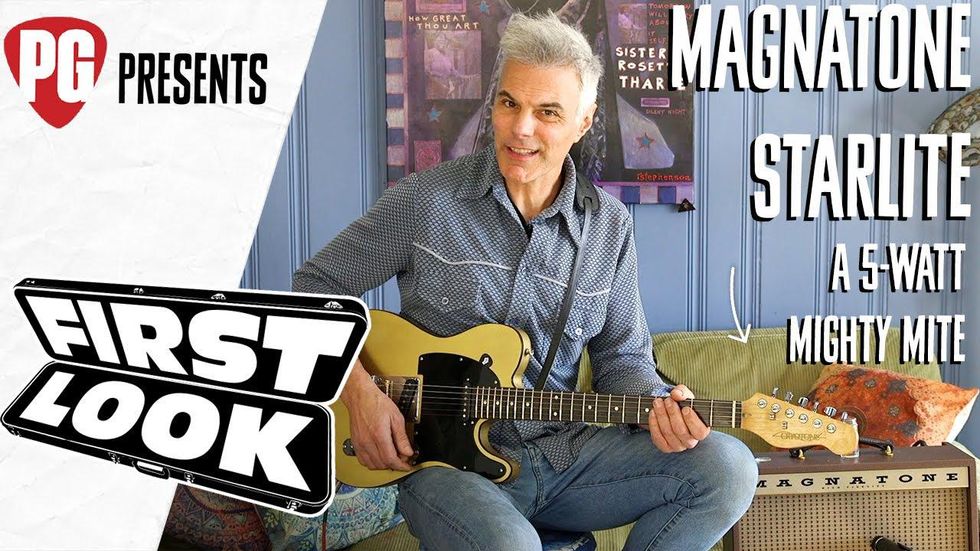 John Bohlinger
Maggie's 5-watt mighty mite bursts with black-panel and tweed-Champ style sounds.
John Bohlinger
An impressive taste of what lurks in the King's chambers for players on a budget.
Premier Guitar
The Mississippi blues maestro's signature instrument is a potent and dazzling evolution of an underrated Tele'.
John Bohlinger
Ted McCarty's archives reveal a long-lost treasure.
John Bohlinger
An affordable version of John Mayer's signature solidbody sacrifices little in the way of tone and quality, and sells for well under a grand.
John Bohlinger
A chambered body makes Yamaha's latest café racer-inspired electric a truly lightweight machine.
From precious Pauls to ruby-red Jags and sparkling quirk machines, 30 PG fans flaunt their favorite guitars, amps, and pedals.
We asked and you delivered! PG tapped its diverse audience to see what prized possessions our readers keep in their personal gear collections. The submissions ran the gamut from a holy-grail guitar acquired via inheritance, a high-school graduation present, a post-coma-recovery treat, a rockin' wedding gift, a self-build project, and many great tales of cherished tone tools.
Colin O'Hara
My mum passed away a few years ago and left me some inheritance. I used some of that money to get something I would've never afforded otherwise, and I knew it would never leave my side as long as I live—the above 1964 Fender Jaguar (from the pre-CBS era). It's my most valuable (sentimental) possession and the most amazing guitar to play to boot!
Steve Tanner
If I had to pick just one it would be my 2016 Gibson Les Paul Traditional. We had lost both parents in rapid succession and after we settled everything, I had enough for a down payment on a condo and I set aside some money for a new guitar. It's kind of the last thing they gave me.
Eric Tower
My 2011 Gibson Les Paul Studio Deluxe that I bought with my high-school graduation money. With its coil-tapping capability, I can achieve single-coil sounds along with the typical humbucker sounds of a Les Paul. And it has the most-comfortable neck I've ever played as well. It's been my main guitar ever since I bought it!
Antoine Lespine
My Fender Super-Sonic. It's not an expensive guitar but I wanted it for a long time. Finally, after recovering from a coma and long hospitalization, I decided to buy it just for the pleasure of enjoying life.
Dave Dardo
My 1983 Fender Strat Elite (hard tail) because it's so versatile. It offers pleasing bright tones and with the turn of a few controls I can get some nice, thick mids. Pairing it with a Mesa/Boogie Single Rectifier 50-watt head into a Budda 2x12 and 2x10 open-and-closed back combination cabinet is magic.
Geo Jet
For many years, this was my go-to rig for larger venues. It's so adaptable with the Seymour Duncan Antiquity II Mini Humbuckers in the Firebird going through the Marshall Vintage Modern half-stack. And for straight-out rock and blues, the smallbox 1987 Marshall Jubilee 2553 stack just can't be beat.
Jeff Boule
To me, prized = integral. When you bill yourself as an electronic guitarist, you need a guitar to interface. My 1977 Fender Mustang that has a Roland GK-2 Guitar Synthesizer pickup paired with a set of Lace Red and Blue single-coils—plus a Kahler Trem and Sperzel Locking tuners—does just that. It's my first guitar and still my main guitar.
Charles Gouger
This is my collection. The one I save if my house is on fire is my white Fender Mustang (on the couch). It's the cheapest one in my collection, but the one I cherish the most.
Ray Vasquez
I seriously can't pick! I waited all my life to have a setup like this: a 2005 Fender Stratocaster (MIM) that has a Seymour Duncan SJBJ-1b JB Jr Strat humbucker (bridge) matched with Seymour Duncan Antiquity single-coils (middle and neck). The VHT 12/20 is dimed for dirt, while the Vintage Sound Vintage 35 (Vibrolux-style 1x12 combo) is a loud 35 watts, so I only run it at 2.5 for cleans. This is the best tone I've ever had.
Justin Michael-Thermal Tran-Sheetz
My prized possession has to be the Tele I put together using a custom Warmoth body and neck. The body is mahogany with a cherry burst and the neck is roasted maple with a reverse headstock. I loaded this with some Seymour Duncan P-90s (the bridge has a humbucker-sized P-90) and wired a volume boost on my push-push tone knob. It plays like a dream and sounds amazing.
Bones BFMC
My first Gibson was a 1959 Melody Maker I got in 1973 from my aunt for $100 including a Gibson amp. Never looked back!
John Farmen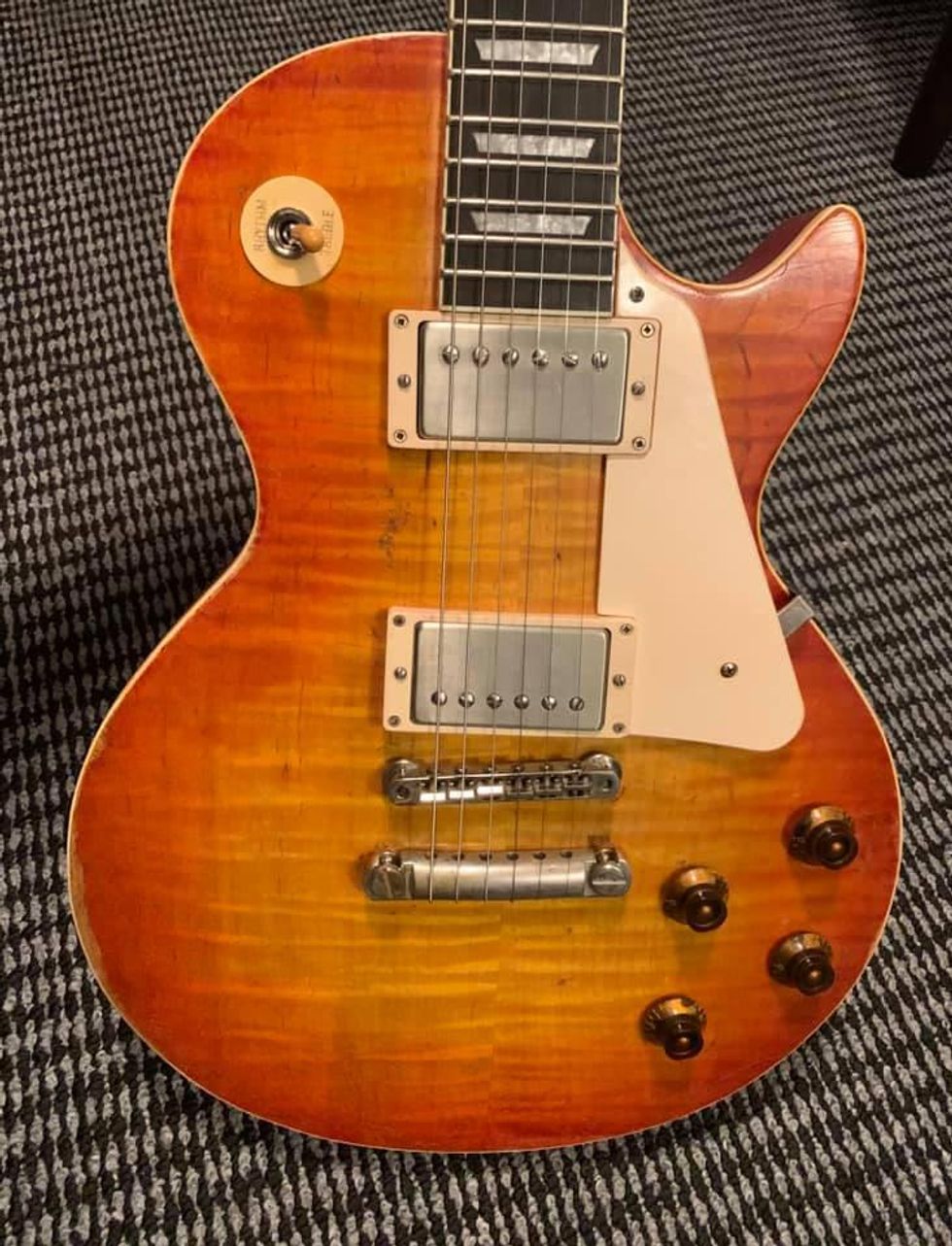 My 1959 'burst clone. I never thought I'd like something that wasn't a Tele so much.
Gregory DuPont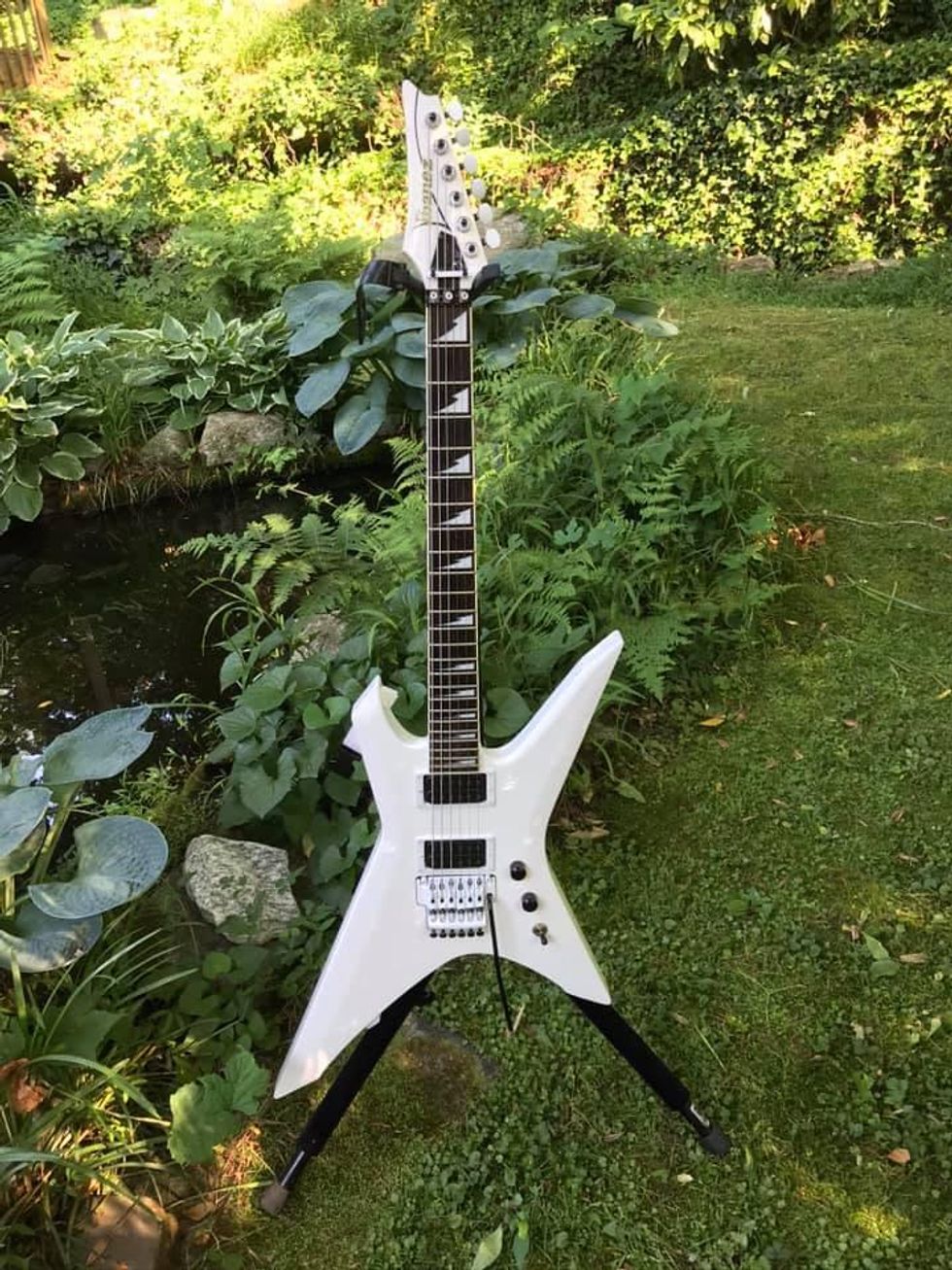 Easy! It's my 2009 Ibanez Xiphos XPT700 that has a custom powder-coated trem, pickup rings, and tuning pegs.
Tracy Cooper
I have five Strats, two basses, a Tele, and three acoustics, but my go-to is the beautiful Beatrice. She's a Jim Deacon Strat-style guitar that carries Ernie Ball Regular Slinkys (.010–.046). She's heavy to hold, but she sounds amazing. I bought her as a run-down, non-working wreck, and I brought her back to life. She's mama's best girl!
Rob Peard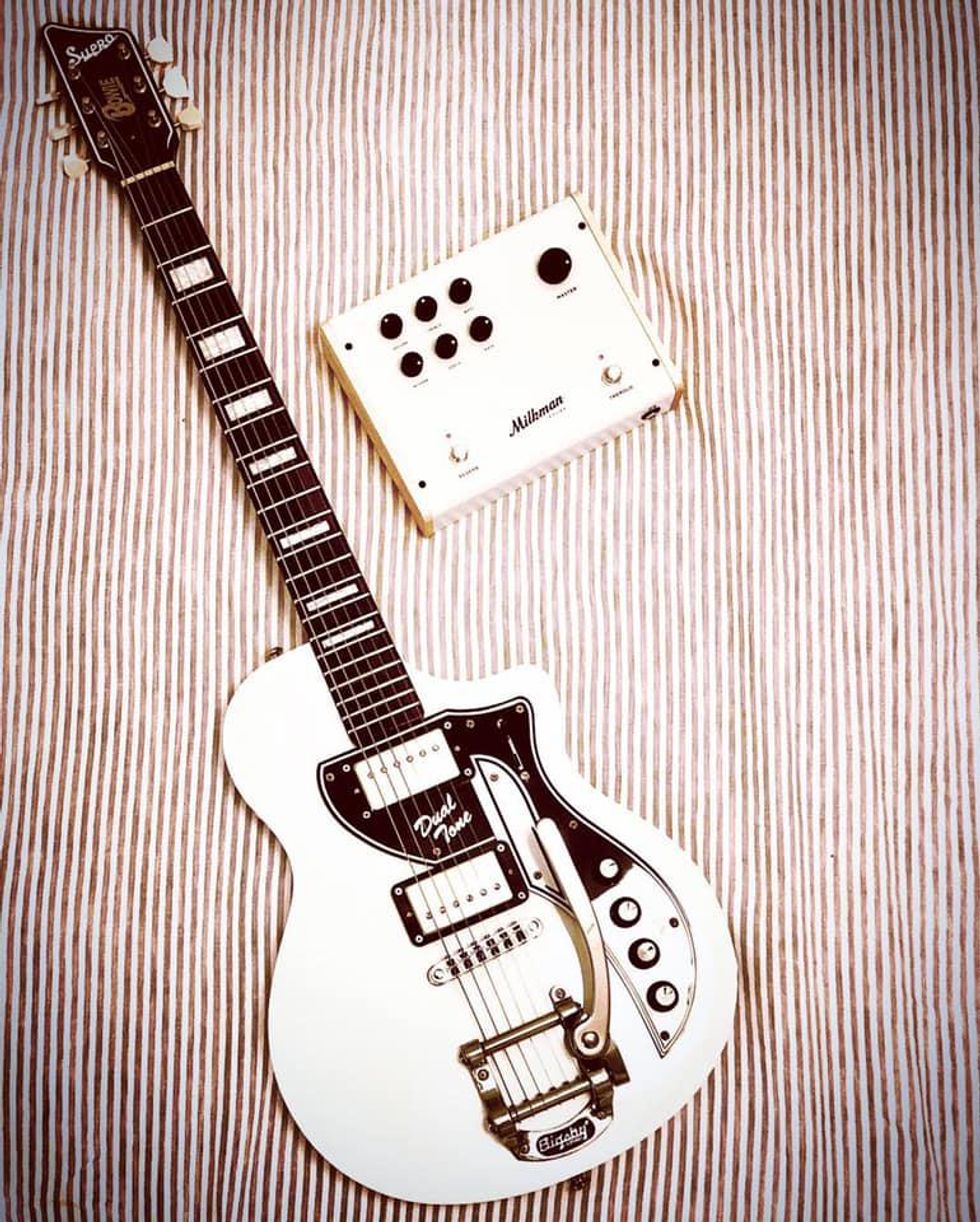 I gotta say it's my Supro Limited Edition David Bowie Dual Tone with Bigsby (seen alongside the Milkman Sound The Amp). Some might say this is a shameless cash-in on Bowie's legacy, but to be honest, I had always wanted this model because I'm a Link Wray fan foremost. Plus, I liked the idea of having a Bigsby without the compatibility issues of the original. It took over a year to receive my order, but it was perfectly constructed and set up. This is #115 of 432 made.
JB Gimena
My 2012 Fender American Vintage '52 Telecaster is my number one guitar. It's most precious to me because it was a gift from my wife for our wedding.
Ryan Coy
I'm a big David Gilmour fan, so it has to be my Black-Strat-esque Stratocaster that I pieced together. It features the same pickups as his signature Custom Shop model—Seymour Duncan SSL-5 Single-Coil Strat (bridge), Custom-wound Single-Coil Strat (middle), and Custom Shop Fat '50s Single-Coil Strat (neck)—and an American Vintage synchronized tremolo with a shortened trem bar.
Phillip Eakens
Can't make a decision so I'll say my 2001 Gibson Les Paul Standard—arguably the world's most perfect guitar—and my 1959 Harmony Stratotone. (It was the first guitar I ever played.) Can you hear that? The sustain … well you would if you were playing it!
Jesse Shafer
My prized possession is the guitar I built during the summer after I graduated high school. It has a mahogany neck and body, a maple top, and a rosewood fretboard. It has a Gibson scale length, and its neck is modeled after my other Les Paul, but it thins out towards the body and has a volute. Hardware includes Grover tuners and a Gotoh bridge. I disconnected the bridge pickup, and the neck pickup is a Seymour Duncan JB with 500k volume and tone pots. The side dots were made with red and blue crushed-up colored pencils. I spent about 10 hours making the truss rod cover by plying all kinds of wood-scraps together. I finished it with polyurethane. While I was buffing the body, I accidentally dropped the guitar and the body cracked in half. At one time, the entire back of it was covered in red paint. In a panic to get the paint off, I ended up touching the front of it and now there are red fingerprints on the front within the finish. The bolt-on neck joint is super crude. I made a little wooden badge inside the "f" hole.
It's very rough around the edges—I was 18 and idiotic when I built it. That said, it plays and sounds like a dream. One of the most resonant guitars I've played and certainly the most resonant that I own. Intonation is astoundingly spot on. I have played many gigs with this guitar and have logged a couple thousand practice hours on it. I wouldn't trade it or the stories I have with it for the world!
Ben Robertaccio
This 2000s Gibson Vegas Standard and my all-rosewood Tele work in almost every recording situation.
Rambo Brown
This EVH 5150III head has something special in it! I've tried to replace it with other EVH options (100W, EL34, 50W Stealth), but nothing ever works like it does. It pisses me off and haunts me in my sleep. I always come back to this MF-er!
Reza Moosavi
I've been lucky enough to acquire a few Kenneth Lawrence instruments. The first (and my favorite) is this Custom Explorer, aka "The White Walker." This is ultimately the best guitar I've ever played for a multiplicity of reasons: Its level of clarity, punch, and sustain. The craftsmanship is breathtakingly exact, and it feels absolutely smooth due to the hand-rubbed oil finish.
Danny Medrano
I own my dream guitar! It's a Gibson RD with Fishman Fluence Modern humbuckers. It's so well balanced, the action is perfect, and its intonation is perfect. It handles every type of tone or style you can throw at it. Plus, it's just a sexy hunk of mahogany. (These Dr. Z cabs are a close second.)
Reinaldo Andrade
My mid-'90s Yamaha Pacifica 912J. When I first saw the photo of Michael Lee Firkins with a Pacifica in Yamaha ads in guitar magazines, I knew that one day I would have my own. It was love at first sight.
Back to my 912J—it's an incredible guitar. You can play all styles of music with ease, and it has beautiful tones. Inside detail: it came from the factory with DiMarzio pickups (a custom humbucker in the bridge and a pair of HS-2 single-coils in the middle and neck positions). If I had to stay with just one guitar, it would be this one.
Matt Deeley
This 2003 Gibson Les Paul Standard. And for me, the Les Paul's from this era were superb. I've owned many guitars over the years, but this is the only one that's stayed the course. It's been played to death.
Joseph Torres
This is my PRS SE Mark Tremonti. (I believe it's from 2012 judging by the serial number.) I've had this guitar for five years now and it's become my ace. I love it because of its versatility and how comfortable it fits in my hands. Every time I pick it up, I remember why I wanted it in the first place. Oh yeah, I got tacky and put an Apple sticker on it. Anyway, it's a great guitar and I can't recommend PRS enough.
Richard Leo
I can't afford a Gibson, but I didn't need to with this one. The mid-'90s, Asian-made Vesta copy has the weight, tone, and feel of a Gibson 10 times its price. Plugged into my Laney VC30-212 and with clever manipulation of the tone and volume dials, I almost never need pedals. It was stolen a couple of years ago in a home robbery and still hasn't resurfaced in the second-hand market. I haven't found anything quite like it since.
Ryan Embree
My PRS Torero. I got it modded the way I want it with all kinds of FU-Tone goodies. This thing screams and is my main for a reason. I found it while used-guitar hunting and fought with the seller super hard to even get my hands on it.
Jeremy Santos
My 1980 Guild D-25 (made in Westerly, Rhode Island). I'm only the third owner of this absolute workhorse guitar. In fact, the guy I bought it from had a Fishman Matrix system put into it at a store in Westerly by a former Guild employee! As a founding member of a local Rhode Island acoustic duo, having a well-built, amazing-sounding acoustic is a top priority. I've used many different guitars over the years, but none compared to the sound and feel of this Guild! This will always be my number one. And being a Rhode Islander myself, having a guitar that was built here is pretty cool!
Rod Nesser
My 2012 Fender Cabronita FSR (MIM) that's been retro-fitted with Fender locking tuners, a Rutters La Burrito bridge, a Les Paul-type, square-brass jack plate, and a Warmoth .09 black pickguard. I purchased this guitar in 2012 and it's been my number one instrument since. In fact, I seldom play any of my other guitars. Together with my Vox AC30C2, Boss FRV-1 Reverb, and Selah Effects Feather Drive, this guitar has been my tone for the last eight years (and I don't intend to change anything anytime soon). Initially, I did contemplate replacing the Fideli'Tron humbuckers for actual TV Jones Filter'Trons, but I actually like how the original Fideli'Trons sound through my amp against the bass player and loud drummer—they really cut through live! Needless to say, this axe is a keeper!
Design, build, and playability all combine in Yamaha's over-engineered-but-way-hip SG-3 guitars from the 1960s.
For better or worse, I have my email out there in the ether for anyone to ask me questions about old guitars. Sometimes I can genuinely help folks, and other times people just want to chat and share stories. The most common question I get is, "What is your favorite old Japanese guitar?"
That's tough for me to answer. I'm often in awe of a design. Other times, I admire a guitar's build and playability. Then, of course, I dig the tones of certain guitars. But when I bring it all together and combine all the factors, the answer can be pared down to the late–1960s Yamaha SG-3 guitars.
The SG-3 (and the two pickup SG-2) was really Yamaha's first foray into electric guitar building on a large scale. Located in Hamamatsu, Japan, Yamaha was—and still is—quite the prolific company. Back in the '60s, they had a rather large musical instrument department that made just about everything, from pianos and drums to amplifiers and stereo equipment. When the company started making electric guitars, everything was designed and produced in-house. And boy, did they ever succeed.
See, the SG-3 was designed in part with some help from musicians, electricians, and machinists who all came together in that admirable Japanese fashion where the finished product is a reflection of the best collective efforts put into it. These guitars were substantial and probably over-engineered, in a sense. These weren't the guitars we'd find at the local department store, and the SG-3 had a rather regal price tag of $249.50, which was a lot of bread!
The foundation of the SG-3 was certainly influenced by Mosrites and Fender's Jazzmasters and Jaguars, with an offset body, metal nut, slim neck, 25½" scale, and a powerful sound. The pickups are rather aggressive for the times, and that chunkier bridge unit is really where the magic lies. Those are actually two single-coils in that humbucker-looking housing, but they are differently designed. The one closest to the bridge has an extra magnet under the coils and then a metal bridge plate under that. That means the first bridge pickup is just meaner and more aggressive than the other ones. It's a cool idea when paired with the roller control on the upper bout.
The SG-3 (and the two pickup SG-2) was really Yamaha's first foray into electric guitar building on a large scale.
While the lower bout has a simple 3-way switch for all the pickups, the upper has a switch to engage the blender feature. This allows you to use that last roller to blend in that first pickup, combine it with the middle pickup, or turn it completely off. Yes, it's overly complicated but, once you find a sweet spot, good grief! The other rollers and knobs are simply volume and tone controls.
Aside from the electronics, you have to really appreciate the masterful roller-bridge and tremolo, which actually work very well. Heck, even the truss rod is "hidden" under a pseudo neck plate that allows for easy adjustment. The earliest versions of the SG-3 had an ultra-cool script motorcycle logo. Color choices were limited to sunburst, red and white, and all the guitars featured a poly finish.
As far as feel goes, the necks on these models are a little on the thinner side and the bodies are a little thicker, which to me feels like it's a mix of a Jazzmaster and a Mosrite. The offset body feels like a combination of both guitars and is well-balanced when strapped on. Link Wray famously used a red SG-2 for many years, and that's probably where I first saw one of these in action.
This model had a relatively short run, with production starting in mid-1966 and ending by the late 1960s. These Yamaha SG guitars didn't seem to sell very well here in the U.S. Most examples were brought back by servicemen stationed overseas, but you can find SG-3 guitars all over Japan, and it's a super special treat to discover the original cases, which often include a cute little vinyl bag of accessories.
So, now that you know my all-time favorite Japanese guitar, please don't go out there and start driving up the prices!
1969 Yamaha SG2 Guitar Demo