Photo by Scott Friedlander
The profoundly prolific guitarist leads his band of tricksters through a surrealist sonic exploration of deep, esoteric rhythms and intricate interplay on Thisness.
On his new album Thisness, Miles Okazaki is credited as playing guitar, voice, and robots. If you imagine that the reference to robots is some sort of artsy kitsch—like trapping a Roomba Robot Vacuum into a tight space to sample its struggles as it percussively barrels into the four walls—you're very far off the mark. Okazaki—who has an elite academic pedigree with degrees from Harvard, Manhattan School of Music, and Julliard, and currently holds a faculty position at Princeton University (after leaving a post at the University of Michigan, to which he commuted weekly from his home in Brooklyn for eight years)—wasn't kidding.
"The robots are machines that I made in Max/MSP," clarifies Okazaki. (Max/MSP is visual programming language for music and multimedia.) "It's kind of a long story, but I've been doing this stuff on the side for 20 years or so. Some of the music theory, some of the conceptual stuff involved in the album, I programmed into these things that I built. These improvising machines can do things that humans can't do. They'll play faster than humans, but they'll fit in because they're playing the same type of material."
I'll Build a World, by Miles Okazaki
Okazaki explains that he creates parameters for the robots to improvise within: "I'm just telling this robot, 'Play at this tempo and play this many subdivisions per beat—eight subdivisions or something like that—so that it's linked up with the drums." For pitches, he assigns a scale and can control the phrasing. "I'm saying for the pitch choices, 'You're going to use a chromatic scale and you're going to play each note of that scale until you exhaust the scale without repeating a note,' which makes a 12-tone row. It could be any scale, but that's one of the settings that I have made in there. [After each 12-tone row is done] I tell it, 'You're going to take a little break, but I don't want it to be the same break every time,' so that it's a phrase."
To get a sound that convincingly blended in with the rest of the tracks, Okazaki had keyboardist Matt Mitchell run the robots through his Prophet Six analog synth. "I wrote a file of them improvising and ran that file through the synth," explains Okazaki. "Matt would do the sounds for it," so both the robots and Mitchell used the same Prophet Six in their own way.
"I've never been that interested in imitating anybody's style."
Okazaki, a family man with three children, seems busy in all parts of his life, but he must have learned to maximize his time because he's incredibly productive. In 2018, he recorded his magnum opus, the critically acclaimed Work—a five-hour, 70-song marathon of the complete works of Thelonious Monk, all performed on solo guitar. It's a project he's wanted to do since his teen years. But in the process, he labored so relentlessly that he ignored his body's warning signs and suffered a repetitive stress injury. That didn't stop him from intensely preparing for and entering the New York City Marathon just a few months later. When that chapter was over, Okazaki again focused on his musical pursuits and proceeded to record several more albums, both as a leader and side musician.
Thisness is Okazaki's fifth album in a three-year period and reflects his collaborative approach. It features his Trickster band, which includes Mitchell on keyboards, Anthony Tidd on electric bass, and Sean Rickman on drums. Okazaki has worked with each of these musicians for years, both in his own group and in saxophonist Steve Coleman's, and they've developed a creative relationship that made it possible to record complex music quickly. The entire album was recorded over a two-day span with the quartet recording live on day one and overdubs the following day.
The Trickster band (left to right): bassist Anthony Tidd, keyboardist Matt Mitchell, drummer Sean Rickman, and Miles Okazaki.
And the music on Thisness is incredibly complex. Though Okazaki has studied Indian music seriously, his compositions are also somewhat reminiscent of contemporary Western classical music. You'll see no shortage of odd note groupings, polyrhythms, and mixed meters carving out space for intricate atonal melodies throughout. Plenty of advanced jazz musicians that proudly boast about their ability to play John Coltrane's "Countdown" in all 12 keys would cower in fear if they were asked to perform some of Okazaki's works.
Despite the puzzling, esoteric nature of his compositions, Okazaki's roots draw from the jazz tradition. After initially starting on classical guitar at age 6, he developed an interest in jazz at 12 and was doing solo guitar gigs at a local Italian restaurant by age 13. His first guitar teachers were Michael Townsend and Chuck Easton (a bebop-influenced Berklee grad), and he took music theory group classes in a cabin in the woods with a teacher named Alex Fowler.
Miles Okazaki's Gear
Miles Okazaki can be seen with a host of instruments, but his 1978 Gibson ES-175, which has a Charlie Christian pickup, is his most common 6-string companion.
Photo by John Rogers
Guitars
• 1937 Gibson L-50
• 1940 Gibson ES-150 Charlie Christian (bought with matching EH-150 amp)
• 1963 Gibson C-O Classical
• 1978 Gibson ES-175 with Charlie Christian pickup
• 2018 Slaman "Pauletta" with Charlie Christian pickup modified with adjustable pole pieces drilled into the blade. A hum-canceling coil was recently added by Ilitch Electronics.
• 2002 Yamaha SA2200
• 2016 Kiesel HH2
• 2008 Caius quarter-tone guitar
Amps
• Quilter Aviator Cub
• Quilter Tone Block 200
• Raezer's Edge Twin 8 cabinet
Effects
• Boss OC-2 Octave
• Boomerang III Phrase Sampler with Side Car controller
• One Control Mosquito Blender Expressio
• Gamechanger Audio Plus Pedal
• Dunlop CBM95 Cry Baby Mini Wah
• Boss RV-5 Digital Reverb
• Analog Man Peppermint Fuzz
• MXR GT-OD
• Electro-Harmonix Micro POG
• Dunlop DVP4 Volume
• Sonic Research ST-300 tuner
Strings and Picks
• Thomastik-Infeld Flatwound .013s (Gibson ES-150 Charlie Christian and Slaman "Pauletta")
• Thomastik-Infeld Flatwound .014s (Gibson ES-175 with Charlie Christian pickup and Caius)
• Thomastik-Infeld Flatwound .012s (Yamaha SA2200)
• Thomastik-Infeld Flatwound .011s (Kiesel HH2)
• D'Addario Roundwound .014s (Gibson L-50)
• D'Addario Pro-Arte high tension nylon (Gibson C-O)
• Fender .88 mm for .012 strings, 1.0 mm for .014 strings
• Homemade picks using Pick Punch (Preferred material is American Express Delta Sky Miles Credit Card)
• Ilitch Electronics Driftwood pick
• Knobby picks bought from an Instagram metal shredder
During his teens, Okazaki went through a jazz-snob phase, and although he hails from Port Townsend, Washington, he never got into the nearby Seattle scene. "The '90s, Nirvana and Soundgarden.… No, I kind of missed all that," he admits. "I was there, but I was into Wes Montgomery and Thelonious Monk. I was stuck in the '60s and '50s at that point." He still cites those musicians, in addition to Grant Green, George Benson, and Charlie Christian (whom he hailed as "the greatest guitarist that ever lived" in a blog post) as influences.
After attending Harvard University, where he earned a bachelor's degree in English Literature, Okazaki came to New York to pursue his master's degree in guitar at Manhattan School of Music. There, he found a mentor in Rodney Jones, a jazz/R&B player with tremendous chops. "I studied with, and continue to study with, Rodney," explains Okazaki. "He was my teacher from 1997. I worked pretty closely with him for about 10 years, rebuilding my technique. My technique wasn't good. You know I didn't really have a teacher before him that really talked about guitar so much. I had teachers, but it was more just sort of like other people from other instruments. His technique is based on a hybrid George Benson type of deal. It has to do with the picking, but also there are many, many things that have to do with micro movements of the right hand. So, I spent a long time studying that. I still don't really play like that, but I play kind of like a hybrid version of his hybrid version. Now mine is mixed with some other stuff."
TIDBIT: On his new album, Okazaki creatively repurposed an influence in his approach to "And Wait for You": "I played a piece of a Charlie Christian solo that I'm kind of riffing on. That's a phrase from 'Stompin' at the Savoy' but obviously the context here is a little different."
Jones referred Okazaki to legendary saxophonist Stanley Turrentine, and Okazaki did a few gigs with the soul-jazz master shortly before his passing in 2000. It was around this period that Okazaki made his mark on the NYC jazz scene. He worked with vocalist Jane Monheit and was initially cast as a straight-ahead guitarist. "For a long time, I was just a standards player. I was pigeonholed in that area," he recalls. "I did this weird stuff on the side—well, I didn't consider it to be weird—but it was hard for people in their mind to imagine that you do different things."
The guitarist found he was able to fully explore other sides of his playing when he landed a gig with Steve Coleman, whose M-Base Collective created a new language of incredibly challenging, forward-thinking music. From 2008 until 2017, Okazaki's artistry thrived as he played alongside Coleman.
"I don't know how many people you know that can play in James Brown's band. It's harder than playing in my band, that's for sure."
Very few players can comfortably hang with both the down-to-earth, bluesy jazz sounds of George Benson and the futuristic, ultra-heady maze of Coleman's music like Okazaki can. The guitarist sees the two approaches as sharing common heritage. "Benson's language is blues and R&B, and Steve Coleman's is, too. There's different theories and stuff behind it, but it's not technically different to me," he explains.
"If it was language, I'm interested in the grammar, not so much what language I'm speaking about," he explains. "Or if it was cooking, I might be interested in the principles of 'how do you cook a piece of meat,' as opposed to, 'I'm doing French cooking.' George Benson has a style for sure, and a lot of people, when they learn about George Benson, will also sort of imitate his style. I've never been that interested in imitating anybody's style. I kind of want to have my own style."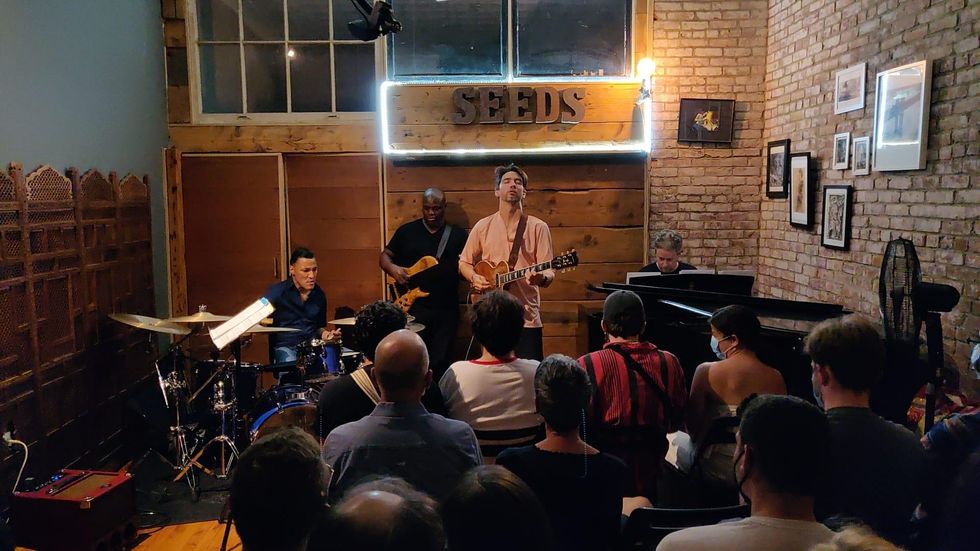 Trickster performs during their recent residency at SEEDS:: Brooklyn.
Photo by Alain Metrailler
Okazaki's style is radically different from both the sounds of his main guitar influences and other offerings in today's jazz landscape. His abstruse music has been called academic, but that's a label the guitarist isn't particularly fond of. "I would push back a little on 'academic' because, first of all, I don't like academic music," he says. "I don't like any type of art that has to be explained. When I go to an art museum, I don't want to have to read the little blurb. I don't want anybody to have to know anything about music to appreciate it. There are things involved in how it's made that are interesting to me, but I don't care if they're interesting to anybody else, or I don't want that to be a feature of it that's really that important, unless people want to look for that."
For Okazaki, his music might be also called academic, or complex, or cerebral, but that doesn't explain his purpose, or set him apart. "James Brown is complex, or Robert Johnson is complex," he says. "All these things are complex, meaning that they're not easily explained. I don't know how many people you know that can play in James Brown's band. It's harder than playing in my band, that's for sure."

"The test is: Does it sound good, or does it not sound good? That's the only question for me."
Complexity comes in many forms. Just because a piece of music happens to be based on one chord "that doesn't mean that it's simple," Okazaki observes. He believes the opposite is true as well. "There are things that take a lot of work, and there's a lot of machinations involved, and a lot of manipulation of materials and thought, and construction, and it still sounds like shit," he laughs. "And there are things that are just one chord and amazing."
As much as Okazaki is known as a musical thinker who can throw down some heavy information in his compositions and playing, what matters most is how it sounds. "It might look good on paper, but if it doesn't sound like anything, then it's not good," he says. "The test is: Does it sound good, or does it not sound good? That's the only question for me."
Trickster's Dream - "The Lighthouse"
On Come Morning, the Canadian duo wrestled with a gut-wrenching session gone wrong, dealt with new inspirations, and finally learned to let go.
One of the core ingredients that is essential to any Bros. Landreth album is also the most dreaded: abject fear and panic. It doesn't sprout up from any particular insecurity about the end result, but rather where to start. "We always say we're going to write 30 tunes and pick our 10 favorites," says Joey Landreth. "But we usually write 12 and pick 11." At first, the fear was unsettling, but Joey and his bassist brother, David, have not only thrived under the self-imposed pressure but relished it. Factor in a world-changing pandemic, the experience of being new dads, and a soul-crushing session gone wrong, it's amazing that Come Morning even saw the light of day.
Back in March of 2020 the band had finished two legs of touring behind '87, their tuneful return to form after a pair of solo albums from Joey and some time away from the band for David, who had just become a father for the first time. Joey had plans to tour behind his Lowell George tribute album. Naturally, all that went away. Tour dates were canceled, and bins of merch collected dust on the shelf. Once the duo came to terms with the uncertainty of their touring future, they immediately went to work on writing new tunes. But would it be for a solo record or another Bros. album?
The Bros. Landreth • Come Morning (Visualizer)
"I had this idea of making a solo record in my apartment," remembers Joey. He lived in a 100-year-old building in Winnipeg where he converted the dining room into a home studio. After starting that project, mostly in isolation, with programmed drums, he played the songs for David and thought the material might better be suited from a Bros. album. "We asked ourselves what it would sound like if we merged my solo stuff with the Bros," says Joey. "There weren't any timelines, we weren't career planning or writing with intent," mentions David. "We were just making things because there was nothing else to do."
The first two demos that they tracked were "Drive All Night" and "Corduroy." On Come Morning, both songs feature sparse arrangements and touches of R&B influences, all mixed in with swirling sonics. "The demo for 'Drive All Night' was basically fully formed with programmed drums and weird stuff," says Joey. "It was quite a departure for us." Naturally, the next step was to start recording drums. The band found a window where travel was permitted and flew in a drummer from Edmonton to begin tracking the first half of the album. It soon became apparent that the result of the session wasn't matching the Landreths' vision. "When we didn't get there, we were fucking gutted," says David. "It was devastating. It almost killed us." A few of the tunes were recorded at the wrong tempo, the bass lines didn't sound like David, and it was the first Bros. album without drummer Ryan Voth. "You write these songs, you make a plan to record the best album you've ever made, you get through seven tracks, and you didn't get it." Heavy vibes.
"We're always trying to put mics in stupid places." — Joey Landreth
After making the tough decision to scrap the sessions, Joey and David sat down and made a dream list of drummers they would want on the record. The two names at the top of the list were Aaron Sterling and Matt Chamberlain, two studio veterans whose combined credits include David Bowie, John Mayer, Bruce Springsteen, Taylor Swift, and countless others. "We sent an email to both of them, and they both said yes," says Joey. "Fuck, how do we choose between them?" According to the brothers, it simply came down to Aaron's enthusiastic response. Once Sterling was in place, the band sent him a demo for "Stay," a grooving, mid-tempo tune that features some inventive open-tuned rhythm parts. "The demo had programmed drums and we outlined what we wanted him to play," says David. "When we got the tracks back, they were wickedly inspiring and took the song in a completely different direction."
As the long-distance sessions progressed, Sterling meshed well into the creative process and even pushed the limits of what would typically be acceptable on a Bros. Landreth record. "I remember getting the Dropbox folder and seeing the files for bongos and was like, 'Well, that's a hard no on the bongos,'" laughs Joey. "Then I realized the song was nothing without the bongos." The demo for "Drive All Night" was sent off with the idea that they would strip back some of the more modern production elements and replace them with organic instruments. "We learned over the course of this project to send Aaron just the core of the song and then have us play off that, rather than the other way around," says David.
TIDBIT: Recorded over several months in isolation, Come Morning nearly went off the rails after a less-than-successful session. "It gutted us," says David. Once the band brought in drummer Aaron Sterling, the project took shape and pushed the brothers into a new creative space.
One thing that fans of the Bros. might be missing on Come Morning is an abundance of Joey's down-tuned slide riffs. "Guitar playing wasn't really a priority for me on this album," says Joey. There are incredibly melodic moments with big, roomy sounds on Come Morning, but Joey's focus was more on vibe and sound then trying to get his licks in. "I would go for my usual super-fuzzy solo and it just wasn't as inspiring," he remembers. "I found myself wanting different things and needing to change the approach."
On his solo album Hindsight, a majority of the guitar tones were inspired by a very particular room reverb that Joey added pre-delay to in order to create a slapback effect. An early influence on this technique was Jimmie Vaughan's 1998 album, Out There. "Jimmie's tone is incredible, and that sound has an identity that's congruent with the record. I've always tried to emulate that," says Joey. That thirst for experimentation revealed itself when Joey looked to emulate the sound of his recording booth at Sandbox Recording, a studio that serves as the brothers' musical headquarters. Their particular recording booth at the studio sounded so good, they wanted to use it on far more than just guitar and bass tones. "What wound up kind of being more of an identity on the record is that you can hear the booth on more instruments. You can hear it on the B-3, you can hear it on the vocal," says Joey. He points to the acoustic guitar intro on "Back to Thee" as the best example of the sound. "It's kinda like the Jimmie Vaughan thing. It's not super in your face, but it's a big part of the guitar sound," says Joey. For the washed-out baritone guitar on "Corduroy," they placed a mic in the airlock and left the door open just a crack. The resulting tone gave the illusion that it was recorded in a much bigger space. "We're always trying to put mics in stupid places," laughs Joey.
Joey Landreth's Gear
Joey isn't afraid to employ unusual textures with his parts. For example, here he's using a Duesenberg 12-string Double Cat for some ethereal slide parts.
Photo by Mike Highfield
Guitars
Sorokin Gold Top
Josh Williams Mockingbird
Duesenberg D6 Baritone
Suhr Classic S
Mule Resonators Mulecaster
Collings OM1
Waterloo WL-14 X
Yamaha LS16M
Yamaha Revstar
Amps & Cabinets
Two-Rock Bloomfield Drive
Two-Rock Joey Landreth Signature
Greer Mini Chief
1960 Fender Super
1966 Fender Deluxe
Two-Rock 212 Cab
Effects
Benson Studio Tall Bird Spring Reverb
Jackson Audio Golden Boy
Isle of Tone Haze Fuzz '66
DanDrive Secret Weapon
Mythos Pedals Olympus
Ceriatone Centura
Chase Bliss Thermae
Chase Bliss Mood
Chase Bliss CXM 1978
Strings, Picks, Mics & Accessories
Stringjoy Custom Strings
Rock Slide Joey Landreth Signature Slide
The GigRig G3 Switcher and Power Supply•
Moody Leather Straps
Royer R-121
Shure SM57
Stager SR-2N
Warm Audio WA-47
Typically, no matter where the journey takes Joey, he does have a few tried-and-true starting points. Most notably, his Sorokin goldtop and Two-Rock Bloomfield Drive is where he begins. But Joey isn't afraid to swap out a trusted piece of gear if the vibe isn't right. "The Two-Rock is a big sounding amp. If I start to play something and it takes up a ton of space and the part doesn't need that, then I'll start to reach for smaller amps," mentions Joey. Those smaller amps include a Benson Nathan Junior, or a mid-'60s Fender Deluxe, which saw plenty of action on Come Morning. As a foil to the Two-Rock, Joey also employed a brown-panel Fender Super. "It's kind of the opposite of a black-panel circuit. It has a lot more midrange and creamy breakup," describes Joey.
"I would go for my usual super-fuzzy solo, and it just wasn't as inspiring." — Joey Landreth
Joey has also become well-known for his very particular setup on his guitars. He counts Derek Trucks and Sonny Landreth (no relation) as prime influences for moving to an open tuning. Trucks hangs out in open E (E–B–E–G#–B–E), while Sonny plays in several tunings including open A (E–A–C#–A–C#–E). However, it was an incredible Toronto guitarist named "Champagne" James Robertson who inspired Joey to not only eschew standard tuning, but to tune down to C. Robertson had such a unique style that Joey even texted him after a jam session to "get permission" to move to open C (C–G–C–E–G–C) exclusively. "I had a friend call this setup the autoharp of the guitar once," remembers Joey.
David Landreth's Gear
For Come Morning, both Joey and David didn't stray too far away from their main setups. Here you see Joey with his Sorokin goldtop and David with his P-bass-style Moollon.
Photo by Jen Doerksen (BNB Studios)
Basses
Moollon P-bass style
Duesenberg Starplayer
Effects
Strings & Accessories
D'Addario Chrome XLs (.050—.105)
Moody Leather Straps
Setting up a guitar for slide goes far past simply deciding on a tuning—finding the right string gauges is just as important. After moving up to a set of .014s for a while, Joey still felt something just wasn't feeling right. He ended up with a custom set of Stringjoys that clock in at a whopping .019–.068. That sentence alone might make a guitarist's hand quake with fear, but with the tuning's lowered tension, the strings aren't as rigid as you might think. All the guitars on Come Morning were in open C with the exception of a few acoustic parts in open D (D­–A–D–F#–A–D), because Joey felt his Collings OM1 just really loves to live in that tuning. Every now and then when he's working something out, Joey will hear a part that calls for standard-tuned voicings, "Sometimes I just need a few 'cowboy chords,' but then I tune it back to an open chord as soon as possible."
Joey also favored a Josh Williams Mockingbird, which is a handmade 335-style guitar that's loaded with Firebird pickups and is the "antithesis" of the Sorokin. "It has a bit of a mid-scoop, so it tucks in around a lot of the other guitar parts in a really beautiful way," says Joey. "If I want something that's not as mid-forward as the Sorokin and Two-Rock, but I don't want it to be super scoopy, then I go with the Josh Williams into the brown-panel Super."
One of Joey's go-to combos is his P-90-loaded Sorokin with a Two-Rock Bloomfield Drive. "The Sorokin can be really aggressive, and forward, and present, and ... I would use the word triumphant. It's like, 'Here I am,'" says Joey.
Photo by Jen Doerksen (BNB Studios)
As much as Joey micro-manages his guitar tone—he even went so far to subdivide the slide vibrato on his Lowell George tribute record, All That You Dream—he couldn't really do that as much on this project since there were so many collaborators and nearly all the bed tracks were done remotely. "I learned an incredibly valuable lesson on this record," says Joey. "Which is to get the fuck out of the way." The duo brought on Greg Koller to mix the album and he nailed more than half the mixes on the first try. "This album really feels different," says David. "Maybe it's the juxtaposition of the fact we made it in isolation and it being such a communal effort. There's something about that I need to figure out."
"Balance makes this whole thing feel a lot more sustainable and a lot less manic." — David Landreth
So, is it a Bros. Landreth record if there isn't a sense of fear and panic? "I think that's the ultimate question," says Joey. The brothers wear many hats including running their own record label, publishing company, and management company. "That balance makes this whole thing feel a lot more sustainable and a lot less manic," mentions David. "Our creativity has many different outlets, so if I ever find myself with enough time to write more songs than I need, that probably means something bad has happened with the other things we do," laughs Joey.
YouTube It