The father of the Tube Screamer dishes a refined take on the pedal that propelled an overdrive revolution with the Apex 808.
Fender Telecaster > black panel Fender Tremolux > Universal Audio OX with AC30 cabinet simulation > Apple Logic .
Rhythm track is Maxon with drive at 11 o'clock, level at 1 o'clock, and tone at one o'clock.
Lead guitar retains level at one o' clock, but cycles through drive levels at 7 o'clock, noon. 3 o'clock, and maximum gain.
Tone adjustments range from 11 o'clock to maximum.
Ratings

Pros:

Does all the things a great TS does with warmth and detail. Not overly compressed or nasal-sounding. Nice range in controls.

Cons:

Pricey. Still very midrange focused, if that's not your thing.

Street:

$300

Maxon Apex 808 maxonfx.com

Tones: Ease of Use: Build/Design: Value:
It would be silly to call the Tube Screamer underrated. But the ubiquity of TS circuits—and the periodic rise of super-hyped, flavor-of-the-month rivals—sometimes seems to conspire to make this pedal the Honda Accord of overdrives: reliable, readily available, a known quantity that, just perhaps, doesn't get the respect it deserves.
The Maxon Apex 808, however, is a reminder of all that's distinctive—even sorta swaggeringly cool—about the Tube Screamer circuit. It highlights the most famous and useful attributes: strong midrange and that touch of compression that glues everything together. But unlike lesser, inexpensive variations of the TS that can turn that recipe thin and harsh sounding, the Maxon Apex 808 leaves room for notes and chords to breathe, accenting the virtues of its soft, symmetric clipping circuit.
Meet Your Father, Mr. Green
The Apex 808 design was shepherded by Susumu Tamura, the father of the Ibanez TS808. Tamura says that much of the magic in the vintage TS808s he used for reference is attributable to a specific op amp that appeared in the best of those reference pedals. NOS versions of this op amp also drive the Apex 808, though we weren't able to easily remove the back of the pedal to confirm its identity.
It's difficult to say precisely how much effect a specific op amp has on the overall sound of a TS circuit, unless it's a really bad one. And many TS spotters insist that the clipping diodes and the way they are situated in the negative feedback circuit is the more critical part of the TS formula. That said, a pedal's sound is very much the sum of its parts, and you get the distinct sense that Tamura and his team considered every component with care. It feels like a very high-quality pedal, which helps justify the high $300 asking price—not too bad when you consider that good vintage Ibanez TS808s are climbing ever closer to the thousand-dollar mark.
A More Magical Middle
Discerning the qualities that make a good TS pedal can take concentration at times. In certain situations, like playing a simple first-position A chord, for instance, the differences are more apparent. Compared to a 1981 Ibanez TS9—a very similar, but more mid-forward and compressed circuit—the Maxon sounds much more open and less cluttered with fizzy, harsh overtones in the upper-midrange. And while it's still very mid-focused, the Maxon seems to nudge the high-mids less aggressively than the TS9, leaving more room for the very warm and growly low-mid sections of the spectrum to breathe and snarl, and for the top end to sing a bit more distinctly and smoothly.
Rootsier players trying to goose a Fender combo at lower volumes are likely to love the more spacious and airy distortion.
The profile makes chords sound much more like the product of natural amp gain, and give leads a rounder, warmer, less metallic edge. That may make the Apex a little less appealing to some shredders and metal players that use TS pedals to make already-screaming tube amps screamier for leads. But rootsier players trying to goose a Fender combo at lower volumes are likely to love the more spacious and airy distortion. This tone profile also gives you more leeway to shape output with the tone control, which is not only sensitive, but has lots of range and is a lot less sizzly at maxed-out settings than a TS9.
The TS's capabilities as a near-clean boost have been largely overshadowed since the widespread emergence of Klon clones, which excel at that task. But while the Maxon is discernibly more compressed and dirtier than a Klon at the lowest gain settings, the balance of transparency, midrange color, compression, and grit can really thicken up a signal without teetering too completely over into the full-on overdrive zone. The extra midrange and lower midrange body will likely delight players that like more color and tone variation when moving between clean and near-clean tones.
The Maxon's midrange focus—which isn't nearly as intense as the Tube Screamer legend might lead you to expect—obviously makes it better suited for certain amp and speaker types. Mid-scooped, black-panel Fenders tend to love the extra mid energy, of course. Tweed-style circuits, with their bright and compressed qualities, are a less ideal fit, to my ear. But I also found that higher-wattage speakers with a little more headroom, as well as Celestion-type speakers with smooth, detailed top end, flatter the ringing high-mids that the Maxon coaxes from an amp.
The Verdict
The Apex 808 is a first-class TS-style pedal. And depending on what you're looking for, it might be a top-of-the-heap contender. It's still very much a TS, and that midrange focus might not be the right fit for your style. But with its capacity for adding body, energy, and beautiful, purring mid-gain overdrive texture, it's a pedal worth auditioning if you want to see what a good TS can really do. Just don't be surprised if you have a hard time settling for anything less once you've heard it.
It may be the understatement of the century, but this year was weird. Even so, the killer gear kept coming. Here are the goods that stood out as extra-great amongst our annual haul of Premier Guitar reviews.
MXR
Clone Looper

With a two-button system for recording and playback, the Clone Looper simplifies many looping maneuvers by eliminating some double-click and hold sequences. But with awesome and trippy features like adjustable playback speed and reverse playback, you can easily take the Clone Looper's simpler looping processes to particularly psychedelic ends.

$149 street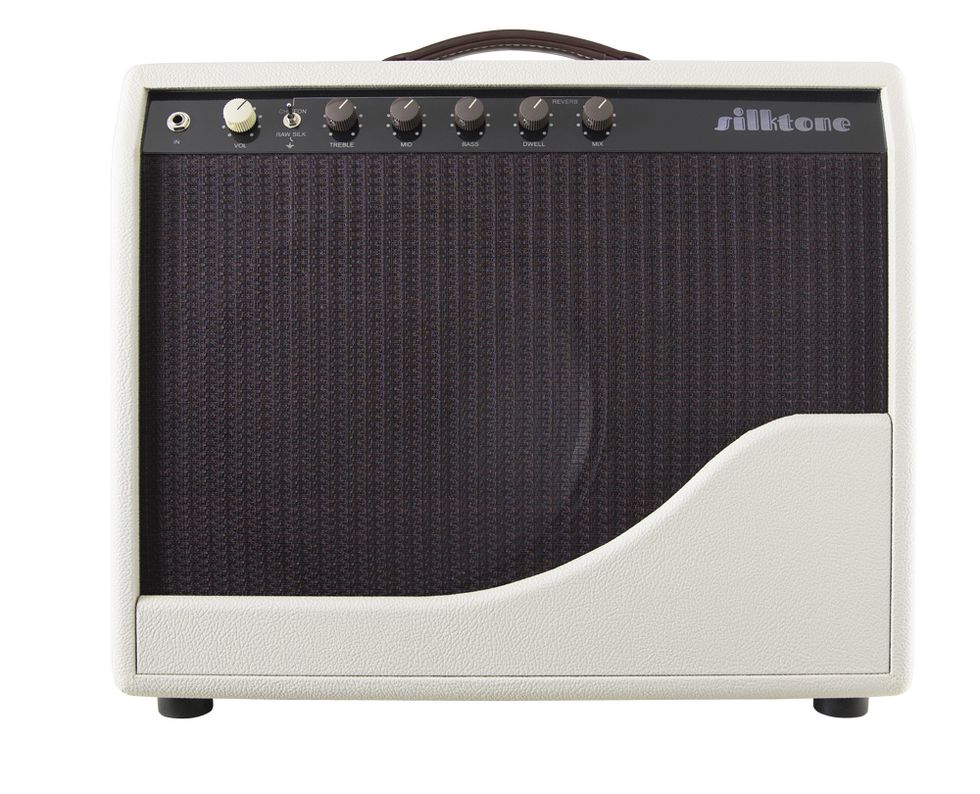 Silktone
Silktone Amp

This handwired 1x12 combo employs a KT66 power tube for its class-A circuitry, resulting in glassy cleans reminiscent of a tweed Champ, and fat and pleasantly compressed high-gain tones without sacrificing shine. Joe Gore was also impressed with its aesthetic and workmanship, as well as Silktone's spring reverb. "It's got the feel of a vintage Fender tank, but with uncommon wetness and depth."

$2,199 street, as reviewed with ceramic speaker (alnico speaker $200 extra)

Fender
Vintera Telecaster '50s

Just about any Telecaster flirts with perfection in form. But Fender did not rest on their laurels in re-interpreting the '50s-styled variation in the new, affordable Vintera series. The neck is lovely, with a hefty deep-U shape, and the alnico 2 bridge pickup delivers the essence of bright, spanky, and rowdy Tele-ness, while maintaining a warm glow around the edges that is a beautiful match for a touch of vintage-style reverb.

$899 street


Fender
Vintera Telecaster '70s

Keith Richards, who could have any freaking Telecaster in the world if he wanted it, has used the Telecaster Custom he bought new in 1975 regularly ever since. When you play the Vintera version, it's easy to understand why. Fender's Tim Shaw worked hard to build a more authentic WideRange humbucker for this instrument, and the work paid off—creating an expansive palette of spanky-to-smoky tones when paired with the alnico 5 bridge single-coil.

$899 street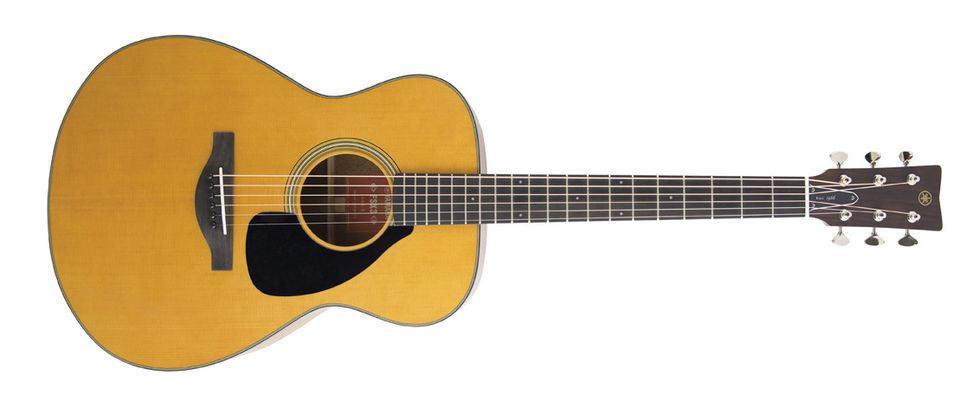 Yamaha
Red Label FSX3

Adam Perlmutter found that the OM-sized FSX3, which honors Yamaha's much-loved red-label guitars of the '70s, feels better-built than the company's original FG guitars, which is no small compliment. Perlmutter shared that the FSX3, boasting all-solid-wood construction, "feels great, exhibits real versatility, and is free of the old-guitar baggage that comes with vintage examples."

$999 street

TC Electronic
Hall of Fame 2x4

A maximalist expansion of TC's popular Hall of Fame 2 pedal, this reverb machine boasts 10 factory settings, six user memory slots, and eight stored patches, accessible via its four hefty footswitches. "Everything about the Hall of Fame 2 x4 Reverb is exceptional," is the word from reviewer Joe Gore, who welcomed its rich and varied reverbs, as well as the pedal's delightfully simple interface.

$299 street

Origin Effects
RevivalDRIVE

Origin's luxurious stomps feel like outboard studio gear from analog audio's golden age. The RevivalDRIVE, however, has so much tone-sculpting power that it actually tends to function and sound like an old recording console module, too. The EQ is powerful, sensitive, and responsive, and the low-end tones are especially delectable. If you need an overdrive that can fill a very specific mix niche, this tool is worth every penny.

$385 street

Jackson Audio
Bloom

This ultra-versatile multi-effects pedal captivated PG with its ability to control, shape, and expand natural playing dynamics through its five different types of compression, a 3-band Baxandall-inspired EQ, and a 20 dB clean boost. Boasting super-sensitive knobs with finely tailored sweeps, the folks at Jackson Audio topped off the Bloom with MIDI control over all parameters via its TRS input.

$329 street

Electro-Harmonix
Ram's Head Big Muff

Given what a vintage Ram's Head Big Muff costs these days, this new version's $99 price tag alone is cause for celebration. But the tab is extra-impressive when you hear how well EHX nailed a vintage Ram's Head's legendary essence. It's growling, bold in the midrange, and stings like a wasp when you run the gain and tone wide open. If you don't have the bucks for a vintage pedal or a high-end Ram's Head clone, this remarkably economical iteration is a must for rounding out your Big Muff collection.

$99 street

Blackstar
Silverline Standard

This 20-watt, 1x10 combo from the folks at Blackstar got high marks for its retro style, user-friendly, ergonomic control panel, and all points in between. Joe Gore was wowed by the Standard's attractive amp and effects emulations—especially given its modest price tag—and shared that Blackstar's compact 30-pound combo would make for a convenient gig companion or great living room amp.

$429 street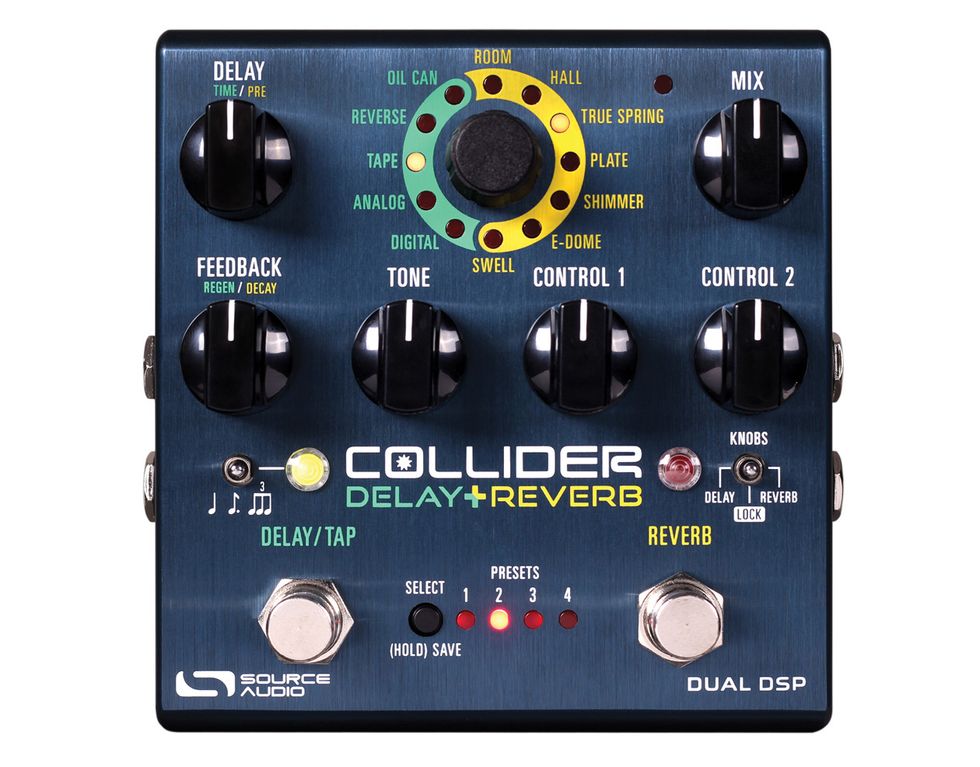 Source Audio
Collider

The Collider, which combines some functionality from the already expansive Ventris reverb and Nemesis delay, seems like it might be a handful to manage. In fact, the Collider's clever integration of its parent effects makes exploring the wide-ranging feature set—which includes new emulations like an excellent Tel-Ray-style oil can delay—an intuitive and fun portal to thousands of huge and rich time-manipulation textures.

$349 street

PRS
SE Hollowbody Standard

The Paul Reed Smith Hollowbody model has become a modern classic since its design was first introduced in 1998. And it's now available (and made much more affordable) as part of the company's made-in-China SE range. But don't let the down-market pricing fool you: Its elegant design, PRS-created hardware and electronics, and excellent playability easily earned the SE Hollowbody Standard a Premier Gear Award.

$999 street

Fender
American Ultra Jazz

As daunting as it is to alter a classic, revered instrument like the J, Fender hit it out of the park with subtle yet significant updates to its look and design. And with passive and active tones at the ready, Victor Brodén lauded the versatility of the Ultra Jazz, which allowed him to effortlessly conjure Marcus Miller-to-Jaco-esque tones.

$1,999 street