A modeling amp in vintage disguise.
Pros: Great balance between digital power and simplicity. Lightweight and super affordable. Nice app for editing.
Cons: Footswitch not included. Some functions are not intuitive and require a look at the manual. No digital readout.
4
4.5
4
5
Line 6's Catalyst series is the latest in a generation of amplifiers bridging the gap between digital modeling's enormous possibilities and many players' desires for old-school simplicity. These amps offer detailed, convincing amp models—but not too many of them—in a compact, vintage-style design that makes avoidance of option fatigue a priority. The very accessible prices also make the series a direct competitor to Boss' ultra-successful Katana amps. The Catalyst is offered in three models: Catalyst 60 and Catalyst 100 (both of which have one 12" speaker), and the Catalyst 200, which has two 12" speakers. For this review I tested the Catalyst 100, which sells for a very modest $399.
Simple Complexity
The Catalyst has plenty of bells and whistles. On the surface, though, it looks a lot like a simple, conventional 2-channel amp. There are knobs for boost, gain, bass, mid, treble, presence, channel volume, effect, reverb, and master volume. There's also a knob that lets you choose from six original amp models: clean, boutique, chime, crunch, dynamic, and hi gain. Mini buttons let you save and choose between two channel presets or engage manual mode, where what you see is what you get. Other mini buttons allow you to engage boost, tap tempo, and select effects and a tuner. On the back panel is an output power knob that lets you choose from mute, ½ watt, 50 watts, and 100 watts. There's also a USB jack, a DI out, and an effects loop.
Six Amps in One
There's not enough space in this review to cover all the amp models in depth. And I suspect that for many players even just a few used through the full range of their clean and dirty variations will be everything they ever need. Still, the Catalyst's abilities and potential—especially relative to its price—will excite any potential user.
I started my own experiments with the boutique voicing at the ½-watt output setting. Predictably, there's not a lot of output in this mode, though it's a lot of fun as a practice amp. At the 50-watt output setting, though, I could hear and feel the amp in a more complete way. There was headroom to spare and it's impressively dynamic and responsive to picking nuance. And it was surprisingly easy to get SRV-style bite out of otherwise clean, blues-tinged phrases—again, very impressive. The useful boost knob lets you dial in extra kick, and, thoughtfully, each amp model has a specifically tailored boost voicing. In boutique mode higher boost settings added a lot more gain to the amp model's cleanish sound, and the saturation sounded and felt organic.
The chime model, loosely inspired by a Vox amp, is warmer and thicker than the boutique model in cleaner settings. But when I engaged the boost (with the knob at noon) and set the gain knob around 11 o'clock, the amp positively screamed—generating an aggressive and at times piercing sound that would reward a player with a commanding approach like Eric Gales or a 1960s-influenced guitarist who loves the potency of single-note lines.
The high-gain model, meanwhile, is a fire-breathing beast. With the gain at 11 o'clock, there is plenty of bottom end, and the sensation of the amp moving air becomes more apparent. Engaging the boost softened the attack slightly, which made soloing more liquid. But there wasn't much of a difference through the range of the boost knob from noon to max. The amp model is pretty saturated to begin with.
There was headroom to spare and it's impressively dynamic and responsive to picking nuances.
No Jumping Through Hoops Running Loops
Using the clean model, I ran my Yamaha UD Stomp delay through the effects loop. The results were dimensional and often sublime. The power-amp-in feature lets you plug in a pedalboard and play it directly into the Catalyst 100's power amp. I used another setup, with a Mesa/Boogie V-Twin preamp pedal, directly through the Catalyst's power amp and it sounded phenomenal. And even though the preamp is bypassed in this mode, the boost function is still active. Set at 10 o'clock, it added a nice final touch to the Mesa/Boogie preamp's clean channel, making it sound discernibly richer. In my humble opinion, just the power amp and speaker cabinet alone are worth the $399 price.
Though Line 6's acclaimed HX technology is embedded in the Catalyst, the company did a good job of keeping options easy to manage and navigate. There isn't an endless buffet of effects, as you might expect. There's a standalone reverb, and apart from that you can only use one additional effect simultaneously, unless you bring your pedalboard to the party.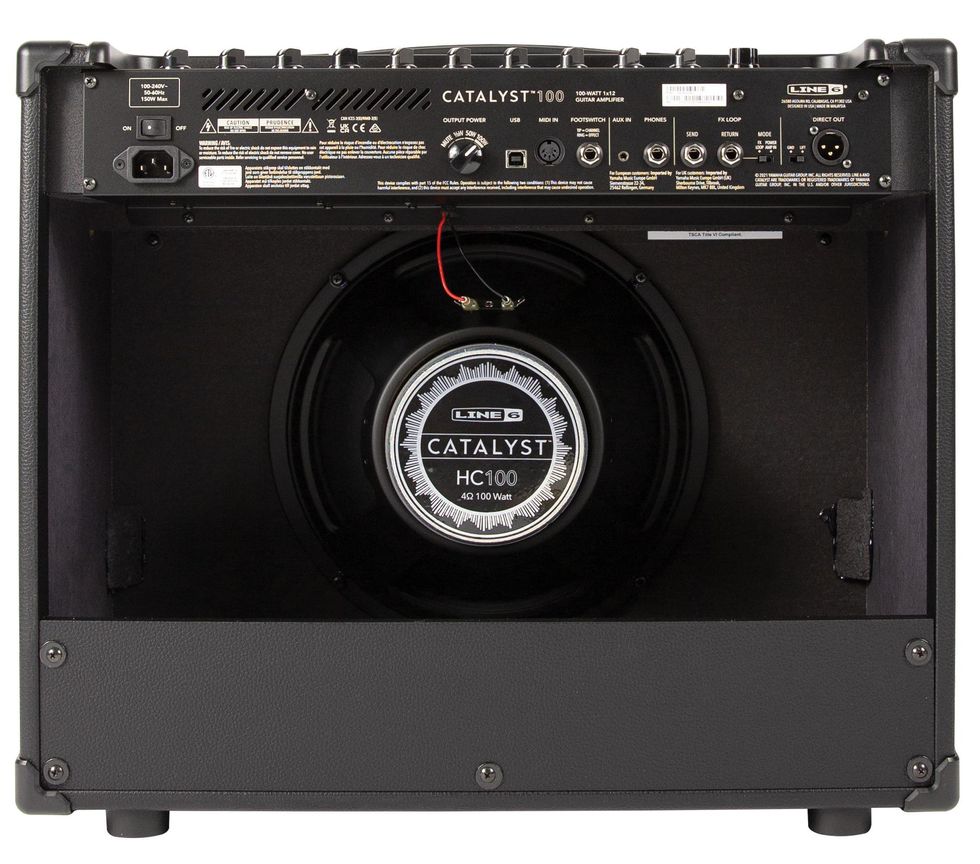 In total there are 18 effects, grouped into three categories: delay, modulation, and pitch/filter—each with a corresponding LED in green, blue, or purple, respectively. If you've used Line 6 products before, many of these excellent effects (and the color coding) will be familiar. There's the fabulous dynamic "ducking" delay, some modulation models based on iconic pedals like the MXR Phase 90 and others, and some classic Line 6 pitch/filter effects like growler synth and synth strings. If you do want to use more effects simultaneously, the effects loop is an excellent way to patch in external effects.
The USB hookup, by the way, enables connection to a computer so you can use Line 6's editing software, which allows you to dive deep into tone editing or just fine tune a few things. I imagine that, in reality, most users will just figure out how to get a couple of core sounds directly from the amp, save them, and just go with that. But it's always great to have options, and if you're someone that actually maximizes the capabilities of modelers and editors, you'll have a field day with the app.
The Verdict
For any guitarist looking for an all-in-one, plug-and-play setup for practice sessions, live shows, and recording (you can record directly using both USB and the built-in DI with cab simulation), the Catalyst, at $399, is pretty tough to beat. It's got more features than many players will need, but what will count for most of the target audience is how much you can accomplish without diving too deep. And though the price might suggest otherwise, Catalyst isn't just for beginners or intermediate players. Any professional guitarist that's tired of dealing with tube related maintenance and expenses will be happy with many of the sounds here.
Scorching distortion meets vintage cleans in a lunchbox that's featured filled, light, and easy on the pocketbook.
Light package, heavy sounds. Interesting variety of brutal to vintage-y clean sounds. Handy features.
Clean-channel volume can't always match dirty channel's. Slight scratchiness in dirty channel gain control.
4
3.5
3.5
5
In approach, if not aesthetic, Steve O'Boyle of Ugly Amps got his start much like the folks at now-defunct Analog Outfitters. Like A.O., Ugly Amps initially used parts salvaged from vintage PA systems—thus the tongue-in-cheek company name. These days, he stocks his small-batch designs with all-new parts. His latest offering, the 5881-powered, 20-watt "Lil" Ugly, puts a high-gain channel alongside a clean channel whose tones are a welcome departure from many amps in this category—all at just 12 pounds.
Home-Brew Vs. Frugal?
Visually, "Lil" Ugly's vibes veer toward spartan, even DIY. But a closer look reveals why: It packs a lot into a compact, remarkably lightweight design. Where many two-channel "lunchbox" designs sacrifice space for a shared EQ, "Lil" boasts independent controls for both. The "ugly" (dirty) side has three bands plusa mid-shift knob and a mid-boost button. The clean side, meanwhile, has bass and treble controls. Each channel has its own master and gain controls (the latter marked "volume" on the clean side). Around back are a global presence control, a series effects loop with send- and return-level knobs, dual speaker outputs (with 3-way impedance selector), a channel-selector button, a loop-engage button, and a jack for the included footswitch that controls the two latter functions.
Construction feels solid, and the transformers are impressively hefty for an amp in this weight class. But the top corners of the folded-steel housing are just sharp enough to draw blood if you're not careful. Inside, the two large PC boards are neatly traced and wired, though the tube sockets and control pots are mounted to them rather than the chassis. Meanwhile, control pots feel well attached and appearto be chassis mounted, a factor that could affect longevity or ease and cost of repair.

Enjoyin' the Ugly
I tested "Lil" with my baritone Eastwood Sidejack with Curtis Novak JM-WR humbuckers, routing the amp through a variety of speaker and cabinet types: a large 1x12 with a 50-watt, ceramic-magnet Weber Gray Wolf, a small 1x12 with a 35-watt alnico Celestion Ruby, and a 2x10 with a 40-watt alnico Celestion G10 Gold and a 75-watt, ceramic Warehouse G10/S. I shouldn't have been surprised at how big a difference each cab and speaker combo made, but part of it goes back to the Ugly's unique clean channel.
O'Boyle has pulled something lovely and interesting here. "Lil" cleans are fat, warm, and cushy, a little reminiscent of a lower-powered vintage Super Reverb (minus the reverb).
On many high-gain heads, especially more affordable ones, the clean channel sounds like a lower-gain version of the lead side, often yielding clinical or brittle cleans. But O'Boyle has pulled off something lovely and interesting here. "Lil" cleans are fat, warm, cushy, and a little reminiscent of a lower-powered vintage Super Reverb (minus the reverb). Because the clean channel has ample bass and leans toward the dark side, I preferred parking bass at 9 o'clock, treble at 2 o'clock, and volume (gain) at 10 o'clock for just a smidge of grit.
Given its 20-watt power rating and the fact that 5881s typically break up sooner than the 6L6s they're interchangeable with, it's no surprise that "Lil" doesn't have a lot of clean headroom. In fact, to compete with my favorite gain-channel settings, I had to push the clean master volume to max. At extreme drive-channel settings, you're unlikely to switch channels without a noticeable decibel drop or not-so-clean cleans.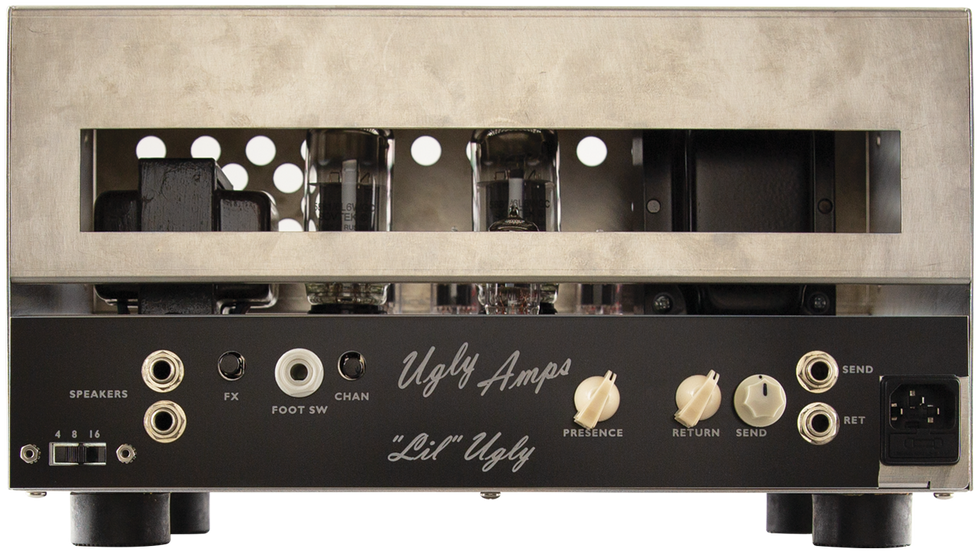 Keeping the ugly channel's gain at almost 3 o'clock and master at about 11 o'clock feels like the magic recipe—availing tones seething enough for extreme metal, while ranging to Fender-y cleans in the other direction. Dirt is classically British—very Marshall-esque, but with more available saturation. Even at ferocious settings, note separation is distinct and articulation crystalline. What's more, the ugly channel responds very dynamically to pick attack, providing wide mellow-to-aggressive response without guitar-volume manipulation. To boot, the ugly channel's EQ range is generous—particularly the vast midrange, which spans honky to thin and nasal, scooped, and razor sharp.
The Verdict
Ugly Amps' "Lil" Ugly has so much going for it that the name risks undercutting its credibility. The execution may not be quite as refined as big brands, and some features might seem superfluous in big pedalboard age (presence and mid boost, for example). And the wide dirty-to-clean range mean taking extra care to find a speaker that lets both sides shine. But for the money I'm not sure there's much out there with a 1-2 punch quite like the "Lil" Ugly. Well done!
Heavy amp hardware in a petite package.
Dirty channel sounds amazing. Portable and light.
Clean channel isn't particularly loud on a 16-ohm cabinet.
4
4.5
4.5
4
Hughes & Kettner are good at anticipating trends. The 1991-introduced Tubeman, a pedal-sized preamp, offered full-spectrum DI sounds years before the modeling craze. Released two years before that, the Red Box was among the first cabinet simulators. Decades later, Hughes & Kettner is still tweaking those formulas to make amps a simpler, more flexible proposition. Their new AmpMan is a Red Box-equipped, all-analog, 2-channel, preamp and class D power amp—all packed into a compact, 2.5 pound, pedal-sized unit. And it's one of the most potent distillations of the H&K amp-slimming formula yet. The AmpMan is offered in two models: Classic and Modern. But for this review we took a turn with the higher-gain Modern version.
Oh Man, AmpMan
Hughes & Kettner packed the AmpMan with useful stuff. There's a noise gate, an effects loop, and smart mode, which lets you save boost and effects loop settings for each channel. (Smart mode is activated by pressing and holding both the solo and channel A/B button for three seconds). For recordists, the AmpMan's Red Box DI offers eight cabinet simulations including a a 2x12 vintage open back, a 4x10 alnico, and four different 4X12 cabs.
Hughes & Kettner AmpMan Modern Review by premierguitar
The AmpMan's control panel features a set of identical but independent knobs for each of the two channels: volume, sagging, presence, resonance, tone, and gain. At the far left corner are two output knobs. The cream-colored knob controls the amp's overall output. The red knob controls how much of the 6 dB of available boost the unit unleashes. In addition to the solo button on the bottom of the control panel, there are three other buttons: FX loop, boost, and channel A/B.
That's the Spirit
The AmpMan's power output differs depending on the ohm rating of the (real) cabinet you drive it with. On a 4-ohm cabinet, the AmpMan delivers 48 watts, on an 8-ohm cabinet it offers 25, and 13 watts with a 16-ohm cabinet. I tested the AmpMan through a Celestion-equipped, Marshall 1x12 cabinet rated at 16 ohms, and used an Ernie Ball/Music Man Axis Sport and a Gibson Les Paul.
Power chords were detailed, punchy, and in-your-face in a big-British-amp sort of way.
With the gain and tone knobs at noon, sagging at 11 o'clock, and presence and resonance at 1 o'clock, the AmpMan's clean channel rings with a sparkly personality. At just 13 watts output and with channel and master volumes maxed, the clean channel wasn't especially loud. And it might be a challenge to use channel A in a fight against an aggressive drummer. Of course, in that case you can just send a signal out via the Red Box DI to the PA system.
The sagging control lets you dial in a touch of compression, which can be nice for leads. High sagging settings will blunt the attack and edge in metal and other rhythm patterns. But I found that settings around 11 o'clock were a nice compromise between rhythm and lead sweet spots. The resonance control is also a powerful tone shaping tool. To my ears, noon marked the sweet spot where the tone was full and still really cut. Past that, the output could get slightly woofy.
Over on channel B—even with the volume at just 9 o'clock—the AmpMan was raging, and much, much louder than the cranked output from channel A. Power chords were detailed, punchy, and in-your-face in a big-British-amp sort of way. This channel could easily hold its own with a live band.
The Verdict
When the Hughes & Kettener AmpMan Modern first arrived at my studio, I remembered a gig I had in Philadelphia. It was after a brutal drive from New York City on a rainy night, and half-way through the set my amp croaked. I borrowed an amp, but just as easily could have been out of luck. An AmpMan would have saved the day.
But the AmpMan Modern is more than an amp of last resort. It could easily work as your main amp, which would mean no more lugging your heavy hardware. The AmpMan sounds great. It's ultra-light. It comes with a built-in Red Box DI (which, separately, costs $129) and it fits on a pedalboard. At $399 it's a nice alternative to more expensive modelers.