Heavy amp hardware in a petite package.
Dirty channel sounds amazing. Portable and light.
Clean channel isn't particularly loud on a 16-ohm cabinet.
4
4.5
4.5
4
Hughes & Kettner are good at anticipating trends. The 1991-introduced Tubeman, a pedal-sized preamp, offered full-spectrum DI sounds years before the modeling craze. Released two years before that, the Red Box was among the first cabinet simulators. Decades later, Hughes & Kettner is still tweaking those formulas to make amps a simpler, more flexible proposition. Their new AmpMan is a Red Box-equipped, all-analog, 2-channel, preamp and class D power amp—all packed into a compact, 2.5 pound, pedal-sized unit. And it's one of the most potent distillations of the H&K amp-slimming formula yet. The AmpMan is offered in two models: Classic and Modern. But for this review we took a turn with the higher-gain Modern version.
---
Oh Man, AmpMan
Hughes & Kettner packed the AmpMan with useful stuff. There's a noise gate, an effects loop, and smart mode, which lets you save boost and effects loop settings for each channel. (Smart mode is activated by pressing and holding both the solo and channel A/B button for three seconds). For recordists, the AmpMan's Red Box DI offers eight cabinet simulations including a a 2x12 vintage open back, a 4x10 alnico, and four different 4X12 cabs.
Hughes & Kettner AmpMan Modern Review by premierguitar
The AmpMan's control panel features a set of identical but independent knobs for each of the two channels: volume, sagging, presence, resonance, tone, and gain. At the far left corner are two output knobs. The cream-colored knob controls the amp's overall output. The red knob controls how much of the 6 dB of available boost the unit unleashes. In addition to the solo button on the bottom of the control panel, there are three other buttons: FX loop, boost, and channel A/B.
That's the Spirit
The AmpMan's power output differs depending on the ohm rating of the (real) cabinet you drive it with. On a 4-ohm cabinet, the AmpMan delivers 48 watts, on an 8-ohm cabinet it offers 25, and 13 watts with a 16-ohm cabinet. I tested the AmpMan through a Celestion-equipped, Marshall 1x12 cabinet rated at 16 ohms, and used an Ernie Ball/Music Man Axis Sport and a Gibson Les Paul.
Power chords were detailed, punchy, and in-your-face in a big-British-amp sort of way.
With the gain and tone knobs at noon, sagging at 11 o'clock, and presence and resonance at 1 o'clock, the AmpMan's clean channel rings with a sparkly personality. At just 13 watts output and with channel and master volumes maxed, the clean channel wasn't especially loud. And it might be a challenge to use channel A in a fight against an aggressive drummer. Of course, in that case you can just send a signal out via the Red Box DI to the PA system.
The sagging control lets you dial in a touch of compression, which can be nice for leads. High sagging settings will blunt the attack and edge in metal and other rhythm patterns. But I found that settings around 11 o'clock were a nice compromise between rhythm and lead sweet spots. The resonance control is also a powerful tone shaping tool. To my ears, noon marked the sweet spot where the tone was full and still really cut. Past that, the output could get slightly woofy.
Over on channel B—even with the volume at just 9 o'clock—the AmpMan was raging, and much, much louder than the cranked output from channel A. Power chords were detailed, punchy, and in-your-face in a big-British-amp sort of way. This channel could easily hold its own with a live band.
The Verdict
When the Hughes & Kettener AmpMan Modern first arrived at my studio, I remembered a gig I had in Philadelphia. It was after a brutal drive from New York City on a rainy night, and half-way through the set my amp croaked. I borrowed an amp, but just as easily could have been out of luck. An AmpMan would have saved the day.
But the AmpMan Modern is more than an amp of last resort. It could easily work as your main amp, which would mean no more lugging your heavy hardware. The AmpMan sounds great. It's ultra-light. It comes with a built-in Red Box DI (which, separately, costs $129) and it fits on a pedalboard. At $399 it's a nice alternative to more expensive modelers.
Looking for more great gear for the guitar player in your life (yourself included!)? Check out this year's Holiday Gear Finds!
This full-amp-stack-in-a-box pedal brings a new flavor to the Guitar Legend Tone Series of pedals, Missing Link Audio's flagship product line.
Adding to the company's line of premium-quality effects pedals, Missing Link Audio has unleashed the new AC/Overdrive pedal. This full-amp-stack-in-a-box pedal – the only Angus & Malcom all-in-one stompbox on the market – brings a new flavor to the Guitar Legend Tone Series of pedals, Missing Link Audio's flagship product line.
The AC/OD layout has three knobs to control Volume, Gain and Tone. That user-friendly format is perfect for quickly getting your ideal tone, and it also offers a ton of versatility. MLA's new AC/OD absolutely nails the Angus tone from the days of "High Voltage" to "Back in Black". You can also easily dial inMalcom with the turn of a knob. The pedal covers a broad range of sonic terrain, from boost to hot overdrive to complete tube-like saturation. The pedal is designed to leave on all the time and is very touch responsive. You can get everything from fat rhythm tones to a perfect lead tone just by using your guitar's volume knob and your right-hand attack.
Features 
Three knobs to control Volume, Gain and Tone
Die-cast aluminum cases for gig-worthy durability
Limited lifetime warranty
True bypass on/off switch
9-volt DC input
Made in the USA
MLA Pedals AC/OD - Music & Demo by A. Barrero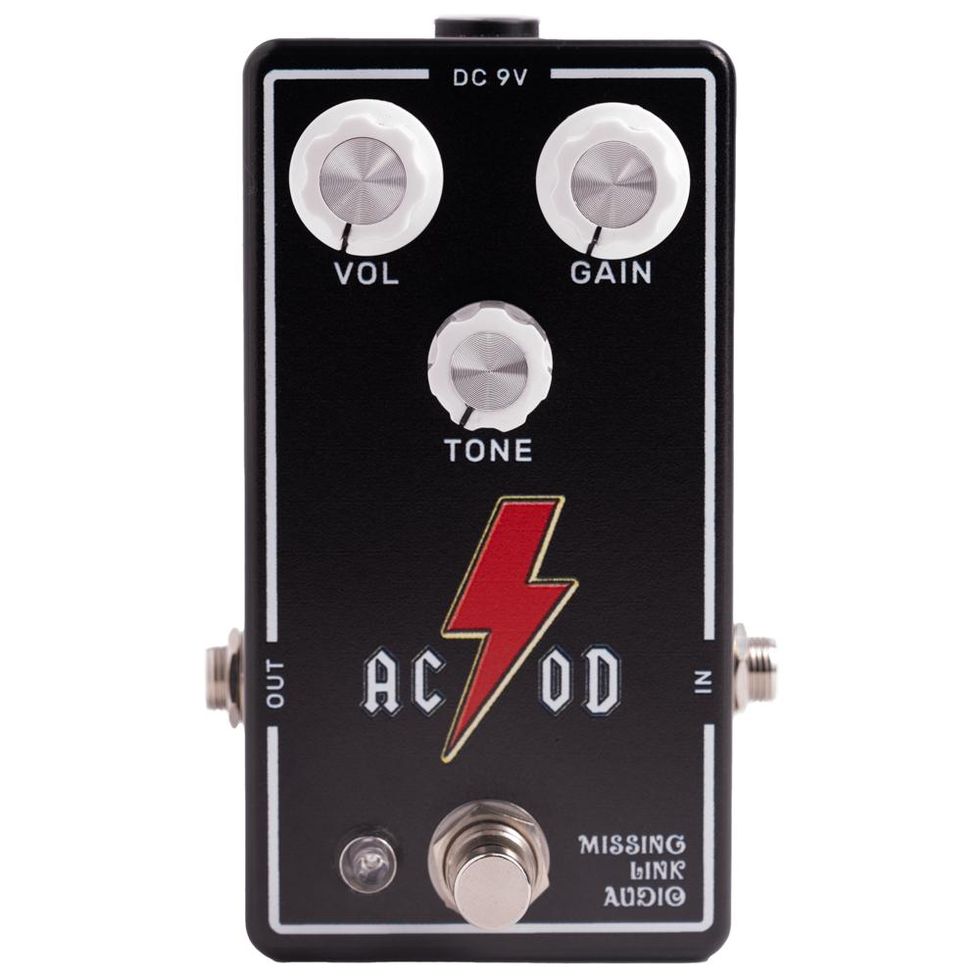 www.mlapedals.com.
Sporting custom artwork etched onto the covers, the Railhammer Billy Corgan Z-One Humcutters are designed to offer a fat midrange and a smooth top end.
Billy Corgan was looking for something for heavier Smashing Pumpkins songs, so Joe Naylor designed the Railhammer Billy Corgan Z-One pickup. Sporting custom artwork etched onto the covers, the Railhammer Billy Corgan Z-One Humcutters have a fat midrange and a smooth top end. This pickup combines the drive and sustain of a humbucker with the percussive attack and string clarity of a P90. Get beefy P90 tone plus amp-pummeling output with the Railhammer Billy Corgan Z-One.
Patented Railhammer Pickups take passive guitar pickups to a new level with rails under the wound strings lead to tighter lows, and poles under the plain strings offer fatter heights. With increased clarity, the passive pickup's tone is never sterile.
Railhammer Billy Corgan Signature Z-One Pickup Demo
Designed for utmost comfort and performance, the Vertigo Ultra Bass is Mono's answer to those who seek the ultimate gigging experience.
Complete with a range of game-changing design features, such as the patent-pending attachable FREERIDE Wheel System, premium water-resistant and reflective materials, shockproof shell structure and improved ergonomic features, the Vertigo Ultra Bass takes gear protection to the next level.
The Vertigo Ultra Bass features:
Patent-pending FREERIDE Wheel System that allows for wheels to be attached on the case in no time, giving you the option to travel with it seamlessly
Upgraded materials, including a water-resistant 1680D Ballistic Nylon outer shell, plush inner lining and new reflective trim for maximum backstage and night visibility
Enhanced protection with a shockproof shell structure and heavy-duty water-resistant YKK zippers for protection from the elements
Improved ergonomics and functionality including added back support and load-lifting detachable shoulder straps with side release buckles
Flexible storage options with added space for touring essentials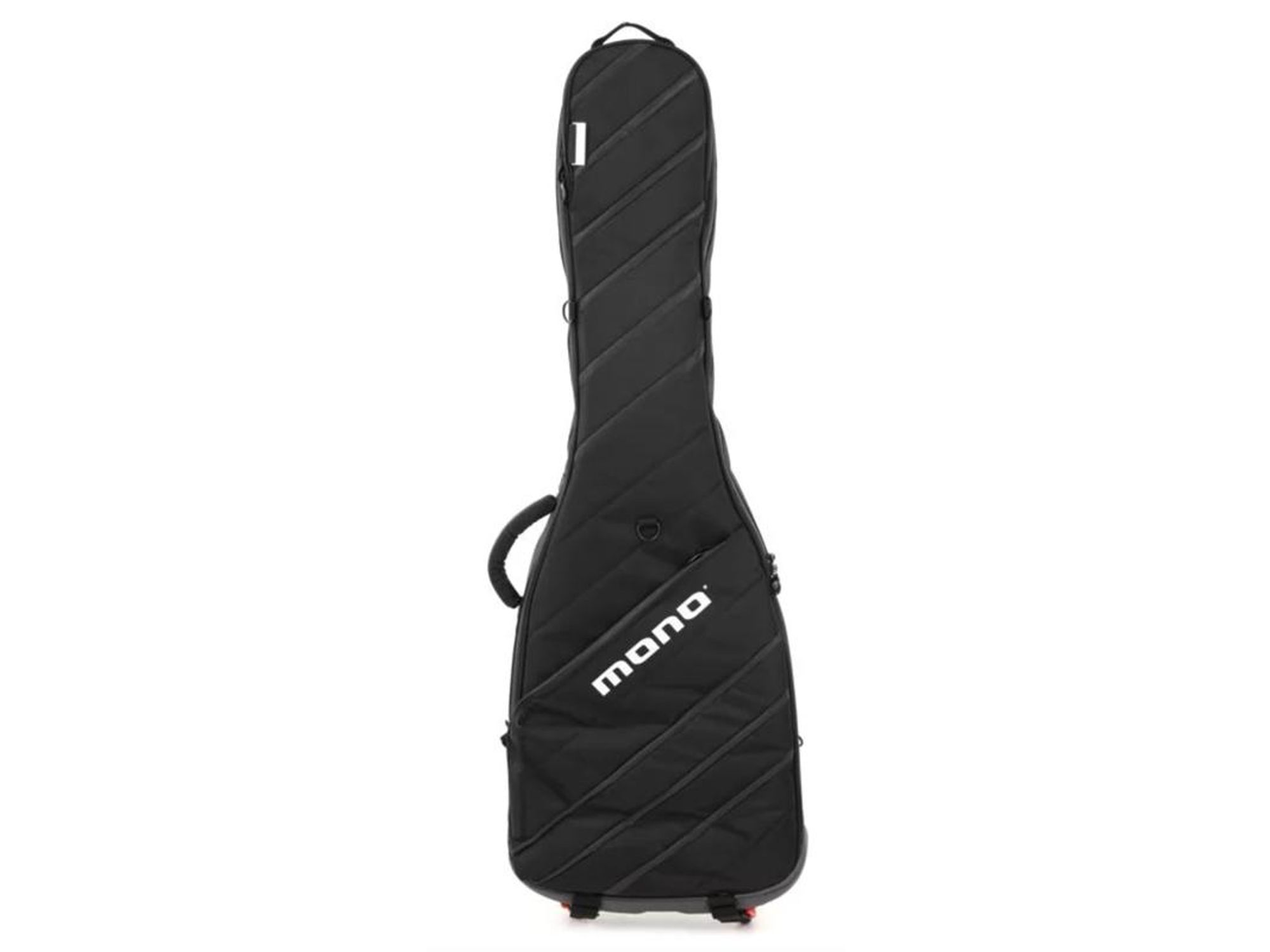 For more information, please visit monocreators.com.
Mono