Hughes & Kettner Black Spirit 200 Review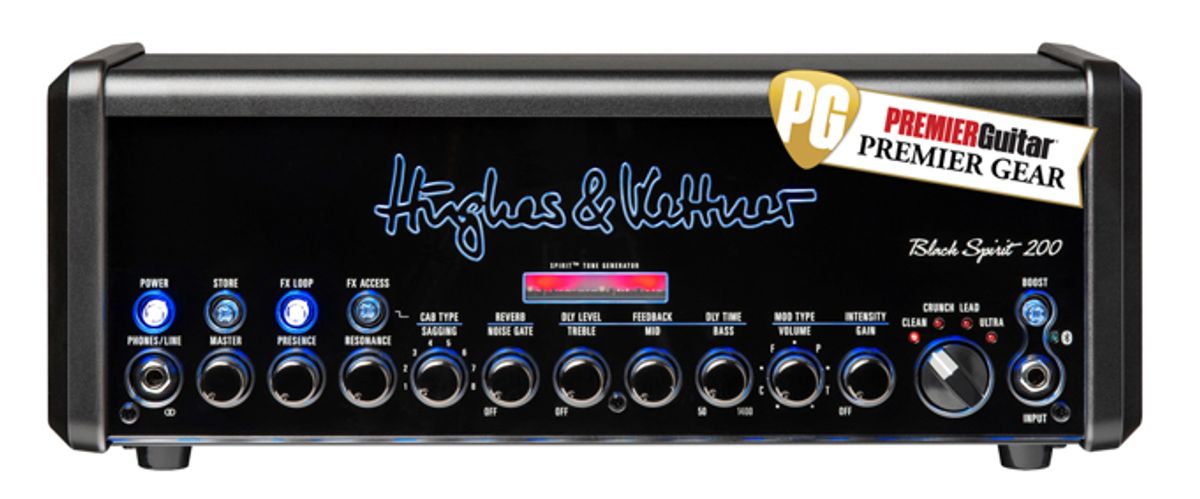 Solid-state circuitry makes this programmable powerhouse light, and super-flexible, too.
 

Ratings

Pros:

Great sounds across all channels. Flexible programmability.

Cons:

Optional footswitch is expensive, but critical for best functionality.

Street:

$879

Hughes & Kettner Black Spirit 200hughes-and-kettner.com

Tones:Ease of Use:Build/Design:Value:
---
Hughes & Kettner is a reliably forward-thinking amp company. With their blue-lit fascia, multi-knobbed control panels, and high-gain tendencies, they're about as far as you can get from retro-obsessed. And the new Black Spirit 200 couldn't be more emblematic of these modern-amp-design leanings.
The programmable, 4-channel, solid-state amp features a host of built-in effects, can handle about a zillion presets, and includes the company's Red Box AE+ DI/speaker simulator. But the most newsworthy deviation from tradition here might be the Black Spirit's total abandonment of tubes—enabling 200W of power in a compact head that weighs less than eight pounds and can also be set to operate at 2W or 20W output power.
Complex Yet Simple
The Black Spirit's front panel appears busy (little surprise, given its many capabilities), but it's more intuitive than it looks. Push buttons enable several functions, including turning on the power, storing presets, and accessing effects. The three leftmost knobs are dedicated to master volume, presence, and resonance. The next seven knobs, however, serve dual functions. In default position, they control sagging, noise gate, treble, mid, bass, volume, and gain. When the "FX access" button is pushed, the functions switch to a cab-type selector (with eight selectable knob locations), reverb, delay level, feedback, delay time, modulation type (you can choose chorus, flanger, phaser, or tremolo), and modulation intensity. A final knob enables you to choose from four channels—clean, crunch, lead, and ultra.
The sagging control is useful for dynamic adjustments.
Preset options abound on the Black Spirit, which makes 128 programmable locations available as 32 banks of four presets—and is, well, probably more than you'll ever need. As with many amps and pedals that have preset options, amp knob positions stop correlating with what you hear as you switch between presets. But there's an iOS app that lets you visualize and remotely interact with all the parameters in real time (an Android version is in the works).
If you really want to maximize the Black Spirit's potential, getting the optional FSM-432 MK III MIDI board is key. It's a little pricey, at $219, but if you play live and change sounds in real time, it's arguably essential. This seven-button footswitch lets you directly recall presets, use virtual effects in stompbox mode, or tap delay tempos. It's very well made, and switching between presets is seamless, without any popping or noise.
Saving presets is easy on the Black Spirit. You press the store button for two seconds and it overwrites the current preset. If you want to save the preset to a different location, you push the store button quickly and use the footswitch to assign the location where you want to store the sound.
Hughes & Kettner exhibited restraint with the effects selection. Rather than throw every effect under the sun into the unit, they've included staple effects that cover the needs of most guitar players. There are limits beyond just the effects count. You can only use one modulation effect at a time, for example. But if you depend on more esoteric effects, you're not out of luck: You can simply patch external effects in via the effects loop.
Generating Splendid Spirits
I tested the Black Spirit with a Celestion-equipped 1x12 cabinet using an Ernie Ball/Music Man Axis Sport. I started with the clean channel set with presence around 9 o'clock, resonance around 1 o'clock, gain around 7 o'clock, and sagging, noise gate, and all EQ controls at noon. I also applied a little slapback echo and reverb. The sound was clear, with a slight put perceptible compression— perfect for muted, single-note, pop-funk rhythm figures. Adding chorus gave the same settings a dreamy, atmospheric texture perfect for lush, complex chords. Using the crunch channel with presence at around 1 o'clock, resonance around 1 o'clock, gain at 10 o'clock, and sagging, noise gate, and all EQ controls at noon (plus a touch of flanger), I generated rhythm sounds with an aggressive bite.
The lead and ultra channels are excellent for heavy styles, and can cover the gamut from thrash to modern, detuned metal. I got great results with the ultra channel's presence around 1 o'clock, gain at maximum, the noise gate around 1 o'clock, and sagging and all EQ controls at noon. Having a built-in noise gate helps make these over-the-top sounds useable, though at these gain levels, fast 6th-string chugging felt a bit muddy. I was able to solve that problem by reducing the resonance, which meant output with less body but a lot more clarity. The sagging control is useful for these kinds of dynamic adjustments, too. More aggressive sagging settings gave the amp a more liquid feel, making quick, upper-register playing much easier.
The Verdict
At $879, the Black Spirit is not cheap for a solid-state amp. Interestingly, the Black Spirit's tube-equipped siblings, like the GrandMeister Deluxe 40, are only a couple of hundred bucks more. But given its deep clean-to-high-gain tone-shaping capabilities, this amp will be worth the money to many players—particularly on the shred end of the spectrum and those into the notion of a compact, self-contained amp/effects setup that can fit in an airplane overhead and handle an arena-sized gig. Factor in the Black Spirit's Red Box direct-out capability and you've got a very enticing and utilitarian package for the price.
---