Who wouldn't love to add a Supro Flanger to their rig? Now's your chance! Enter here for today's Stompboxtober giveaway!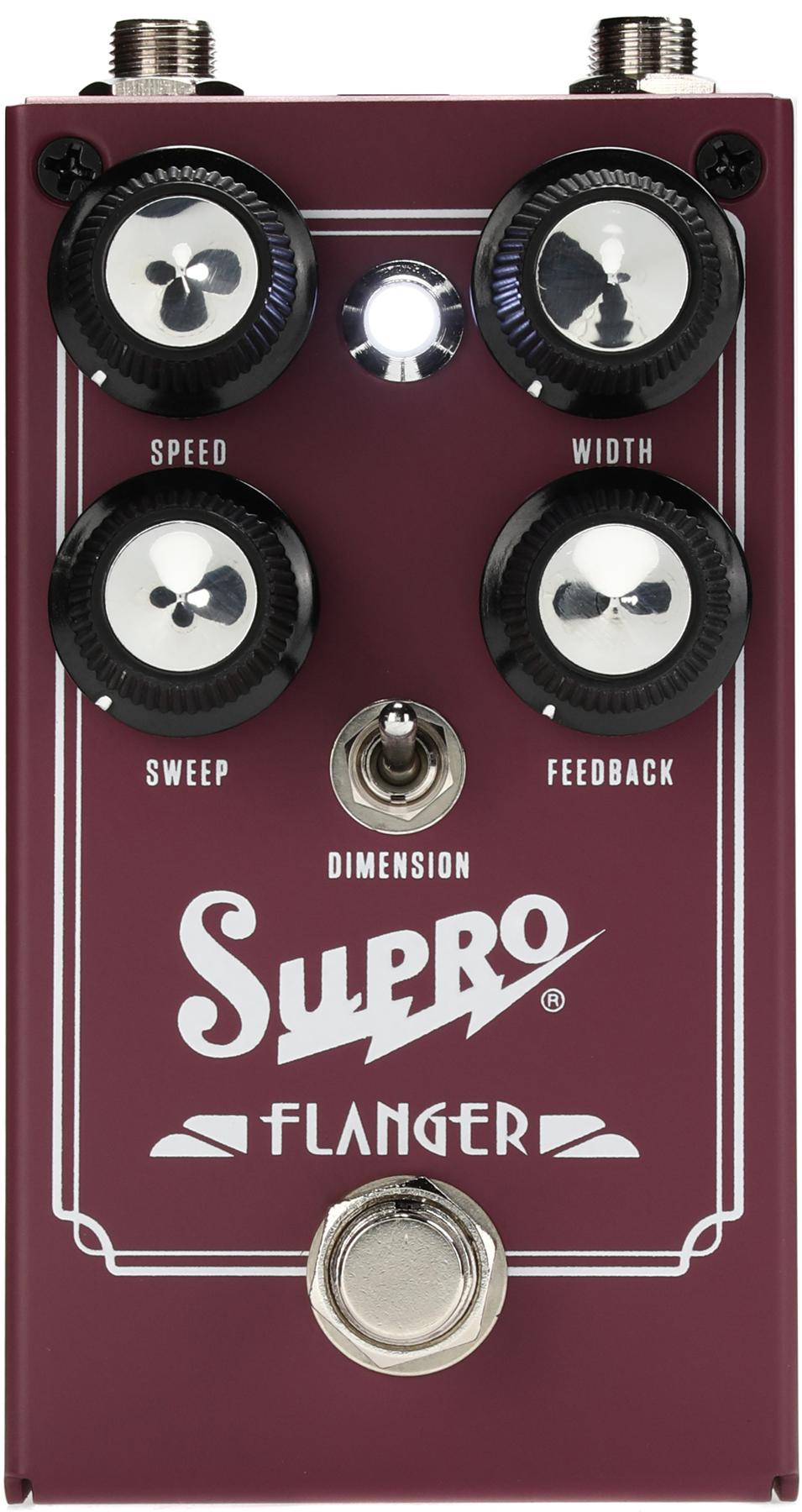 Sibling to the Supro Chorus, the Supro Flanger is an all-analog, full-stereo modulation effects pedal that uses a quartet of genuine MN3009 Bucket Brigade IC chips to deliver the absolute richest Flanger effect possible while maintaining exceptional headroom. In addition to Speed and Width knobs, the Supro Flanger features a bi-directional Feedback control and a Sweep control that increases the delay time on one side of the stereo field while shortening the delay time on the other side. Featured for the first time in a flanger pedal, the Dimension switch crossfeeds the two channels into one another, creating the entrancing double-flanger effect of two delay lines being modulated in opposite directions, even when used in mono. Runs on standard 9VDC.
Supro
One of the top producers/engineers at one of the world's top tracking havens, Nashville's famed Blackbird Studios, shares tips and tricks on how to Introduce these classic effects to your mixes.
Hello and welcome to another Dojo. This time I'll discuss the differences between phasing and flanging and offer some advice on how better to use these effects in your recording and mixes.
First, what is flanging? Flanging gets its name from the glory days of tape machines. More specifically, the miles of spooled tape that was used to make records that were fed, and alternately collected, on metal reels—the outer edge of which was called the "flange." The earliest way to accomplish flanging was by synching two tape machines playing back the same exact audio material, and manually slowing down one of the machines by pressing a finger (or two) on the flange of the playback reel on one of the tape machines, releasing it, and listening to the characteristic "swoosh" as it raced back into synch with the other machine. Do this more than once, and you are "flanging."
I particularly like using these effects on families of instruments (drums, grouped guitars, background vocals, strings, synths, loops, etc.) or on whole sections of mixes.
In the late '70s, Eventide came out with the classic FL 201 Instant Flanger and added some nifty little tweaks: adjustable rate on the LFO, a choice of triangle or sine wave LFO, feedback, phase, envelope follower, and more. You can buy the plug-in version for around $129. Have a look at Fig.1, where I've drawn up a basic signal flow for this type of circuit. As you can see, the primary way flanging gets its sound is by manipulating delay time and its parameters.
In contrast, phasing is accomplished by lining up a small group of non-linear, all-pass filters in series that react with frequencies in different ways. Look at Fig. 2. This shifts a particular frequency's wavelength ever so slightly (i.e., 250 Hz moving an eighth of a wavelength). By combing other filters reacting to different frequencies, and phase-shifting those wavelengths by random amounts, you get the comb-filtering that is characteristic of phasers.
Fig. 2
Both effects have similar sounds, characteristics, and controls. Today, most offer adjustable delay times in parallel or series, phase angles, LFO types, filter types, and delay lines at different degrees of phase that can be modulated in sync with your DAW's bpm.
Now, let me offer some basic jumping off points for you to begin experimenting with phasing and flanging. I particularly like using these effects on families of instruments (drums, grouped guitars, background vocals, strings, synths, loops, etc.) or on whole sections of mixes. Try this:
Flanging Reverb
Take your guitar solo and send it to a reverb. Place a flanger (or phaser—you should switch them out and see what works best) after the reverb and then blend that into the solo for added effect. Next, mute the phaser/flanger on the reverb channel and instantiate the same phaser/flanger directly on the guitar solo track. Listen to the difference and adjust to taste. You can also try the same thing using a delay instead of a reverb.
Sectional Phases
Experiment with manipulating sections of your song (the bridge, interlude, verse, etc.) by adding a flanger to master stereo output (aka the "2-bus"). You should be able to automate various parameters of the effect. I would suggest starting by automating the power/bypass on the plug-in in your DAW. If this isn't an option, you can always bounce down the section you want, or even the entire song, with the effect on the whole time, then import that bounce back into your session to add in when inspiration hits. When playing back the "flanged" mix, make sure you mute all the other tracks, since they're already contained in the bounce. Otherwise, you'll be introducing even more phase to the session, and not really in the best way. If that happens, you may find yourself reaching for the volume knob, because everything disappears and there is not much energy in the frequency spectrum.
As always, I invite you to come by my website for more information and demonstrations on these techniques. Until next time, stay open-minded, and be safe and well. Namaste.
This heavyweight digital solution packs a mighty punch. How does it stand up to the competition?
Excellent amp models. Neural Captures are really cool. Smartly designed footswitch knobs. Excellent mobile app.
Unable to run Neural's native plug-ins at press time. Some lackluster effects.
4.5
5
4
4.5
Neural DSP built its reputation on producing high-quality plug-ins. But packing great sounds into an all-in-one floor unit is a very different design challenge than creating a plug-in. In the form of the Quad Cortex, however, Neural succeeds at creating an intuitive interface and adding interesting features that even seasoned fans of digital setups will find intriguing.
Like a Rock
The Quad Cortex feels solid. Eleven dual-purpose foot switches and an oversized master volume control are situated around a 7-inch full-color touch display. Around back are a wealth of different I/O options including multiple XLR and 1/4" inputs, independent XLR and 1/4" outputs, headphone jack, dedicated Neural Capture output, MIDI, two effects loops, and support for 8-in/8-out USB audio. You'd be hard pressed to find more routing options on a comparable unit.
Recorded with a Fender Stratocaster directly into Logic Pro X from the Quad Cortex.

The foot switches not only feel sturdy, but double as rotary knobs that adjust various parameters depending on the function you have selected. For those hesitant to go digital because they miss manual level adjustments, this might be a game changer.
On the Grid
Whether you pull up a preset or start from scratch, the Quad Cortex displays a grid that illustrates almost any signal flow you can imagine. I started simple and loaded up a Fender-style amp impulse response from a Bassman 4x10 with Jensens, and a Myth Drive (Neural's Klon emulation). I monitored through a set of headphones and a powered Electro-Voice EKX 12-" speaker. The warmth and presence in the amp models is easy to hear, and the midrange and low end have a particularly authentic feel. Just to confirm what my ears were hearing, I tried similar patches on an HX Stomp and Kemper Stage. The Quad Cortex easily held its own.
Within about 20 minutes I had a fully functioning stereo setup that sounded great and was easy to tweak.
My next rig was more complicated: Two amps, effects in pre- and post-amp positions, plus an expression pedal. Using Vox-and Hiwatt-style emulations together allowed me to test the unit's wide-ranging "gig" functionality. Here you can use one of three different modes: scenes, presets, or stomps. These functions allow you to assign effects blocks to foot switches (stomp), move between different settings in a single rig (scene), or change rigs entirely (preset). Depending on how you set them up, these three modes offer nearly limitless options. I was able to move between amps, high- and low-dwell reverb settings, and a wacky Whammy-style effect that I operated via an expression pedal (not included). The programming wasn't without a bit of trial and error, but within about 20 minutes I had a fully functioning stereo setup that sounded great and was easy to tweak. With units like these I find that ease of use is nearly as important as sound quality. The Neural excels on this count.
With over 70 effects, Quad Cortex hits all the bases. There are faithful emulations of classic overdrives, compressors, filters, and pitch shifters alongside Neural's proprietary effects. I hope for more modulation effects in future updates, though. Having just one type of chorus, flanger, and phaser underutilizes the Neural's impressive power.
The Neural Cloud system definitely merits mention. It's the most streamlined method for sharing and discovering presets I've encountered. Once you connect your Quad Cortex to wi-fi and download the free mobile app, you can access thousands of user- and artist-sourced presets, captures, and IRs. In minutes I had the exact setup that Rabea Massaad used with Stormzy. Wild! It's a great way to reverse-engineer your own presets, too.

Capture It!
Neural Capture enables you to create a snapshot of an amp or pedal at a specific setting. The function works for amps, cabs, and overdrive pedals. (At press time, Neural mentions that higher-gain drives like fuzz pedals aren't compatible). I hooked up a Wampler Brent Mason Hot Wired following the instructions in the handy on-screen guide. (When capturing a pedal, you don't need to hook it up through an amp and speaker.) The Quad Cortex went through its process and out popped a fresh capture. Neural includes a handy preset template that allows you to A/B the capture and the original pedal. After a few tweaks I was able to mimic the sound without much discernible difference in tone.
Capturing an amp means capturing the properties of the entire signal chain including the speaker and mic. I set up my Revv D20 with an Avatar 1x12 cab and miked it up with a Shure SM57. The capture process is similar to a pedal, except there are more audible artifacts from the analog chain. After a few stops and starts I ended up with a fairly accurate capture of the amp. To my ears, the pedal capture was a bit more accurate. However, you can visit the online version of this review to hear the results for yourself.
The Verdict
The Quad Cortex is an immensely powerful unit. The complete array of features, tones, and expandability via Neural Capture make it a worthy peer to similar units. The grid system is a great way to organize complex routing options. It isn't perfect, and you'll want to consult the manual to optimize the deep functionality. But if you're interested in a more open digital ecosystem and recreating rigs that would occupy a whole rehearsal room in the analog world, the Quad Cortex is a truly impressive way to achieve those aims.
Neural Quad Cortex Demo - First Look