A multi-effects powerhouse that serves session aces and free spirits.
Seemingly endless sounds on tap. Relatively streamlined functionality. Fun in spite of its complexity. Many authentic analog-style tones. Dual algorithm capacity.
Maximizing pedal potential takes homework. Some digital artifacts in some voices. Spendy.
4.5
5
3.5
4.5
Eventide's Harmonizer family of products are a curiously named bunch. Most do, in fact, harmonize and produce related pitch effects. But Eventide's new H90 Harmonizer, like its predecessor the H9, also does about a million other things very, very well. It's a powerful multi-effect that, in its new incarnation, offers thousands of vintage and future sounds and generates rich textures and tone colors that can transform the germ of an idea into a foundation for composition, or something grander, quickly and with relative ease.
Brother to Legends
The H90's architecture is rooted, to some extent, in that of the H9000 Harmonizer, an $8K, rack-mounted, ultra-deep studio instrument utilized to wildly varied effect by producers, film score composers, and deep-pocketed sound experimentalists. The notion of a compact derivative of the H9000, even with a fraction of the functionality, at a little more than a tenth of the price, is appealing for obvious reasons. But the H90 is impressive outside of comparisons to the H9000. It's very practical— particularly if you work sessions, multiple bands or gigs, or create and produce music on the move. Its footprint isn't much larger than its predecessor, the H9. And, if you consider its size relative to its capabilities, there is little that even space-obsessed pedal heads can complain about.
If you're the impatient sort, or just like to chance upon sounds, you can dive headlong and blind into the H90's world of sound and get cool results. The excellent factory presets make intuitive voyaging a lot of fun. And the streamlined control set makes transformative tweaks easy. That said, you can get in the weeds pretty quickly if you choose to forego a read of the manual or quick start guide. The H90 does a lot. And if you intend to unlock even a fraction of its capabilities you should plan on some homework.
The H90 features 10 new algorithms. Some are familiar effects, like the SP2016 plate reverb emulation, a TS-style overdrive called the "weedwacker," and an emulation of the old Eventide PS101 phaser. Other vintage flavored algorithms include a multi-head delay and Uni-Vibe emulations. More "modern" sounds come via a polyphony algorithm that enables harmonization in specific intervals, and a "wormhole" algorithm that creates the kind of spacious, pitch-modulated reverb washes you associate with CGI animations about the vastness of the cosmos.
Perhaps the most significant enhancement in the H90 is the capacity to use two algorithms in series or in parallel and shape them independently. This capability, along with the streamlined, well-considered parameter controls for each algorithm, exponentially stretch the depth and potential of factory presets and the ones you'll make on your own. Routing and connectivity options are impressive, too. Dual routing means you can set up two independent stereo paths utilizing two different algorithms. There are also MIDI in and out jacks, two inputs for expression pedals or auxiliary switches, and a USB-C port for use with the Eventide H90 Control app.
Harmony of the Spheres—And Many Other Shapes
Listing the sounds the H90 makes would take a review many times the length of this one. And that would only scratch the surface. But it's easy to see why so many musicians that have to cover a lot of bases found the H90's predecessor, the H9, so appealing and valuable. Because once you get your presets dialed in, you can switch readily between familiar vintage sounds and completely alien ones.
As anyone that has used an H9, Space, or TimeFactor can tell you, modern Eventide effects tend to be deep, expansive, and capable of very rich sounds. But the twin algorithm capabilities often create a perceptible extra layer of intricacy that, when dialed in carefully, generates intriguing lattices of sound that can be subtle or strange.
"For a lot of players, the H90's price tag, which is roughly the same as a high-quality affordable guitar or amp, will be worth every penny."
Sometimes the dual algorithms can produce familiar tones. The "hey floyd" program, heard in the accompanying audio clip 1 combines the weedwacker and "spacetime" programs' "outer limits" preset to create a pretty convincing take on David Gilmour's Big Muff and Electric Mistress tones circa The Wall. In the "fuzzy old bits" program (clip 2), a vintage rack delay model and spring reverb emulation combine to create a combination of '80s dotted-eighth delay and '60s surf 'n' psych ambience.
The complexity in dual program settings doesn't necessarily mean they are a washy mess. Combining harmonic modulation with a modulated echo and reverb lends weird animation and movement from odd harmonizing overtones in the "gentle arps" setting (clip 3). "Floating in Space" (clip 4) demonstrates the intricate but clear wash you can create by using two blackhole algorithms at different settings. "Dream Sequence" (clip 5) probes the more ethereal capabilities of the H90, combining emulations of the old Eventide H910 and the spacetime algorithm.
The Verdict
At about 900 bucks, the H90 is a high-ticket piece of kit. If you're strictly a guitarist, your tastes include unconventional styles, and you have a very open mind, the H90 can transform what you play, guide you along unexpected creative vectors, and extract you from a rut in a flash. It also gives you access to a vast library of familiar sounds And for a lot of players, the H90's price tag, which is roughly the same as a high-quality affordable guitar or amp, will be worth every penny. Multi-instrumentalists are likely to get even more out of the investment.
Whether you want to invest the time in digging deep into the H90's considerable powers so that you can justify the price tag is another matter. The H90 is intuitive enough that it takes just minutes with the unit to yield buried treasure. But this is also the kind of pedal that can chew up hours of studio time if you're not careful. A little focus and discipline—and a concerted investigation of the manual—can go a long way toward making freer, more intuitive exploration possible down the line. And unless you're really averse to digital interfaces, there's little cause to be intimidated by the H90's deep capabilities. With practice, programming your own very individual presets becomes a satisfying, creative endeavor, and you're likely to make a lot of amazing sound discoveries along the way.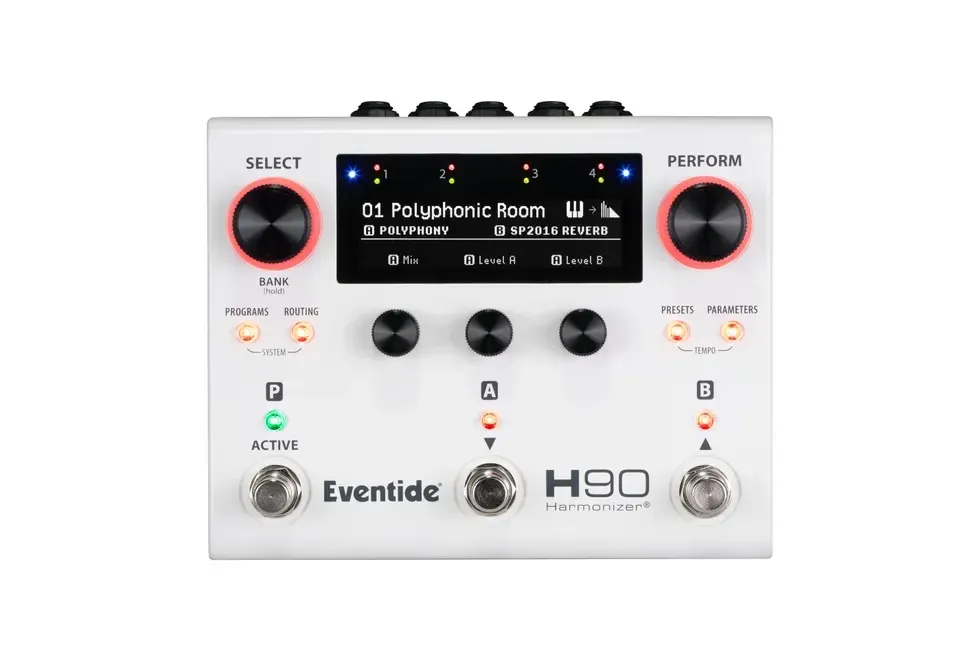 Eventide
The new unit includes 22 cabinet emulations, 70 pre-loaded impulse responses, and a 5-inch color touchscreen.
Hauppauge, NY (April 28, 2020) -- For over 30 years Zoom has been designing multi-effects for guitar players. The G11 represents the culmination of Zoom's engineering leadership and passion in equipping creators with guitar products they need to fully express themselves.
The new G11 includes all the traditional and classic sounds guitar players seek and also offers new original Zoom amps and several brand-new effects. Identifying the tonal qualities of the greatest amps in history, Zoom engineers combined those signature sounds to craft new amp models, ranging from vintage blues to the heavy-metal sound of "Djent". In addition to these original new amp models, Zoom has invented entirely new distortion and never-heard-before modulation effects, too.
With 22 cabinet emulations of all modeling amps, plus, 70 pre-loaded impulse responses (IR), captured with different microphones placed in various positions, the G11 provides a wide spectrum of sonically accurate cabinet sounds to choose from. You can also import up to 130 of your own IR's, for true sound customization.
The G11 features a 5-inch color touchscreen, with easy-to-use, application driven technology, which lets you drag, drop and swipe your way to new sounds. The adjacent amp panel is designed to look like the front of an amp, providing easy access to manually tweak common amp settings.
68 built-in rhythm patterns in various genres and time signatures, along with a 5-minute looper provides additional creative tools. The G11 is Midi compatible, and functions as an audio interface for Mac and PC, enabling you to record directly to your favorite DAW via USB.
The new Zoom G11 will be available May 2020 for $799.99.
For more information:
Zoom
Revocation's Dave Davidson commissioned a signature stomp that unites boost, reverb, and delay. The PG Dunable Eidolon review.
Ratings

Pros:

Reverb, delay and boost in one box. Good sounds. Easy to use.

Cons:

Minimal control options.

Street:

$259

Dunable Eidolondunableguitars.com

Tones:Ease of Use:Build/Design:Value:
Sometimes the features that a stompbox omits are as significant as the ones it includes. That's certainly the case with the Eidolon, a streamlined multi-effects pedal from guitar, amp, and effect builder Sasha Dunable.
The Eidolon (it's a classical Greek word meaning a phantom incarnation of a real person) is a collaboration between Dunable and Boston-based metal guitarist Dave Davidson (Revocation, Gargoyl). According to Dunable, Davidson was tired of schlepping separate booster, reverb, and delay pedals to burnish his single-note solos. The Eidolon was conceived as a one-box solution.
The Eidolon employs the ubiquitous Spin FV-1 chip, also used in a large percentage of current reverb, delay, and modulation pedals. This chip permits deep and potentially unconventional programming, but Eidolon keeps it simple with just a few straight-ahead sounds and modest tone-shaping options. A single on/off footswitch activates all three effects, though you can control their levels independently.
Dark Delays
You hear the delay effect isolated at the beginning of the demo clip. It's an attractive faux-analog tone with strong low-pass filtering. Echoes start dark and get darker as on a bucket-brigade delay, though you don't encounter the distinctive distortion of analog BBD chips. The tone is a fine choice for aggressive single-note solos. Lacking crisp treble frequencies, it sits tidily behind the dry signal without compromising rhythm or note attack. The controls are basic: delay time, delay feedback, and wet/dry mix. The mix maxes out at 50/50 wet/dry. The feedback range is also limited: maximum settings produce about a dozen repeats. (Sorry, noisemakers. There's no way to spiral into self-oscillating feedback.) There's a dedicated tap-tempo switch and a flashing LED to indicate the current delay time.
The delay has no tone-shaping tools other than a simple "mod" switch, which adds a chorus effect to the delays (as heard at 00:19 in the demo clip). You can't adjust the modulation parameters, but it's a nice sound that can add subtle thickening and animation behind the dry signal. (Is the mod switch mounted upside-down, though? The modulation appears when you move the switch away from the enclosure's "MOD" label.)
The default settings feature the FV-1's reverb at its best: smooth, naturalistic, and warm.
Your Basic Boost
A single knob sets the level for a clean boost with a +20 dB range. It's a quiet, uncolored circuit, but, of course, how "clean" the results are depends on your pickups and amp setting. At the demo clip's 00:37 point, I play a short phrase with the Eidolon bypassed, and then I repeat the phrase with maximum boost engaged. With my vintage-output pickup and small Carr combo amp set to a crisp, clean tone, there's enough juice to summon distortion.
Note that the boost pot can subtract as well as add. Unity gain resides at noon, and the level descends to silence when rotated counter-clockwise. You could conceivably use negative boost settings as a "clean up" effect for high-gain tones.
Vibey Verb
Two knobs regulate the reverb. One is a wet/dry mix. The other, labeled "color," damps high frequencies while shortening the reverb time. There's not much sonic variation, but the default settings feature the FV-1's reverb at its best: smooth, naturalistic, and warm, as heard at 01:16 in the demo clip (with above-noon mix and color settings). The reverb, delay, and boost effects blend handsomely, especially at restrained settings.
The Eidolon lives in a standard BB-sized stompbox. The circuit board is tidy, populated by a mix of ICs and standard-sized through-hole components. Both switches employ click-less relays. The knob arrangement and color-coding make a simple control process even simpler. The Eidolon runs on standard 9V power supplies (adapter not included) and has no battery compartment.
The Verdict
There's nothing tricky about the Eidolon. It's a potent clean-booster with basic but effective delay and reverberation. With very specific and limited ranges in some controls and straightforward sounds, it's probably not the best choice for sonic explorers. But the Eidolon aces its stated mission of boosting and fattening solo tones with a single foot tap. Like co-creator Dave Davidson, some players may find that this simple pedal replaces a trio of specialized stompboxes.