A touch of Vox in an oh-so-compact box.
A well-built little bundle of authentically Brit class-A-voiced tube-amp tone. Good reverb and onboard cab sims.
Limited treble boost control compromises the ability to balance clean/lead/crunch voicings.
4
4.5
4
4
Following the success of Victory's V4 all-valve preamp pedal line, designer Martin Kidd decided to pack the same preamp into all-in-one mini amp versions of the Jack, Sheriff, Copper, and Duchess. The V4 The Copper Guitar Amp reviewed here pairs a 4-tube preamp with a solid-state, 180-watt output stage—all in a package small enough to fit into your gig bag's accessories pouch. Whether used on the floor alongside your pedalboard or at the backline with remote switching, it offers a boatload of flexibility.
Essential Elements
The Copper Guitar Amp is a true, stand-alone tube/solid-state-hybrid amp with surprisingly deep functionality. The unit includes six built-in Two Notes cab sims, which can be routed to the XLR output and balanced line out, or the XLR exclusively. There's also a headphone output. And any of these outputs can be used without plugging into a traditional guitar speaker cab (the amp is load-protected). The six Chris Buck-created sims can be edited via Two Notes' Torpedo Remote software, with the unit connected to your computer via USB, or the software can be used to load other Two Notes or third-party sims.
Controls include gain, tone (a voicing control for the upper-mids and highs), master, TB (treble boost) master, reverb (digital), bass, middle, treble, sim preset, and sim level. The treble boost is engaged via the switch on top of the amp, but it can also be activated, along with the reverb, via an optional footswitch. Curiously, the boost is governed via an output-stage control, which, as we'll see, diminishes the amp's flexibility a bit.
Extra connectivity includes guitar input, effects send and return (for a loop between preamp and output stage), line out, footswitch, XLR cab sim out, and speaker out (suitable for loads of 4/8/16 ohms at 180/100/50 watts, respectively). Victory also thoughtfully included a 9V DC/500 mA output to power external pedals, and there's an on/off switch for the internal fan.
The V4 The Copper amp is rugged. It's built into an aluminum chassis with a metal carry handle on top and vents at either end. The tube complement eschews traditional 12AX7s in the preamp. Rather, it includes three CV4014s (aka EF91s, a 7-pin preamp tube most commonly seen in a popular headphone amplifier) and a one 7-pin EC900 (6HA5).
Police Squad
I paired the V4 The Copper Guitar Amp with an open-back 1x12" cab with a Scumback J75 speaker, as well as a recording interface, studio monitors, and Audio-Technica studio headphones. How did it fare? The short answer is that this little box delivers a dynamic, articulate, authentic tube-amp-playing experience, and a wide range of moods within the Vox tone family.
Many makers chasing Vox-like voicings via alternative amp architecture are let down by flat, muddy, or brittle-sounding results. But this effort from Victory sits comfortably in the "proper tube-amp camp." Ironically, The V4 Copper amp achieves its most accurate Vox-like performance—at least to my ears—through headphones or studio monitors and the built-in cab sims, which include an element of power-amp modeling. With a traditional guitar cab, the unit still sounds very good, but the amp's hybrid nature is more easily belied by the absence of an EL84 output stage's harmonic complexity and the compression you hear when pushing an AC15 or AC30 to the edge of breakup and beyond. For many, the compromise will be a fair trade for portability and convenience.
 Undercover With the Vice Squad
The Copper V4 Amp boasts one of the better amp-loaded digital reverbs I've heard in a while. It's got a nice taper from subtle space to lush cathedral-like atmospherics, it's warm, and the decay is realistic. The EQ section is less obviously powerful. The tone control is effective but subtle ("mood" or "color" might be better names for the function). The treble boost certainly adds more hair and drive to the output. But from my perspective, the treble boost's adjustment via the TB master control—there is no boost gain control—is counterintuitive, because it means both top boost gain and output level are tied to a single knob that also interacts with the gain control in the first gain stage. There's also no independent adjustment available for crunch- or lead-gain settings.
Given this configuration, you can't easily dial in an edge-of-crunch tone from the standard gain control and push it over the edge with the boost without getting pretty hairy and fuzzed out. Adding an independent lead channel of sorts would have provided far more flexibility. But these options would also mean more space and weight, which is at a premium here. In spite of that, the treble boost function is still a real bonus that a lot of amps lack. And there are many good sounds to be found by putting it to use.
The Verdict
The V4 The Copper Guitar Amp is a cleverly designed bundle of Vox-voiced jangle and chime in an impressively compact package. The general tone is lively and dynamic, and onboard Two Notes cab sims increase its usability dramatically. The controllability of the boost/lead function is a little compromised with just one control, but there's a lot of power and potential to tap into in the V4 The Copper Guitar Amp—especially when you factor in the size and fair price.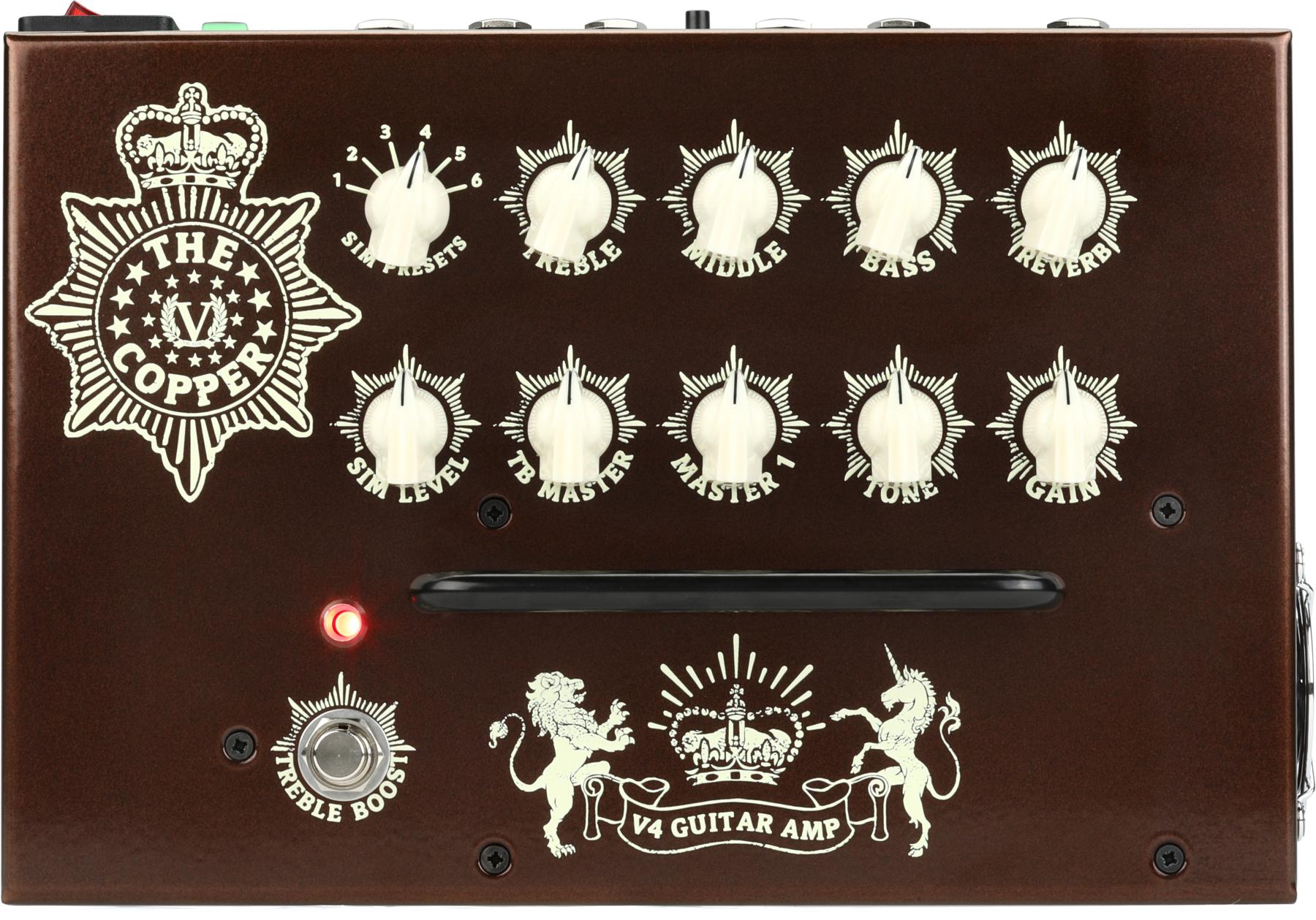 Fully fledged hybrid guitar amp in a pedalboard-friendly format
Features a tube-powered V4 preamp section with a Class D power section
180W at 4 ohms, 90W at 8 ohms, and 45W at 16 ohms
Delivers the sparkle, chime, and grit of a full-sized The Copper amp
Footswitchable treble boost adds high-end shimmer
Bass, middle, and treble controls shape your sound to perfection
Digital reverb adds varying levels of ambiance to taste
Victory Amplification
A 100-watt all-tube head that's individually signed by Richie and limited to just 20 pieces.
England (September 9, 2019) -- Victory Amplification proudly announces the Richie Kotzen RK100 Custom Limited Edition, a 100-watt all-valve head, individually numbered and signed by Richie, limited to just 20 pieces and available only direct from Victory.
Victory launched the Richie Kotzen RK50 Series back in 2017, rekindling a long-standing association between the celebrated American rock musician and Victory chief designer, Martin Kidd. The RK50 has been a great success, offering all-valve no-compromise rock tones with on-board reverb and tremolo. In 2018, Richie approached us with the idea of a bigger RK amp – a 100-watt head for touring that delivers old-school, big-stage rock tones, but with a couple of usability tweaks. It would need to evoke the sounds and feel of the classic, late-1960s British rock heads, but with Martin Kidd's unmistakeable sonic stamp.
Instead of a traditional two-channel/four-input setup, the RK100 CLE features Normal and Bright channels with a single input; they can be used independently or mixed together. There is also a bright switch to add extra sparkle to the bright channel if required. After the traditional EQ section comes a master volume to enable wonderful drive tones at more friendly volumes, adjusting presence to taste. For even more control over volume and dynamic response, the low-power mode drops the amp's output to 30 watts. In addition, there is the option of using either EL34 or 6L6 output valves. There is also a bypassable series effects loop for external reverbs, delays and so on.
The Victory RK100 Custom Limited edition is finished in Richie's preferred white, black and gold colour scheme, limited to just 20 pieces worldwide, numbered and signed. Needless to say, we are immensely proud that Richie chooses Victory!
For more information:
Victory Amplification
Photo by Stirling Elmendorf
The Aristocrats guitarist talks about broadening the conversation on the prog trio's jaw-dropping new LP, You Know What...?
Players and listeners alike commonly express the sentiment that guitarists cannot live on shred alone—and as an internationally-hailed shredder, English-born guitar virtuoso Guthrie Govan might just be the poster boy for that rule. In his trio the Aristocrats, which released their fourth studio album You Know What...? on June 28, he gets every sound, mood, and noise out of the guitar, with deft placement of those Yngwie-on-fire licks. He's mindful, nimbly and playfully roping bridges between modes of opposing musical poles to create some united territory all his own. For example, the second track "Spanish Eddie" goes from flamenco/metal to country-twanged blues, showing you how the styles make a good pair in a way that makes it seem silly to have kept them apart.
For someone who played his first gig at age 5—"some Chuck Berry and Elvis songs, 'cause that's what floated my boat"—his "virtuoso" title isn't a surprise. What is refreshing, however, is Govan's very humble disposition. It's worth noting that at the age of 20, he was offered a record deal from Shrapnel Records, and, feeling validated, turned it down as he felt the label's primary audience would be overly interested in his musical athleticism. Then, after dropping out of Oxford, he spent some time working at a McDonald's, before realizing he could make money more happily through transcribing, teaching, and performing. Since, he's worked with Asia, Steven Wilson, Jordan Rudess, and Hans Zimmer.
His influences include early Elvis, Joe Pass, Steve Vai, and Frank Zappa, but from speaking with him, it's clear he takes lessons from music of all kinds. When writing for the Aristocrats, he says, "I spend quite a time worrying about how I can convey as much harmony as possible with just one guitar and one bass. It sounds like someone's playing bass and someone's playing the melody, but chordally there's interesting stuff going on."
Govan has said that he can't enjoy being a sideman in the long-term, but his discography doesn't say "frontman" either. With bassist Bryan Beller and drummer Marco Minnemann, the Aristocrats is a purely collaborative triumvirate of musical superpowers—all three are highly skilled multi-instrumentalists. "I think a lot of the readers of your magazine would be scared if they saw what Marco's picking hand could do," Govan says, laughing. "We find it's more fun to write for each other rather than to write selfishly. Bryan always has a good time writing guitar parts, knowing that I will have to deal with them. And I have fun writing bass parts knowing that Bryan will be capable of reproducing them."
The approach is childlike, and the result is slightly mind-blowing. Read more about Govan's and the Aristocrats' process below.
So you guys self-produce, the three of you together?
Yeah, it's something we pretty much settled on from day one. We had this kind of mental image of three musketeers and everyone having equal input, from the business side of things to the writing. Now, I live in London, and when the band started Bryan [Beller] lived in Nashville, and Marco [Minnemann] lived somewhere near L.A. or San Diego, so rehearsal on a regular basis was never going to be a practical thing. When we make an Aristocrats album, each of us will write three tunes and make a demo, which is pretty detailed and specific. I'll play bass and guitar, and program the drums, then send the MP3s out and the other guys do the same—and we all try and absorb the demo versions as well as we can. Then we book a studio and go in there for 12 days, and trust that we'll be able to knock these songs into some kind of shape because we've done so much preproduction. And whoever wrote the song, by default, gets to be the alpha producer for that piece of music.
For past releases, you've discussed being hesitant about overdubbing. How did you approach that for this record?
For this album, I decided, "I'm going to be really brutal about this, I'm going to make sure that at any point in any one of the three tunes I've written, there will be one guitar part. It should be something that I can reproduce accurately live." Marco kind of went to the other extreme and just said, "I want to do something really cinematic and overdubbed and make it sound really produced."
"Sometimes if I hear a certain sound in my head, I can translate that into, 'That's a mahogany tone.' Almost like these woods have different vowel sounds, like they honk from a different part of some sort of imagined nasal cavity. I know this sounds strange."
So I guess he wrote "Burial at Sea."
Yes. There's all kinds of stuff in that one. There were certain sounds he actually had on his hard drive before we went into the studio. He was like, "Well, I've done some sound design stuff and I'd like to weave this into the arrangement." He records a lot of the sounds in his life. I think there's some weird gurgling sounds in "Burial at Sea" and it's actually him with his iPhone recorder just like walking near the sea and recording these creepy noises. We played that one to a click with all the crazy synths and sampled sounds.
Do you like to record to a click usually?
We do that on a case-by-case basis. In some situations, there's something tyrannical about the click and it can hamper the way the groove actually wants to feel. Then something like "Spiritus Cactus" wants to feel quite robotic and mechanical—that's part of the appeal of it. "The Ballad of Bonnie and Clyde" was more organic. As I recall we didn't have a click for that one.
Do you have a favorite song from the album?
It's too early in the tour for me to comment. We really start learning the songs once the album is complete. Our goal is not to play the songs exactly the same way every night, but to have a little leeway to allow fortunate accidents to happen, and then remember which experiments worked and which ones backfired. Then particularly over the first month or so of touring, these songs reveal themselves to us and let us know how they really want to be played.
What part of the process do you most enjoy: the writing, recording, or touring?
I like to think of us as an old-school band. Whenever we finish the record we will tour like maniacs. So knowing that's how we operate, I think we all have a slightly different mindset in the studio, compared with, for instance, the experience I have if I'm recording with Hans Zimmer. I recently made a bunch of weird noises for the soundtrack to the new X-Men movie.
TIDBIT: The Aristocrats self-produce all of their music. Each member writes three tunes and makes detailed demos of those songs before the group steps into the studio.
There's all kinds of guitar stuff on there and nobody would ever guess that there's a guitar. But with that process, I'm in the studio, and I can try all of these absurd things knowing that no one will expect me to go out onto the stage and replicate the noises I'm making. That's a really fun side of studio work, where you know the studio is a self-contained thing. With the Aristocrats, the end goal is always—we want to make the best album we can make, but then we want to take it out on the road. Really every step of that process is fun.
Are you happy with how the band's evolved over time?
Yeah, it's been really positive the way things have evolved. On Tres Caballeros we were all kind of tentatively tipping our toes into the water of overdubbing, and I think on the new records there are more extremes. In some cases, the songs went right back to the basic approach of the raw trio, and the more overdubbed songs are hilariously overdubbed. But specifically with this band, we wouldn't want to do something if we thought it might damage the story arc of what we've done so far. We've always had some degree of this telepathic mutual understanding, and when we play together it feels like we've known each other for longer than we have. One of the purposes of this band is to try and celebrate that. It's fun, it's an ongoing process, and it doesn't feel like we've reached the end of anything yet.
Shifting gears a bit, what's the difference between the gear you use live and in the studio, if there is one?
Maybe 70 percent of this album was recorded with the same gear that I would use live, like my Charvel signature model. I only brought one on tour, if anyone's curious, and it was the ash-bodied version which sounds a little Strat-ier through the Victory V30 head. And it's the MKII V30, which has a little button on the back so you can switch between the new voicing and the old voicing. Mostly I was using the new voicing, which maybe sounds 10 percent more American to my ears, and a little differently focused in the midrange. But something like "Bonnie and Clyde" is the old voicing of that amp.