Victory V4 The Copper Guitar Amp Review
A touch of Vox in an oh-so-compact box.
A well-built little bundle of authentically Brit class-A-voiced tube-amp tone. Good reverb and onboard cab sims.
Limited treble boost control compromises the ability to balance clean/lead/crunch voicings.
4
4.5
4
4
Following the success of Victory's V4 all-valve preamp pedal line, designer Martin Kidd decided to pack the same preamp into all-in-one mini amp versions of the Jack, Sheriff, Copper, and Duchess. The V4 The Copper Guitar Amp reviewed here pairs a 4-tube preamp with a solid-state, 180-watt output stage—all in a package small enough to fit into your gig bag's accessories pouch. Whether used on the floor alongside your pedalboard or at the backline with remote switching, it offers a boatload of flexibility.
---
Essential Elements
The Copper Guitar Amp is a true, stand-alone tube/solid-state-hybrid amp with surprisingly deep functionality. The unit includes six built-in Two Notes cab sims, which can be routed to the XLR output and balanced line out, or the XLR exclusively. There's also a headphone output. And any of these outputs can be used without plugging into a traditional guitar speaker cab (the amp is load-protected). The six Chris Buck-created sims can be edited via Two Notes' Torpedo Remote software, with the unit connected to your computer via USB, or the software can be used to load other Two Notes or third-party sims.
Controls include gain, tone (a voicing control for the upper-mids and highs), master, TB (treble boost) master, reverb (digital), bass, middle, treble, sim preset, and sim level. The treble boost is engaged via the switch on top of the amp, but it can also be activated, along with the reverb, via an optional footswitch. Curiously, the boost is governed via an output-stage control, which, as we'll see, diminishes the amp's flexibility a bit.
Extra connectivity includes guitar input, effects send and return (for a loop between preamp and output stage), line out, footswitch, XLR cab sim out, and speaker out (suitable for loads of 4/8/16 ohms at 180/100/50 watts, respectively). Victory also thoughtfully included a 9V DC/500 mA output to power external pedals, and there's an on/off switch for the internal fan.
The V4 The Copper amp is rugged. It's built into an aluminum chassis with a metal carry handle on top and vents at either end. The tube complement eschews traditional 12AX7s in the preamp. Rather, it includes three CV4014s (aka EF91s, a 7-pin preamp tube most commonly seen in a popular headphone amplifier) and a one 7-pin EC900 (6HA5).
Police Squad
I paired the V4 The Copper Guitar Amp with an open-back 1x12" cab with a Scumback J75 speaker, as well as a recording interface, studio monitors, and Audio-Technica studio headphones. How did it fare? The short answer is that this little box delivers a dynamic, articulate, authentic tube-amp-playing experience, and a wide range of moods within the Vox tone family.
Many makers chasing Vox-like voicings via alternative amp architecture are let down by flat, muddy, or brittle-sounding results. But this effort from Victory sits comfortably in the "proper tube-amp camp." Ironically, The V4 Copper amp achieves its most accurate Vox-like performance—at least to my ears—through headphones or studio monitors and the built-in cab sims, which include an element of power-amp modeling. With a traditional guitar cab, the unit still sounds very good, but the amp's hybrid nature is more easily belied by the absence of an EL84 output stage's harmonic complexity and the compression you hear when pushing an AC15 or AC30 to the edge of breakup and beyond. For many, the compromise will be a fair trade for portability and convenience.
 Undercover With the Vice Squad
The Copper V4 Amp boasts one of the better amp-loaded digital reverbs I've heard in a while. It's got a nice taper from subtle space to lush cathedral-like atmospherics, it's warm, and the decay is realistic. The EQ section is less obviously powerful. The tone control is effective but subtle ("mood" or "color" might be better names for the function). The treble boost certainly adds more hair and drive to the output. But from my perspective, the treble boost's adjustment via the TB master control—there is no boost gain control—is counterintuitive, because it means both top boost gain and output level are tied to a single knob that also interacts with the gain control in the first gain stage. There's also no independent adjustment available for crunch- or lead-gain settings.
Given this configuration, you can't easily dial in an edge-of-crunch tone from the standard gain control and push it over the edge with the boost without getting pretty hairy and fuzzed out. Adding an independent lead channel of sorts would have provided far more flexibility. But these options would also mean more space and weight, which is at a premium here. In spite of that, the treble boost function is still a real bonus that a lot of amps lack. And there are many good sounds to be found by putting it to use.
The Verdict
The V4 The Copper Guitar Amp is a cleverly designed bundle of Vox-voiced jangle and chime in an impressively compact package. The general tone is lively and dynamic, and onboard Two Notes cab sims increase its usability dramatically. The controllability of the boost/lead function is a little compromised with just one control, but there's a lot of power and potential to tap into in the V4 The Copper Guitar Amp—especially when you factor in the size and fair price.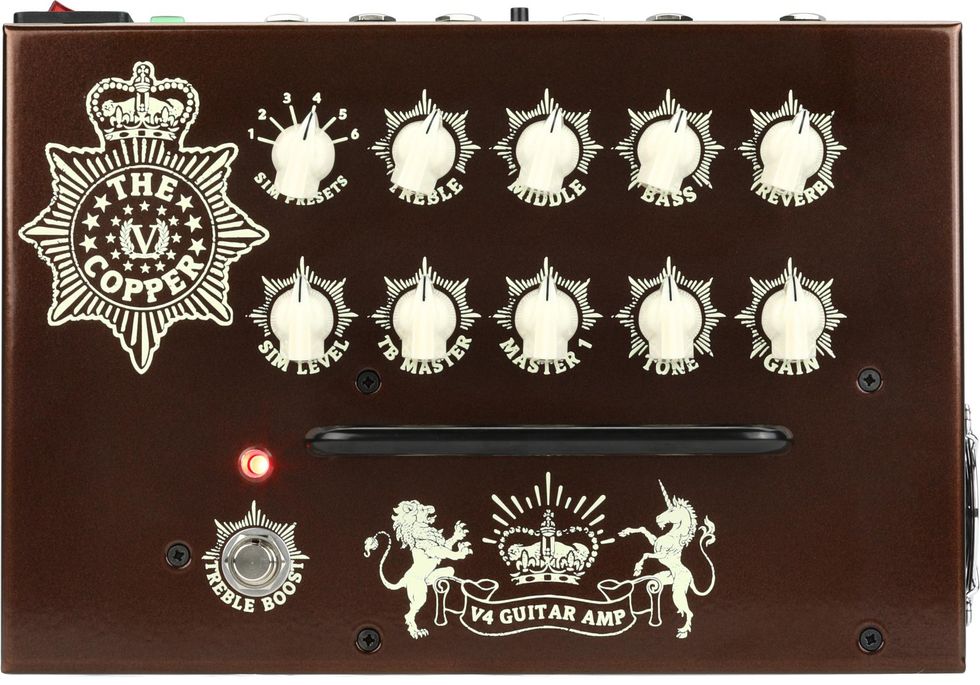 Fully fledged hybrid guitar amp in a pedalboard-friendly format
Features a tube-powered V4 preamp section with a Class D power section
180W at 4 ohms, 90W at 8 ohms, and 45W at 16 ohms
Delivers the sparkle, chime, and grit of a full-sized The Copper amp
Footswitchable treble boost adds high-end shimmer
Bass, middle, and treble controls shape your sound to perfection
Digital reverb adds varying levels of ambiance to taste
Victory Amplification