Victory V40 Deluxe Review
Bridging the blackface/plexi gap.
With so many American amp builders offering revisionist takes on vintage British amps, it's nice to be reminded that such transatlantic traffic flows both ways. Example: the V40 Deluxe from England's Victory Amps, an extraordinary handbuilt, Fender-flavored 1x12 combo.

Fullerton, U.K.
With its dual 6L6 tubes, the V40 Deluxe shares DNA with similarly powered vintage Fender amps such as the Bassman, Pro, Tremolux, Vibrolux, and Super. Those Fenders are beloved by players who want more clean headroom, presence, and bass muscle than you get from 2x6V6 combos, but with warmer, easier-to-attain amp overdrive than you're likely to pry from super-clean four-tube Fenders.
With the master volume wide open, you get glorious Fender-flavored clean tones. The highs are scintillating, but never shrill.
Yet the V40 isn't a Fullerton clone. You know how early Marshall amps "borrowed" the Fender Bassman schematic before branching off in their own directions? With its clever controls and flexible tone stack, the single-channel V40 can sound like the Fenders that influenced Marshall, or like the Marshalls that spun off from Fender—pretty much the entire tweed-to-plexi gamut. The V40 also evokes Fender-inspired Matchless amps in its superb workmanship, surgical tone controls, and ability to maintain punch and definition at all gain settings.

A Dream in Cream
The V40 Deluxe is a brainchild of designer Martin Kidd, known for his previous work with Cornford Amplification. It's descended from his earlier V40 Duchess—a head-only model, but in the form of a 1x12 combo with added tube-powered tremolo and spring reverb.

With its redoubtable solid-wood cabinet, the amp weighs a bit over 60 pounds. The cream-colored vinyl and matching knobs look stunning with the faux-leather handles and corners. The hardware practically screams "quality."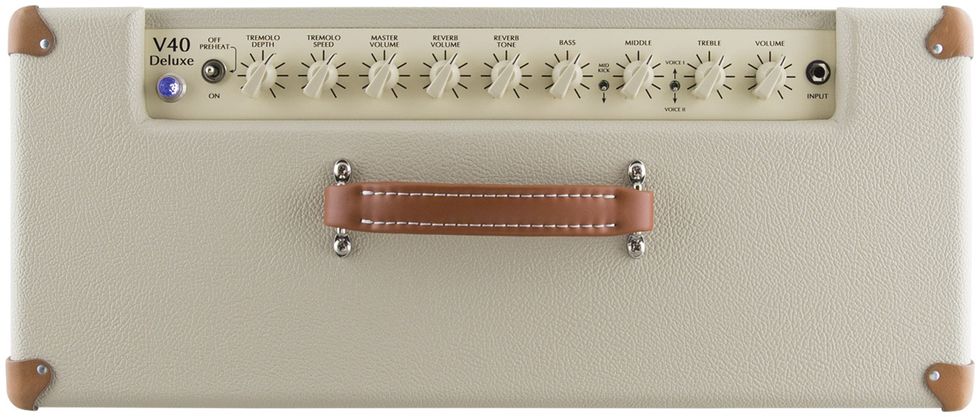 Things look great inside as well. The hefty transformers are by Demeter Windings. The chassis is oriented so that the tubes face inward toward the speaker, lessening the risk of damage. A nice touch: A metal plate bolted to the cab's back panel specifies the position of all the rear panel jacks and controls, so there's no need to feel around in the dark. If I encountered this guide at a stressful backline gig, I'd be tempted to send Victory a dozen red roses.

The components are arranged on hand-soldered circuit board with board-mounted pots and jacks, yet everything feels exceedingly solid and durable. Some boutique snobs might sniff at the circuit board, but the amp would have been more expensive with a turret-board build, and even costlier with point-to-point wiring. I'm agnostic about how much of a sonic difference those techniques might have made. But I evaluated its V40's sounds before I knew what was inside, and I thought everything sounded sublime.

The American/English Channel
With the master volume wide open, you get magnificent Fender-flavored clean tones. The highs are scintillating, but never shrill.(A good thing, since there's no presence control.) The master volume is situated post-phase-inverter, permitting convincing power amp distortion at sensible volume. There's also a switch to drop the power from 40 to 7 watts. Even at the low-power setting, you can dial down the master and achieve sweaty power-tube grind at neighbor-placating levels.
Ratings
Pros:
Magnificent '60s-style Fender and Marshall tones from a single channel. Enough power and headroom for most gigs. Fine workmanship. Gorgeous reverb and tremolo. Fair price.
Cons:
Weighs 60 pounds.
Tones:


Ease of Use:


Build/Design:


Value:



Street:
$1,849
Victory V40 Deluxe
victoryamps.com
Overdriven tones retain plenty of treble, giving the distortion a tough, gristly character that would thrive in a busy mix. Meanwhile, there's enough headroom to keep the amp set clean and create distortion with stompboxes alone. Whatever your approach, the 75-watt, ceramic-magnet Celestion G12H-75 Creamback speaker is an inspired choice, providing shimmering highs and thumping lows without feeling stiff or glassy.

The ranges of the bass and treble controls are more focused than on old Fenders, providing usable sounds through their entire ranges. But the secret weapon here is the enhanced midrange control, which is augmented by two adjacent toggle switches. The voice toggle takes you from a Fender-style spectrum (glistening highs and manicured mids) to a Marshall-esque one (more low-mid mass and upper-mid thrust). Meanwhile, the mid-kick toggle pumps up low mids and expands the bandwidth of the midrange control. These clever tools are largely responsible for the V40's Fender-to-Marshall shape-shifting skills.

World-Class Wobble
The amp's tube-driven reverb and tremolo have an authentic '60s Fender feel. The trem speed range is on the conservative/retro side. I can imagine some coloristic guitarists wishing for faster-than-vintage pulsations—though altering the range would be a simple, one-resistor mod. Likewise, the maximum reverb setting is moist enough for surfing, though some players might wish for greater extremes here as well. Still, there's ample range for most applications, and the sound quality is superb. The treble-chopping reverb tone control (less splish and more whooom) is a helpful addition.
There are more useful features around back, including a series effects loop with a hard-bypass switch, external terminals for setting tube bias without removing the chassis, and five speaker-out jacks that can accommodate any cab configuration. There's also a stereo jack for connecting the tough, folded-metal reverb/trem foot pedal (included).

The Verdict
The V40 Deluxe captures the essence of mid-sized Fender blackface amps, but with greater range and definition. And thanks to its expanded tone controls, it evokes early Marshalls equally well. Its tremolo and reverb tones are glorious, and the amp is packed with player-friendly extras. At 60 pounds, it may be a hernia risk. But thanks to its rugged construction, the amp is likelier to break you than the other way around. If you get your kicks on Route 1966, this impressive instrument will transport you in style.
Watch the Review Demo: