Mark Tremonti's 100-watt signature amp—five years in the making—features three totally independent channels spanning silky, substantial clean tones, responsive, controlled overdrive, and white-hot lead sounds that exhibit incredible definition at the highest gain levels.
The result of many years of R&D and road-testing, the MT 100 is a profes- sional amp for serious musicians. Built on a robust chassis, the MT 100 fea- tures custom transformers and three independent channels with identical controls but truly unique voices.
Each of the MT 100's three channels is built from its own unique circuit with dedicated preamp tubes to ensure the voicing of each channel is exactly as intended. The Clean channel (like the MT 15) stays pristine and chimey – try it with split or single coils to hear it sing. The Gain channel (also like the MT 15) gets lush heavy tones with massive bass response that is never muddy. And, the added Overdrive channel (modeled after one of Tremonti's favorite personal amps) brings an incredibly flexible gain structure and musical midrange response to this already versatile amp platform. Select your chan- nel on the amp face or via the included footswitch – both feature matching channel lights so you'll never lose your place. All three channels share the same preamp tube type (12AX7's) for ease of servicing.
Mark Tremonti's New PRS MT100!
At a powerful 100 watts, the value of the MT 100 well exceeds its price tag. It is a straightforward, powerful amp full of aggression and articulation, and the onboard effects loop means your pedals are welcome to join the party.
Please note: Mind your master...volume that is. On the Overdrive and especially on the Lead channel, keep the Master down to start. On the Lead Channel, keep the Master below 10 o'clock to avoid dangerous volumes!
Room to get raunchy and clean, with reverb and tremolo that sound like a dream.
Great tremolo and reverb in a combo that's relatively portable. Fantastic looks. Powerful enough for big clubs but not too loud.
Overdrive tones can sound rather ratty and ragged—a cool thing, if that's your jam, but don't expect refined lead tones.
3.5
3.5
4
4
Hot on the heels of their very cool vintage guitar reimaginations, the revitalized Harmony's new tube combos are bound to stir up excitement for their tasty retro looks alone. But while the navy blue vinyl covering and white woven-fabric grille cloth with gold piping make the H650 reviewed here a head-turner, its power and clean-to-dirty tone range will garner double-takes, too.
The China-made 50-watt, dual-6L6 1x12 H650—the largest of the three new Harmony amps—occupies a power sweet spot that a lot of large-club performers in many playing styles prefer. But it's not a deafeningly loud amp, and it comes with a built-in attenuator that makes home and apartment use possible, as well as a raft of tricks and quirks that will appeal to retro-minded players looking for a distinct voice.
The tremolo is warm, round, and bubbly.
Feature Film
The original Chicago-based Harmony company cranked out well-made, affordable acoustic and electric guitars for decades. At one time they were the largest guitar manufacturer in the nation, and possibly the world. As electrics became more and more a part of the company's product mix, Harmony offered amplifiers, too, though these were generally made by third-party manufacturers. Some of these amps have become minor legends in their own right. The mid '60s H415 model made by Sound Projects Co., for instance, is regarded by Trainwreck tube guru Ken Fischer as a gem among affordable vintage amps.
The H650 isn't much like old Harmonys in terms of circuity or tube complement. A pair of 6L6GC power tubes delivers output that Harmony claims as 50-watts, although that's on the high side for these tubes (most similar class A/B dual-6L6 amps generate 40 to 45 watts). Four 12AX7 tubes drive the preamp, effects, and phase-inverter stages.
The cab is a semi-closed-back design, with a vented aluminum cover over the space between upper and lower back panels. Inside, a single Italy-made 12" Jensen Tornado Stealth 65 speaker converts all that energy back to moving air. The entire rig measures approximately 25.5" x 19.5" x 10.5" and weighs 49.8 pounds, which is still pretty hefty. But a wide, padded leather handle makes toting this substantial amp a lot more manageable.
Removing the upper back panel reveals a rugged printed circuit board, with through-hole, surface-mounted components. All potentiometers, switches, and tube sockets are mounted directly to the chassis itself, which should aid reliability over the long haul. Mounted on the grill side of the chassis, the tubes are tricky to reach, but it's not impossible to access and replace them without pulling the whole chassis.
The top-mounted control panel offers a single channel with gain (which doubles as a push-pull control for boost), bass, middle, treble, reverb, tremolo depth and speed, presence, and master volume. The back panel is home to dual speaker jacks with a switch for 8- or 16-ohm output, and a rotary selector for the built-in attenuator, which offers 1 watt, 0.5 watt, and 0 watt output for silent recording via the line out. There are also two TRS footswitch jacks for a tremolo/boost and a reverb/effects loop, as well as a send, return, and bypass switch for the effects loop. Harmony thoughtfully includes both footswitches with the amp.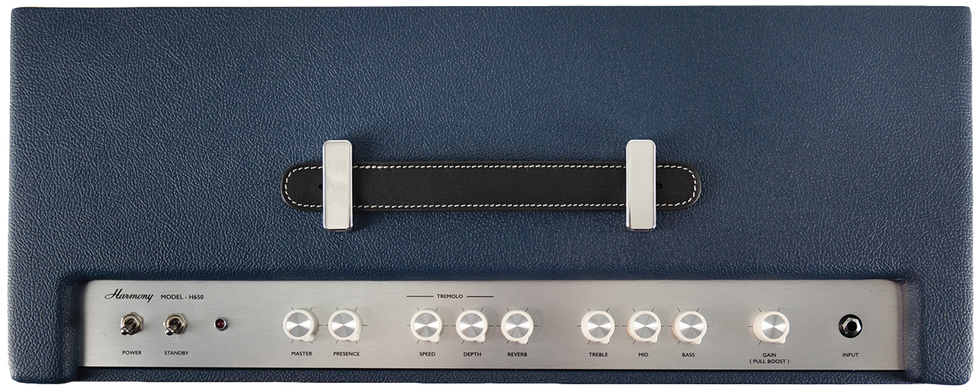 Blue Moves
Whether with humbuckers, single-coils, or P-90s, the H650 sounds distinctive, though at times a bit quirky. At lower to medium volumes, it ably produces clean to clean-ish tones reminiscent of a 6L6-based black- or silver-panel Fender platform: relatively mid-scooped, firm lows, and sparkling, glassy high-frequency tones. The Harmony's greatest strengths are rooted in this foundation, but the spring reverb and tube tremolo help create lush retro soundscapes that are well suited to the fundamental voice. The tremolo is warm, round, and bubbly. The depth control's taper increases drastically in the final 10 percent of its travel, but all the sounds are great. The H650's reverb also sounds cool. It's spacious, with a deliciously long decay but is never excessively splashy—even at maximum settings. The effects loop works effectively, and the external bypass switching is a bonus.
Things get wilder and more interesting when you crank the H650 to the point of overdrive. And whether you find these overdrive sounds fantastic or raunchy depends on your own tastes. With the gain past 1 o'clock and humbuckers or P-90s out front, the amp-generated distortion can sound a tad ratty and fizzy, which is very much in keeping with the cranked-up catalog-amp ethos that makes vintage Harmony amps appealing. Engaging the boost makes it even more so, as do most drive pedals. That said, there's no end to the raw, garage-rock fun you can have with the gain maxed and boost engaged. Just don't expect archetypal big-stack classic-rock lead tones.
The built-in attenuator is good at enabling ultra-hushed overdrive at bedroom practice volumes, but high-gain sounds can sound comparatively gnarly and compressed at 1 watt. It also seems that, given the effort of including such a feature, it would have been worth creating a 10-watt setting. Though the silent recording feature is a big plus for players that may be on the fence about justifying a 50-watt amp.
The Verdict
The H650 offers an interesting, if somewhat dichotomous, palette of sounds. On one hand, it's capable of black-panel Fender-style clean tones that sound impressively refined if you stay in the amp's sweet spot. On the other, you get hairy, raunchy overdrive in line with amps that constituted Harmony's competition in the 1960s: Danelectro, Silvertone, Valco, and the like. The ethereal reverb and tremolo are a significant bonus. But whether the H650 works for you is probably down to how well you love the amp's raunchier side.
Harmony H650 Demo | First Look
EHX Instagram
In a message posted to its website, Electro-Harmonix has stopped taking any new orders and fulfilling back orders on all Russian vacuum tubes. This is due to a ban that Russia has imposed on over 200 types of goods.
Here's the statement from EHX founder Mike Matthews:
On March 11, 2022, Russia imposed a ban on the export of some 200 goods in response to the sanctions imposed on it over the current conflict in Ukraine. We have confirmed that the ban applies to our seven brands of Russian tubes. Currently, the ban is set to remain in effect until the end of the calendar year.
Given this export ban, we will not be receiving any further tube inventory for these brands. A myriad of pressures — including continued strains on the supply chain, escalating internal expenses, mounting inflation, and an ever-evolving legal landscape (particularly in light of the Ukraine conflict) — have created a very fluid and ambiguous environment. Until we can properly assess the impact of these factors, we will not honor any new orders or ship any more Russian tubes on back order.
The brands affected by this ban include Svetlana, Sovtek, Mullard, Tung-Sol, Electro-Harmonix, EH Golden, and Genalex Gold Lion.
For more information:
Electro-Harmonix