It may be the understatement of the century, but this year was weird. Even so, the killer gear kept coming. Here are the goods that stood out as extra-great amongst our annual haul of Premier Guitar reviews.
MXR
Clone Looper

With a two-button system for recording and playback, the Clone Looper simplifies many looping maneuvers by eliminating some double-click and hold sequences. But with awesome and trippy features like adjustable playback speed and reverse playback, you can easily take the Clone Looper's simpler looping processes to particularly psychedelic ends.

$149 street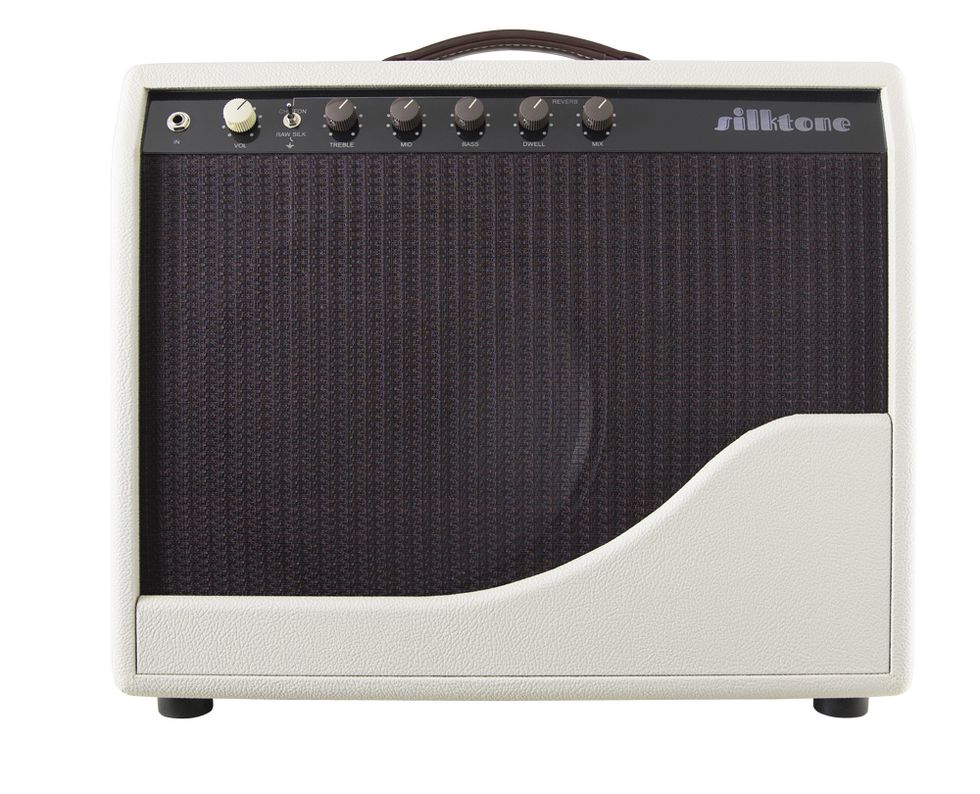 Silktone
Silktone Amp

This handwired 1x12 combo employs a KT66 power tube for its class-A circuitry, resulting in glassy cleans reminiscent of a tweed Champ, and fat and pleasantly compressed high-gain tones without sacrificing shine. Joe Gore was also impressed with its aesthetic and workmanship, as well as Silktone's spring reverb. "It's got the feel of a vintage Fender tank, but with uncommon wetness and depth."

$2,199 street, as reviewed with ceramic speaker (alnico speaker $200 extra)

Fender
Vintera Telecaster '50s

Just about any Telecaster flirts with perfection in form. But Fender did not rest on their laurels in re-interpreting the '50s-styled variation in the new, affordable Vintera series. The neck is lovely, with a hefty deep-U shape, and the alnico 2 bridge pickup delivers the essence of bright, spanky, and rowdy Tele-ness, while maintaining a warm glow around the edges that is a beautiful match for a touch of vintage-style reverb.

$899 street


Fender
Vintera Telecaster '70s

Keith Richards, who could have any freaking Telecaster in the world if he wanted it, has used the Telecaster Custom he bought new in 1975 regularly ever since. When you play the Vintera version, it's easy to understand why. Fender's Tim Shaw worked hard to build a more authentic WideRange humbucker for this instrument, and the work paid off—creating an expansive palette of spanky-to-smoky tones when paired with the alnico 5 bridge single-coil.

$899 street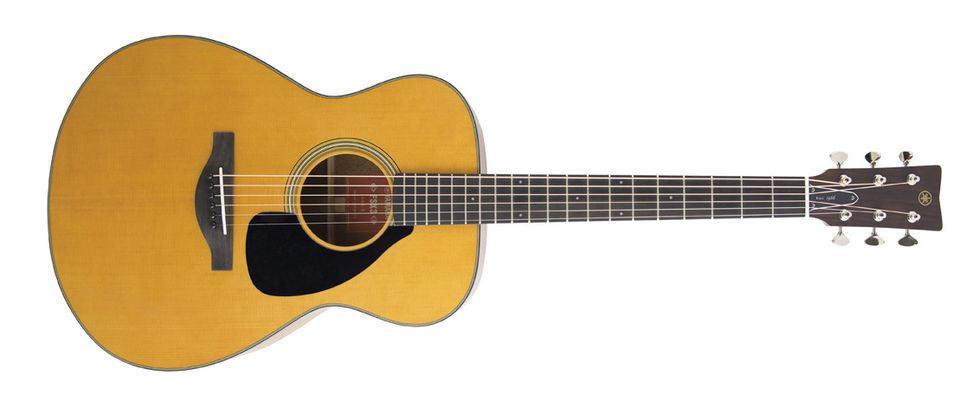 Yamaha
Red Label FSX3

Adam Perlmutter found that the OM-sized FSX3, which honors Yamaha's much-loved red-label guitars of the '70s, feels better-built than the company's original FG guitars, which is no small compliment. Perlmutter shared that the FSX3, boasting all-solid-wood construction, "feels great, exhibits real versatility, and is free of the old-guitar baggage that comes with vintage examples."

$999 street

TC Electronic
Hall of Fame 2x4

A maximalist expansion of TC's popular Hall of Fame 2 pedal, this reverb machine boasts 10 factory settings, six user memory slots, and eight stored patches, accessible via its four hefty footswitches. "Everything about the Hall of Fame 2 x4 Reverb is exceptional," is the word from reviewer Joe Gore, who welcomed its rich and varied reverbs, as well as the pedal's delightfully simple interface.

$299 street

Origin Effects
RevivalDRIVE

Origin's luxurious stomps feel like outboard studio gear from analog audio's golden age. The RevivalDRIVE, however, has so much tone-sculpting power that it actually tends to function and sound like an old recording console module, too. The EQ is powerful, sensitive, and responsive, and the low-end tones are especially delectable. If you need an overdrive that can fill a very specific mix niche, this tool is worth every penny.

$385 street

Jackson Audio
Bloom

This ultra-versatile multi-effects pedal captivated PG with its ability to control, shape, and expand natural playing dynamics through its five different types of compression, a 3-band Baxandall-inspired EQ, and a 20 dB clean boost. Boasting super-sensitive knobs with finely tailored sweeps, the folks at Jackson Audio topped off the Bloom with MIDI control over all parameters via its TRS input.

$329 street

Electro-Harmonix
Ram's Head Big Muff

Given what a vintage Ram's Head Big Muff costs these days, this new version's $99 price tag alone is cause for celebration. But the tab is extra-impressive when you hear how well EHX nailed a vintage Ram's Head's legendary essence. It's growling, bold in the midrange, and stings like a wasp when you run the gain and tone wide open. If you don't have the bucks for a vintage pedal or a high-end Ram's Head clone, this remarkably economical iteration is a must for rounding out your Big Muff collection.

$99 street

Blackstar
Silverline Standard

This 20-watt, 1x10 combo from the folks at Blackstar got high marks for its retro style, user-friendly, ergonomic control panel, and all points in between. Joe Gore was wowed by the Standard's attractive amp and effects emulations—especially given its modest price tag—and shared that Blackstar's compact 30-pound combo would make for a convenient gig companion or great living room amp.

$429 street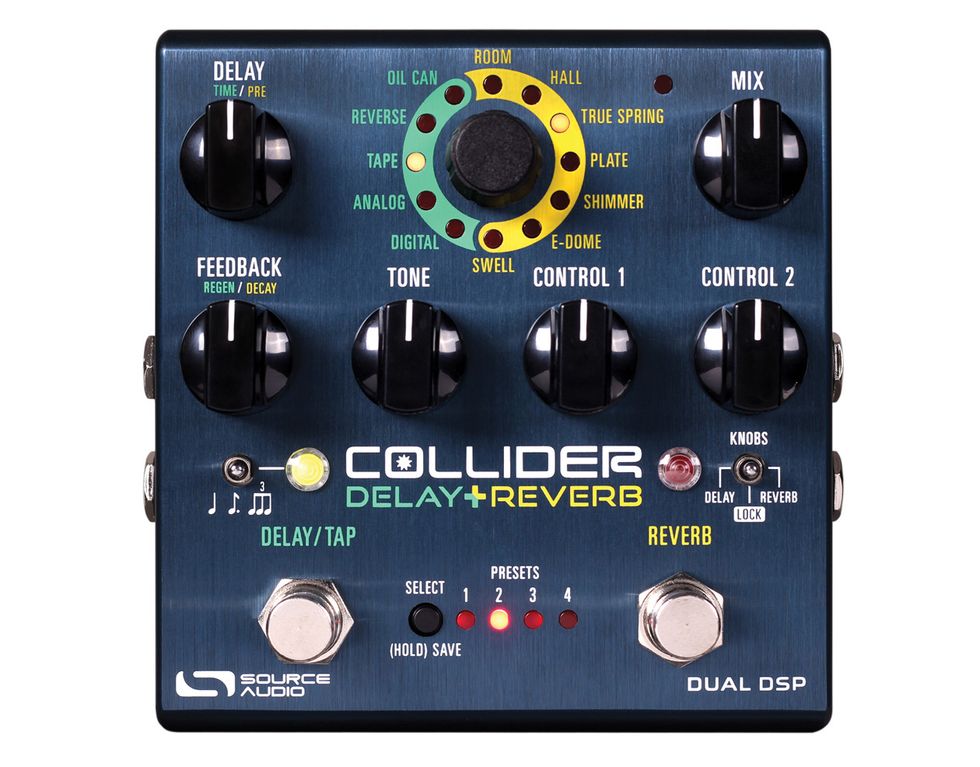 Source Audio
Collider

The Collider, which combines some functionality from the already expansive Ventris reverb and Nemesis delay, seems like it might be a handful to manage. In fact, the Collider's clever integration of its parent effects makes exploring the wide-ranging feature set—which includes new emulations like an excellent Tel-Ray-style oil can delay—an intuitive and fun portal to thousands of huge and rich time-manipulation textures.

$349 street

PRS
SE Hollowbody Standard

The Paul Reed Smith Hollowbody model has become a modern classic since its design was first introduced in 1998. And it's now available (and made much more affordable) as part of the company's made-in-China SE range. But don't let the down-market pricing fool you: Its elegant design, PRS-created hardware and electronics, and excellent playability easily earned the SE Hollowbody Standard a Premier Gear Award.

$999 street

Fender
American Ultra Jazz

As daunting as it is to alter a classic, revered instrument like the J, Fender hit it out of the park with subtle yet significant updates to its look and design. And with passive and active tones at the ready, Victor Brodén lauded the versatility of the Ultra Jazz, which allowed him to effortlessly conjure Marcus Miller-to-Jaco-esque tones.

$1,999 street

The old adage says not to judge a book by its cover—so why do we do it so much with instruments?
It's pretty common to begin assessing an instrument through its acoustic tone, but how much does this really reveal about the instrument's plugged-in tone? You see it often in reviews, where a player starts out by describing the acoustic tone of a soon-to-be-plugged-in instrument and then draws the first conclusions of what to finally expect.
Think about it: Whenever we pick up an instrument, the first thing most of us do is play it acoustically. It makes sense on many levels, since we want to get used to the neck, overall ergonomics, string spacing, and/or whatever else we need to feel at home before we start annoying (entertaining) our neighbors. The sooner we feel at home, the more likely it is that we are going to like its electric tone. But can we really use an instrument's acoustic tone as a tell for its amplified tone? Not so much! And it's not because we aren't yet familiar with its pickups and electronics.
With a solidbody, however, only a tiny fraction of the strings' movements or vibrational energy is transferred to the body.
To be clear, we're talking about solidbody instruments—not acoustics—but the lines can be blurred. With an acoustic bass, the final acoustic tone depends solely on moving the top through the vibrations of the string. With a solidbody, however, only a tiny fraction of the strings' movements or vibrational energy is transferred to the body. Hence, the longer sustain of a non-acoustic bass, since a higher portion of the vibration is kept in the strings.
So, what do we hear unplugged and what can affect it? The first thing to consider is your listening position. The airborne sound of a vibrating dipole consisting of the body and the far more influential and resonant neck will heavily depend on where your ears are. Are they in line with the body's surface in a typical player position or bent over the body with your ears almost in front of it? You can easily hear the difference by rotating the instrument's body on your lap.
Often, the impression of an acoustically loud instrument leads to the conclusion of getting a strong, aggressive, impulsive, dynamic—or whatever you want to name it—electric tone. In reality, there are a lot of construction details that blur the categorical split between an electric and acoustic instrument, so be sure to expect differences in the airborne sound. There could be a regular open pickup routing or a more generous routing that's closed with a floppy pickguard and acting as a sort of a tiny speaker. The same thing goes for a chambered body that—depending how it's done—can give us a sort of acoustic touch, sometimes even with its plugged-in tone.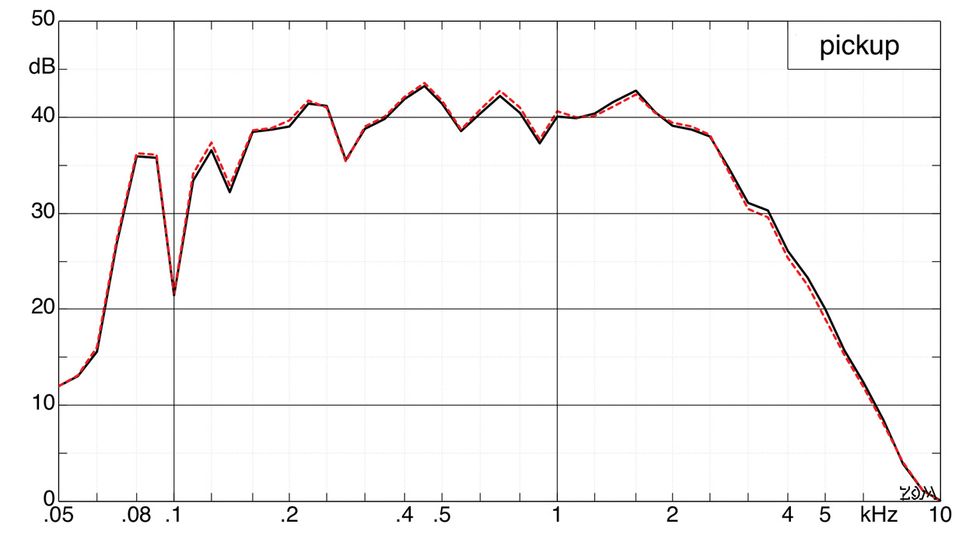 Fig. 2 — The spectrum of the E chord recorded with a guitar's pickup, with (black) and without (red) contact to the box. Graphic courtesy of "Physics of the Electric Guitar" by Dr. Manfred Zollner
Luckily for us, there are measurements that can show how misleading the direct connection of airborne sound and electric tone can be. A repeatedly played E chord on a guitar is recorded with a microphone, and then via the pickup. In each scenario, the sound is captured while the guitar is in contact with a box, and then without. Fig. 1 shows the acoustically noticeable and measurable change in both the midrange loudness and low-end spectrum of an instrument when in touch with the box, which is caused by the extended radiating area of the box. The graph in Fig. 2 shows the measurements when recording the pickup's output signal with and without the box, where you have to look very closely to see any differences at all.
So, none of the acoustically obvious differences made it into the final pickup signal in a way that even an expert's ear would be able to distinguish. And if attaching a box to a body doesn't alter the electric tone, this gives us a hint of how influential the body wood is, but that's another story for another time.
There are a lot of emotions involved when playing an instrument, so there are surely some qualities one might rediscover in an guitar's plugged-in tone that relate to its acoustic tone. Maybe it's how it inspires you to play in a certain way, how it reacts to bending or different playing styles, or maybe even some of its dynamics. But it's almost impossible to fairly judge an instrument's so-called primary tonal character by just its acoustic tone.
A player shares the mods he's made to an Ibanez ART420 to get more flexibility when playing in his church band.
Name: Bruce H. McIntosh
Location:
 Gainesville, Florida
Guitar:
 Ibanez ART420
One day back in 2009, I was in the local music shop ordering PA gear for my church when I happened to spot this gorgeous guitar: an Ibanez ART420. "You had me at spalted maple!" It looked gorgeous, and felt and played even better, so naturally I bought it.
I never did warm up to the sound of the active pickups, despite giving them a couple of years to see if they would grow on me. Never happened. My credo has always been, no guitar will go unmodified for too long. So, out came the active pickups and associated electronics, and in went a Seymour Duncan Jazz/JB set and new controls, along with series/parallel and phase switching.
That was a vast improvement, but after another few years, discontent once again reared its ugly head. After comparing the Ibby to my previous main guitar, a one-off custom Telecaster from Baltimore builder Koontz and Thurston, I decided to replace the Jazz with an ancient DiMarzio Super 2 I found on Reverb. Perfect!
Fast forward to last year. I've been playing guitar at my church for just shy of 25 years now, and my role in the music group has shifted quite a bit. Our synth player graduated and moved away two years ago, so I find myself doing a lot of effects, pads, and fills more than straight lead playing. I recently added a Boss GP-10 and a Roland GK-3 pickup to my rig, which gives me a whole new level of flexibility. I guess the next change to the guitar will be to route out a bigger cavity in the back, take apart the GK-3, and install its guts in the guitar body. After that, it'll be time to replace the tuners. And then ... change is the only constant! PG
Send your guitar story to submissions@premierguitar.com.