The PG DSM Noisemaker Sub Atomic review.
Recorded direct with a Yamaha BBP34 using PreSonus FireStudio and PreSonus Studio One 3.
Clip 1: Master at 9 o'clock, blend at noon, dry gain at 2 o'clock, tone at 2 o'clock, drive voice in middle position (mid bump), and SUB LPF at 1 Khz
Clip 2: Master at 9 o'clock, blend at 100 percent wet, dry gain at 2 o'clock, tone at 9 o'clock, drive voice in left position (flat), and SUB LPF at 100 Hz
 

Ratings

Pros:

Sharp, modern tone options.

Cons:

Sharp, modern tone options—if that's not your thing. The knobs were a touch loose-feeling.

Street:

$159

DSM Noisemaker Sub Atomic X-Over CMOS Bass Drivedsmnoisemaker.com

Tones:Ease of Use:Build/Design:Value:
---
In the most basic of setups, I need a few things to get by: a tuner, a compressor, and maybe a chorus pedal. After that, I might get to have some real fun by adding more colorful stomps. It's especially enjoyable when we bassists get to use distortion or overdrive. Some dirt pedals try to keep everyone happy, but what if we are leaning toward a darker place and need something special? For the bass-playing population that lives a little closer to the edge, DSM Noisemaker has offered the Sub Atomic X-Over CMOS Bass Drive.
Red Skies at Night
The Sub Atomic pops out of its cloth bag (Save it for plectrums!) with one of the smallest footprints and the most control options per square inch I have seen on a pedal. I like a small pedal, as long as it does what it is supposed to do. And there is a lot of ground to cover within this little guy, so let's get started.
First, the top half of the pedal has four dials that illuminate an ominous red when the pedal is engaged. I really like this feature over a simple indicator light, because it leaves no question whatsoever as to the operation mode. The four pots are tone, master, drive gain, and blend, which are pretty self-explanatory. There are also two mini toggles—one a sub-low-pass filter and the other for drive voicing—that are nestled between the dials, which provide some additional EQ options. These are most likely controls you won't change on the fly that often, since they are really tightly packed into this tiny pedal.
Freq Out
I plugged the Sub Atomic directly into my DAW using a passive Yamaha BBP34, and grabbed a set of Victor headphones to get a sense of the nuances and all the tone options of the pedal. I started with everything at about noon, except the master, which found its home at 10 o'clock to match my volume when the pedal wasn't engaged, and left the mini toggles flat. I was greeted with a Michael Anthony OD bass vibe reminiscent of the intro from "Running with the Devil." It's a great place to start for dirty tone, and the blend setting really helped maintain the bass' integrity.
I found that the tones border on the higher side of the frequency spectrum overall, giving a lot of buzzy in the fuzzy.
Keeping the controls where they were, I moved the mini toggles between their three different frequency settings, and the pedal opened up a bit (or closed off, depending on how you look at it). The low-pass frequency switch moved the bottom around enough to give me a super-modern Swedish-metal tone with weight and bite.
The drive-voicing toggle is useful as well, for it gives the mix-cutting ability we need when we dive into overdriven bass tones. I found it useful when used with the blend control sparingly, keeping just enough dirt while distinctly maintaining the low-end.
Moving around with different settings on the Sub Atomic, I found that the tones border on the higher side of the frequency spectrum overall, giving a lot of buzzy in the fuzzy. There are a lot of variables within the pedal, so finding your voice and pairing it with your amp and bass may take some doing. The pedal's controls can be dimed, but shouldthey be? For my taste, it was a bit extreme on the high-end with the tone maxed, but everything in the universe has a place, right?
Diming the tone and drive gain, and moving the drive-voicing mini toggle to the mid-bump position got me into some guitar-player tone territory. Try this setting at home with some chords and it can certainly open things up for you musically.
The Verdict
The Sub Atomic is a very focused and specialized distortion pedal that can add some zest to a modern pedalboard. If you want a cutting drive pedal in your life, it may be a place to start. Tube lovers beware: The tones here are not the warmest, but we can all branch out and try some new fuzz cocktails every now and then.
---
Looking for more great gear for the guitar player in your life (yourself included!)? Check out this year's Holiday Gear Finds!
Outlaw Effects introduces their next generation of NOMAD rechargeable battery-powered pedal boards.
Available in two sizes, NOMAD ISO is a compact, versatile tool that offers the convenience of a fully powered board plus the additional freedom of not having to plug into an outlet. NOMAD ISO is ideal for stages with limited outlet availability, quick changeovers, busking outdoors, temporary rehearsal locations, and more!
NOMAD ISO builds upon the legacy of the ultra-convenient and reliable NOMAD rechargeable pedalboard line originally launched in 2018. The brand new NOMAD ISO editions feature eight isolated outputs (1 x 9V DC, and 1 switchable 9V/12V DC) for even more versatility and clean, quiet power. With an integrated lithium-ion battery pack boasting 12800mAh capacity, NOMAD ISO can fuel a wide array of pedals, and will last over 10 hours* on a single charge.
Each NOMAD ISO pedal board includes adhesive hook & loop pedal-mounting tape, eight (8) standard DC connector cables, and one (1) reverse polarity DC cable, giving you everything you need to build your ultimate "off-the-grid" rig. A rugged, road-ready padded gig bag with shoulder strap is also included, to safely protect your gear while you're on the move.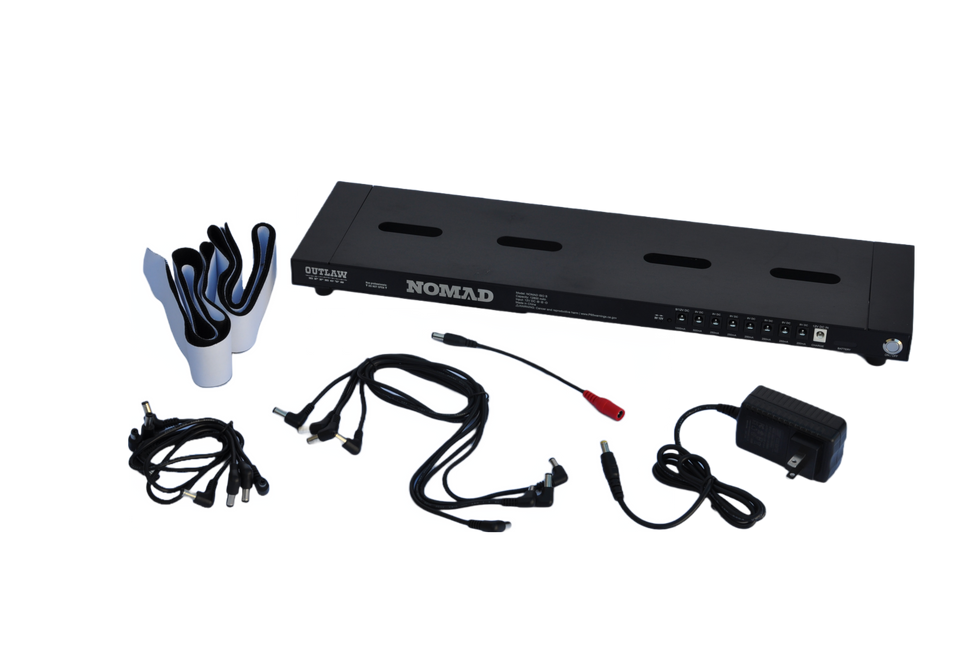 Dunable announce new Minotaur model featuring Grover Rotomatic Keystone tuners.
The Minotaur's DNA is rooted in their classic Moonflower model, which Dunable discontinued in 2017. However, they have long since wanted to create a fresh take on a carved top guitar design, and various attempts to rework the Moonflower led them to a brand new concept with the Minotuar.
Dunable's goal is to give the player a guitar that plays fast and smooth, sounds amazing, and gives maximum physical ergonomic comfort. The Minotaur's soft and meticulous contours, simple and effective control layout, and 25.5" scale length are designed to easily meet this criteria.

Dunable Minotaur!
Features
25.5" scale length
Dual Humbucker
one volume, one tone, push pull for coil splitting
Grover Rotomatic Keystone tuners
Grover Tune O Matic bridge with brass Kluson top-mount tailpiece
jumbo nickel frets
12" fretboard radius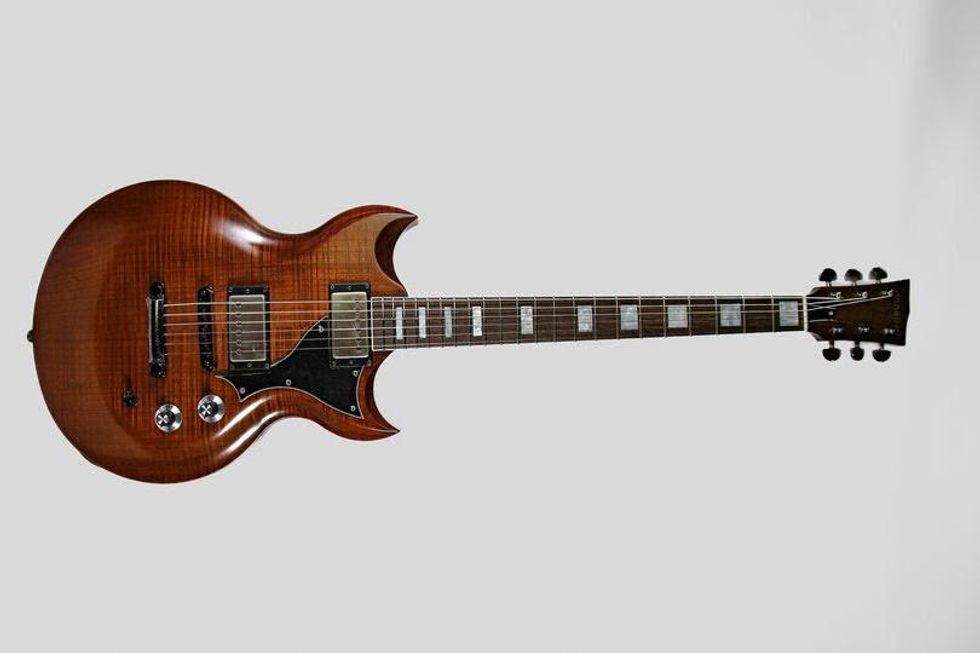 Dunable
This full-amp-stack-in-a-box pedal brings a new flavor to the Guitar Legend Tone Series of pedals, Missing Link Audio's flagship product line.
Adding to the company's line of premium-quality effects pedals, Missing Link Audio has unleashed the new AC/Overdrive pedal. This full-amp-stack-in-a-box pedal – the only Angus & Malcom all-in-one stompbox on the market – brings a new flavor to the Guitar Legend Tone Series of pedals, Missing Link Audio's flagship product line.
The AC/OD layout has three knobs to control Volume, Gain and Tone. That user-friendly format is perfect for quickly getting your ideal tone, and it also offers a ton of versatility. MLA's new AC/OD absolutely nails the Angus tone from the days of "High Voltage" to "Back in Black". You can also easily dial inMalcom with the turn of a knob. The pedal covers a broad range of sonic terrain, from boost to hot overdrive to complete tube-like saturation. The pedal is designed to leave on all the time and is very touch responsive. You can get everything from fat rhythm tones to a perfect lead tone just by using your guitar's volume knob and your right-hand attack.
Features 
Three knobs to control Volume, Gain and Tone
Die-cast aluminum cases for gig-worthy durability
Limited lifetime warranty
True bypass on/off switch
9-volt DC input
Made in the USA
MLA Pedals AC/OD - Music & Demo by A. Barrero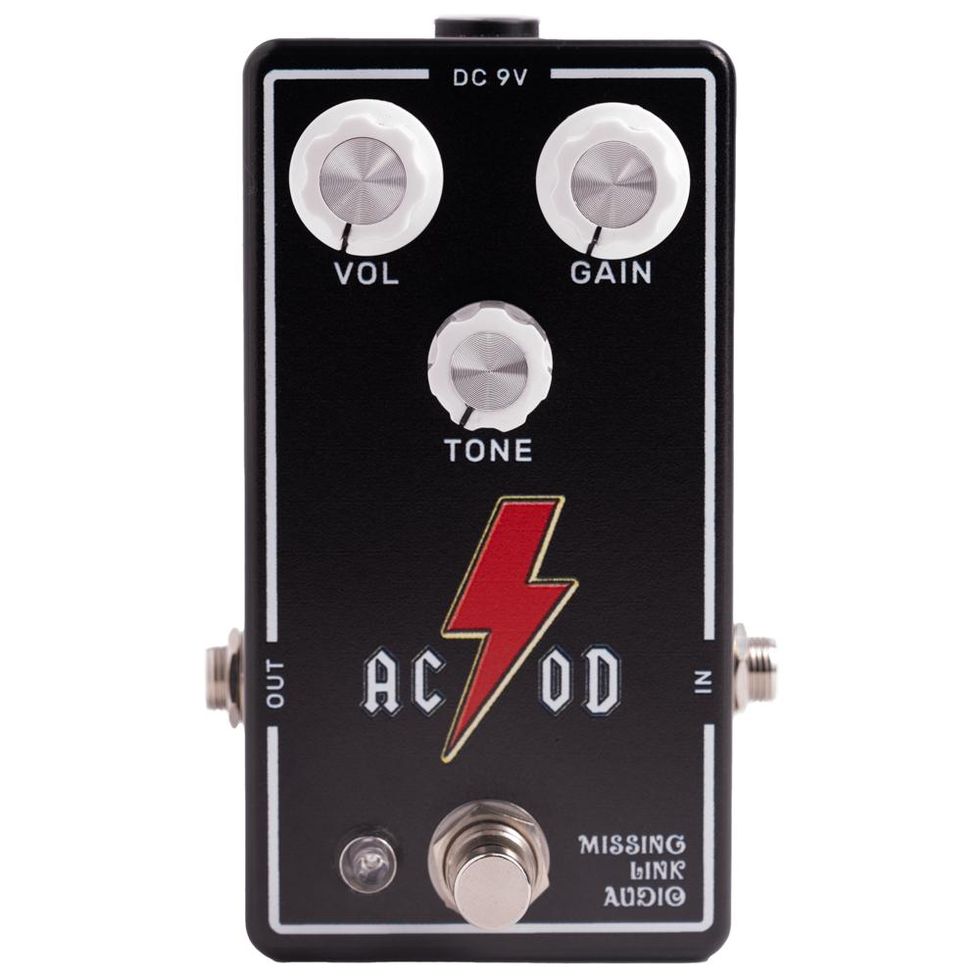 www.mlapedals.com.