Rig Rundown: Big Business
Four strings, a stack of Sunns, and plentiful pedals allow Jared Warren enough viciousness and volume for bass and guitar.
Facing a mandatory shelter-in-place ordinance to limit the spread of COVID-19, PG enacted a hybrid approach to filming and producing Rig Rundowns. This is the 31st video in that format.
Through the last 15 years and over six LPs (plus 6 EPs), the gruesome twosome of bassist/vocalist Jared Warren and drummer/vocalist Coady Willis have carved out their own surly, pulverizing sound. Sure, they've welcomed a guitarist on two occasions—Toshi Kasai and Scott Martin—and beefed up the Melvins for nearly a decade, but as a duo they are their most dynamic, grinding, and careen like the cannonball in Raiders of the Lost Ark.
Jared Warren virtually welcomed PG's Chris Kies into his L.A.-based jam space. In this Rig Rundown, bassist opens up why he chose a J over a P, demystifies his three-amp-four-cab-two-pedalboard setup, and proves that with a few unique octave and synth pedals, he can cover two instruments with four strings.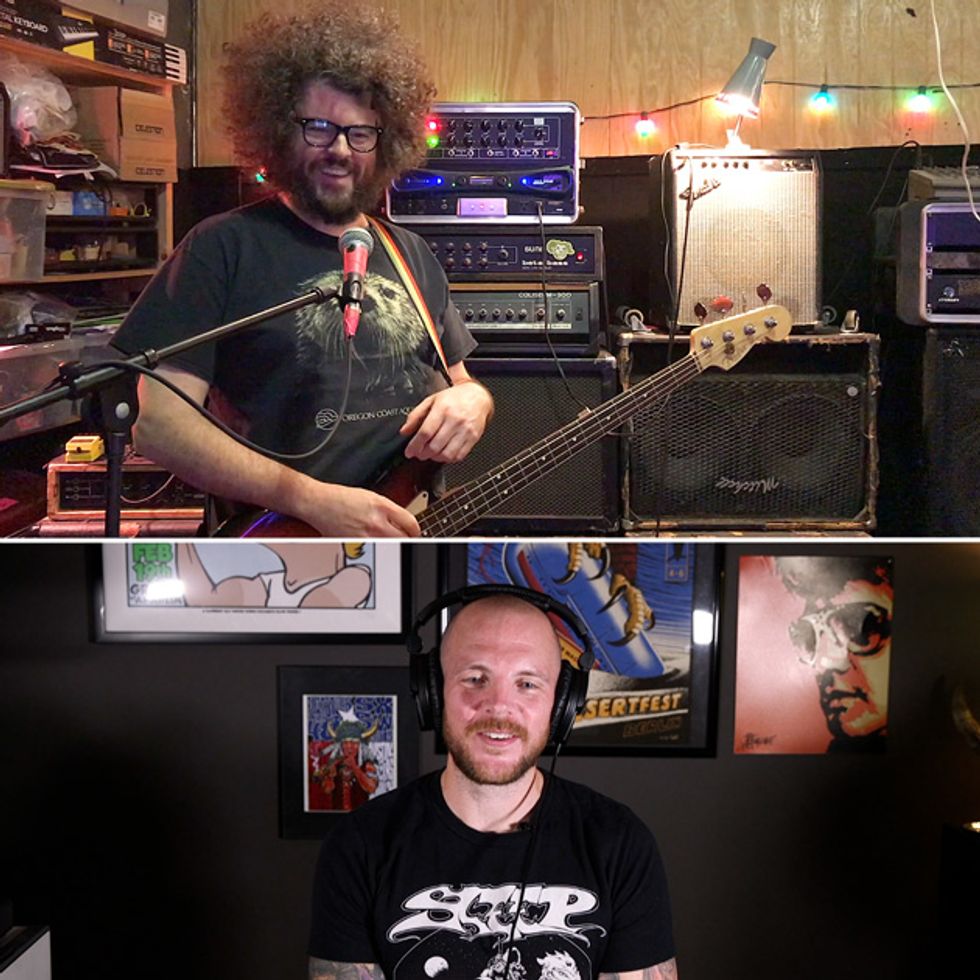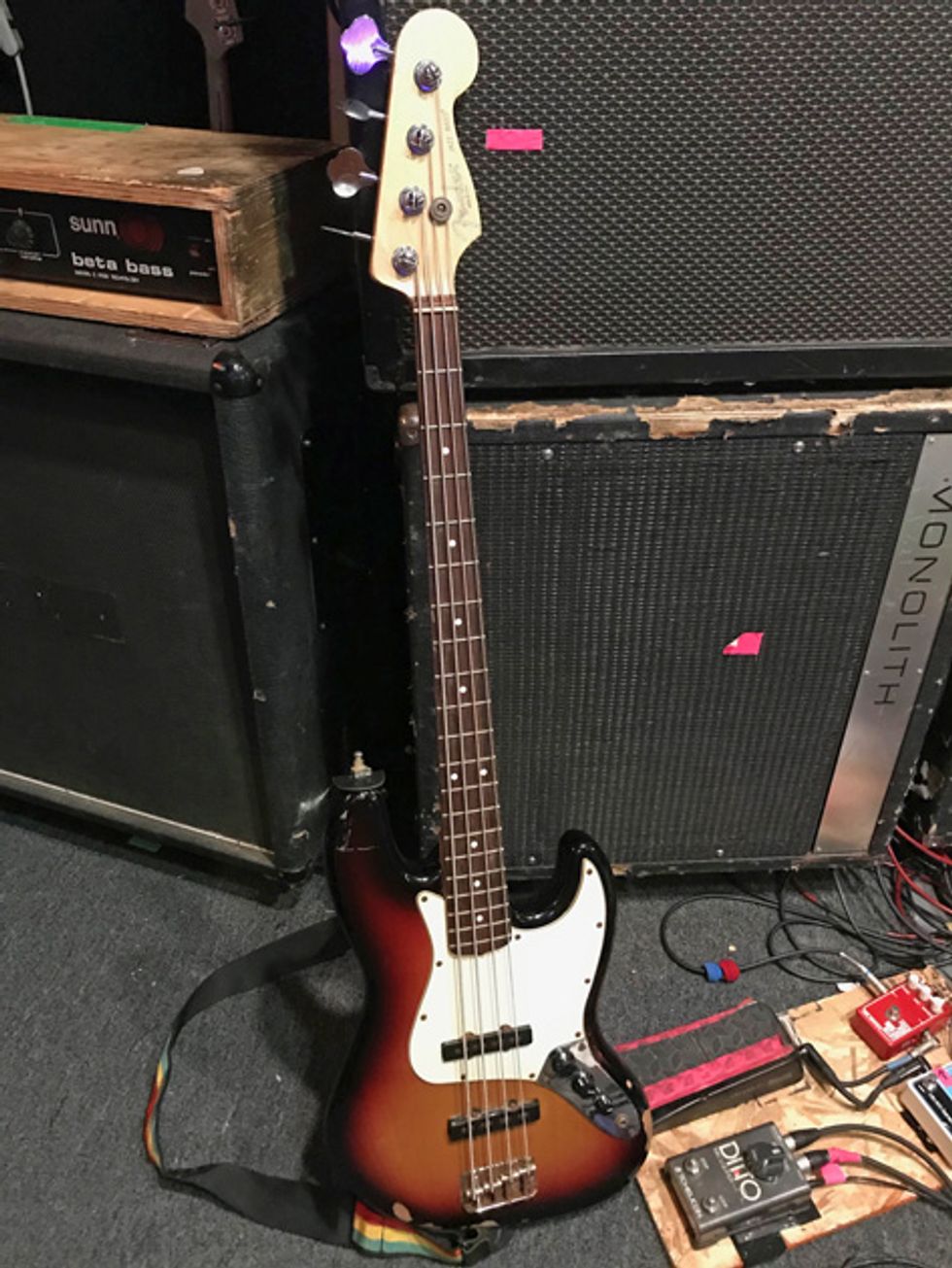 "When I joined the Melvins, I felt compelled to have pro gear as well as a pro attitude [laughs]," says Big Business bassist/singer Jared Warren. Before buying two identical Fender Jazz basses (his main one above is all stock), he trusted Squier Js and always leaned more J than P because he felt the Jazz was a clean palette enabling him to color and twist his tone with pedals and amps. He goes with Dunlop Stainless Steel Extra Heavy Drop Strings (.060 –.120) and is typically locked into drop-B tuning (B–F#–B–E).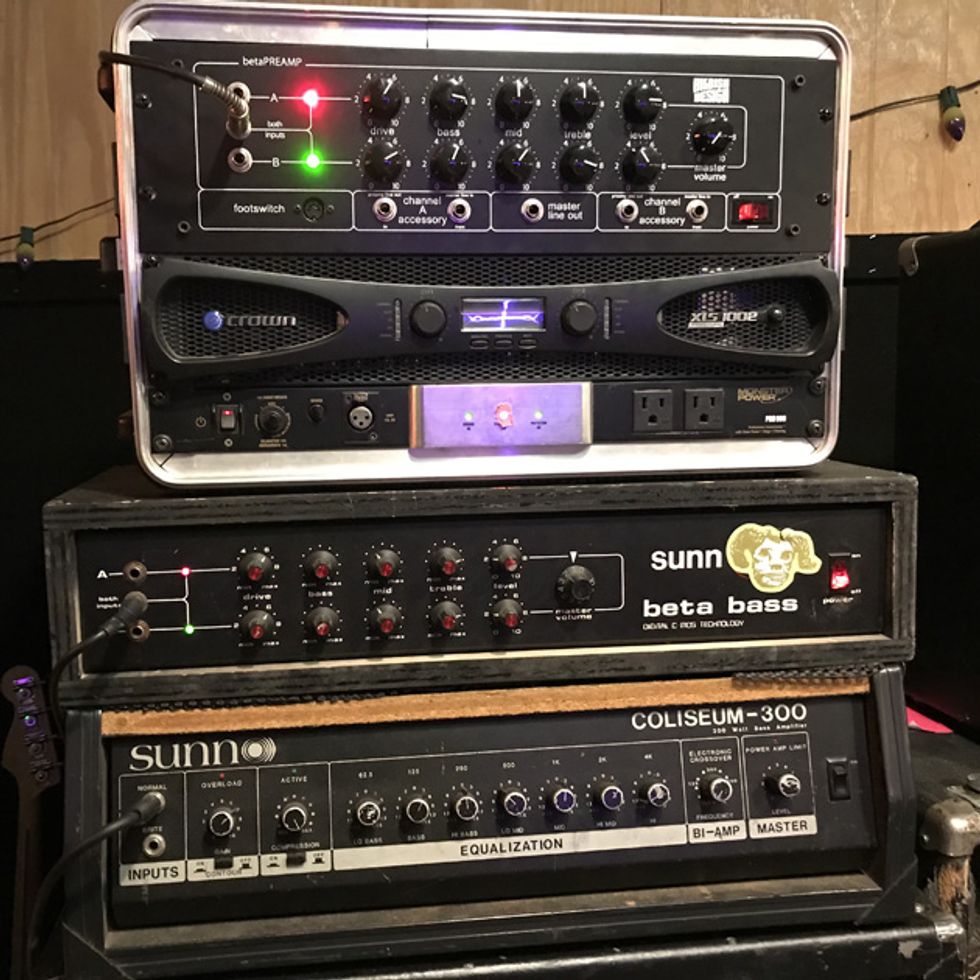 Warren has three amps blowing and going at all times. Up top he has a Hilbish Design Beta Preamplifier (electrical engineer Nate Hilbish's take on a Sunn Beta Bass) that's powered by a Crown XLS 1002, in the middle sits a Sunn Beta Bass, and the bottom slot belongs to a Sunn Coliseum-300.
Sonically, the Hilbish Beta handles the highs (and works with pedals such as the EHX Mel9, an original POG, and a Boss SD-1 Super OverDrive). The Sunn Beta Bass resides in the middle frequencies and has a MXR Custom Badass Modified O.D. and a Malekko B:Assmaster running through its circuitry. Lastly, the Sunn Colisuem-300 manages the low end and it only has the EXH Micro POG to deal with.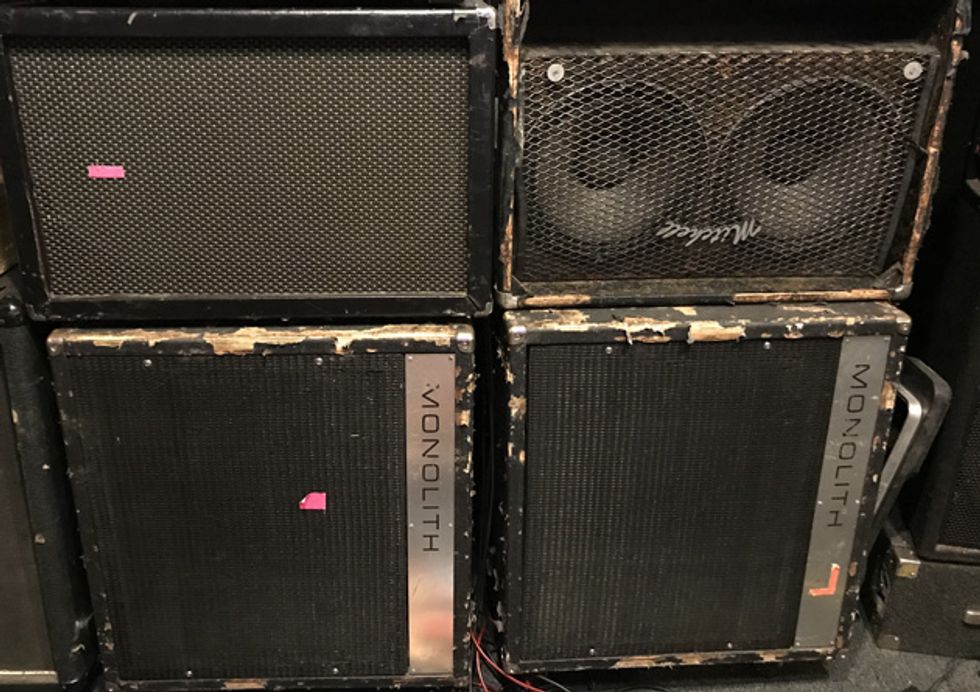 The Hilbish Beta Preamplifier hits the top two cabs—a no-name 2x12 and a Mitchell 2x12 (top row). The Sunn Beta Bass and the Sunn Colisuem-300 each crank into their own Monolith 1x15 cabs.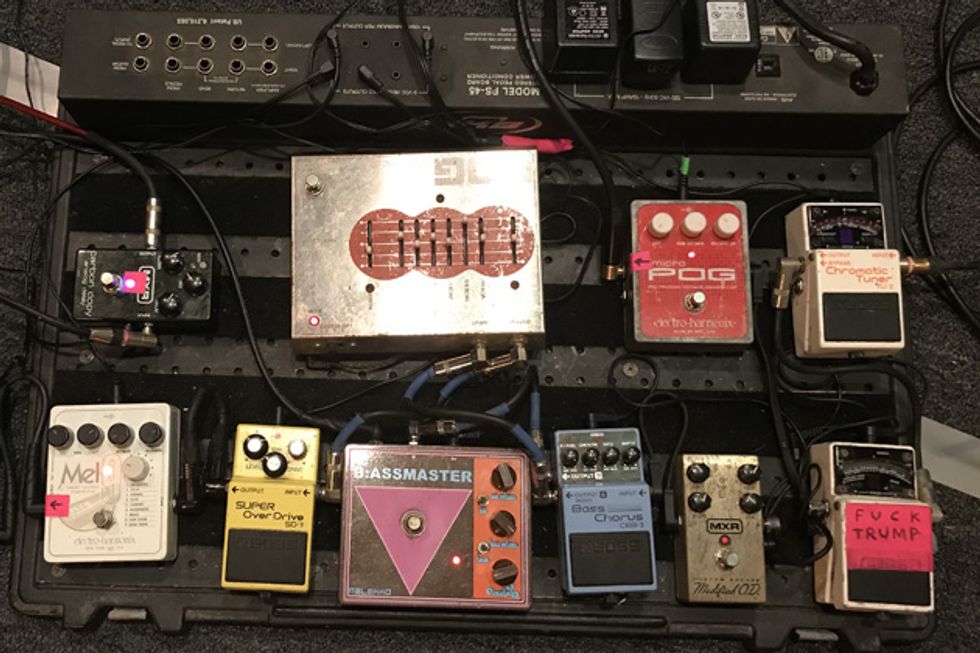 Here is Warren's core stomp station that is home to guitar and bass pedals including a MXR Carbon Copy, Electro-Harmonix POG, EHX Micro POG, EHX Mel9, Boss SD-1 Super OverDrive, Malekko B:Assmaster, Boss Bass Chorus CEB-3, and a MXR Custom Badass Modified O.D. Everything rests on (and is powered by) a SKB PS-45 pedalboard and his bass is kept in check with a Boss TU-2 Chromatic Tuner.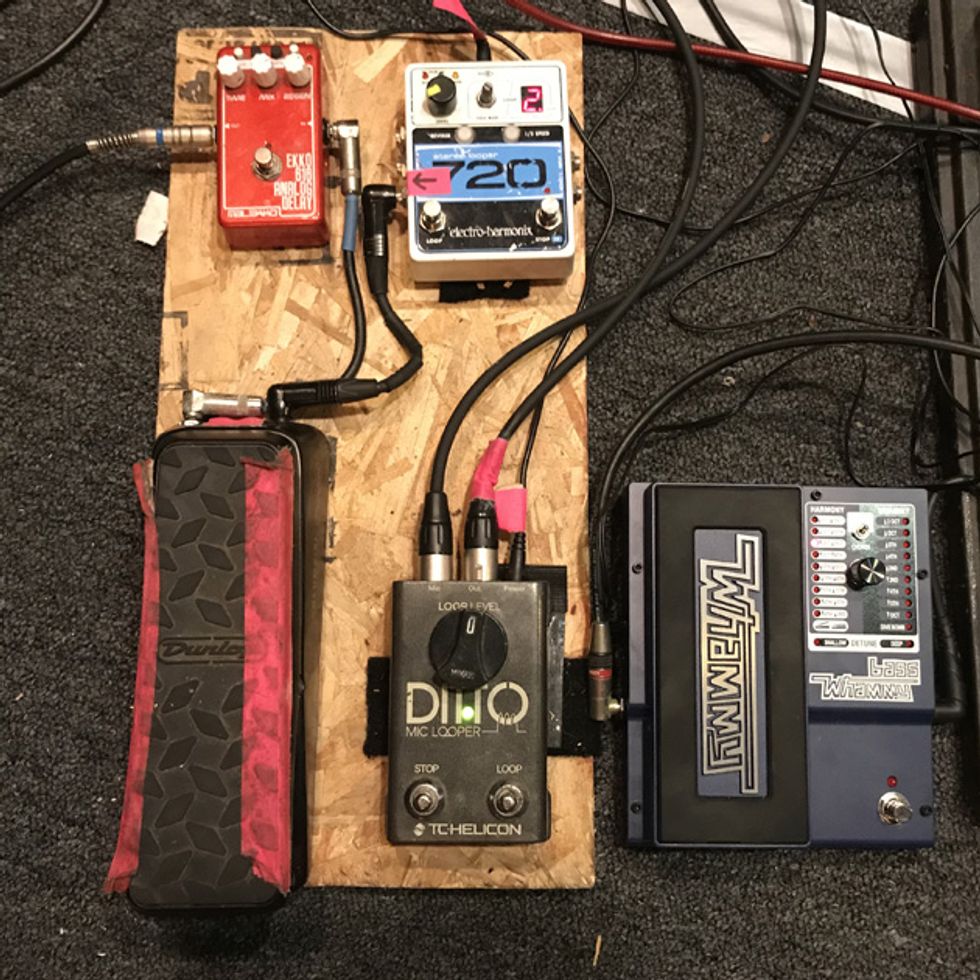 Jared's auxiliary board (literally) holds an Ekko 616 Analog Delay, EHX 720 Stereo Looper, TC-Helicon Ditto Mic Looper, a Dunlop DVP3 Volume (X) pedal, and off to the side a DigiTech Bass Whammy.
---
Click below to listen wherever you get your podcasts:
---
D'Addario Loknob:https://www.daddario.com/LokNobRR
---
---