Fender's refreshed Rumble 800 Combo brings a lightweight bass amp designed for any stage or studio, and a range of new accessories.
The Rumble 800 Combo features impressive headroom and punch from its dual 10" Eminence neodymium speakers and compression horn. This class-D amplifier has everything that Fender bass amps are famous for - and more. With versatile 3-button voicing, a dynamic overdrive circuit, and output power attenuation for smaller gigs and practice, the Rumble 800 Combo delivers stunning power and sonic versatility for any style of music.
Exploring the Rumble 800 Amplifier | Fender Amplifiers | Fender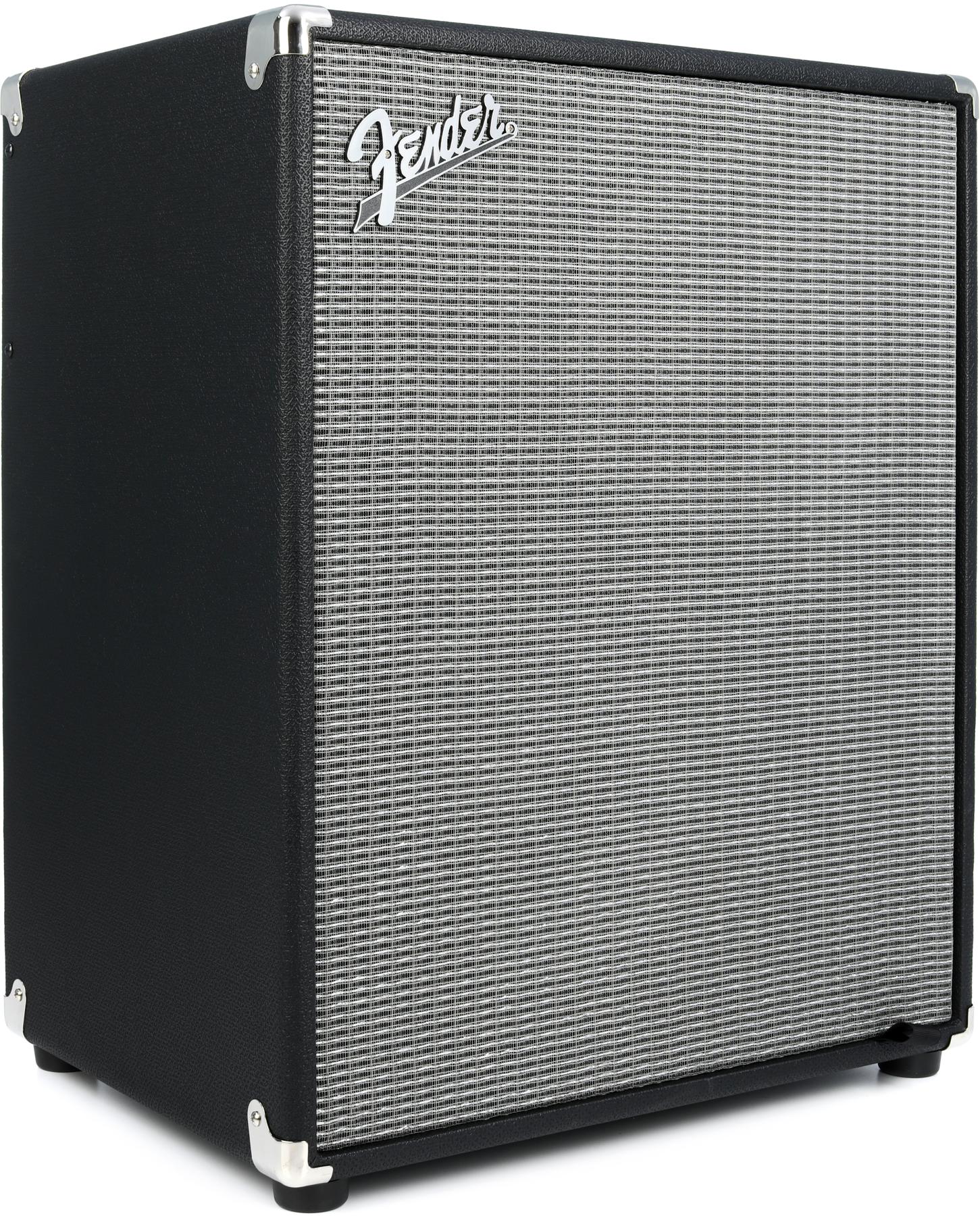 Produces 800 watts of power for exceptional headroom and thump
Dual 10-inch Eminence neodymium speakers provide strong projection to the back of the venue
3 amp voicings let you choose between Bright, Contour, and Vintage character
For more information, please visit fender.com.
Fender
With 500 powerful watts and an exceptional optical compression circuit, there's nothing little about this Thing's tone.
Recorded using an Mbox and running Logic X.
Clip 1: Yamaha BB3000S - slap with light compression - treble at 1 o'clock, mids at 10 o'clock, and bass at 1 o'clock.
Clip 2: Yamaha BB3000S - old-school with heavy compression - treble at 11 o'clock, mids at 12 o'clock, and bass at 2 o'clock.
Clip 3: Spector Euro4 LX - modern pick-style with mid scoop - treble at 11 o'clock, mids at 9 o'clock, and bass at 2 o'clock.
 

Ratings

Pros:

Industry-leading onboard compression. Great parametric mid control. Tonal flexibility.

Cons:

Front control locations. No character/contour one-stop EQ control. No pre/post or level options for the onboard DI.

Street:

$699

Orange Little Bass Thing orangeamps.com

Tones: Ease of Use: Build/Design: Value:
The brand Orange is as quintessentially British as, say, Mini Cooper cars or Triumph motorcycles. Even during the few years when Gibson owned the rights to the name, Orange continued manufacturing in England. The brand has certainly come a long way from its humble small-shop roots in London, where it started in 1968. And while Orange holds iconic status in the guitar universe, many of us bassists, me included, have not been exposed to the brand as often as our guitar playing friends. A few years ago, however, the company made a noticeable push to boost their presence as a major player in the low-end world. More recently, Orange has released the class-D, 500-watt Little Bass Thing, which is quite a playful name from a brand known for some seriously mean, overdriven rock tones.
Using a Different Road Map
First off, it's not orange. It's mostly white! But my initial impression was that it's a great-looking amplifier and has enough of the signature orange color to where there can be no mistake about its pedigree. The layout of the 6 1/2-pound amp's front panel is quite unorthodox to those of us who are not frequent Orange users. The input jack is located on the far right, while the main volume control is on the far left, next to a second input jack for a footswitch (not included) to turn the onboard compression on and off.
The EQ section moves from right to left, starting with the bass control, which took me a little getting used to. The EQ also features parametric midrange, with one control setting the amount of boost/cut and the other selecting the frequency. As part of the company's visual legacy, all the front controls are labeled with symbols rather than text. Another unorthodox visual touch is the main-power indicator light, which is located near the middle of the front section, between the EQ panel and the compressor/master volume panel. The only other feature on the sparse frontside is a -6 dB input-level pad switch for active basses, located next to the input jack.
It grabs the note, evens out the attack, makes the sustain improve, and, most importantly, adds warmth without necessarily adding low end.
The back of the class-D amp is also quite minimalist, with a DI out, an effects loop, two speaker outputs, the main power switch, and a power-cable input. The most noteworthy feature on the rear panel is a switch between voltages for worldwide travel. This switch is smartly covered by a piece of plastic which is screwed into place for protection from the potentially catastrophic results of unintentional switching.
Smash That Tone Some More, Please!
I plugged in my trusty 36-year-old Yamaha BB3000S and played some old-school slap lines to get the basic feel of the amplifier. Within the first minute, I started closely examining the compressor, for a couple reasons. First, I'm just very skeptical about onboard compressors in general, and second, when turning up the compressor dial on the Little Bass Thing, the amp's volume increased pretty dramatically.
That said, my jaw dropped upon hearing the tone, because the Little Bass Thing's onboard compressor literally produces a sound on par with some of the best studio compressors I have heard. It actually feels the same. What I mean by that is that it grabs the note, evens out the attack, makes the sustain improve, and, most important, adds warmth without necessarily adding low end. This was by far most noticeable in the upper register, where the onboard compressor quickly added body to melodies and rounded off pops beautifully when slapping, without sacrificing the directness of the attack.
Curious as I am, I contacted Orange to get some more information about this particular compressor. I learned that the circuit in the Little Bass Thing is a simplified version of the same circuit found in the company's Kongpressor pedal, an optical, class-A compressor. Once I turned my ear to listening to the rest of the sound, I was presented with a clean, punchy slap tone that did not get overbearing in the highs. The Little Bass Thing does not sound "vintage" by any means, but it stakes a tasteful claim to the land slightly less bright than many modern, more hi-fi amps.
With the same bass, I engaged the compressor to a much more drastic setting, dialed back the tone control on the bass, and cut some high mids on the amplifier. The result was a slightly less-dark version of a Motown sound, with the extra compression adding a drive and intensity that I enjoyed. It is worth noting that the Little Bass Thing does not have a control to actually add overdrive from the preamp, like many other models, but the simple volume control really helps set the Little Bass Thing apart from the pack.
Later, I grabbed a Spector Euro4 LX and played with a pick. It was simple finding the frequency that needed cutting in the mids with the frequency selection control. I added some lows on the amp as well, to give the modern, focused, active Spector a looser and more vintage feel. I found that the Little Bass Thing overall delivers a tone slightly firmer in the low mids than many other amps from traditionally rock-leaning manufacturers. This became especially usable when recording.
The Verdict
The Orange Little Bass Thing doesn't sound like other amplifiers I've reviewed, mainly because it doesn't try to be completely clean and transparent, nor does it place a very strong fingerprint/character on the tone. This amplifier lands in the middle, where it adds just enough personality to know your bass has gone through an amp. This will make the Little Bass Thing applicable to so many more styles than just traditional, groovy, British-style fuzz-rock. Yeah, baby!
Photo by Rich Osweiler
There are plenty of great jokes about drummers, but it's not so great if you're playing with a joke of a drummer.
Playing bass on your own can be just as rewarding as being a soloist on any other instrument. In those moments when it's just you and your axe in a quiet room, you can express yourself freely without anyone telling you how or what to play. It's one of the greatest allures of playing music. Your instrument simultaneously becomes your best friend, confidant, and therapist—all wrapped up into one.

As much as I do love the sound of the bass by itself, I didn't start playing with the intention of being a great soloist or "chops guy" per se. It's the communication with other musicians—especially drummers—that excites me the most about my job to this day. I assume that feeling is what many of you experience when you play with your favorite drummer. This month's column, however, is about the opposite: when you have to deal with a bad (or even atrociously bad) drummer. And it happened to me just last week.

These scenarios usually start with somebody who doesn't know a lot about music, but hires a drummer they think has the right energy, look, or personality for the gig. Be it a lead singer (not a guarantee for a deep knowledge about the inner workings of a great rhythm section) or a management company that's only concerned about appearances, this isn't a good way to start. A lot of times, personal history and friendship also play a part in the drummer-acquisition process. These are all valid things to take into consideration for a potential new hire to fill the drum chair, but onlyafter you confirm the drummer can make you smile ear to ear, bob your head to the beat, or even start dancing uncontrollably because the groove is that deep.

Back to last week: I hired the guitarist and keyboard player, but the lead singer insisted on bringing in his own drummer. When I first saw the drummer's name, I didn't recognize it. And when you've been in Nashville as long as I have, not recognizing a name is usually a bad sign. Still, nobody is happier than I am when a new player rolls into town who can scare the pros twice their age by playing circles around them. I love a good shake-up, but let's just say that it doesn't happen that often, and in this particular case, my suspicion was justified.
With a bad drummer, I can't for the life of me make it groove or swing, no matter where in the pocket I try to put the note.
I knew things were bad within the first 10 seconds of the first rehearsal, as did the other guys. The parts I was playing with these other musicians (who I knew to be world-class players and consider more talented than myself) were all sounding, well, wrong. So, you may be asking, how can the drummer cause this to happen? Let's talk about two of the main reasons.

The pocket. When I have the pleasure of playing with a great drummer and things are going well, I like to say it's because the pocket is "wide," rather than it being "deep." They still essentially mean the same thing: that I have the freedom as a bassist to put the note almost anywhere in the pocket without compromising the groove. I can put it a little on the front, right on the click, or slightly behind. And because the drummer is so good and the pocket is so wide, it all somehow works and I'd have to try exceptionally hard to actually ruin the groove. With a bad drummer, I can't for the life of me make it groove or swing, no matter where in the pocket I try to put the note. The pocket is simply too narrow or not even there at all. I am, effectively, out of options.

Dynamics. When it comes to bad/wrong dynamics, the most common culprit by far is playing too hard. I grew up playing hard rock, a fair amount of heavy metal, and even aggressive funk, but, in spite of that, I absolutely believe there are ways for drummers to kill the groove by playing too hard. When drummers play too hard, the muscles in their limbs are more focused on hitting the drum using full force, rather than actually letting the music breathe. This often results in a lack of bounce in whatever groove is left, and almost always causes the time between the kick and snare to be just a little off. Hitting too hard can also choke the natural sustain of the drums. And this results in bad drum sounds, which makes it damn near impossible for me to get a bass sound that sits in the mix and compliments the drums.

Another example of bad dynamics is the tentative drummer who is afraid to take charge and leadthe band with authority, usually by playing too softly. It makes me involuntarily dig in harder, which compromises my tone and my feel. And this, in turn, means the other band members are stuck with a bad bassist as well.

I am only as good as the drummer I play with. With that said, our job as bassists is to make sure we serve the music at all times, even if the seemingly impossible roadblock of a bad drummer is present. We just have to somehow do our best to get around it.