Electro-Harmonix reveals the full line of NYC DSP Series pedals. This series consists of a pack of nine pico-sized stompboxes that draw from some of the company's most iconic effects.
Offering a total of 30 pitch shift options and expanded controls, the Pico Pitch Fork is the next evolution in pitch shifting from Electro-Harmonix. The Mode button selects between Pitch Up, Pitch Down, and Dual Modes, while the Volume and Blend knobs make for perfect multi-voice mixing. The new Sweep control adjusts the pitch sweep speed from instant to 4 seconds. The Pico Pitch Fork offers Latch and Momentary switching functions for bursts of bent tones or retuning capabilities for full songs.
EHX
The Oceans 3-Verb takes the ever-reliable Spring, Plate, and Hall reverbs from the award-winning Oceans 11 Reverb and offers them in petit package capable of conjuring huge ambient sounds. This pack of essential reverbs comes equipped with flexible controls including pre-delay, spring length, and tone. Additionally, Infinite Reverb can be accessed in an instant by maxing the time control or conveniently pressing and holding the footswitch for an ambient wash of swelling reverb.
EHX
The Canyon Echo digital delay distills the original Canyon Delay and Looper's simplicity and versatility into a no-nonsense echo effect with performance ready features and tone. At its foundation, the Canyon Echo is a pristine clean digital echo with up to 3 seconds of delay time. Then we added smart features that any musician can appreciate: Tap Tempo with 3 beat subdivisions, a FILTER knob that cuts treble or bass, switchable delay tails, and a new Infinite Repeats mode which acts as a looped tape machine.
EHX

Meeting between the original Freeze and Superego pedals is the Deep Freeze Sound Retainer. With the ability to freeze a moment in sound, the Deep Freeze is capable of acting as a sustain pedal for holding chords and notes as backing for your playing or as a platform to manipulate your tone into new sounds impossible with a normal guitar. Features include Latch, Moment and Auto Modes, Speed/Layer, and Gliss controls, as well as 3 bypass topologies for enhanced performance options.
EHX
Known for producing volume and reverse swells, backward tape sounds, artificially short staccato notes, and bowed instrument effects, the Attack Decay reissue brought the vintage effect into the present. Now the Pico Attack Decay takes the signature Attack Decay filter effect and makes it even more pedalboard friendly. Featuring a simple control layout of Volume, Sensitivity, Attack and Decay controls, the Pico Attack Decay also offers the revolutionary Poly mode that gives each note its own attack envelope and makes playing arpeggios and fast leads lines effortless and unique.
EHX
The foundations of dirt include Overdrive, Distortion, and Fuzz and all 3 can be found in the new Triboro Bridge multi-mode drive pedal. Taking dirt algorithms from the Platform and Attack Decay, the Triboro Bridge connects the 3 drive styles with a simple and convenient control set of Volume, Gain, EQ controls plus a Gate for the fuzz. An additional Input Contour Mode applies additional EQ at the input for more modern tonal capabilities.
EHX
Based off the tape delay algorithm found in the Canyon Delay & Looper, the Rerun Tape Delay gives off vintage vibes with modern convenience. Three modes of Flutter and a Saturation knob bring a wide array of Tape Delay tones to this deceptively powerful unit. Cranking the Feedback knob or pressing and holding the footswitch creates runaway tape delay effects that are playable as their own instrument.
EHX
The Pico Platform brings studio-style compression and limiting with advanced options to any pedalboard for a wide array of dynamic control. From subtle tone polishing to super squashed sustain, the Pico Platform offers a whole studio's worth of compressor and limiter styles in a super-compact footprint.
EHX
The Pico POG takes the powerful and lightning-fast polyphonic octave algorithm from the EHX's acclaimed POG line and packs it into a pico package. Octave Up adds pristine shimmer while the Sub Octave brings the thunder all with super tight tracking and perfect polyphony. Add the new TONE control with 3 filter settings and you get a fresh take on the world's most popular octave pedal.

EHX
Stymon's new UltraViolet pedal recreates the sound and feel of the original Shin Ei Univibe units from the '60s, popularized by players like Jimi Hendrix, Robin Trower, David Gilmour and Doyle Bramhall II, but adds a number of different options that were never available on the original units for greater flexibility.
Housed in the same smaller chassis as Strymon's recent Cloudburst and Brig releases, Ultraviolet also takes advantage of all of the features of the new platform, including full MIDI implementation and 300 presets, USB-C connectivity, stereo IO on TRS jacks, a rear-panel mono-stereo switch and a discrete JFET input preamp for unmatched touch-sensitivity and tone.
UltraViolet's simple and responsive controls provide a wider range of sounds than traditional vibe pedals. In addition to the familiar Chorus (50% wet) and Vibrato (100% wet) settings, there is a new Blend setting (30% wet) for an inspiring variety of more subtle effects. A Bias switch gives you three distinct flavors of sweep shape and tone emphasis, allowing for tons of sonic variation.
At slow speeds, the intensity range has been expanded beyond that of traditional vibe circuits to push even further into warmly undulating sonic territory. UltraViolet gives you all the classic vibe tones—and more.
Strymon UltraViolet Vintage Vibe
UltraViolet features a new algorithm in which all the elements of the classic optical vibe circuit (and their interdependencies) have been meticulously recreated for a dynamic playing response. From the effects of bias, speed and LFO waveshape on the pulsing of the lamp, to the response of the light-dependent resistors that set the center frequencies of the staggered phasing filters, the entire system has been duplicated and carefully tuned to produce the very best sounds a vibe pedal can offer.
TRS stereo input and output in a dual mono configuration means you can place UltraViolet at any point in your pedal chain with no impact on your stereo image. Full MIDI implementation with 300 available preset locations ensures that UltraViolet is ready for your MIDI rig. In addition to TRS MIDI, there is a USB-C jack for controlling the pedal via MIDI from a computer or for performing firmware updates. For hands-free control without MIDI you can connect an expression pedal for control over any combination of knobs in any direction. (Expression pedal controls Speed by default.) Or attach an optional external switch for tap tempo or favorite recall. Finally, a high-impedance, ultra-low noise discrete Class A JFET stereo input preamp provides exceptional touch sensitivity, dynamics and feel—all in a rugged and elegantly compact form factor.
Strymon UltraViolet Vintage Vibe – Deep Dive with Sound Designer Pete Celi
Learn more about UltraViolet ► http://strymon.net/ultravioletIn this video, Strymon co-founder and senior DSP engineer Pete Celi takes you on an in-depth tou...

"Good grief this thing is addicting to play!", said Sean Halley, Strymon's Head of Marketing. "It has all of the low frequency girth that the best pricey boutique big-box pedal versions have, but it can do so much more than the originals could and it's small enough to fit on any board. It's the very first digital vibe I've ever heard that sounds this big".

Pete Celi, Strymon's co-founder and DSP guru adds "After deeply studying a bunch of the best analog units we ended up giving UltraViolet three different Bias settings, so you can really fine-tune the response to fit the music you're playing. Also, in addition to the traditional Chorus (50/50) and Vibrato (100% wet) modes, the new Blend mode gives you a 70/30 mix of dry and wet, for more subtle versions of the effect. It can totally do the hyper-authentic '60s thing, but it can do a bunch of other stuff that makes it much more versatile than the original units."

UltraViolet is available now directly from Strymon and from dealers worldwide for $259 US.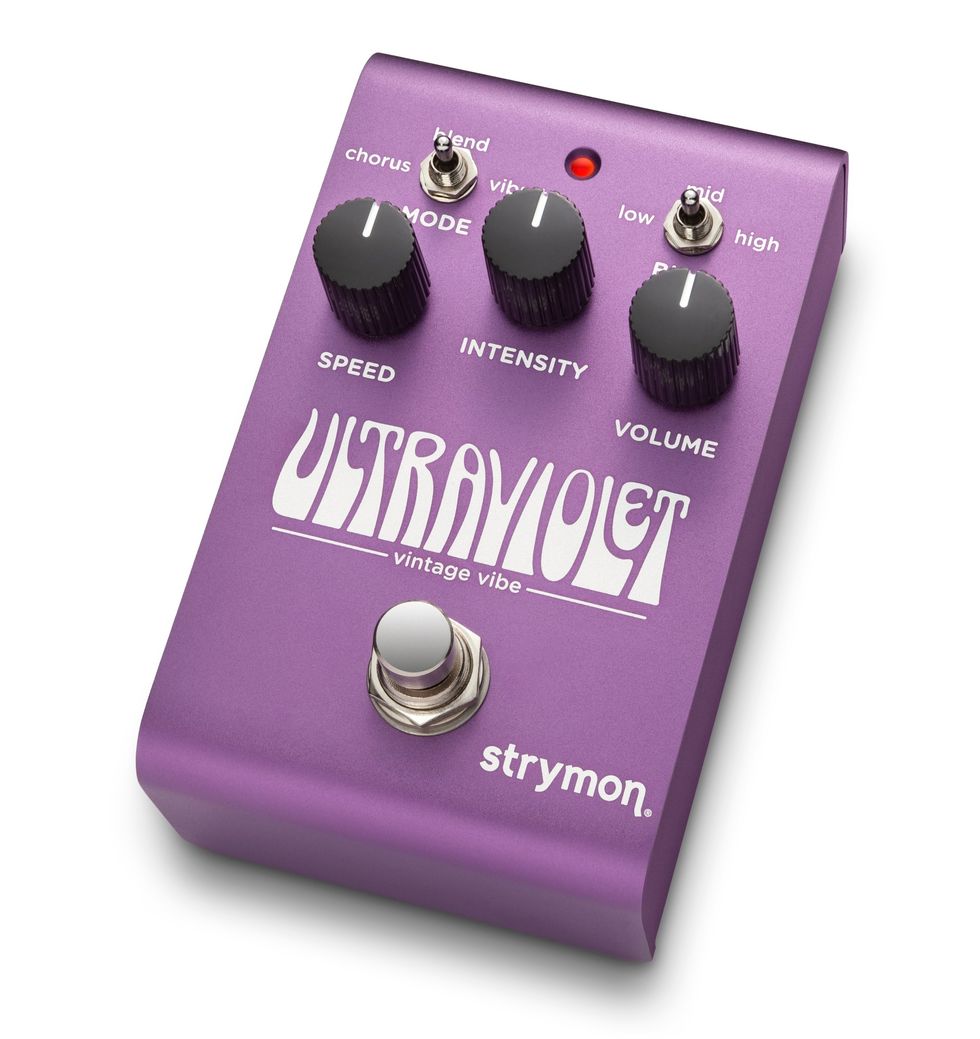 Much more than a re-creation of the legendary Uni-Vibe effect, Strymon's UltraViolet Vintage Vibe chorus and vibrato pedal elevates classic rock's most psychedelic effect with a significantly enhanced control section and modernized features. This pedal starts with an extraordinarily precise digital replica of the original Uni-Vibe's Chorus and Vibrato modes, then ups the ante with a more subtle Blend mode — a 70/30 split of your dry/wet signal, as opposed to the 50/50 split of Chorus mode. Speed, Intensity, and Volume significantly increase your ability to sculpt and shape Uni-Vibe tones to your liking. Meanwhile, Strymon's addition of a 3-position Bias switch drastically alters the UltraViolet's voice by modifying the center frequency of the effect's sweep. You also get all the cutting-edge benefits inherent to Strymon's compact pedal lineup, including full MIDI implementation, a premium discrete analog input preamp, 300 presets, USB-C, and mono/stereo operation. Compact, versatile, and beaming with vintage-accurate swirl — Strymon's UltraViolet is a must-have pedal for any Uni-Vibe fanatic.
Strymon
The effects guru puts two historic pedals—the TS808 and the Nobels ODR-1—inside a single box, with a fresh circuit design that allows for four variations on their revered voices.
At first glance, Keeley Electronics' new Noble Screamer seems like a guitarist's dream version of a Reese's Peanut Butter Cup. This enticing morsel tastefully pairs two classic overdrive flavors, the timeless (and ubiquitous) Ibanez TS808 Tube Screamer and the best-kept-secret Nobels ODR-1.
The two circuits lurk side-by-side beneath the Noble Screamer's sleek hood, ready for action. But there's more: Keeley Electronics' founder and designer Robert Keeley provides a nifty additional twist for creating your own sonic mashups. With the Noble Screamer pedal you can link the Tube Screamer-like overdrive section—a masterpiece of soft-clipping aural bliss—with the ODR-1's thumping sonic flavors. Or conversely, you can deploy the ODR-1's hard-clipping drive with the Tube Screamer's famously midrange-forward tone circuit. Voila! Suddenly you have four pedals in one.
Beyond providing some pretty darn sweet guitar tones, the Noble Screamer also embodies a few bigger and more profound themes. It shows increased emphasis on made-in-the-USA manufacturing, a trend that extends far beyond music gear. It offers additional options for buffering and true bypass as standard equipment on a guitar pedal—highly useful even for guitarists who remain stubbornly technology averse. And it aims to reinvent a key product line from an iconic company. But let's start at the beginning…
Nailing the Right Shade of Green
"Pairing the ODR and Tube Screamer isn't just about the green color, but it sure helped," laughs Robert Keeley. "There is a rhyme and reason why I chose those two pedals for the Noble Screamer. I had never done any mods or anything based on the ODR-1, but the idea for the pedal came from this: Wouldn't it be fun to combine two green pedals? And what if I could allow you to hear what makes each pedal unique, and borrow from one to the other? I was able to choose between the Tube Screamer tone control or the ODR tone control, and do the same thing with their clipping sections. So, I built both circuits in there, so people could mix-and-match and hear what makes each pedal unique."
Keeley Electronics Noble Screamer Overdrive and Boost - Tech Demo
Keeley knew he would face heavy scrutiny in tackling the ODR-inspired circuit. Introduced in 1992, the Nobels ODR-1 has attained near-mythic status in the Nashville scene, spurred by the advocacy of session veteran Tom Bukovac. Almost singlehandedly, Bukovac—fondly known as "Uncle Larry" to his online followers—helped popularize the original ODR-1 among his Nashville friends and collaborators. And over the years, many of Nashville's heaviest hitters have made the pedal an essential part of their arsenal.
Tom Bukovac x Keeley Electronics - Noble Screamer vs Vintage ODR-1 vs Vintage TS808
"There's a constituency in Nashville, Brentwood, and Franklin that really loves this pedal," Keeley notes. "They're all friends and they're damn near family, and this pedal works so well with their music. So, one of our goals became winning over that Nashville crowd. We carefully compared this to some great examples of 808s and ODRs—using audio analyzers, too—and then we took it to Nashville and asked veteran players to compare it to the original units."
The Noble Screamer passed the audition. After A/B'ing it with an original ODR-1, Nashville session and stage ace Guthrie Trapp acknowledged "we're sitting here and can hardly tell the difference. And to not have to spend $1,500 or $2,000 on a pedal…," he added, shaking his head. And even Bukovac himself says, "They sound pretty similar. The guitar tone sounds great."
Guthrie Trapp x Keeley Electronics - Noble Screamer vs Vintage ODR-1 vs Vintage TS808
Adding a Few Twists
Plenty of players will be hooked by the authentic sound of the Noble Screamer's two iconic overdrives. But for many guitarists, the real fun begins when you experiment with tone/overdrive mashups, combining a Tube Screamer with an ODR tone circuit, and vice versa. "The Noble Screamer's ODR tone control is a spectrum control," Keeley notes, "and it moves up the bass and the treble at the same time. The Tube Screamer is a simple low-pass filter that helps create the midrange hump. They make a fun combination and they allow you to get some unique sounds."
L.A.-based guitarist Brett Papa lauds the approach: "It's really interesting to see how it nails both of those classic tones. But for me, the hybrid is the coolest thing about that pedal, because it really is the best of both worlds. Some pedals are so temperamental circuit-wise, but it doesn't really matter with this pedal, because wherever your amp is at, you can dial in a great sound."

The stompbox also offers unusual flexibility in its switching and buffering capabilities. It utilizes the buffer that Keeley perfected with his earlier Halo pedal (designed with guitarist Andy Timmons). In the Noble Screamer, the player can easily select true-bypass or buffered bypass: Simply step on the on/off switch for two seconds and it'll toggle between the two settings.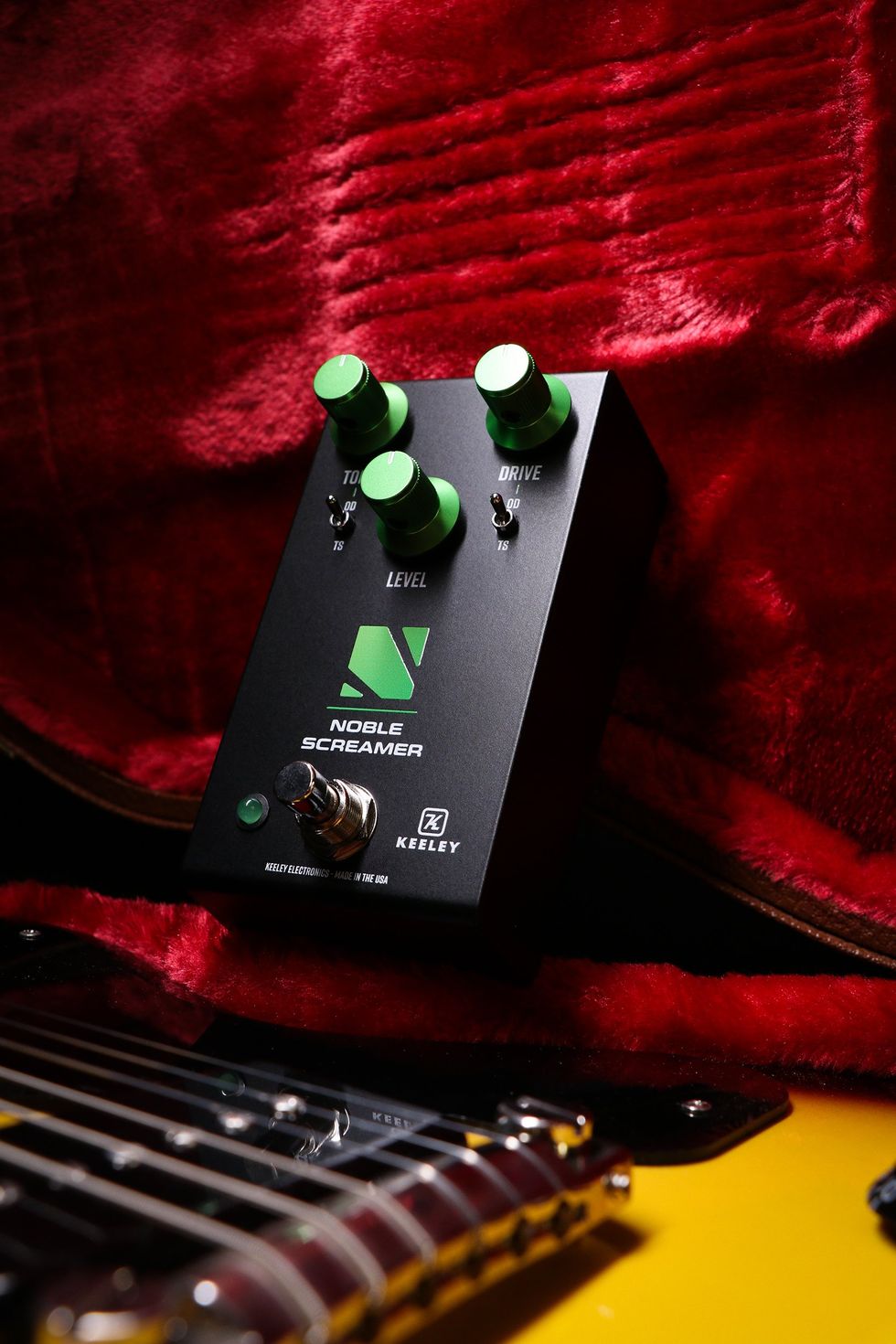 "This pedal's switching also makes it unique," says Keeley. "For years I had been carrying around the quote that Bill Finnegan put on his KTR pedal, which has a switch where you can choose true bypass or buffered. He printed 'almost always better' on the setting when you switch on the buffer. I think it's really valuable to have noiseless switching like the old Boss and Ibanez pedals. True bypass is great in a few cases, but the inevitability of it making a clicking sound can be a problem, so that's why we're offering buffered bypass, too."
Taking Control and Upping the Ante
Beyond its sonic characteristics, the Noble Screamer underscores important investments, production advancements and design choices from a company reshaping itself and preparing for its next chapter. The Noble Screamer is the first pedal to take advantage of Keeley's new Oklahoma City factory and its expanded production capabilities. The most visible sign is the pedal's newly designed heavy-duty aluminum case. The streamlined, rugged enclosure is built in-house following a large investment in specialized equipment. "Making my own folded aluminum enclosure is a brand new capability," Keeley explains. "I wanted to stop buying aluminum enclosures from China and start making my own. That way I can control the process and get exactly the type of enclosures that I want. To take full advantage of the enclosures, we also increased our capacity for circuit board manufacturing, and that was another big investment. We got another printer, powder coating booth, and oven. I doubled everything in the whole shop and invested in the future. Other manufacturers who are like-minded can do more manufacturing in the U.S. It's pretty cool to see so much manufacturing coming back to the States."
Keeley Factory Drone Video
Keeley chose to design a pedal that combines battle-worthy toughness and understated elegance. The Noble Screamer enclosure boasts a slightly slanted top—an homage to old-school classic pedals—but with a modern look and premium knobs. "The knobs and the subtle graphics speak really loudly on that slanted enclosure," he says. It's built like a tank—albeit a rather stylish one.
Was it a difficult decision to go with a standard-sized pedal when mini pedals have seen increasing popularity? Keeley is adamant. "At a time when a lot of people are cutting back on spending, I'm going against the trend and choosing to put out our boldest, most innovative ideas and give people a reason to spend their money on them," he declares. "I think I can control the costs. The Noble Screamer is the exact same size as comparable pedals. There's a definite trend toward small pedalboards with pedals that can fulfill one sound. Mini pedals are great and I plan on keeping them as an entry point for our product line. I don't see any reason why I can't fold aluminum for my own mini pedals at some point. But in the meantime, when we're releasing our next generation of pedals, I'm going to focus on this new platform. I want this new line to redefine our product line and what we're capable of. We've had success with compressors and reverbs and delays. This new line is hopefully going to redefine our drives."
The Noble Screamer heralds a new direction for Keeley Electronics, and guitarists can look forward to more exciting mashups in the future. After all, the Reese's Peanut Butter Cup turned out to be an enduring classic. So, you can expect plenty more ear candy from Keeley in years ahead.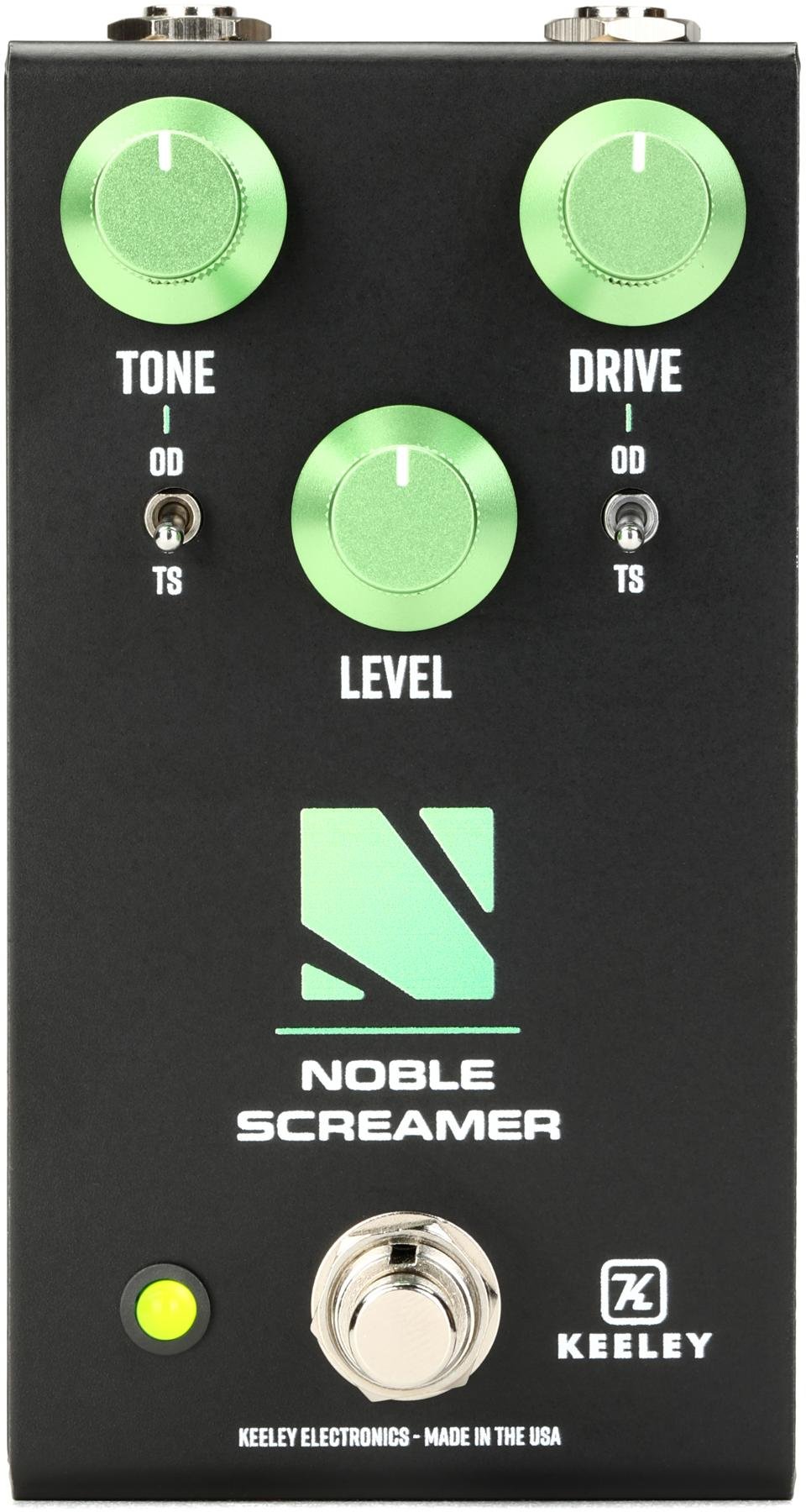 Noble Screamer Overdrive
Keeley