Fender 50th Anniversary G. Fullerton Strat
Fender is announcing the George Fullerton 50th Anniversary Stratocaster Limited Edition guitar/amp set.
Scottsdale, AZ (November 20, 2007) – Fender is announcing the release of the Limited Edition George Fullerton 50th Anniversary 1957 Stratocaster and Relic Tweed Pro Jr set. Only 150 sets will be released globally.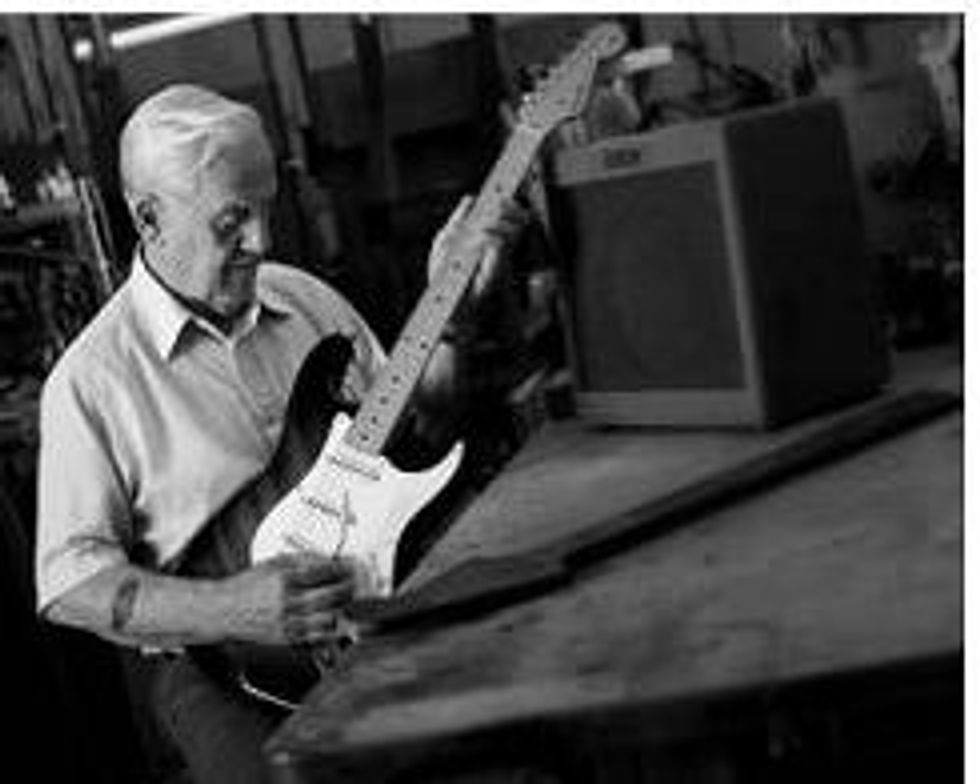 The guitar features design work from both George Fullerton and Abigail Ybarra. Ybarra has worked as a pickup expert at Fender since 1956. Fullerton was close friends with Leo Fender and went to work for him in 1948. He became a key collaborator with Leo and played a pivotal role in the design and manufacture of the revolutionary instruements and amplifiers that later went on to change the world.
"Leo and I used to go out and sit in these nightclubs, beer joints and smoky rooms to talk to musicians, to listen to what they had to say," said Fullerton. "We were trying to learn what players really needed for their instruments. We listened to them rather than tell them what we were doing -- we used a lot of what we learned in our designs for the market."
In 1954, Fender released what would become the most popular, recognizable and influential electric guitar of all time -- the Stratocaster. Featuring a comfortable contoured body, three pickups -- which allowed for a multitude of tones never heard before -- and a tremolo system that allowed players to mimic popular lap- and pedal-steel tones, all while remaining in tune. After three years of production and design improvement, the 1957 Stratocaster was introduced and is still widely considered to have achieved design perfection.
The 50th Anniversary 1957 Strat has a two-color sunburst lacquer finish on its three-piece blade-cut alder body, a one-piece '57-style soft V-shaped maple neck with a lacquer finish and a 7.25"-radius maple fingerboard. It also features Ybarra's hand-wound pickups.
The 15-watt, single channel Relic Tweed Pro Junior amp follows the guitar with vintage-style design. These "new-old" features inclue the pointer knobs and tweed covering.
The announcement comes 50 years after the introduction of the iconic 1957 Fender Stratocaster guitar. The collaboration between Fullerton and the Fender Custom Shop Master Builders is an effort to evoke the original spirit of devotion and craftsmanship that Fender was founded upon.
The George Fullerton 50th Anniversary 1957 Stratocaster
Two-color sunburst lacquer finish
Three-piece blade-cut alder body
One-piece '57-style soft V-shaped maple neck with lacquer finish
7.25"-radius maple fingerboard
''50s-style pickups hand wound by Abigail Ybarra
Three-position pickup selector switch
Single-ply white pickguard
Commemorative neck plate
Certificate of authenticity signed by George Fullerton
The Relic Tweed Pro Junior amp
15-watt, single-channel
A single 10" speaker
Vintage pointer knobs
Period-correct vintage-style tweed covering
Limited Edition George Fullerton 50th Anniversary 1957 Stratocaster and Relic Tweed Pro Jr set
MSRP $8,500


For more information visit Fender.com