Gear expos are a lot of fun, but they require an inordinate amount of behind-the-scenes work to pull them off. Loni Specter has been the singular driving force behind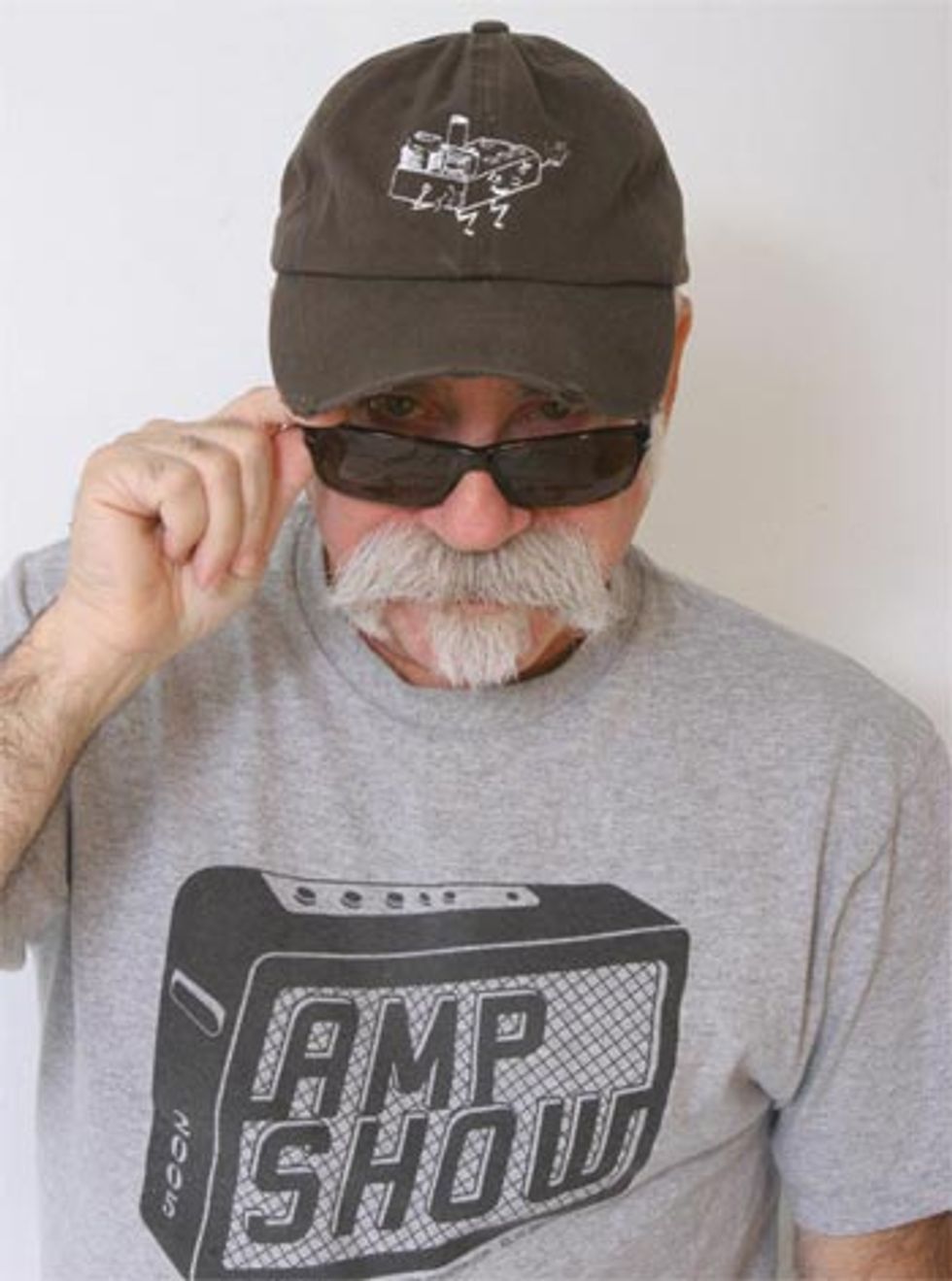 Gear expos are a lot of fun, but they require an inordinate amount of behind-the-scenes work to pull them off. Loni Specter has been the singular driving force behind the New York and L.A. Amps Shows since their inception. We sat down with Loni at the close of this year's N.Y. Amp Show to talk about the work that went into producing the show and what's on tap later this year.You were a busy man at this year's show – what were you doing all day?
For the first time, I was actually able to go from room to room to hear some amps and talk to people. I just walked into rooms without crowds and mingled with people. At past shows, like the last L.A. show, I made it into about five rooms out of 42 in the entire day – this time I was able to make it to every room at least once.
Was there anything you were blown away by at the show?
Well, I'm in a unique position and have to stay kind of neutral on the products. I try not to favor any one company over another. I try to make sure that the underdogs and the new guys are exposed equally with more familiar companies.
I understand the last New York show featured some live performances – what was the reason for eliminating that portion of the show this year?
Even though I love live music, I decided to eliminate it because it was conflicting with the focus of the show. It was taking people away from visiting the amp rooms, and the people who performed weren't able to perform for as many people as they should have. It was unfair to both sides. People were eager to play, but I didn't want to put them through that. We tried to balance the lack of live music by adding an amp biasing clinic.
How did the amp shows originally come about?
The genesis of the show was back in the eighties; I produced the L.A. Guitar Show from 1983 to 1990, before quitting to concentrate on my family and domestic things. About five years ago, I ran into an old friend from the L.A. shows named Miles Rose. I asked him what he had been doing, and he said he was working with Groove Tubes and was spending all his time on the phone answering questions from all these little amp companies. I asked him how many were there, because in 1990 there were only about two or three small companies; he said that he had over 80 small companies in his database. I thought it was amazing that there wasn't a show to display all of these companies; he said I should do a show, and I agreed, as long as he helped with contacts and organization. So I called all my old buddies from the eighties and let them know what I was doing; I also got Vox and Marshall involved. That's really how it started.
Would you consider yourself a sort of amp freak?
Nope. I've never been a touring musician, but I have been a guitar player on and off since I was eight years old. I still own my first amp, which is a 1966 Supro Thunderbolt. I've always been interested in musical equipment, and I've always bought and sold it, so it wasn't that far-reaching of an idea. Its the same concept as the old L.A. Guitar Show days. The setup was very unique – every company had their own hotel suite, where they could demo their wares. It seemed like a great solution for the inevitable volume problem. That's the whole secret behind the show. You can't really demonstrate amps in an open-floor environment. I've done that in the past with shows, but you just keep annoying your neighbors. NAMM is a good example of that – it just doesn't work sometimes.
Where did the "Pedalboard from Hell" come from?
I have a background in promotion and advertising. I was just looking for an interesting way to create a little happening, and I love my own pedals and gizmos. I thought it'd be cool to create this huge pedalboard. I would invite any company to send a pedal and literature, and even if they didn't participate in the show, we'd put it on this pedalboard. Then we'd invite people to come and play it.
Will it continue to grow with each show?
I don't know – it gets to a point where it is just insane. The biggest problem was when I first put the pedalboard together; everyone that saw it kept trying to get me to sell them a pedal off the board. [laughs]
I was originally going to disassemble it, but I eventually decided to keep it intact and bring it to New York. I liked the idea, and there were some people online giving me static because it wasn't the biggest pedalboard, so I took that as a challenge and continue to make it bigger. It's definitely the biggest pedalboard in the world for one guitar player. I don't think anyone could possible have more pedals than mine.
What's in the future for Loni Spector productions?
Well, I know I'd like to do a third show in either Chicago or Nashville, but this has really been an interesting year, economically, for the entire country. Early on, I even considered not doing the New York show because I was concerned that people were afraid of the economy sliding into the recession. I had to think about it for a bit, but I decided the momentum of keeping the show going was more important than whether or not I made any money. It's the same with the L.A. show – I mean, who knows what's going to happen by October? It ended up being a good call to have the New York show because of the amount of participants we had. With smaller companies using the show as a platform, bigger companies have begun to pay attention and recognize the Amp Show as an ongoing promotional opportunity.