Book Excerpt: Stevie Ray Vaughan Day By Day, Night After Night His Final Years, 1983-1990
An exclusive book excerpt detailing the legend's final years.
Stevie Ray plays Number One while sitting on the front of an old locomotive during a visit to New Zealand in February 1988. Photo courtesy of Janna LeBlanc
As one of the most influential guitarists to ever pick up a Strat, Stevie Ray Vaughan left a Texas-sized mark on guitardom that is still felt decades after his untimely passing on August 27, 1990. In the early '80s, his unique brand of Hendrixand Albert King-inspired wailing expanded outside his native Lone Star state, and soon he was on the road and rubbing elbows with his heroes. In Craig Hopkins' new book, Stevie Ray Vaughan: Day by Day, Night After Night - His Final Years, 1983-1990 [Backbeat Books], you can see a virtual day-by-day account of highlights from the last seven years of SRV's life. Hopkins conducted several hundred interviews with many of Vaughan's closest friends and family in an effort to create the definitive work on Vaughan's legacy. In this exclusive excerpt, you'll see rare photos of his gear and read about his first gig with a Dumble amp, the story behind the guitar he designed, and the night he broke the neck on his Number One Strat.
August 27, 1983 at the Reading Festival in England. © Mark Hawker
August 22: The Palace, Hollywood, CA. First gig with Dumble amplifiers.
Byron's Diary [Ed. note: Byron Barr was SRV's tech during this period] for August 22: "Probably the plushest club I've been in yet. Sell out. First gig with Dumble amps. Pretty rough, but we still got great reviews."
Stevie's was one of very few Steel String Singers made. It was a "clean," loud amp (100 or 150 W) with no overdrive section. The standard model used 12AX7 preamplifier tubes and 6L6 power amplifier tubes and a standard Dumble tonestack with an optional tonefilter.
CBS Records convention March 6, 1984, with Jeff Beck (and Fran Christina of the Thunderbirds on drums with Chris). © Jean Krettler/Sony Music
March 6: CBS Records Convention in Honolulu, HI with Jeff Beck
Jack Chase, CBS Records: "That was a big shot or the rest of CBS Records and International to see who Stevie was." Stevie Ray Vaughan: "We all met up in Hawaii to do this CBS convention, and we rehearsed a couple of times and smoked cigarettes and went crazy and then went and played and just had a blast! [Beck] did this solo in Hawaii that night that was unbelievable. It actually took me watching it on videotape for about a month to really grasp what he played. And whether he's pulling our leg and he really knows what he's doing before he does it, I don't know. It doesn't really matter. But he finished this solo and got this big grin on his face and stuck his hand in his pocket and stood there for a while like, 'You can put that one in the bank.' It was amazing."
Setlist
Scuttle Buttin'
Testify
Voodoo Chile (Slight Return)
Pride and Joy
Tin Pan Alley
Mary Had A Little Lamb
Love Struck Baby
Couldn't Stand the Weather
The Things (That) I Used to do (w/ Jimmie Vaughan)
You Were Wrong (Angela Strehli vocal, with Jimmie)
Say You Will (Strehli)
Stang's Swang
Third Stone from the Sun
Wham! (w/ Jeff Beck and Jimmie)
Hawaiian Isle (w/ Beck)
Don't Fall for Me (w/ All)
Jeff 's Boogie (w/ Beck)
Jim Hamilton presenting Stevie his new guitar. Photo courtesy of Jim Hamilton

April 29: Springfest, University of Buffalo, Buffalo, NY. Presented with the Hamiltone guitar by Jim Hamilton, a gift from Billy Gibbons.
A fan from Burlington, Canada, B. Michenko, was there when Stevie first used the Hamiltone guitar. "Stevie opened with the Lenny guitar and then moved on to the Hamiltone. He had a hard time with the high E string on this guitar, and I vividly recall how he speared the headstock down to the stage floor several times during a solo. Watching this, I wasn't sure if he was frustrated or doing it for a sound effect.
"Equally memorable was how Stevie played to the fireworks which started about one hour into the show, high behind the stage. Spontaneously fitting this visual into the solo, Stevie bent and seared notes, timing them to the arch and explosion. This went on for two or three songs, if I remember correctly. I can't tell you how impressed I was."
Vaughan's "lipstick" guitar. © Wayne Blagdon
Sometime in 1983 or early 1984, Charley Wirz made Stevie a white guitar with "lipstick" pickups, which became one of Stevie's primary guitars for the rest of his career. Mark Pollock, musician: "I saw it being built. Charley had made one for Jimmie, and he was like a proud father! They were both being built, and I think they were DiMarzio parts. Larry DiMarzio was the first guy to start making bodies and necks and pickups in that era. I think Charley told me they were mostly DiMarzio parts, but Van Zandt pickups. It was really like a Frankenstein or parts guitar." On the neckplate was engraved, "Presented to Stevie Ray Vaughan— More in '84—Charley."
Stevie in Japan playing the Gibson Flying V Medallion Edition. © Byron Barr. This 1971 V was made famous by Lonnie Mack. Only 350 were made.


SRV wearing the necklace referred to by Jackson Browne. © Randy Jennings/Captured Live


Stevie's handwritten chord progression for "Lenny," dated 1985.
September 24: Dayton, OH
Jackson Browne: "Stevie found some gigantic turquoise necklace in the gift shop at the hotel [laughs] and was really caught up in buying this thing … Stevie was such a genuine and unassuming person. All he would claim to know anything about was music."
René Martinez © Donna Johnston
Between March and June of '85, Stevie added another person to the traveling crew, René Martinez, who had been the repairman at Charley's Guitar Shop. Mark Pollock: "He came to me and said, 'I don't know what to do. Stevie gave me an offer to go on the road with him.' I said, 'Well, René, I don't want to lose you as a repairman, but if you don't take the gig, you're a damn fool!' I got the impression he was not going to do it. He'd never been out of Texas."
Martinez is an accomplished flamenco guitarist, often opening shows for Stevie and Jimmie. René Martinez: "Flamenco is my number one. On my off time, I listen to Mozart, Beethoven, their operas and their piano concertos. Jazz, and then everything else.
"My job as a guitar technician is to oversee the complete maintenance, upkeep, to be in tune, to change guitars with the stars during the performance, and to be on top of their every demand. To make it happen like you've done it a million times, and with a smile on your face."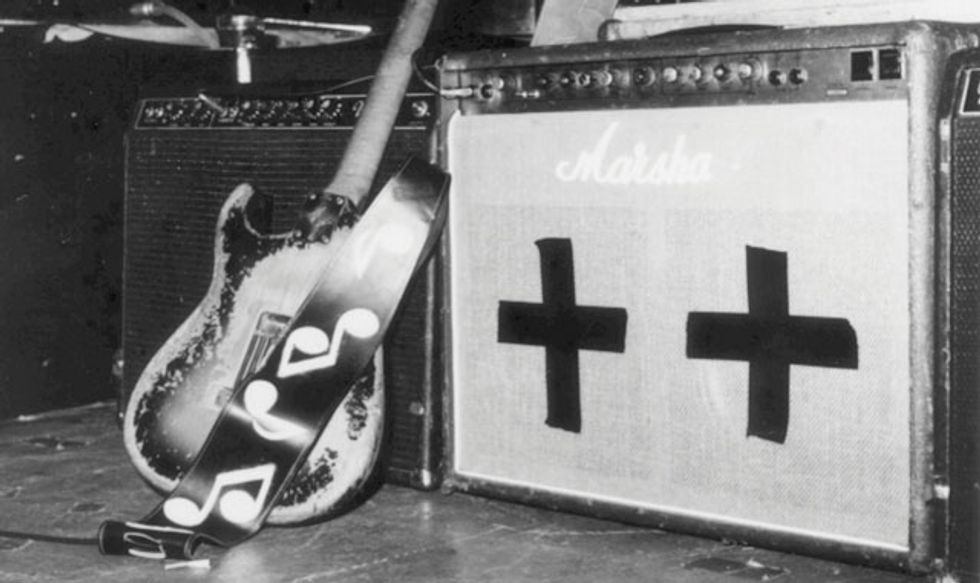 Stevie's Marshall amplifier, now in the author's collection. Tape in front of the speakers was intended to cut the higher frequencies. © Byron Barr
August 28: Twenty-four cases of the band's equipment were flown from Memphis to the Albany County, New York, airport.
Fifteen equipment cases were picked up at the airport on August 27 by Stevie's crew, but the other nine cases arrived later and were to be picked up the next day. A man claiming to be Mark Rutledge, Stevie's production manager, said he was sending two guys to pick up the cases and that they would not have the claim checks. USAir loaded the nine cases of equipment, estimated to be worth $20,000, into the thieves' truck.
The general contents of the cases:
Peavey bass speaker cabinet
Dumble speaker cabinet
Fender Vibratone amplifier
2 Vox wah-wahs, 2 Ibanez Tube Screamers, Univibe, cables and junction boxes
Dumble amplifier (head)
Dumble amplifier (head)
Fender Vibroverb amplifier
Fender Vibroverb amplifier
Fender Super Reverb amplifier
Not knowing if or when the equipment would be recovered, Stevie ordered two replacement Dumble Steel String Singer 150w amps at a cost of $3250 each, plus $2545 "administrative and rush labor." Stevie ended up merely renting the two Dumbles until his were recovered. Howard Dumble has a reputation for being difficult and slow. Alex Hodges confirmed that it took forever to get the new amplifiers and that they were constantly arguing about whether Stevie owed Howard money or Howard owed Stevie an amp. As of October 14,1986, the Vibroverbs, Super Reverb and the two wah-wah pedals were still missing. An internal memo reflected that the publicity regarding the wah-wah having belonged to Hendrix was "not too smart." The memo also stated that police were investigating an airline employee and his wife as the ringleaders in the theft. Almost all the equipment was eventually recovered, but not the wah-wah pedal that Jimmie had gotten from Jimi Hendrix and given to Stevie. Two men were arrested, and Stevie invited the arresting officer and his wife to the November 26 Radio City Music Hall concert as thanks.
The only known photo of the guitar that resulted from the work that Stevie and Gordon Van Ekstrom started in 1984. April 5th, 1988. © Wayne Blagdon
April 5: Metro Center, Halifax, NS, Canada
By 1984, Stevie had mentioned his desire to build a custom guitar, or even mass produce the guitars, in interviews. One of the persons who tried to help Stevie bring this dream to reality was Swedish guitarist Gordon van Ekstrom.
"We'd been collaborating on a guitar," Gordon recalls, "for quite a while. He was very interested in making this guitar. I had a telephone book that I took a bunch of notes in on all the technical data; he drew in that too. We were eating, breathing, crying, laughing guitars–24/7. Lenny thought we had an affair [laughs]! We were just absolutely having a ball guitaring. We were up all hours of the day."
As for the guitar design, a number of things were discussed, including having the pickups formed into the shape of his initials. Gordon recalls that he talked with Seymour Duncan about the idea, but it was not technically feasible. Stevie wanted a left-handed tremolo based on a Fender but "incorporating some changes that would stabilize tuning somewhat." They made a template for the body and had one or two bodies cut, but Gordon lost contact with Stevie for a while due to Stevie's substance abuse.
At some point, someone cobbled a guitar together to see how it would sound, but you can tell from the photo that the guitar is not finished, and not just in the sense that the wood was not sealed. The pickguard and pickup assembly appears to be in a standard Stratocaster shape, which doesn't fit the custom body and was not what Stevie originally designed. Whether the guitar was ever worked on or even played again is not known. The photographer recalls that Stevie only played the guitar for one song that night.
July 7: Garden State Arts Center, Holmdel, NJ. The neck of Stevie's priceless Number One is broken by a falling stage baffle, described as being 30 feet tall, six feet wide, and weighing a ton.
René Martinez, Stevie's guitar tech: "It felt like an earthquake or an explosion. He handed me his trusty Number One Stratocaster, as he always does. As soon as he walked off stage, I went to turn off his amp so we could strike the set. Right then I heard this incredible sound and turned around. The neck was snapped in two pieces, broken right at the point where the headstock meets the neck. It looked like a Steinberger. I turned around and saw Stevie Ray standing there. I could tell his heart had just sunk."
Steve Wilson, amp and keyboard tech: "I was stage left and René was stage right. René had just bent down to do something, and he was between two lighting dimmer racks, and when that orchestra shell fell, it bridged across those lighting racks, so it didn't hit René. But he always stood the guitars up on a road case with wheels, and it hit just about every guitar neck he had set up there. I remember picking up pieces of Number One off the stage."A claim was filed for $23,314.25 in damages to the guitars. The replacement value of No. 1 was listed as $15,000.
Steve Wilson: "I remember in Alaska we were at a hockey arena. After soundcheck, Stevie and I were walking around the concourse, and he was the kind of guy who would ask your opinion before he told you his, so it wouldn't taint it. He really wanted to know what you thought. Going into Alaska, they didn't bring all their gear, just the essentials. They had a 4x12 Marshall cabinet that the promoter had rented with Celestion speakers. Stevie didn't play Celestions; he played the stock speakers in his Fenders, supplemented with ElectroVoice (EV) speakers. All of his 4x12 cabinets had EVs in them, which sound distinctly different than Celestion. After soundcheck he said, 'What'd you think about those speakers in that cabinet?' And I said, 'Man, I heard something in them that I really liked. There was a different color to them—a little bit brighter tone.' He goes, 'Yeah. Me too.' [Laughs] He's not going to tell me what he thinks until I tell him what I think!"