This orange wedge features aggressive, amp-style gain in an interactive, highly tweakable stomp.
Celestial Effects' Aries Beast Distortion is a pedal worthy of its astrological namesake. It's intense, forceful, and hot-blooded. And while countless pedals have attempted to crack the heavy-amp-in-a-box code with mixed results, the Aries gets very close, thanks to a unique EQ section with two flexible gain stages.
God of War
The Aries' two gain stages are op-amp driven. One has no clipping stage, and it cascades into the second op-amp stage, which uses MOSFET clipping diodes. The very different voices of the two gain stages—and the fact they can be adjusted individually—is critical to the variety of distorted tones. The first stage, which is controlled by a single knob—gain—sounds open and wide. The clipping-diode stage has a tighter, more compressed sound and is controlled by the drive knob.
The mid sweep is very wide, and the pedal's more dimensional midrange has presence akin to a cranked Marshall.

The Beast's 3-band EQ is key to the pedal's sonic possibilities. Treble blends the signal coming from the treble capacitor with the signal going to the bass and mids controls. Turning it up reduces overall volume a bit, while turning it down adds bass and midrange. Reps from Celestial say they could have defeated the loss in volume with a larger treble cap, but found that the smaller cap gave the pedal the voice they were after. Celestial also designed the circuit with as little noise filtering as possible in order to maximize signal pass. The unit can be powered with a 9V battery, a center-negative 9V adapter, or an 18V center-negative adapter, the latter of which yields higher headroom.
Ratings
Pros:
Muscular, touch-responsive distortion. Wide-ranging, interactive controls. Built like a rock.
Cons:
Can be difficult to balance dirty tones with an amp's clean channel.
Tones:


Ease of Use:


Build/Design:


Value:


Street:
$179
Company
celestialeffects.com
Zodiac Killer
With a Gibson Les Paul, a Soldano Lucky 13, and the Aries' controls at noon, the pedal unleashed a brutal, meaty distortion. The midrange was cutting, with a trace of cocked-wah honk—but with a very muscular body underneath. It reminded me a lot of Alice in Chains and early Undertow-era Tool, and was perfect for heavy dropped-D riffing and sustained leads on low notes. Not too many high-gain distortion pedals highlight mids this prominently, and according to Celestial that was a design goal. The mid sweep is very wide, and the pedal's more dimensional midrange has presence akin to a cranked Marshall. The Aries' EQ section, too, has a very Marshall-like response and feel. The mids and lows react interestingly to changes from the treble knob—rising and receding in prominence along a nice, even curve as I increased or reduced high end.
The gain section is interactive and varied, too. Lowering the gain to 10 o'clock and increasing the drive to 3 o'clock yielded fierce, Dual Rectifier-like growl with searing highs and tight lows—perfect for palm-muted riffing. The midrange control, meanwhile, is both sensitive and rangy at these drive levels—making it a cinch to achieve heavy, scooped Dimebag Darrell tones. Raising gain to 2 o'clock and dropping drive to 11 o'clock expanded the harmonic content of the low end and opened up the high end, yielding a crunchy, British-style overdrive that was smooth and extraordinarily touch responsive. And when I lowered the volume controls on my Les Paul, the roaring distortion morphed into a sweet, purring, plexi-like overdrive.
The Verdict
For all-out aggressive distortion with amp-like responsiveness, it's hard to go wrong with the Celestial Effects Aries Beast Distortion. It has more than enough gain to satisfy the can't-get-enough-dirt set. Its onboard EQ and dual distortion circuits offer a lot of versatility, and it's a sturdy mother of a pedal. All the range in the EQ and drive section means it demands a little practice and get-acquainted time. But the investment will, for many, reveal a thrilling and uncommonly versatile distortion tool.
Looking for more great gear for the guitar player in your life (yourself included!)? Check out this year's Holiday Gear Finds!
Outlaw Effects introduces their next generation of NOMAD rechargeable battery-powered pedal boards.
Available in two sizes, NOMAD ISO is a compact, versatile tool that offers the convenience of a fully powered board plus the additional freedom of not having to plug into an outlet. NOMAD ISO is ideal for stages with limited outlet availability, quick changeovers, busking outdoors, temporary rehearsal locations, and more!
NOMAD ISO builds upon the legacy of the ultra-convenient and reliable NOMAD rechargeable pedalboard line originally launched in 2018. The brand new NOMAD ISO editions feature eight isolated outputs (1 x 9V DC, and 1 switchable 9V/12V DC) for even more versatility and clean, quiet power. With an integrated lithium-ion battery pack boasting 12800mAh capacity, NOMAD ISO can fuel a wide array of pedals, and will last over 10 hours* on a single charge.
Each NOMAD ISO pedal board includes adhesive hook & loop pedal-mounting tape, eight (8) standard DC connector cables, and one (1) reverse polarity DC cable, giving you everything you need to build your ultimate "off-the-grid" rig. A rugged, road-ready padded gig bag with shoulder strap is also included, to safely protect your gear while you're on the move.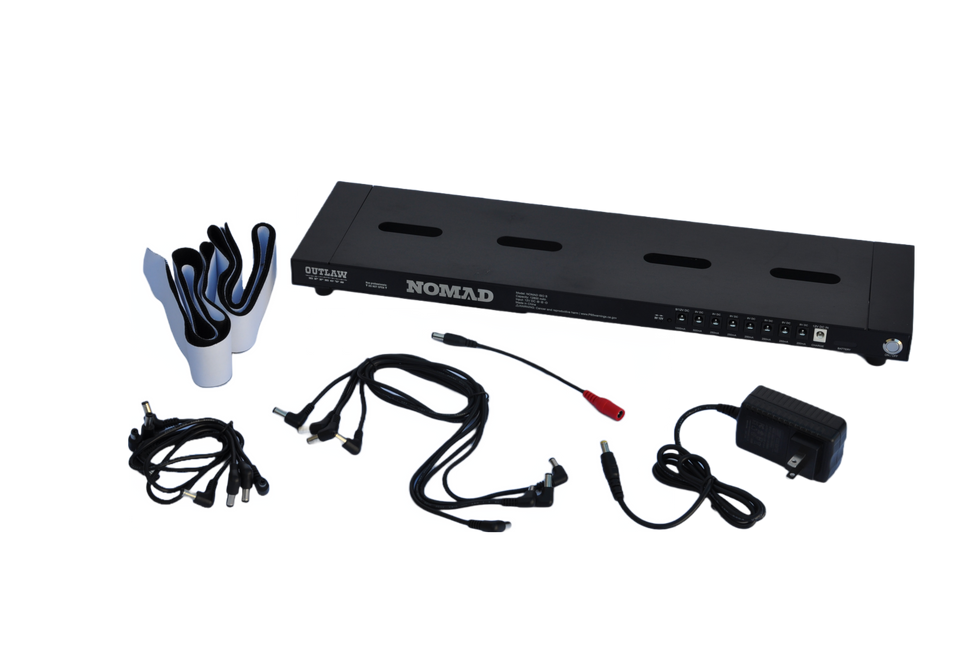 Dunable announce new Minotaur model featuring Grover Rotomatic Keystone tuners.
The Minotaur's DNA is rooted in their classic Moonflower model, which Dunable discontinued in 2017. However, they have long since wanted to create a fresh take on a carved top guitar design, and various attempts to rework the Moonflower led them to a brand new concept with the Minotuar.
Dunable's goal is to give the player a guitar that plays fast and smooth, sounds amazing, and gives maximum physical ergonomic comfort. The Minotaur's soft and meticulous contours, simple and effective control layout, and 25.5" scale length are designed to easily meet this criteria.

Dunable Minotaur!
Features
25.5" scale length
Dual Humbucker
one volume, one tone, push pull for coil splitting
Grover Rotomatic Keystone tuners
Grover Tune O Matic bridge with brass Kluson top-mount tailpiece
jumbo nickel frets
12" fretboard radius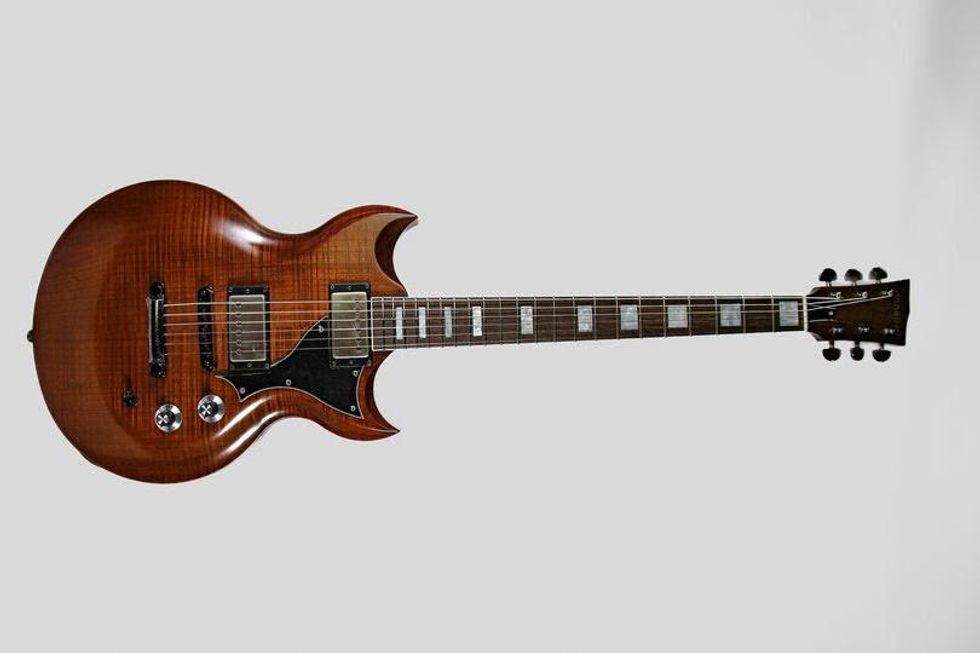 Dunable
This full-amp-stack-in-a-box pedal brings a new flavor to the Guitar Legend Tone Series of pedals, Missing Link Audio's flagship product line.
Adding to the company's line of premium-quality effects pedals, Missing Link Audio has unleashed the new AC/Overdrive pedal. This full-amp-stack-in-a-box pedal – the only Angus & Malcom all-in-one stompbox on the market – brings a new flavor to the Guitar Legend Tone Series of pedals, Missing Link Audio's flagship product line.
The AC/OD layout has three knobs to control Volume, Gain and Tone. That user-friendly format is perfect for quickly getting your ideal tone, and it also offers a ton of versatility. MLA's new AC/OD absolutely nails the Angus tone from the days of "High Voltage" to "Back in Black". You can also easily dial inMalcom with the turn of a knob. The pedal covers a broad range of sonic terrain, from boost to hot overdrive to complete tube-like saturation. The pedal is designed to leave on all the time and is very touch responsive. You can get everything from fat rhythm tones to a perfect lead tone just by using your guitar's volume knob and your right-hand attack.
Features 
Three knobs to control Volume, Gain and Tone
Die-cast aluminum cases for gig-worthy durability
Limited lifetime warranty
True bypass on/off switch
9-volt DC input
Made in the USA
MLA Pedals AC/OD - Music & Demo by A. Barrero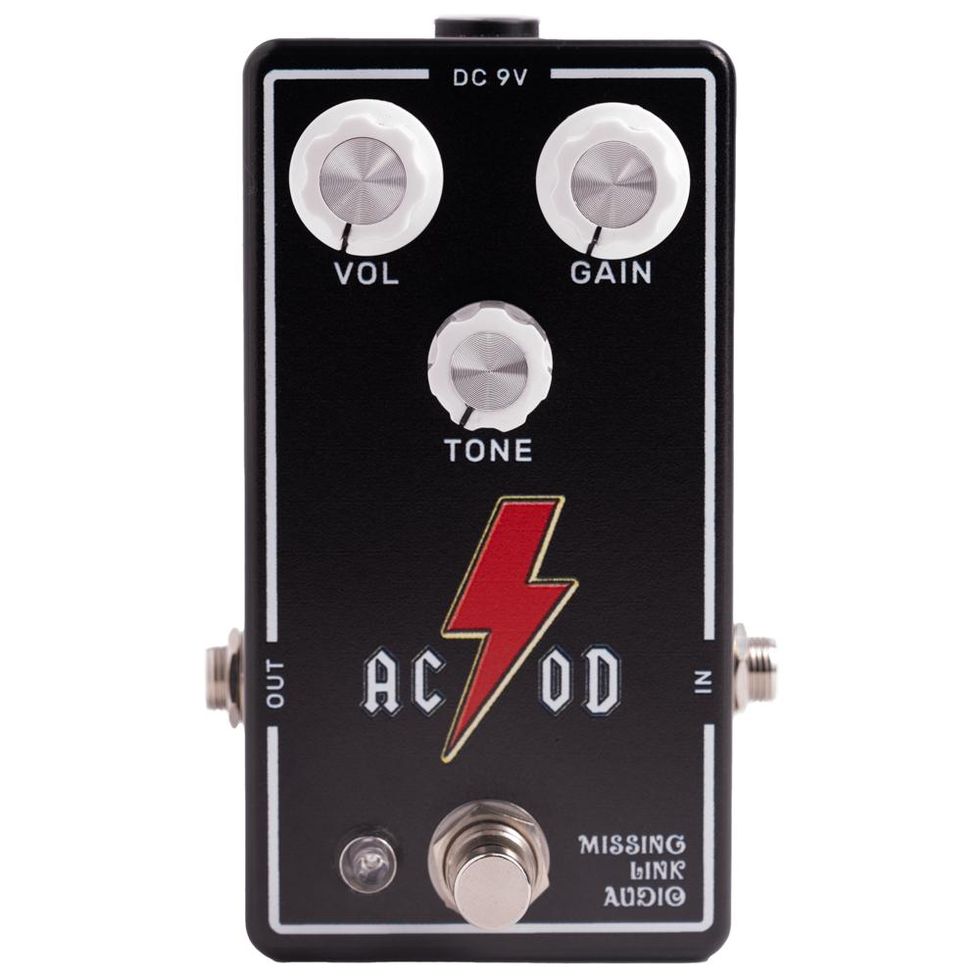 www.mlapedals.com.