The architecture of a basic DSP system. Digital. The very mention of the word causes many guitarists to wince, conjuring memories of harsh, inspiration-crushing tone from early rack gear
The architecture of a basic DSP system.
Digital
. The very mention of the word causes many guitarists to wince, conjuring memories of harsh, inspiration-crushing tone from early rack gear and floor-based multi-effectors. The common misconception that everything digital somehow sounds cold and sterile isn't entirely unfounded. Back in the early days of digital signal processing (DSP), processing power was extremely limited. Early digital audio systems suffered from low sample rates and bit depths, poor dynamic range, and harsh clipping characteristics. The result was that many digital effects designers were forced to use creative tricks and compromises to overcome the limitations of their early digital systems. Whether it was a flanger, reverb, or distortion, the tone was often less than stellar compared to the vintage effects we all knew and loved. And so, over the years analog gear and effects have gained a fondness in our minds—a sort of pre-digital innocence and beauty. It's analog, so it has to be better right?
Let's take a look at some of the specs of early digital systems and their impact on audio quality. Due to a lack of sophisticated integrated circuit (IC) chips, the digital effects of the early '80s were generally digital delay line effects—that is, delay, chorus, and flanging. These systems implemented 12-bit converters running at sample rates as low as 15 kHz. In a digital system, each bit of resolution will theoretically give you about 6 dB of dynamic range. So, a 12-bit converter would be capable of only 72 dB of dynamic range. The highest frequency that can be reproduced is half the sample rate, so that would be 7.5 kHz in a 15 kHz-sampled system. These specs are so out of line with current technology that they have earned a place as "old school" or "vintage digital." If you've ever played through a bit-crusher pedal, you've experienced the sound of low bit depths and sample rates as a special effect.
By the late '80s, digital effects had CD-player specs of 16 bits (yielding a 96 dB dynamic range) and a sample rate of 44.1 kHz or 48 kHz. During the same period, more advanced digital IC chips became available, allowing for implementation of multi-effects, reverbs, and nonlinear effects like digital distortion and compression. This new standard was still plagued with shortcomings, as the audio converter technology required the use of sharp "brick wall" filters that created non-linear phase distortion at the top end of the audio spectrum, resulting in subjective "listener fatigue" and "harshness." Additionally, the processing power was still very limited for the ambitious applications being pioneered. This led to sonic compromises that manifested themselves as harsh clipping, metallic tonalities, and fuzzy or fluttering note decays.
Fortunately, we're at the point now where we have a massive amount of processing power available and vastly better analog-to-digital (A/D) and digital-to-analog (D/A) converters capable of well above 110 dB of dynamic range. Some stompboxes now have more processing power available than early-'80s Cray supercomputers. Simply being in a digital system is no longer a limitation. On the contrary, digital systems can do things that simply aren't possible in 100-percent analog designs. And effects that few studios could have afforded only a decade ago are now in the price range of the humble musician.
I have to admit I get frustrated seeing comments on forums like, "It sounds digital." The truth now is that there are no inherent sonic qualities to a digital system. Digital effects, for better or worse, sound exactly how their designers have built their hardware and algorithms. If we think of a digital system as a blank canvas, a DSP engineer wields the brush, and whatever algorithm he or she writes ends up coloring your guitar tone.
Let's take a look at the architecture of a basic DSP system: The guitar signal arrives at the input and is buffered by some kind of analog input circuitry. Then the signal is sent to an A/D converter. From that point, the signal is represented by a binary stream that can be easily processed. Usually this is done by a DSP circuit with some memory connected to it. The DSP circuit will run whatever algorithm it's been programmed with and send the result to a D/A converter, then to the output jacks. Modern 24-bit, 192 kHz A/D and D/A converters can provide excellent signal-to-noise, THD (total harmonic distortion), and latency specs. Luckily, the problems that plagued early digital systems have become mostly a non-issue with modern converters and processors.
Digital effects are getting better all the time. Some of the digital gear currently on the market brings us closer to the old analog glory than we've ever been before. And some of it takes us to places never before possible with analog effects. Fear not—and happy shredding!
---
Terry Burton
is an engineer at—and the founder of—Strymon.
Looking for more great gear for the guitar player in your life (yourself included!)? Check out this year's Holiday Gear Finds!
Outlaw Effects introduces their next generation of NOMAD rechargeable battery-powered pedal boards.
Available in two sizes, NOMAD ISO is a compact, versatile tool that offers the convenience of a fully powered board plus the additional freedom of not having to plug into an outlet. NOMAD ISO is ideal for stages with limited outlet availability, quick changeovers, busking outdoors, temporary rehearsal locations, and more!
NOMAD ISO builds upon the legacy of the ultra-convenient and reliable NOMAD rechargeable pedalboard line originally launched in 2018. The brand new NOMAD ISO editions feature eight isolated outputs (1 x 9V DC, and 1 switchable 9V/12V DC) for even more versatility and clean, quiet power. With an integrated lithium-ion battery pack boasting 12800mAh capacity, NOMAD ISO can fuel a wide array of pedals, and will last over 10 hours* on a single charge.
Each NOMAD ISO pedal board includes adhesive hook & loop pedal-mounting tape, eight (8) standard DC connector cables, and one (1) reverse polarity DC cable, giving you everything you need to build your ultimate "off-the-grid" rig. A rugged, road-ready padded gig bag with shoulder strap is also included, to safely protect your gear while you're on the move.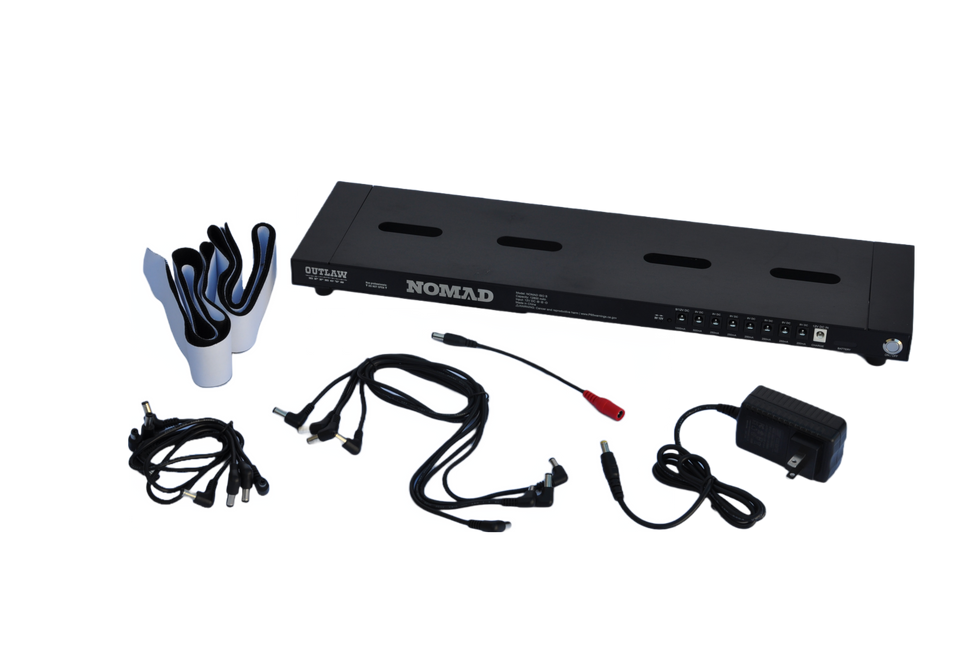 Dunable announce new Minotaur model featuring Grover Rotomatic Keystone tuners.
The Minotaur's DNA is rooted in their classic Moonflower model, which Dunable discontinued in 2017. However, they have long since wanted to create a fresh take on a carved top guitar design, and various attempts to rework the Moonflower led them to a brand new concept with the Minotuar.
Dunable's goal is to give the player a guitar that plays fast and smooth, sounds amazing, and gives maximum physical ergonomic comfort. The Minotaur's soft and meticulous contours, simple and effective control layout, and 25.5" scale length are designed to easily meet this criteria.

Dunable Minotaur!
Features
25.5" scale length
Dual Humbucker
one volume, one tone, push pull for coil splitting
Grover Rotomatic Keystone tuners
Grover Tune O Matic bridge with brass Kluson top-mount tailpiece
jumbo nickel frets
12" fretboard radius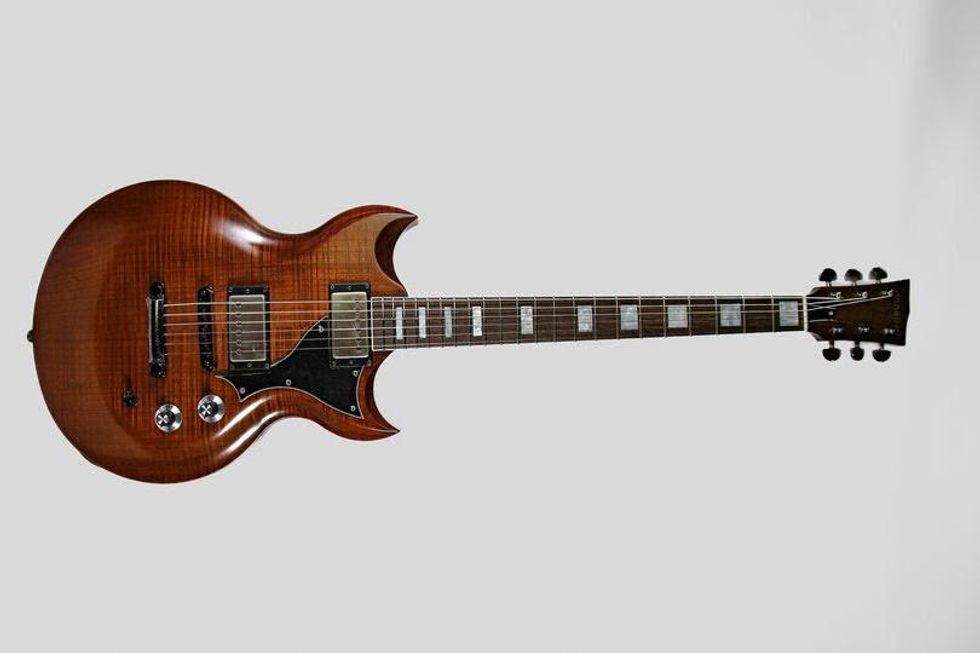 Dunable
This full-amp-stack-in-a-box pedal brings a new flavor to the Guitar Legend Tone Series of pedals, Missing Link Audio's flagship product line.
Adding to the company's line of premium-quality effects pedals, Missing Link Audio has unleashed the new AC/Overdrive pedal. This full-amp-stack-in-a-box pedal – the only Angus & Malcom all-in-one stompbox on the market – brings a new flavor to the Guitar Legend Tone Series of pedals, Missing Link Audio's flagship product line.
The AC/OD layout has three knobs to control Volume, Gain and Tone. That user-friendly format is perfect for quickly getting your ideal tone, and it also offers a ton of versatility. MLA's new AC/OD absolutely nails the Angus tone from the days of "High Voltage" to "Back in Black". You can also easily dial inMalcom with the turn of a knob. The pedal covers a broad range of sonic terrain, from boost to hot overdrive to complete tube-like saturation. The pedal is designed to leave on all the time and is very touch responsive. You can get everything from fat rhythm tones to a perfect lead tone just by using your guitar's volume knob and your right-hand attack.
Features 
Three knobs to control Volume, Gain and Tone
Die-cast aluminum cases for gig-worthy durability
Limited lifetime warranty
True bypass on/off switch
9-volt DC input
Made in the USA
MLA Pedals AC/OD - Music & Demo by A. Barrero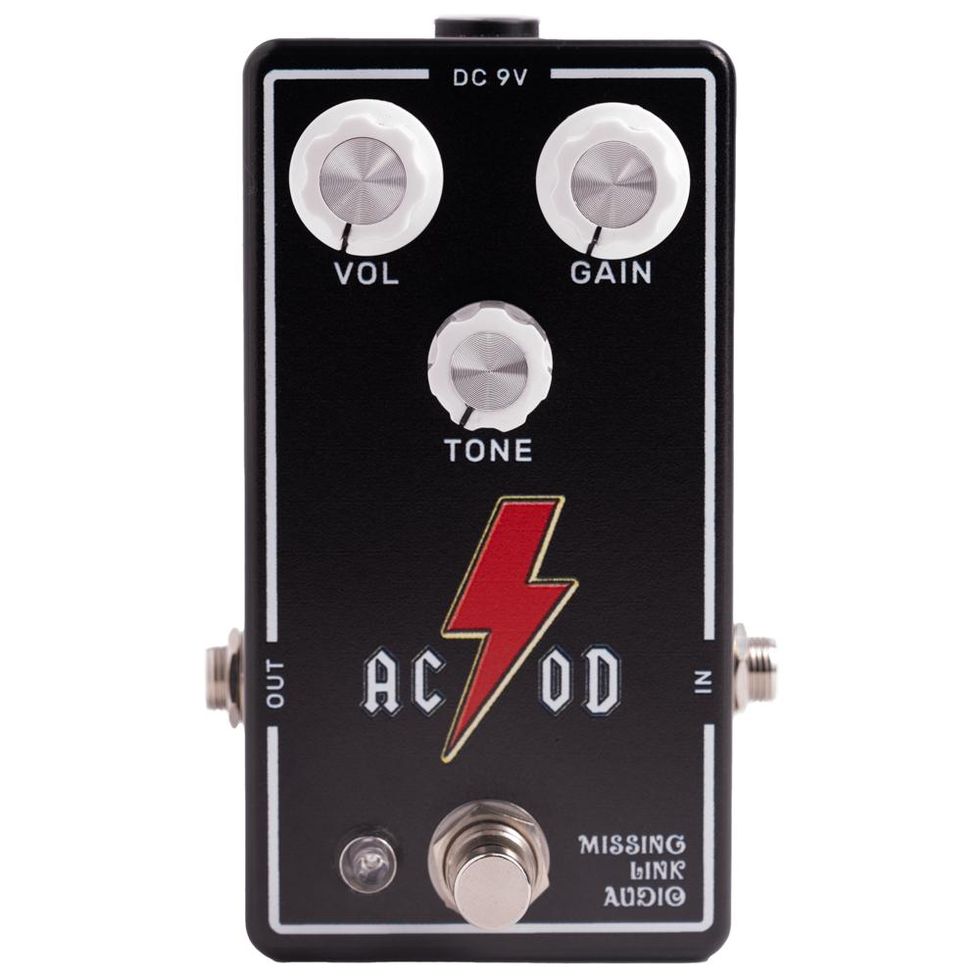 www.mlapedals.com.