Want to play different pedal sequences in a flash? These handy boxes provide more tone solutions than you might realize.
There is no right or wrong way to wire a pedalboard. It's really a matter of personal taste and what our ears find pleasing. Every musician has their own thing, and our pedalboards are certainly an extension of that. For some, reconfiguring the pedalboard is a lifelong process, and adding a new device often means something has got to go, because real estate is crucial!
Whether you are a fan of effects loops or not, they can be useful tools. One of the go-to pedals in my collection isn't an effect. It's a standalone effects loop order switcher, which is basically a pair of dedicated effects loops (A and B) in an aluminum pedal enclosure. There are quite a few companies that make a version of this type of device. Some of these units have many other options included and some are very basic, with no knobs at all. I like to have a somewhat simple one hanging around, with an input, an output, and two sets of send/return jacks. Each channel needs a volume knob, a foot switch, and a bypass indicator light.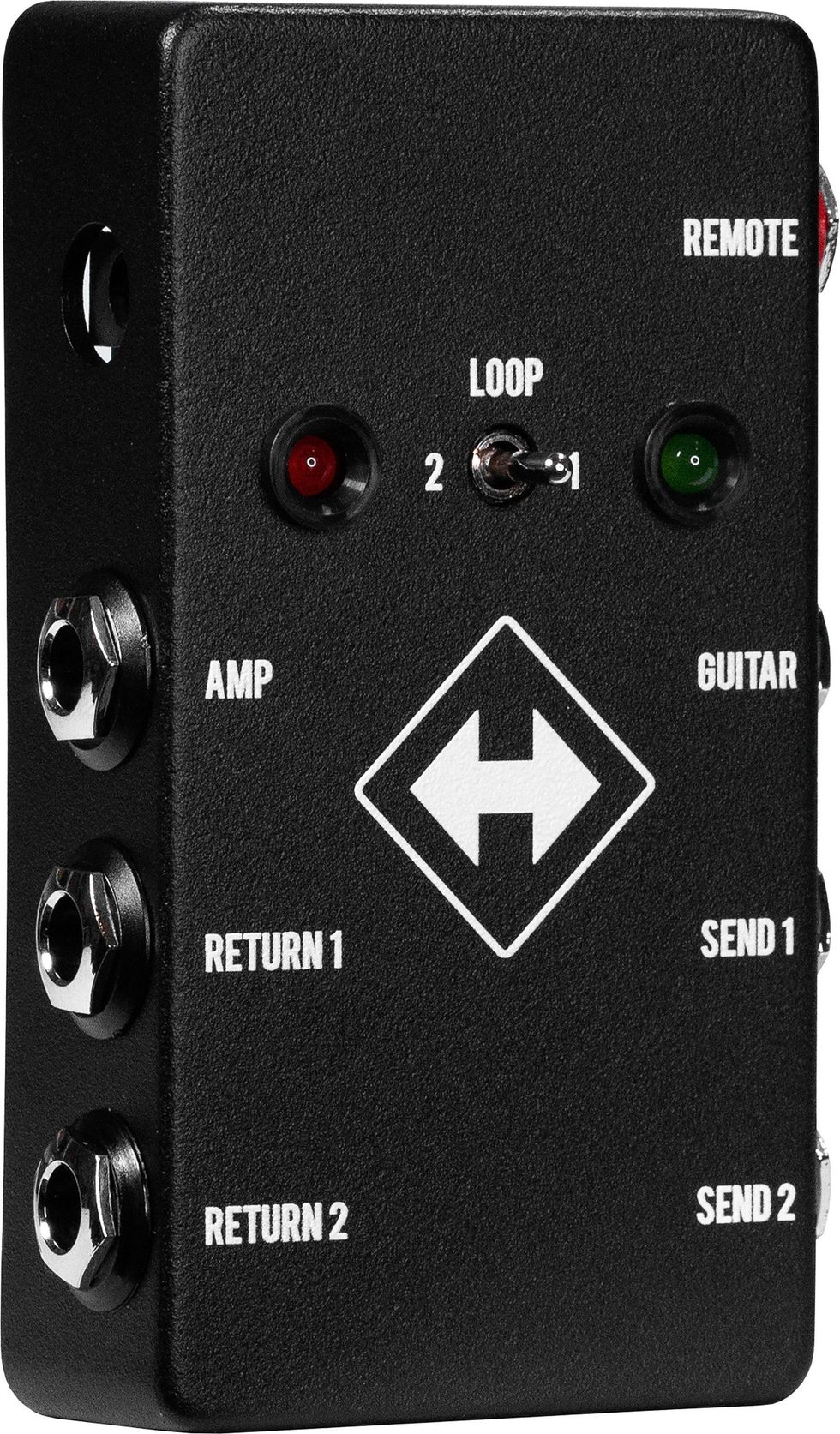 A loop switcher can be an especially useful tool when putting together a pedalboard, or even just adding a new stompbox to the mix. Signal paths can be auditioned to see how pedals will interact together before committing them to Velcro. I find it is also super fun and handy to use a switcher when doing sound explorations and, ultimately, in my writing and recording processes. There are so many more options sound-wise, depending on how effects are ordered. The rather simple unit I made allows for quick changes, which helps me economize my time. In fact, it's so useful that I have one living full-time on my pedalboard, in a really accessible spot, so I can plug and unplug on the fly if something isn't working out sound-wise.
Fancier loop-switching devices can have true bypass switching, buffers, lots of sends and returns, knobs, signal paths routed any which way.... The options are nearly endless. Plenty of pedal builders out there can build custom units for a reasonable price, tailored to anyone's specific taste. You might even go the rackmounted, pro-audio hardware route if you want to get extra fancy!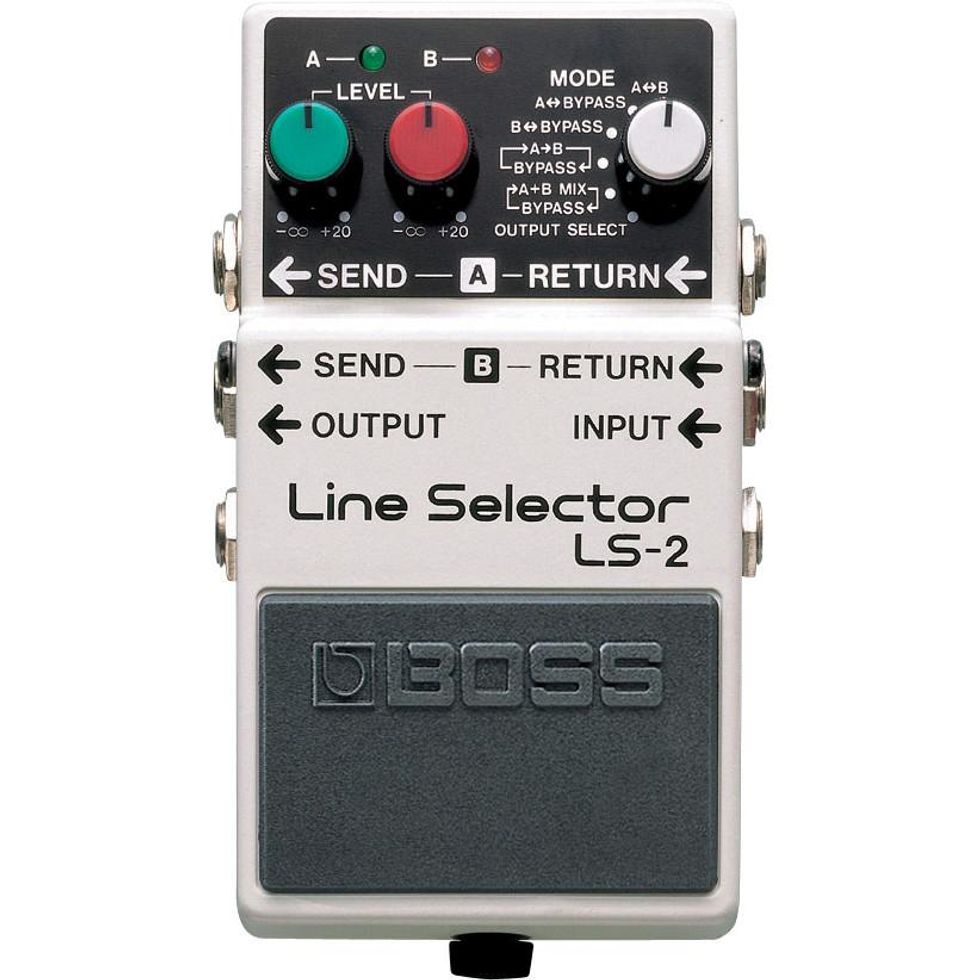 There are several different commercial A/B loop switcher units available that are on the simpler end of the spectrum, like the JHS Switchback A/B Effects Loop Switcher ($102 street) and the MXR M196 A/B Box Pedal ($59 street). The EarthQuaker Devices Swiss Things Pedalboard Reconciler ($249 street) is an awesome utility pedal with a few more helpful options. My absolute favorite simple go-to is the Boss LS-2 Line Selector Pedal ($113 street). It's got a small footprint and does all the basics. Plus, it's Boss, so it's built like a tank. Mine has survived 20 years of abuse so far.
Whether you are a fan of effects loops or not, they can be useful tools.
Some pedals sound totally different when inserted into an effects loop instead of being inserted directly in line. It's really informative to be able to hear those differences. I feel like a whole new world opened up to me when I started using the LS-2. Some of my favorite sounds that I have been able to create came from putting pedals in the loop that normally get chained up in line directly. Give it a try! And for those who DIY, check out Beavis Audio Research's awesome site. There are several different iterations to build.
Misfits guitarist Doyle Wolfgang Von Frankenstein unveils a new line of strings, collaborating with Josh Vittek of Sheptone.
Von Frankenstein Nickel Plated Electric Guitar Strings are vacuum sealed individually in anti-corrosion bags with gauges clearly labeled for easy identification, an especially helpful feature for working guitarists. In addition to the traditional gauge sets, the Von Frankenstein line will include three sets of actual signature sets that Doyle uses personally. His Abominator set is made up of gauges .010/.013/.017/.028/.038/.060 and used almost exclusively with his band, Doyle. The Decapitaters (.010/.013/.018/.030/.042.065) and the Monsters (.010/.013/.017/.028/.038/.052) are used for performances with the Misfits.
Doyle Wolfgang Von Frankenstein emerged from the fiery pits of New Jersey, the birthplace of the Misfits and a blood-soaked form of music called horror punk. In recent years, Doyle has made his own distinct mark on the genre with the inception of his self-monikered band. Doyle's debut album, Abominator, was released by his own label, Monsterman Records in 2013 and followed by Doyle II: As We Die in 2017.
Each set includes a different free vinyl sticker, encouraging fans of Doyle and Misfits to collect them all. MSRP $13.99. For a closer look and to learn more about Von Frankenstein Monster Gear, visit www.vonfrankensteinmonstergear.com.
See a sampling of picks used by famous guitarists over the years.